Here's a fun little fact: pecan is a Native American word used to describe "nuts requiring a stone to crack." It's true. But as hard as the nuts might be to crack, it's worth the effort, because the rewards are many when you cook or bake with these tasty morsels.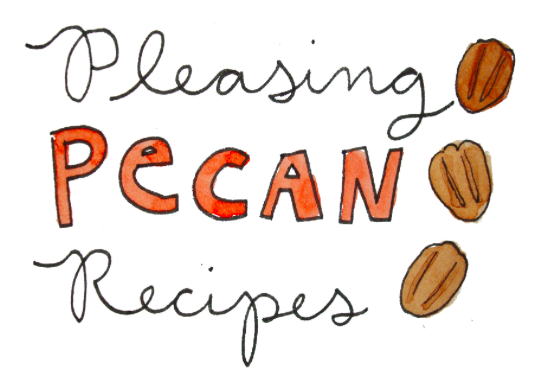 Proof can be found in this delicious suite of recipes using pecans, which range from sweet-start breakfasts to hearty savory entrees to decadent desserts.
Morning sweets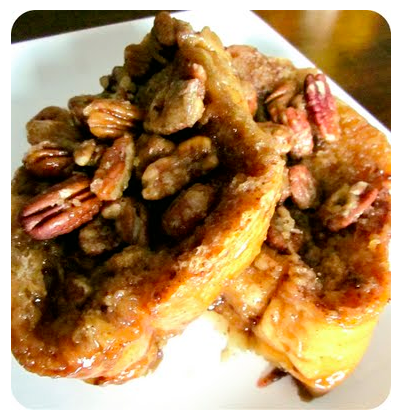 Photo via Six Sisters Stuff
Overnight praline pecan French toast:
You can't diet all the time, and thank goodness! Because if you did, you'd miss out on dishes like this decadent French toast, which soaks in a spiced egg and milk mixture overnight to make for quick preparation in the morning. The topping is the real star here, though, extremely brown sugar thick and gloriously pecan rich. Recipe here.
Butter pecan doughnuts:
A classic ice cream shop flavor gets a makeover in doughnut form. Once fried, the doughnuts are rolled in a sinful butter pecan crunch mixture, and then all that goodness is sealed in with a milk and confectioners' sugar glaze. Recipe here.
Caramel chocolate pecan ebelskivers:
An ebelskiver is a type of pancake which can be filled with any number of flavors. Adding caramel, chocolate, and pecan to yours will make for an indulgent, brunch-friendly treat. Recipe here.
Snacks and sides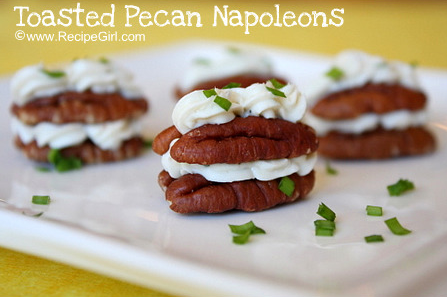 Photo via RecipeGirl
Toasted pecan Napoleons:
Looking for an almost sinfully easy and painfully adorable appetizer? You've certainly got it with these toasted pecans stacked with bleu cheese scented with honey and port. They're festive and delicious. Recipe here.
Pecan butter:
Still eating peanut butter? Yawn. Try pecan butter for a rich and tasty variation on the classic sandwich spread. Recipe here.


Photo via Wild Yeast
Cherry pecan bread:
Combining whole wheat, cherries, and pecans makes for a real bread winner. As noted on the blog Wild Yeast, " The earthy flavor of whole wheat, the tartness of the cherries, and the slightly sweet spiciness of the nuts combine to make a bread that is always a hit with my family and friends." Recipe here.
Pecan soup:
Adapted from a restaurant in Oaxaca, Mexico, this unusual soup includes pecans, garlic, plum tomatoes, and plenty of spices. It makes for an unexpected but cozy and warming course. Recipe here.
Savories
Apple, goat cheese, and pecan pizza:
Crisp, fresh apples, creamy-tart goat cheese, refreshing greens, and toasted pecans come together for an addictive melange of flavors on this pizza. Recipe here.
Pecan crusted flounder:
Coating your fish with a pecan meal instead of bread crumbs adds a healthful edge as well as a wonderful complementary flavor. Best of all, though, this meal comes together in a mere 30 minutes! Recipe here.
Pasta salad with pecans and spinach:
A warm pasta salad, dotted with greens, toasted pecans, and plenty of spices, all sealed in with garlic and olive oil, is a fantastic side dish or could even stand as a main course.
Sweet stuff
Brown sugar cream cake with five-spice pecans:
Brown sugar and pecan is generally a combination that adds up to success. But in this cake, it's taken even further. Pecans toasted in a five-spice mixture add an exotic touch to this extremely moist, brown sugar kissed cream pound cake. Recipe here.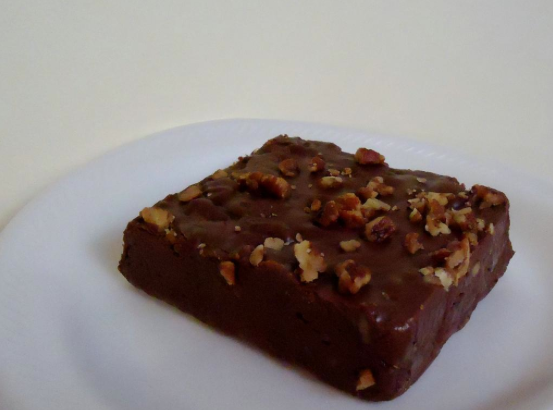 Photo via Craftsy member CakesbyJessica
Candied pecan chocolate fudge:
This rich fudge is not only delicious, it's almost sinfully easy. It comes together in about five minutes. Candied pecans give it a lovely crunch and an even more decadent taste.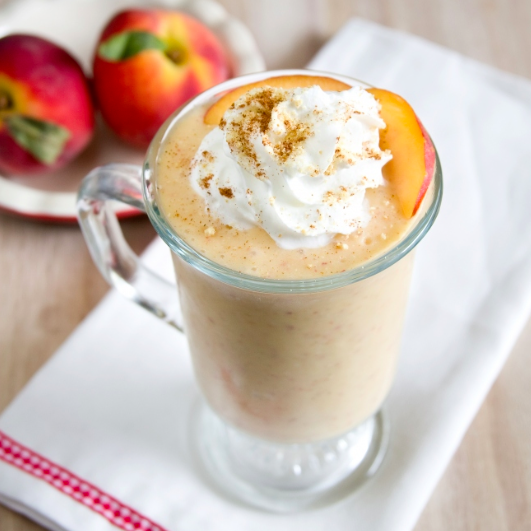 Peach cobbler milkshake:
It might sound extremely indulgent, but this fruit-rich recipe is actually quite healthy–and vegan, to boot. Made using plenty of fresh fruit, it gets a nice texture from the addition of crushed graham crackers, oats, and toasted pecans. Coconut milk adds creaminess, and maple syrup brings out the natural sweetness of the ingredients.
For more delicious recipes, come back to the Craftsy blog tomorrow for Foodie Friday, when we'll share some simple and summery side dishes!
Undoubtedly you're craving something with pecans right now. But where will you start–with something deliciously sweet, or succulently savory?