For most average paints, you have to add special mediums to create eye-catching effects. But Pebeo's Fantasy Prisme paints are no average paints. The bright pigments transform into a beautiful honeycomb-esque pattern right before your eyes.

Like Pebeo Fantasy Moon paints, these pigments produce fabulous results on both horizontal and flat surfaces. The paints seemingly come to life as you pour or paint them on canvas, metal and much more. The 28 different hues dry in a glossy, glass-like surface, which means they're perfect for decorative painting.
Using blank, oversize letters and Fantasy Prisme pigment, we're going to create a vibrant painting on a wooden surface. 
Get Art Supplies You'll Love, Fast!
Tools and colors
Blank wooden letter — I chose "B" for my last name!
Masking tape
Fantasy Prisme Emerald
Fantasy Prisme Butter Cup
Fantasy Prisme Pearl Violine 
Fantasy Prisme Summer Yellow 
Fantasy Prisme Vermillion 
Plastic knife
Getting started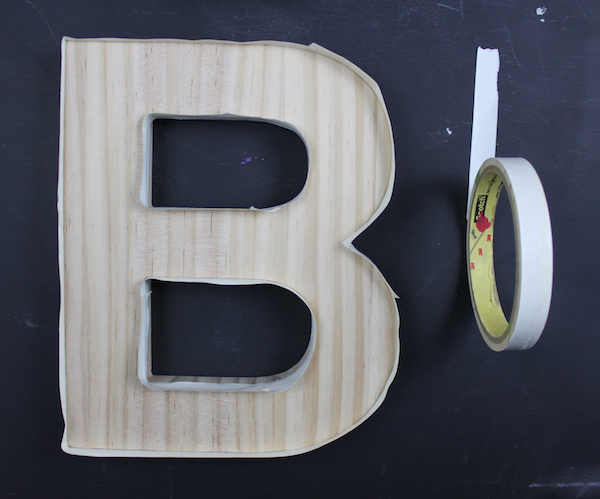 Before you begin painting, select four to seven colors to use. (It can be hard, I know!) Then, take your wooden letter and line all of the edges with tape so that the pigment won't run off the surface. I used thick masking tape, but painter's tape will work, too. 
Painting with Fantasy Prisme pigments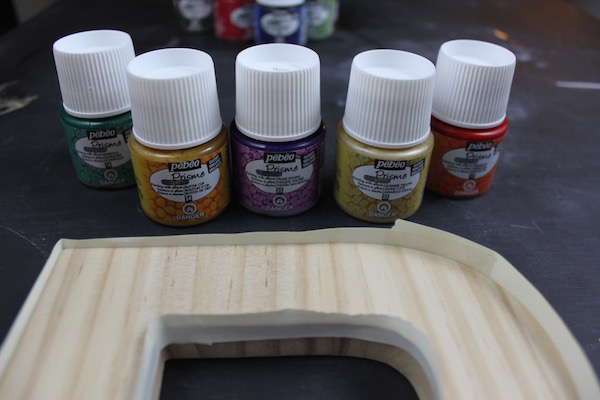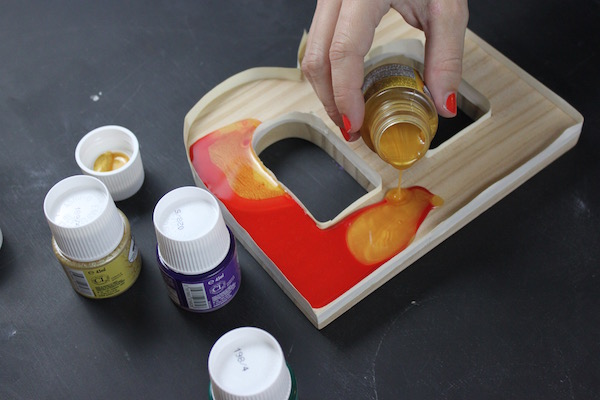 You can use the Fantasy Prisme paints as you would any other oil pigments. Pebeo recommends brushes, droppers or to simply pour the paint from the bottle — that's what I did. I wanted my letter to have an abstract surface pattern, especially because the paints lend themselves to that style.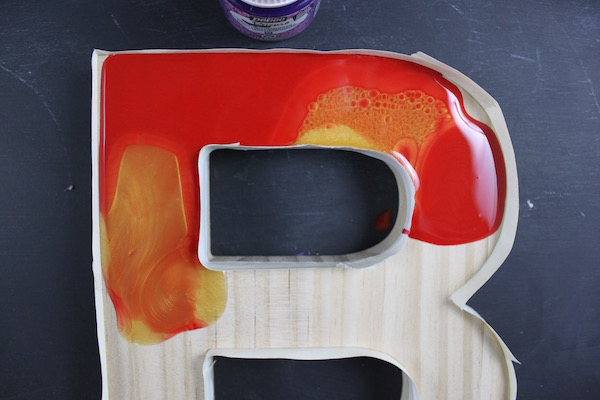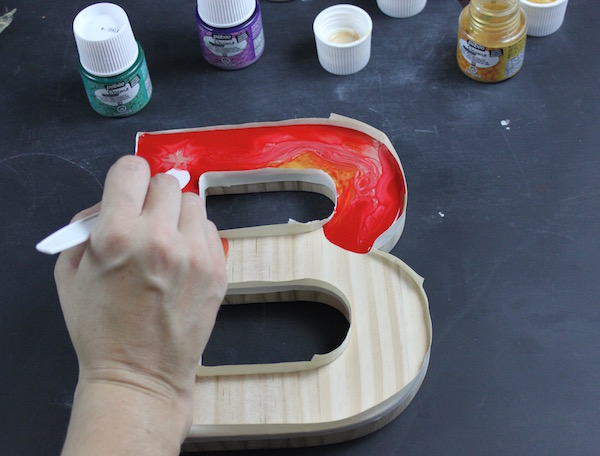 I started with a few colors as my base pigments and poured a little bit of each on the wood letter. Then, I used my plastic knife to spread and pull the hues across the wood. The paint will change after a few minutes, so I always waited to see what the effects looked like. Depending on how you pour them, these "honeycombs" of color will look different. I repeated these steps until I was happy with my abstract painting.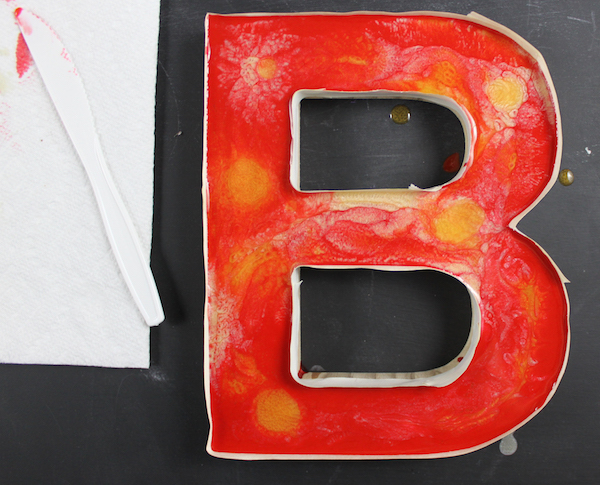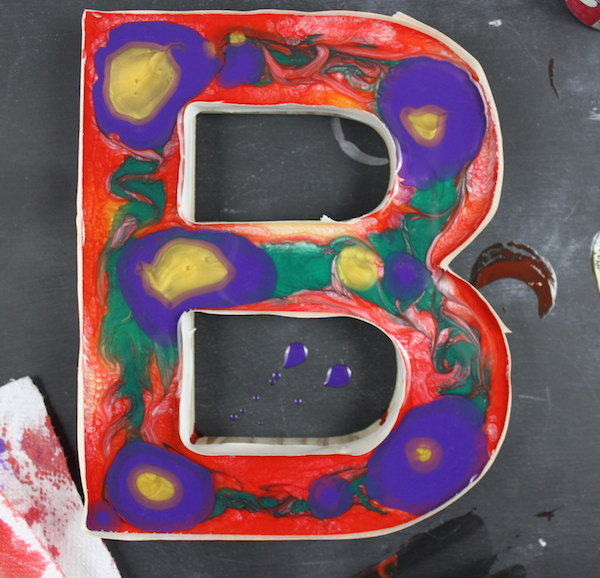 Comparing Fantasy Prisme and Fantasy Moon paints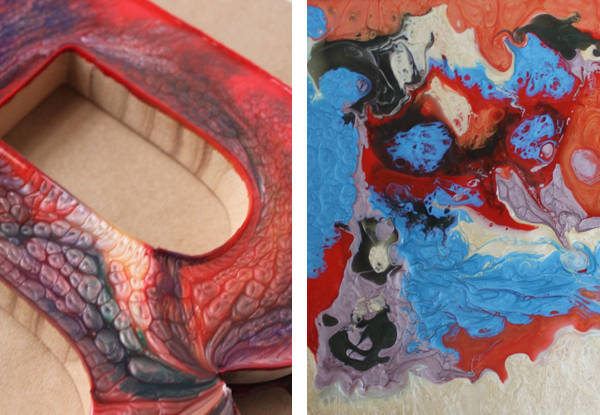 Left: Fantasy Prisme; right: Fantasy Moon 
While the application of the Fantasy Prisme and Fantasy Moon paints was the same, their overall finished looks were very different. The Fantasy Moon paints crackled and look bolder. The Prisme line, by contrast, is more subtle. Because the colors create tiny honeycombs when they're poured, the pigments tend to mix and be absorbed into one another.
Tips for using Fantasy Prisme
Deeper colors will cover light colors. When combining colors on your paint surface, I would use analogous hues. Otherwise, wait for one color to completely dry and then apply the other on top.
Be aware that some colors, such as red or green, could appear muddy when they're poured together.
Drying times
Pebeo says that Fantasy Prisme pigments take six hours to dry to the touch, and they're completely dry after 72 hours. During this time, lay your painting on a flat surface.
Cleaning up
Fantasy Prisme paints are oil based, which makes their clean up different than water-based pigments. Water won't clean the paint off your brushes, so you'll need to use odorless mineral spirits or turpentine.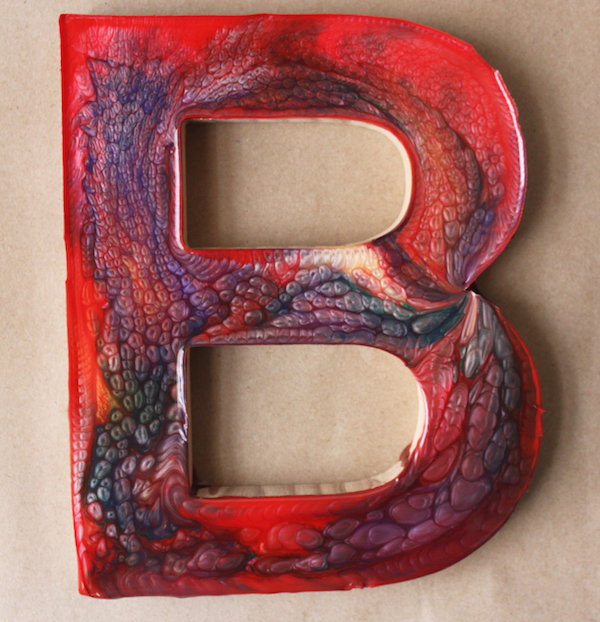 Get Art Supplies You'll Love, Fast!