Spring has arrived and summer is just around the corner, so that means its time to make room for fun outdoor activities on your calendar. With these patterns for picnic quilts, you can get started quilting the perfect foundation for enjoying the great outdoors. From sunny picnics in the park to outdoor concerts to July 4th parades, picnic quilts make it easy to get out in the fresh air. Here are some perfect patterns for picnic quilts to make and use when the weather warms up.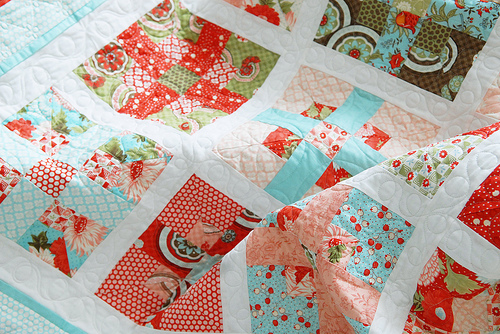 Photo via Camille Roskelley
Here's some tips and pattern options for making a picnic quilt fit for fresh-air and sunshine!
There are lots of fun options for picnic quilts. Generally, you want to have a bright, colorful quilt that is sturdy enough to hold up to actual use. Here's some other things to consider.
Be prepared for multiple washings.
Your picnic quilt should be machine washable and pieced with good quality fabrics. Since you will be washing this quilt often, it is recommended that you pre-wash the fabrics you'll be using for the quilt.
Use sturdy, high-quality fabric.
Make sure the backing of your picnic quilt is also made with high-quality fabrics, as it will be going through much "wear and tear." Some good options for backing fabrics are:
high-quality quilting fabric
flannel
denim
upholstery weight fabric.
Consider size.
Size is another feature to consider when choosing a picnic quilt pattern. Make sure your quilt is big enough to be functional. Finishing options for picnic quilts include machine quilting, "big-stitch" quilting and tying with yarn or perle cotton floss.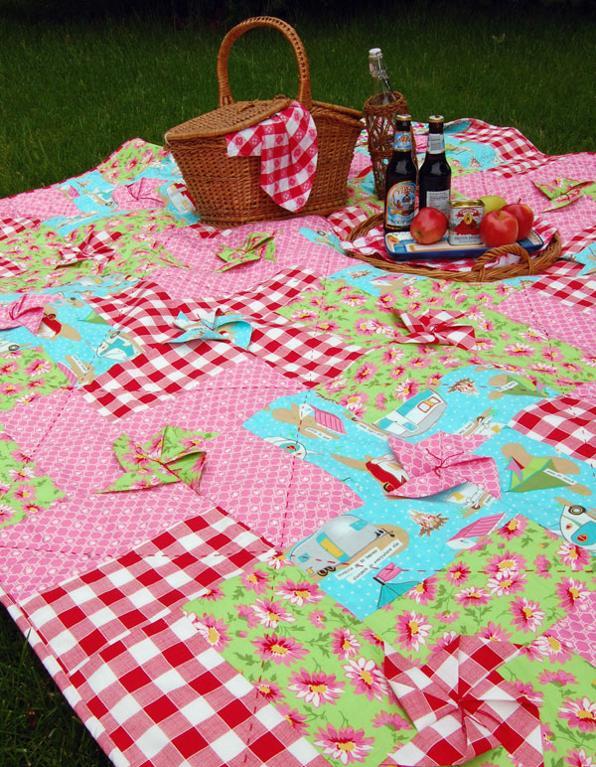 Pinwheel Picnic Quilt by Craftsy member Audrey n Diane
Pinwheel Picnic Quilt pattern
The Pinwheel Picnic Quilt Pattern is a unique quilt featuring 3-D pinwheels that will add a touch of whimsy to your picnic quilt. This quilt is a generous 64″ x 73″ and is suitable for an advanced beginner to intermediate quilter.
This quilt would be fun pieced in red, white and blue for an Americana look, but it's equally delightful pieced in the retro summer prints as shown.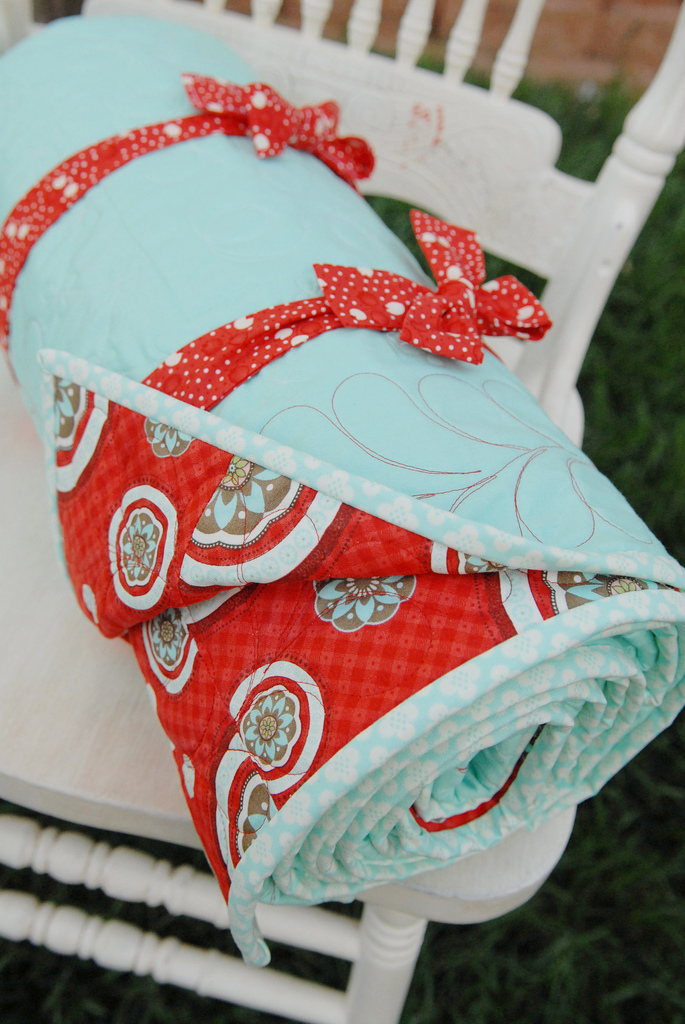 Photo via Camille Roskelley
Picnic Rollup Quilt pattern
The Picnic Rollup quilt, a delightful picnic quilt pattern by Craftsy instructor Camille Roskelley, has a couple of fun features that make this pattern a must-have for outdoor events.
Not only is this pattern easy to piece using a jelly roll as well as some background and border fabrics. There's also the option to add "rock pockets" in the corners. This allows you to place small rocks or weights in the back of your quilt to keep it "grounded" on a windy day.
The Picnic Rollup pattern also features the option to add roll-up ties so you can roll it up, tie it up, and easily store it at home or in your car. The finished quilt measures 72″ x 84."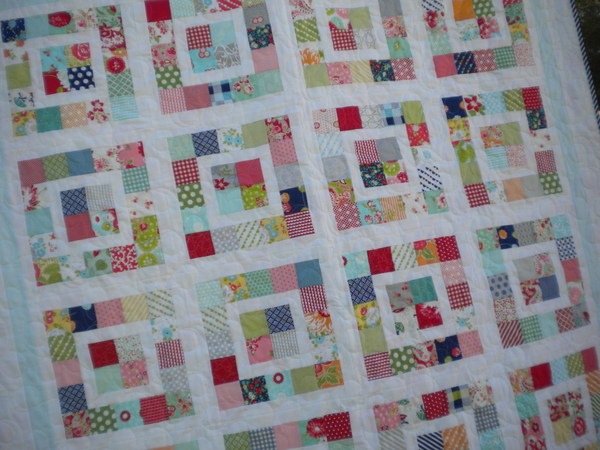 Photo via A Quilting Life
Country Fair Quilt pattern
County Fair is another perfect picnic quilt pattern. Nothing says picnics and outdoor events like a fun, scrappy patchwork design. This quilt can be created from a jelly roll or from scrap fabrics.  With minimal seams to worry about matching, this quilt goes together quickly.
The County Fair quilt finishes at 57 1/2″ x 70," perfect picnic size.
For more tips and ideas and for more picnic quilt pattern ideas, read our post on picnic quilts that are perfect for summer.
What's your favorite way to use your picnic quilts?