Have you ever wanted to sew a particular style but didn't have the right amount of fabric? Perhaps the opposite – you have a great piece of fabric but it seems too small to make anything worthwhile? Planning the layout and some careful cutting can help with this dilemma and stretch your creativity.
Follow along with these expert tips to learn how careful cutting can help you fit a pattern even when you're short on fabric.
The pattern for the top shown above  called for 2.25 yards of 60″ wide fabric but I only had 1.7 yards of beautiful silk jersey. Most patterns come with a layout diagram for the specific yardage length and width.  That guideline works if you have purchased the stated amount, but if you have less fabric it still can tell you a few things.
Take a look and check the quantity of each pattern piece, usually here and on the individual pattern pieces it will say how many of each piece to cut out. Armed with that information you can start working on how to fit all those pieces on your fabric. Here are a few tips on making your yardage go as far as possible.
Tip #1: Lengthen or shorten here are words to watch for.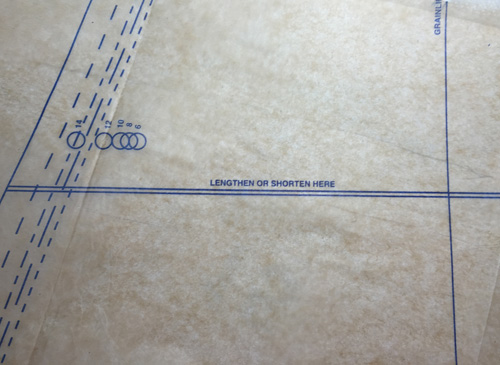 Those are the most important words when it comes to fitting your pieces on the fabric. There is no point in starting with extra length that will be cut off when you hem a garment, so check the length of all skirt, dress, pant or sleeve pieces to make sure you are not using up precious inches in length that you will later discard.
Tip #2: Make extra folds in the fabric.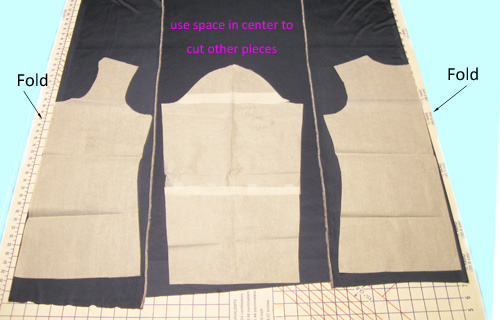 Many patterns have you cut on the fold and show a diagram with the fabric folded to meet at the selvedges. Particularly fabrics that are wider than 45 inches, you can place the fabric in one layer and then fold the two sides toward the center, creating two folds.
As shown here, only fold as far as necessary to cut out the front and back of a garment on the fold, reserving the fabric in the center for other pieces. This is a great way to make tops and T-shirts with little waste. A bonus of this layout is that a short sleeve can often fit in the middle between the front and back, just be sure to cut one, and flip it over to have mirror images if your fabric differs on the right and wrong side.
Tip #3: Play with pattern piecing.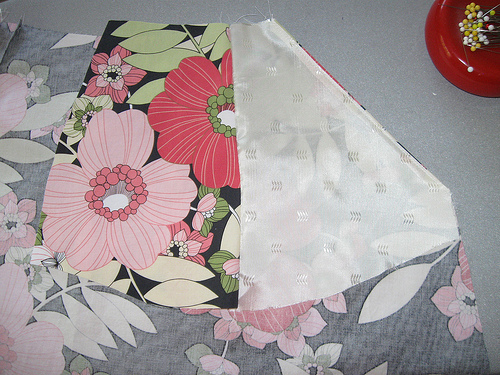 This skirt pocket is designed as all one piece and calls for using the garment fabric, but I had so little fabric that I looked for a place where I could piece together the fashion fabric and lining. I created a seam in the middle of the pocket and sewed half in the fashion fabric and half in the lining. Pockets are a really good place to start when figuring out which pattern pieces can be cut in something other than the fashion fabric.
It's all about what will show and what will be hidden inside the garment that determines where you can piece. Waistbands are another area where piecing works. They are often cut in a long continuous strip but if you are short on fabric that might be a challenge. Split the waistband at the side seam markings, add seam allowances and then they are easier to manage cutting out.
Tip #4: Make pattern-piece duplicates.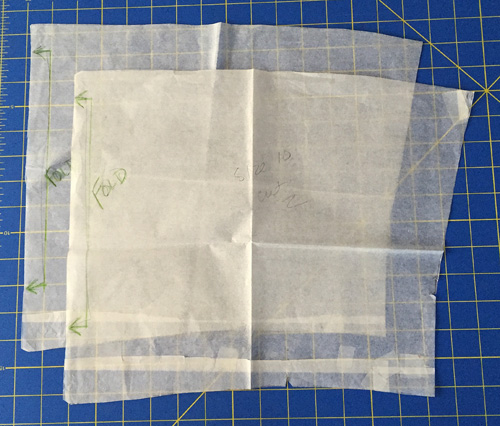 When dealing with skimpy yardage, it sometimes is best to lay the fabric out in a single layer, and then place all the pattern pieces on it so you can see exactly how much is available. It is a bit of extra work but really helpful to trace off pattern duplicates for any item that needs a quantity of 2 or more. Laying out your pattern is like playing with a big jigsaw puzzle – and we all know what it's like if a piece is missing so doing this fills in the gaps.
Tip #5: Use accent or matching fabrics.
Love this use of matching fabric on this striped black and white shirt, made in the Craftsy class The Classic Tailored Shirt
A shirt is particularly good for cutting out on smaller pieces of fabric. Shirts have a lot of pieces so you can change things up by using a second fabric on the yoke, collar, cuffs, sleeves, or even the front and back.
Tip #6: Play with color blocking.
Love this top?
Happily the color blocking trend shows no sign of stopping and it is a great way to use up small bits of yardage. Raglan sleeve garments look particularly good with two different fabrics. Just make sure that your fabrics are compatible for washing, sewing similarity and comfort.
Tip #7: Get creative with the hem.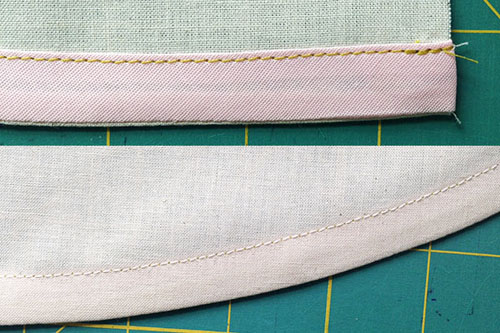 There are so many ways to hem other than the standard folded hem.  Hems use anywhere from 5/8' to several inches but if you don't have that to spare try hemming with a bias binding to retain as much length as possible. You can add a piece of lace, ribbon or other trim to create some extra length as well.
Do you have any techniques to share on how to make the most of your yardage?