Patchwork quilting has to be one of the most rewarding and easy ways to learn to quilt. Patchwork provides fun, simple quilting methods, precision and loads of color combinations. If you are a beginner to quilting, then starting off with easy patchwork is the perfect place to start.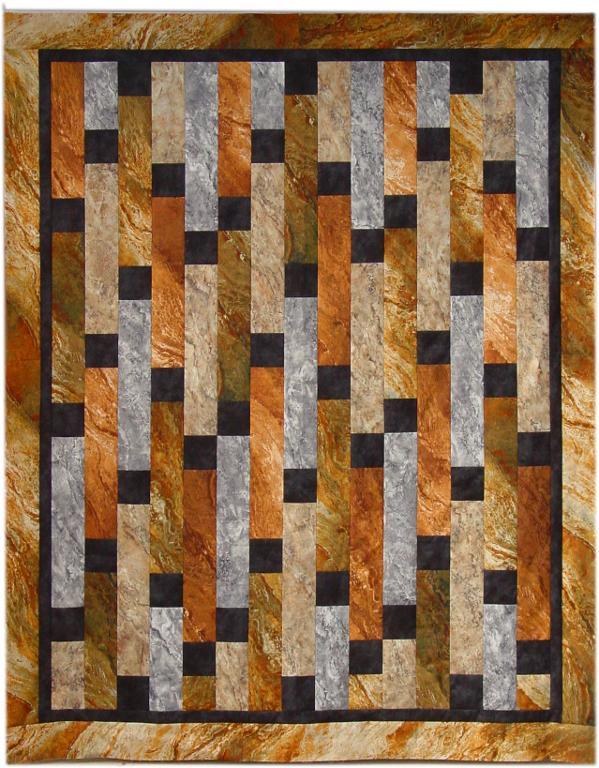 The Man Quilt pattern via Craftsy member Quilted Sunshine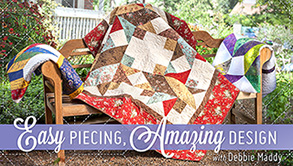 Dynamic blocks don't have to be difficult. Discover how to make exquisite diamond quilts without sewing a single bias edge or y-seam with the online quilting class Easy Piecing, Amazing Design, taught by internationally acclaimed instructor Debbie Maddy.
Join Now!
What is patchwork quilting?
Patchwork is simply the piecing or sewing together of small pieces of fabric. This will form the quilt top, and when the batting and backing are added and quilted, you have completed your patchwork quilt. Take a look at the quilt above, it is squares and rectangles put together in a staggered fashion with the squares being dark colors that catch your eye as it stops and starts throughout the quilt.
For beginners, the easiest pieces of fabric to put together to create a top are simple shapes. By cutting a pile of colorful squares, rectangles or triangles, and sewing them back together in a certain pattern and color, you create a patchwork quilt.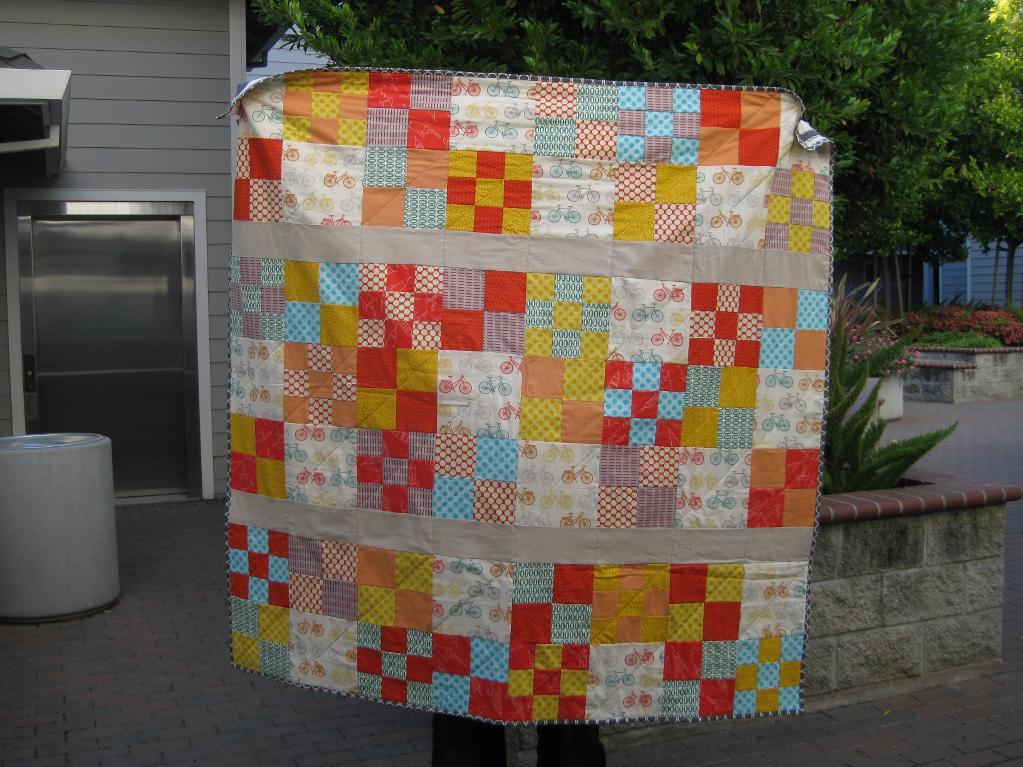 Patchwork quilt via Craftsy member dragling
This quilt pictured above uses different sized patches or squares to create the three different blocks. Each block is the same size. As you can see, there is a one patch, which is just one piece of fabric with the bicycles on it, a four patch that has four squares sewn together to create a block, and a nine patch that has nine squares sewn together to create the third block. Then the blocks were assembled into rows and then sewn into a quilt.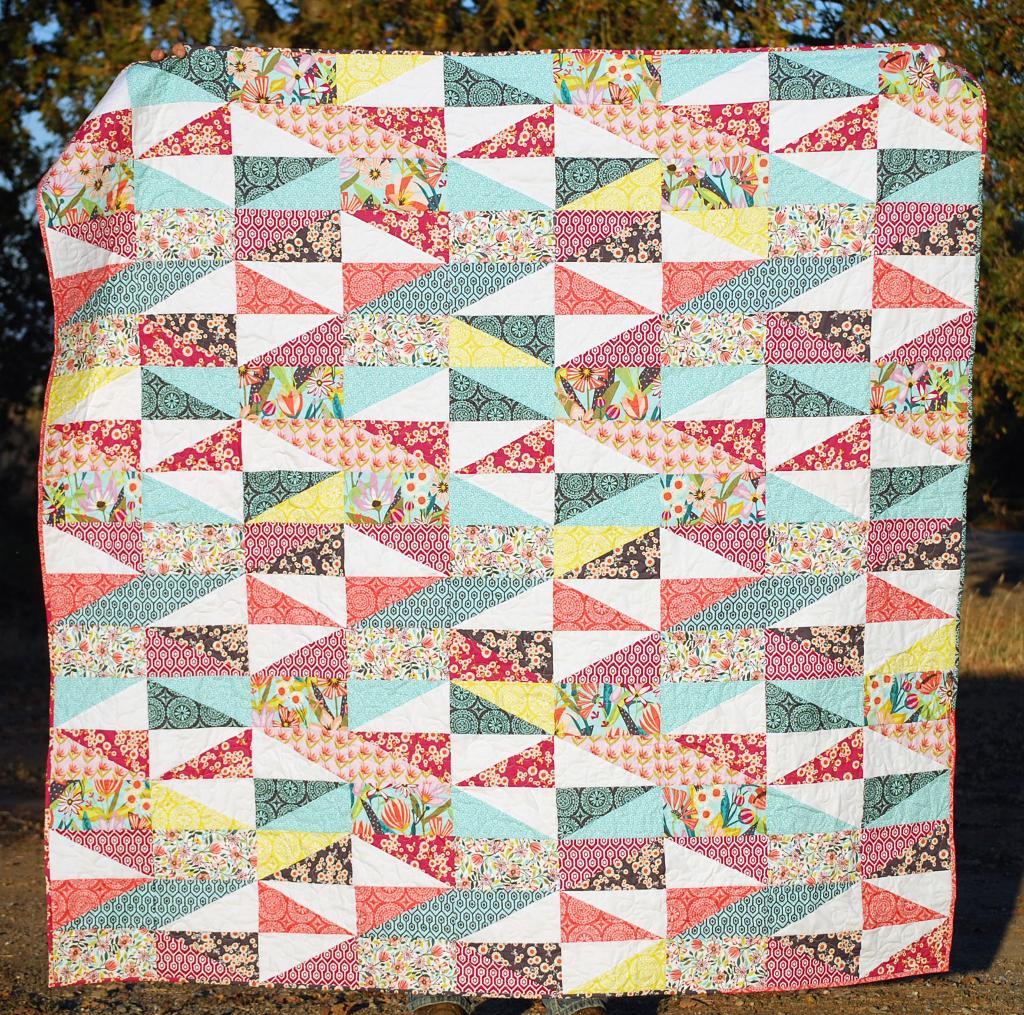 Rendezvous pattern via Craftsy member traceyjay quilts
This bright beauty is a perfect patchwork quilt in that there are diamonds, triangles and oodles of color. Measuring either a 48″, 72″ or 96″ square, it only uses two blocks to construct, the rectangle block and the two triangles in a second block. This is a fun quilt to make using an array of colors from your stash.
Patchwork quilting tips for beginners
1. Audition your colors of fabric before you begin cutting.
Lay them side by side in a nice bright setting. Ensure that the colors are what you thought they were when you pulled them out. Make sure to have the background fabric included as well as the binding fabric.
2. Always cut your pieces precisely.
The saying "measure twice, cut once" is never more perfect than here. The more accurate the pieces are cut, the easier they will fit together when sewn. When seams match and corners meet, the quilt comes together beautifully and becomes a real showpiece of your talent.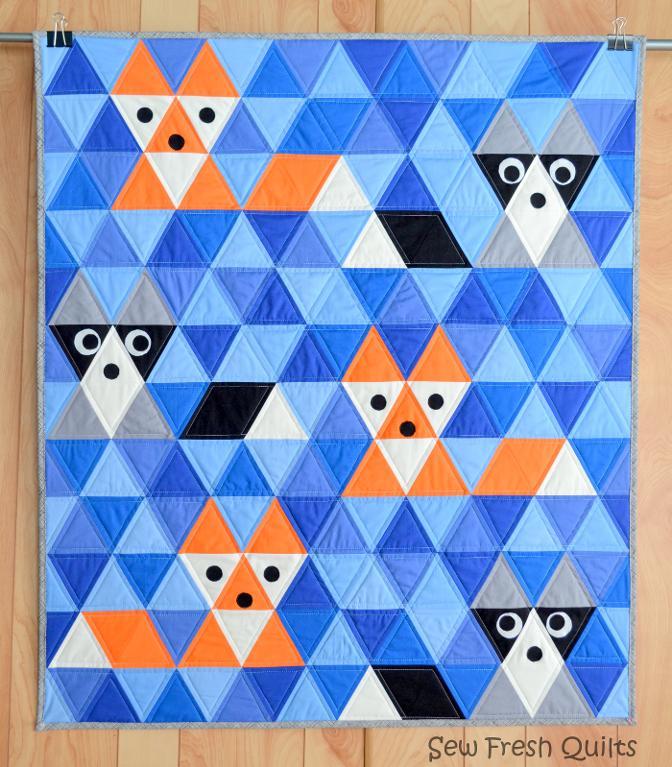 Fox & Friends Triangle Quilt pattern via Craftsy member Sew Fresh Quilts
This fun 39″ x 45″  triangle quilt is a perfect example of being precise with your cutting and sewing. See how all the points line up to define each triangle? By only using one shape, color is the defining factor in making this quilt work.
3. Press often and carefully.
When pressing patchwork, do so gently. You don't want to stretch the fabric, but you do want to press the seams to one side or open depending on your preference. If you decide to press to one side, ensure that when you stitch your patchwork pieces together that the pressed seams are opposite each other so as not to add the bulk all in one place.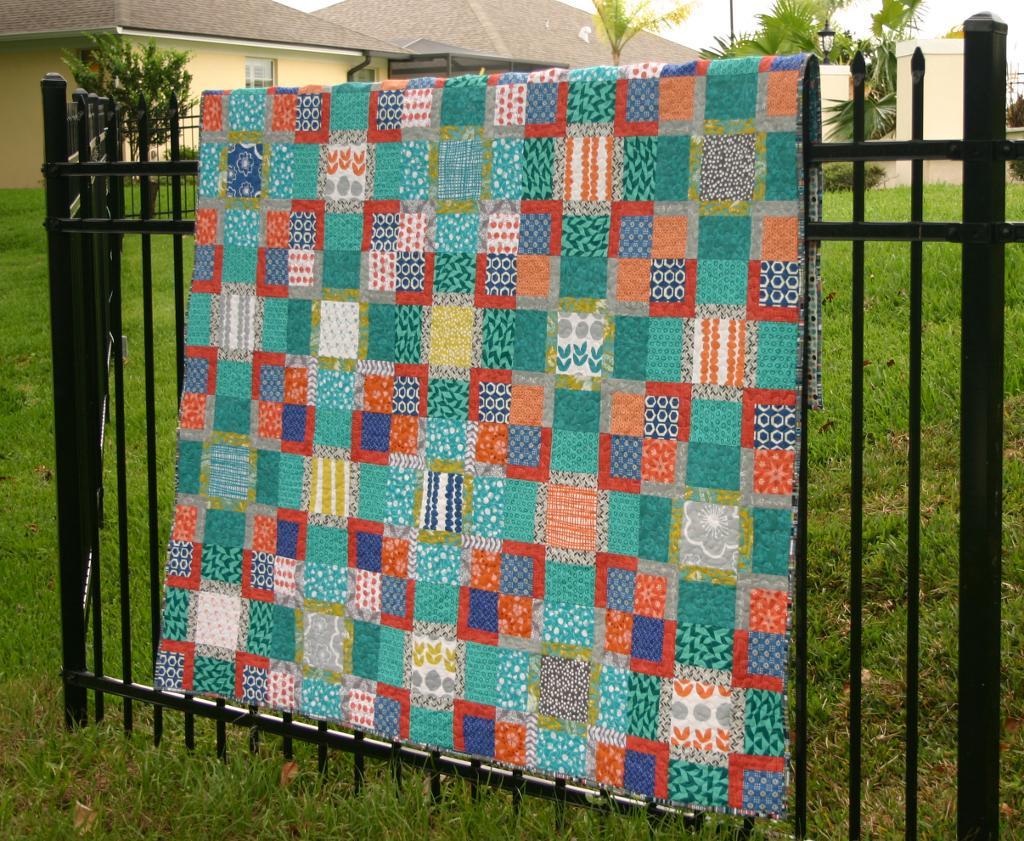 Patchwork quilt pattern via Craftsy instructor Elizabeth Dackson

This colorful patchwork quilt above uses squares and rectangles that are pieced together to give the eye a fun target. The pattern ranges in size from a baby quilt to a queen size quilt.
 Tell us! What was your first patchwork quilting project?