Popular around the turn of the last century, crazy patchwork embroidery has evolved into an honest to goodness art form. Even better, modern technology permits stitchers to use their crazy quilt creations instead of placing them on display. Whether you stitch by hand or machine, these samples will have you wanting to get crazy!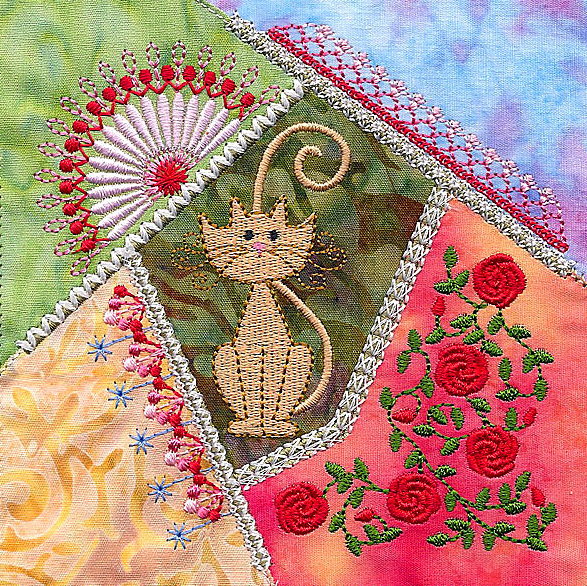 Crazy patchwork cat block via Molly Mine
Getting a little bit crazy: A guide to getting started
Pretty much anything goes when it comes to creating crazy patchwork pieces. The basis is the same for hand and machine: Fabrics are placed on a base fabric and seams are encased in decorative embroidery stitches.
Crazy quilting, the old-fashioned way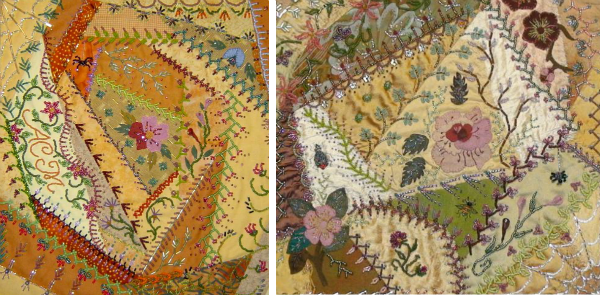 Photos via Craftsy member Amy Munson
Bluprint member Amy Munson created these beautiful Crazy for Beads projects using her pattern, Bead Embroidery Stitches. The PDF pattern provides detailed instructions on how to make nine crazy quilt stitches using beads.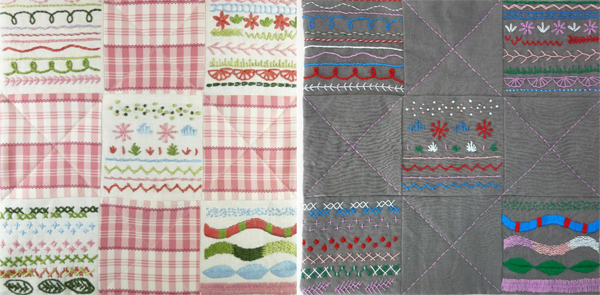 Photos via Craftsy members mcjudy and LittleKatie (left to right)
Two mini-quilt projects created in the Craftsy's class Design It, Stitch It: Hand Embroidery showcase just a few of the 25 fun embroidery stitches that are taught in the course.
Sign up for Design It, Stitch It: Hand Embroidery here.

Photos via Bluprint member wagonwife
Craftsy member wagonwife adds exquisite embellishments to her Crazy Quilting Wall Hanging project.
Photos via Craftsy members limegreenlizzie and Busy Crow Studio
Crazy quilts of old included an assortment of unconventional fabrics, such as wool. Craftsy member limegreenlizzie puts a modern-day spin on using different fabrics by recycling wool blankets to create her Crazy Patchwork Heart project (above left photo).
The Crazy Cat Appliqué pattern (above right photo) by Bluprint member Busy Crow Studio is great way to try recycling fabrics, making it a great stash buster!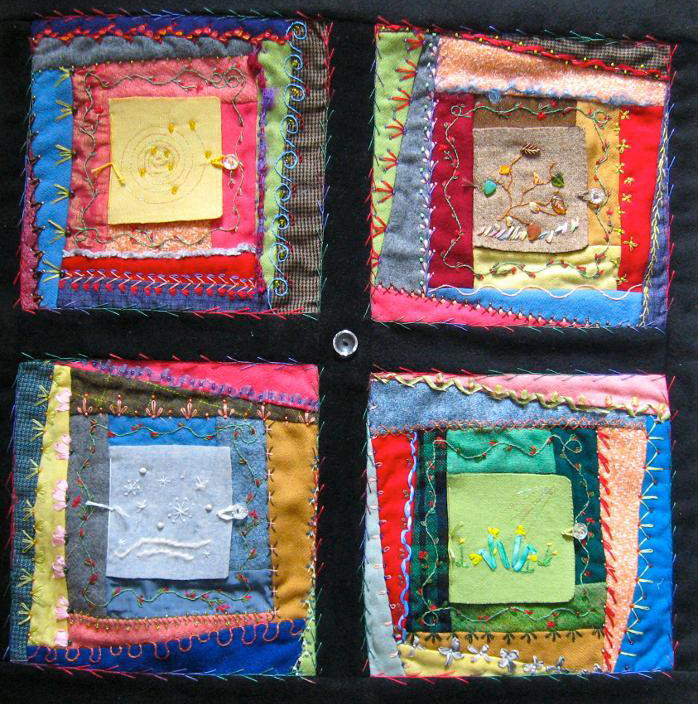 Photo via Craftsy member llkdesigns
In her project Books of the Four Seasons, Craftsy member llkdesigns takes crazy quilting a step further. Like traditional methods, she used luxury and utility fabrics, buttons, beads and floss. Each block is actually a book whose season is identified by name when the small center covers are opened.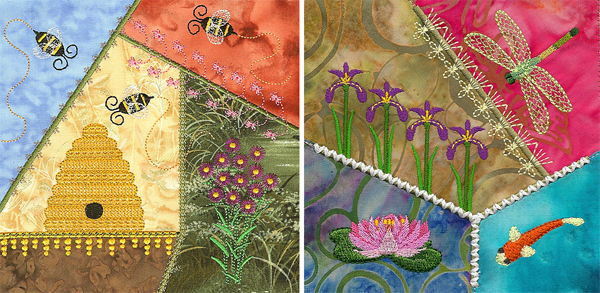 Photos via Molly Mine
Crazy quilting by machine
Most crazy patchwork machine embroidery is created with the appliqué method. Each section is tacked down, trimmed, and embellished with satin and decorative stitching. Besides being faster to complete, the advantage of modern-day crazy patchwork design is that the reinforced stitching holds up to everyday use. Now these beautiful designs can be utilized without fear, not just admired from a distance.
Need some help putting your machine embroidery and quilting skills together? Try out the Craftsy class The Machine Embroidered Quilt and create harmony between your quilting and decorative stitching techniques!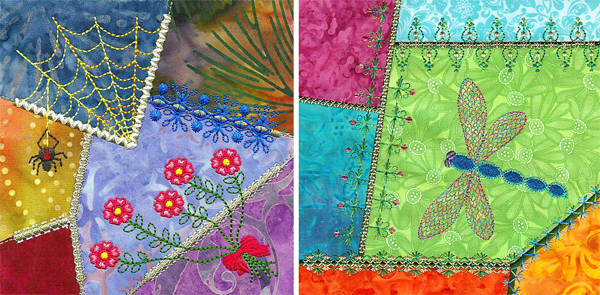 Photos via Molly Mine
Another advantage of using a machine in crazy patchwork embroidery is that you can easily embroider designs on each section of the block. Molly Mine offers some extraordinary crazy quilt blocks that can be interchanged for dozens of quilt, wall hanging, pillow and table runner combinations.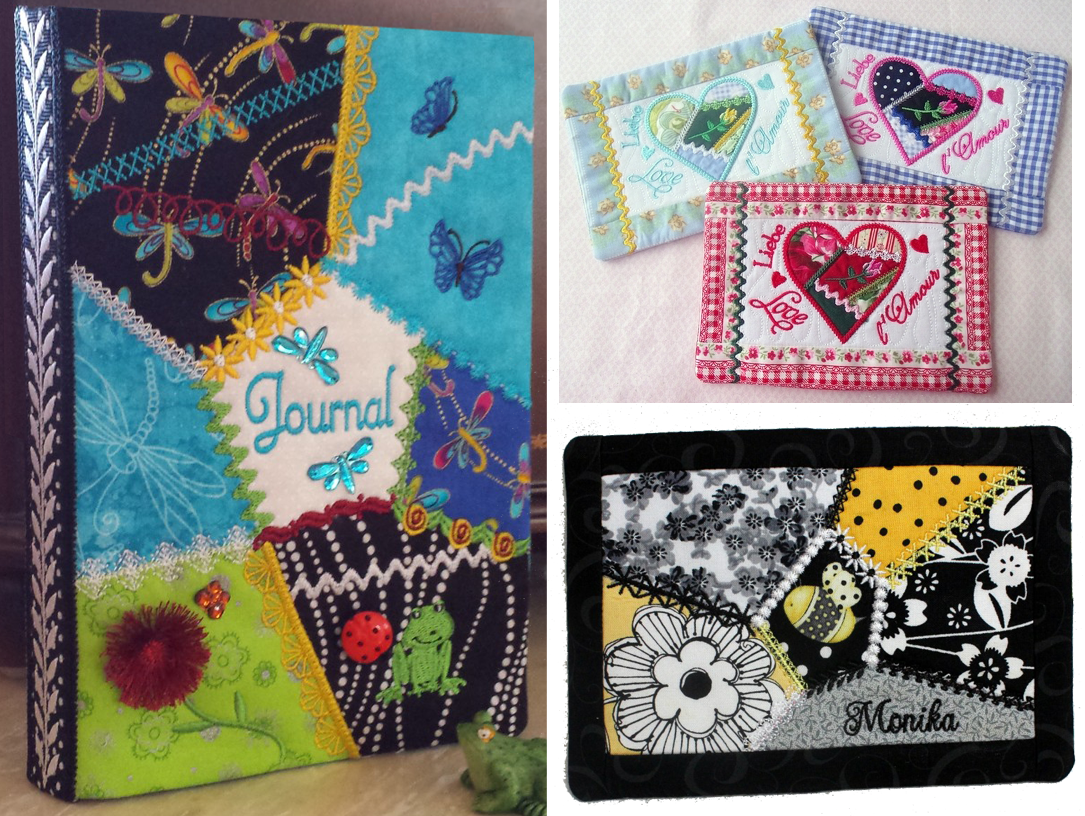 Photos via Oma's Place
Even the popular mug rugs are not immune to craziness! Oma's Place has digitized two different mug rugs and even a journal cover using decorative crazy patch stitching.
Get the Crazy Patch Journal Cover pattern here.
Get the Crazy Patch Heart Mug Rug pattern here.
Get the Crazy Patch Bee Mug Rug pattern here.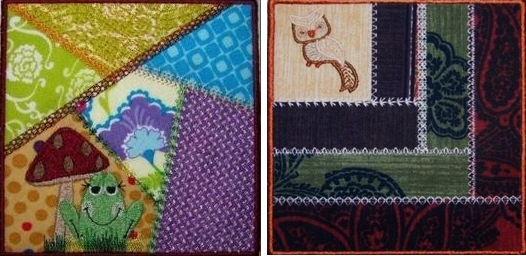 Photos via sanity
Craftsy member sanity5 uses crazy quilting stitches in traditional crazy quilt blocks as well as a log cabin block.
Learn to create your own creative and crazy quilt designs with embellishments and asymmetrical patchwork designs in the Craftsy class Crazy Quilts. Instructor Allie Aller will guide you through using fanciful fabrics and designs to open your imagination and create quilted works of art!
What is your favorite crazy patchwork project?