Tired of cooking classic spaghetti? Spice up your weekly dinner plans with this simple pasta arrabiata recipe. You'll love the delicious combination of tomatoes and garlic with a good punch of heat, and you'll REALLY love how quickly this homemade Italian pasta sauce comes together in six easy steps!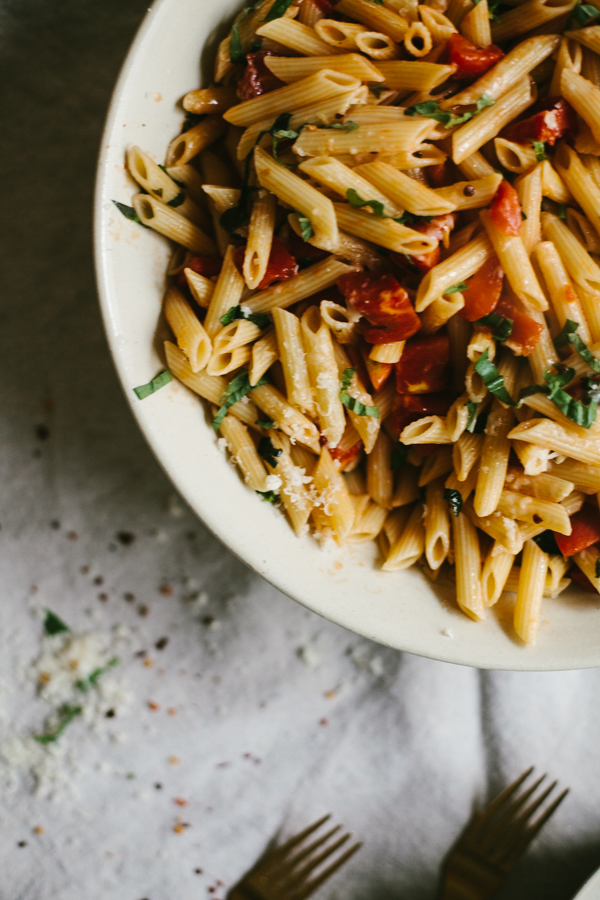 Arrabiata
, or "angry" pasta, is a simple but delicious sauce of tomatoes, garlic and good punch of heat. 
Some recipes get their heat in the form of fresh chilies while others rely on chili flake. In the pasta arrabiata recipe below we flavor olive oil with two whole cloves of garlic. Those cook and infuse the oil until they are soft, sweet and deeply golden. The tender cloves are discarded before more garlic — this time sliced — is added. Tomato paste adds a deep tomato flavor while chili flakes sizzle in the oil and release their warming spice. Finally, canned diced tomatoes are added just before the pasta gets tossed into the sauce.
Adding a bit of the starchy pasta water to the sauce really brings the sauce together and helps to meld the flavors. This is a great tip for virtually any pasta dish, particularly when you are making a cheese-centric pasta sauce such as spaghetti alla carbonara or cacio e pepe.
Because I wanted my kids to enjoy this pasta arrabiata, I started with 1/2 teaspoon of chili flakes. In the recipe below I say 1 teaspoon, as that would give you far more of the traditional heat that this recipe demands. I've actually seen some recipes that call for 1 tablespoon chili flakes. The point here is that it really is a matter of preference. 
Fresh basil adds a lovely herbal flavor that softly tames the heat, but if basil is hard to come by (as it often is in the winter), than Italian parsley would stand in its place nicely. 
This recipe comes together in just over 15 minutes and is sure to become a go-to weeknight meal.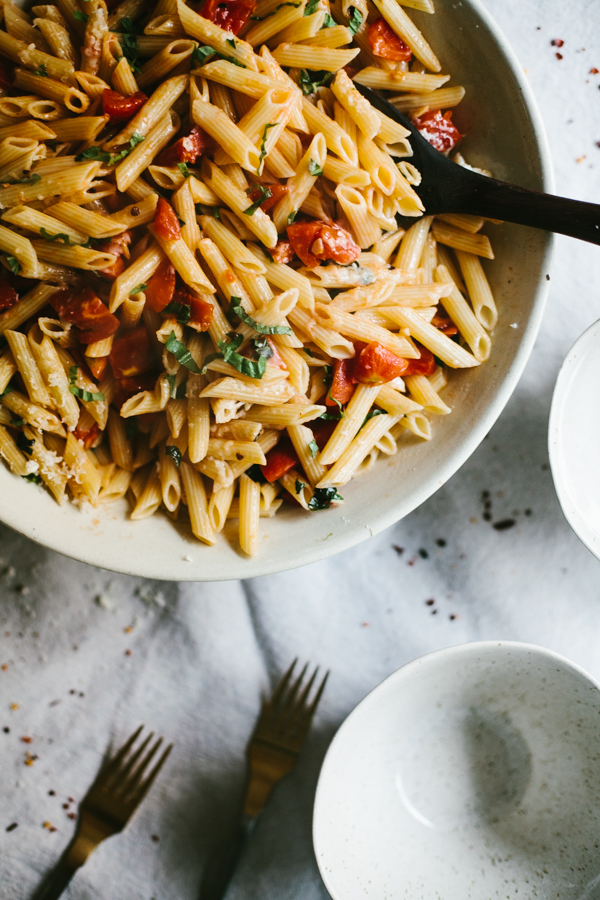 FREE Download: Weekly Meal Planner Template
No matter the recipe or crowd, this printable weekly meal planner will keep you cool, calm and well-fed throughout the week!Get My FREE Template »
Pasta arrabiata recipe
Serves 6 to 8 
Ingredients:
1/4 cup olive oil (I use extra-virgin olive oil)

2 garlic cloves, peeled
1 garlic clove, peeled and sliced
2 tablespoons tomato paste
1 teaspoon chili flakes (more if you want more heat)
2 cups canned diced tomatoes (16 ounces)
Salt
1 pound penne pasta
1/2 cup sliced fresh basil
Parmesan to finish
Directions: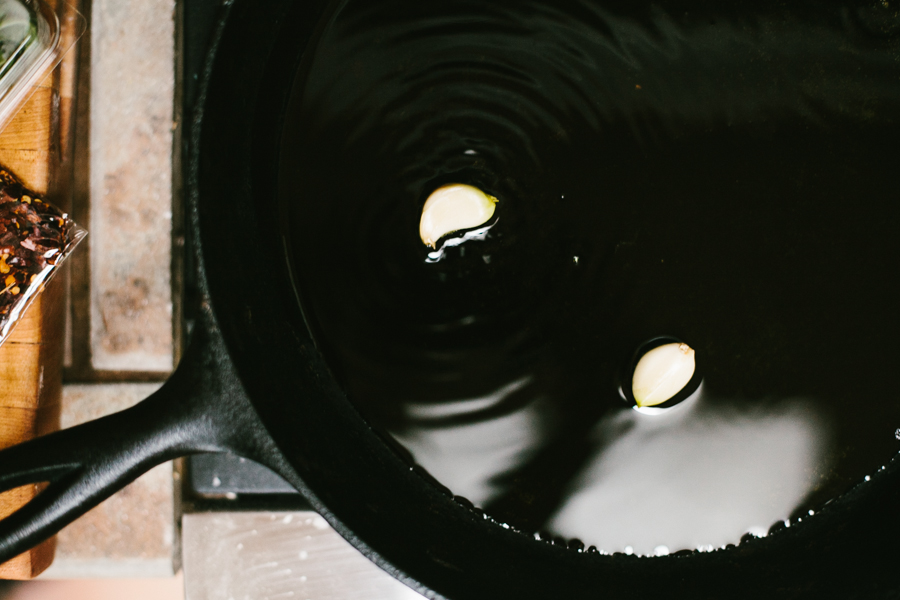 1. Add the olive oil and two garlic cloves to a large skillet set over medium heat. Cook until the cloves are browned all over.
2. Remove the cloves from the oil then reduce the heat to low. Stir in the sliced garlic clove, tomato paste and chili flakes.
3. Continue to cook until the garlic is just browned. Then, carefully tip in the tomatoes.
4. While the sauce simmers, cook the pasta in heavily salted water until al dente.
5. Transfer the cooked pasta to the sauce. Add a couple of tablespoons of the pasta water to the sauce as well.
6. Finish with the sliced basil and serve with finely grated Parmesan.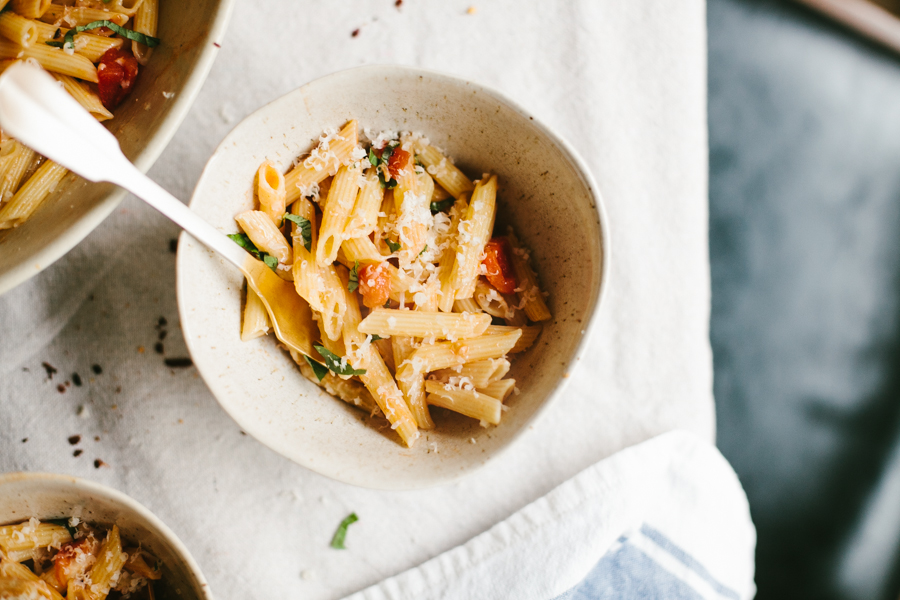 FREE Download: Weekly Meal Planner Template
No matter the recipe or crowd, this printable weekly meal planner will keep you cool, calm and well-fed throughout the week!Get My FREE Template »