When planning your next birthday bash, look to these fun and festive party cakes for dessert inspiration! Many of the cake themes online and on social media these year take on classic cake design ideas in a new and fresh way. Best part of most of these trends? They're approachable and accessible for cake decorators of all skill levels! 
Top 5 party cake trends in 2017
1. Unicorn cakes
Unicorn everything has to be the #1 overall dessert trend in 2017. Unicorn cakes have taken center stage alongside unicorn cookies, candy bark, macarons, bread, frozen drinks and more.
These mythical-creature cakes are popping up in all shapes and sizes. From elaborate sculpted unicorn cakes (like the one below, made by Bluprint member Cherise Yu in Sculpting Magic) to the trendy, Pin-worthy unicorn cakes like the one above from a recent Bluprint cake blog post found here.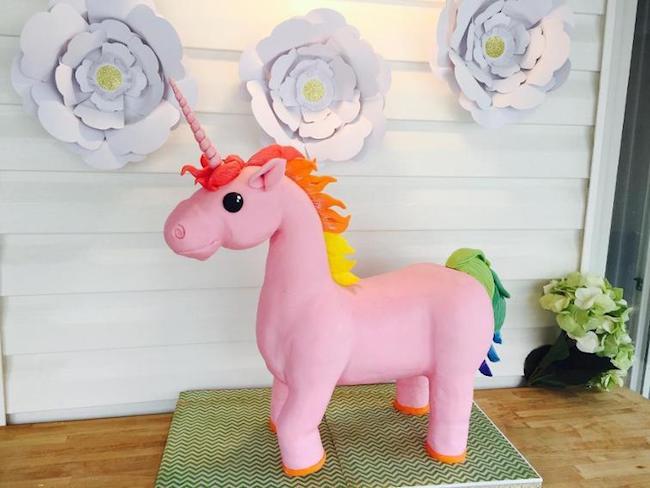 2. Rainbow cakes
Rainbows on the inside and outside of cakes are both still popular party cake trends in 2017. The rainbow trend is one that can be combined with other cake trends on this list, like rainbow unicorn cake.
Double up on the rainbow trend by tinting your cake batter in ROYGBIV hues before decorating with rainbow tinted buttercream, fondant or candy. (Here's a tutorial for that!)
3. Candy Cakes
Decorating cakes with candy definitely isn't a new thing, but in 2017 this trend seems to have taken a turn toward over-the-top!
The best part of this trend? You don't have to be Picasso with a piping bag to participate. Using candy to decorate a cake is also a great way to customize your creation with the recipient's favorite candy or candies in their favorite colors. 
4. Super Hero Cakes
Super hero cakes are another classic when it comes to party cake themes. In 2017, super hero cakes are soaring to new heights by forgoing the classic comic book characters and instead celebrating the guest of honor's own unique super powers.
Bold, graphic lettering, bright colors, masks and capes are all fun design elements that can be easily customized while staying within the super hero theme. 
5. Tropical Cakes
Getting together and celebrating with friends and family is all about taking a break from the everyday grind, so it's so surprise that tropical themed cakes are trending in 2017. What better way to escape (if only in your mind) than to someplace sunny and warm with a cool drink and slice of cake in hand?
Flamingos, palm leaves, pineapples and other fun fruit shapes are all design elements popping up on tropical party cakes. 
Master Cake Decorating Basics
In this comprehensive beginner's class, you'll learn how to bake and construct a variety of one-tiered frosted cakes with professional-quality results. Get the Class