A wonderfully chic Paris-themed party is a fantastic way to celebrate a birthday, anniversary, wedding or to just say "merci" to someone special. Perhaps you know a keen Francophile who would simply adore being showered with pâtisseries or even adorable cupcakes with sweet, little fondant macarons like these!
Here's our tutorial on how to create lovely cupcake toppers for a perfectly parisian party!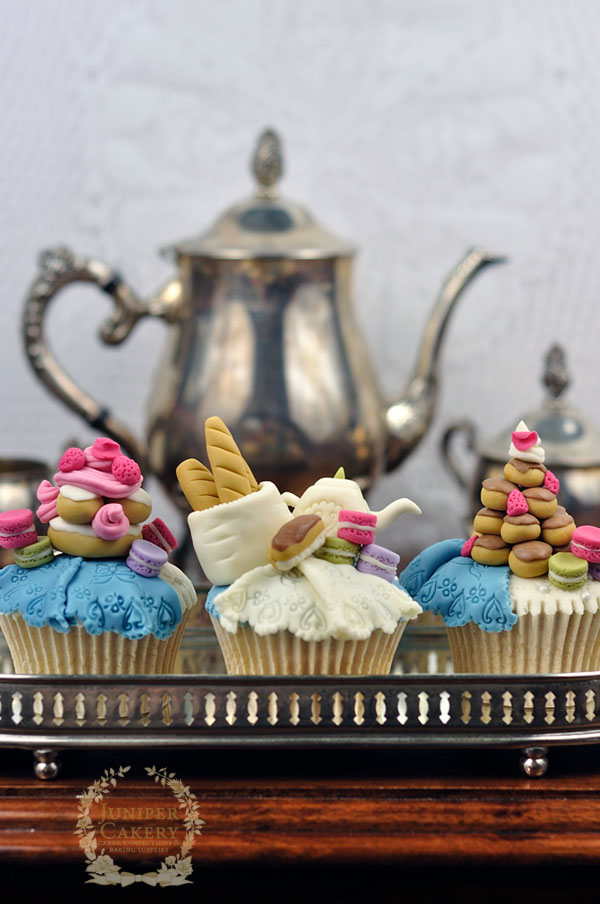 Materials:
Fondant in various colors of your choice (we used blue, pistachio green, cream, dusky pink, raspberry pink,  lavender, creamy brown and dark brown)
Water or edible glue
Brush
Fondant rolling pin
7mm round piping tip
Cocktail sticks or uncooked spaghetti 'sticks'
Extruder gun
Blade tool
Ball tool
Veining tool
Lace cutter
Flower foam pad
Vodka or lemon juice
Step 1:
Prepare your cupcakes by icing them with colored fondant. We iced ours with blue and cream before adding a lovely quilted stitch pattern across the tops.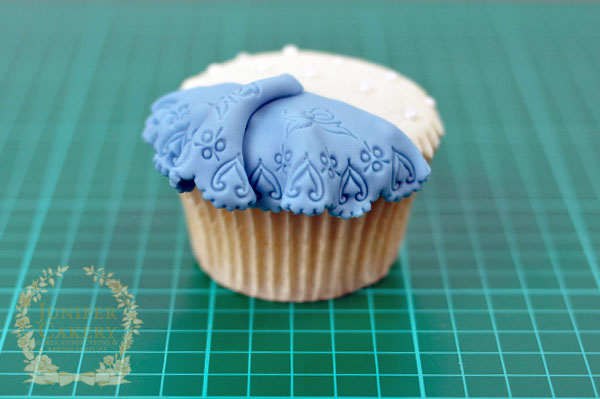 Step 2:
With a lace cutter and some thinly rolled fondant cut out panels of lace or embossed 'fabric' and drape atop of your cupcakes.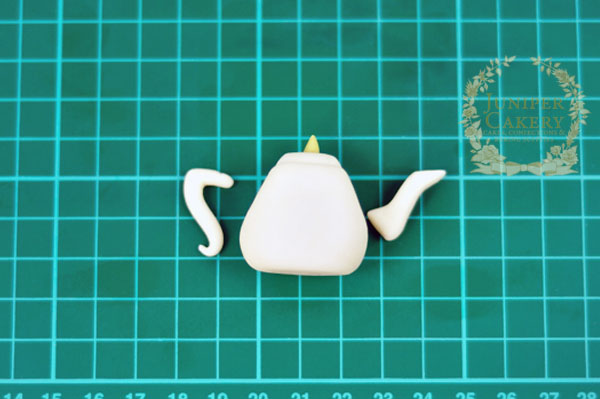 Step 3:
For the teapot create a smooth ball of fondant approximately the size of a ping-pong ball and shape into a slightly tapered sphere. Indent the teapot lid with the larger end of a piping tip. For the teapot lid knob roll a tiny amount of fondant in a contrasting color into a tapered ball, take the small end of the ball tool and indent the top centre of the teapot lid, add a dab of water or edible glue and attach the knob.
Step 4:
For the spout and handle create some small fondant 'ropes' and shape before leaving these to set a little. Attach with water or edible glue and leave to dry whilst resting on wads of kitchen towel. When finished add extra detail with blossoms, hand painting or sugar pearls! We pressed part of our lace cutter into our teapot for an added touch!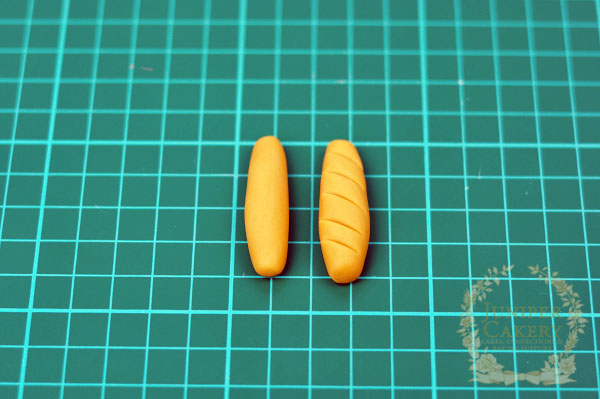 Step 5:
To make a lovely bag of baguettes roll out around three tapered oblong shapes from creamy brown fondant. These should measure around 1 inch in length each. Scour five angled lines into each oblong and leave to harden.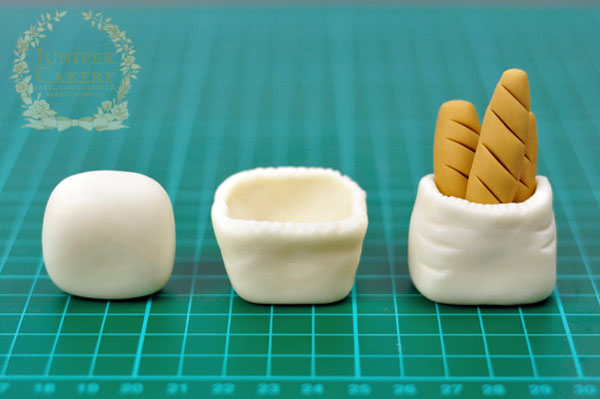 Step 6:
For the bag take some cream fondant and shape into a ball. Using a ball tool push in the center to create a well and shape. Use a veining tool to make the bag's perforated top edge. Set the baguettes inside of the bag with a little edible glue and set aside.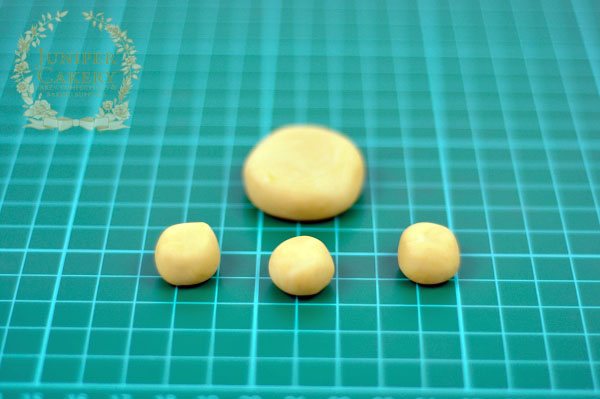 Step 7:
To create a little fondant Saint Honoré roll out four balls from a creamy brown fondant. One ball should be large and three should be around  1/4 the size of the large ball. Slightly flatten these.
Step 8:
Roll out some cream colored fondant and cut out a series of circles with a piping tip. Smooth these over the balls. Add some glue to the surface of the large 'choux pastry' ball and attach the smaller pieces.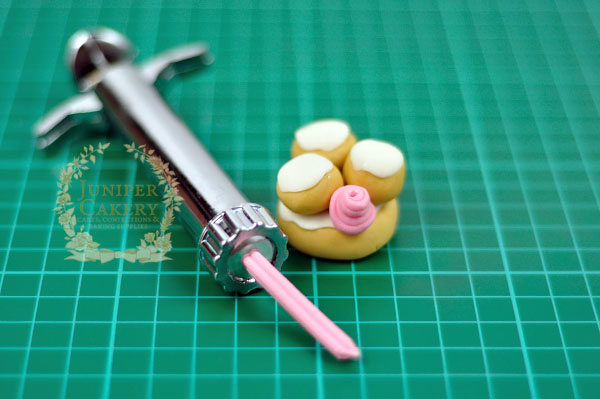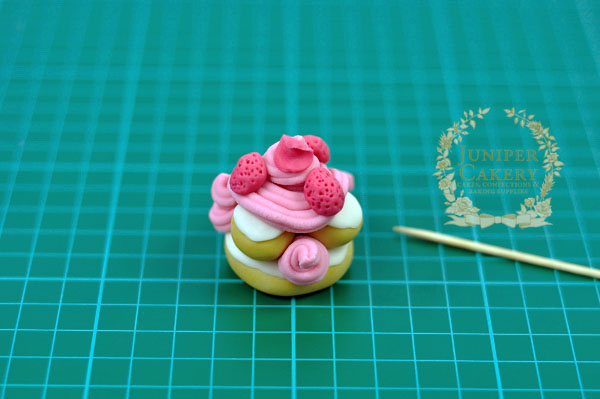 Step 9:
With an extruder gun and a scalloped shaped extruder gun setting push out some pink 'raspberry cream'. Carefully swirl each and attach between each smaller ball. Create a larger swirl and affix to the top. Create raspberries from small egg-shaped pieces of pink fondant indented with a cocktail stick and attach these also. To create the circle rose petal sat atop of the Saint Honoré form a tiny ball of pink fondant, flatten and thin the edges with a ball tool before attaching.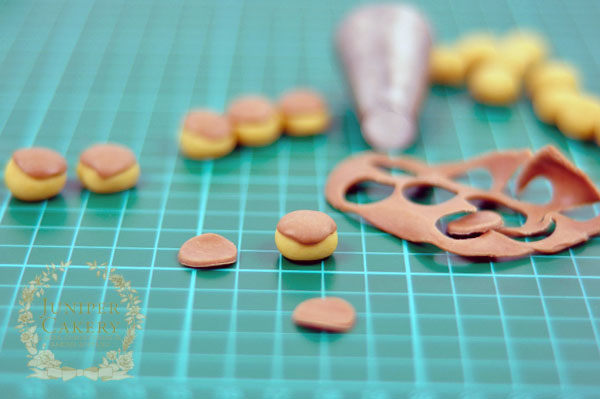 Step 10:
To make a fun profiterole tower make several balls from a creamy brown fondant. Slightly flatten these.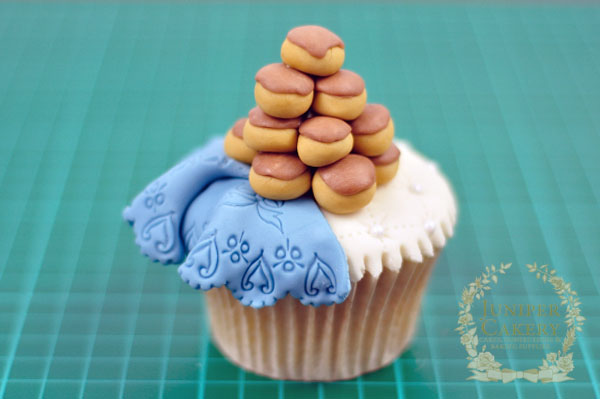 Step 11:
Roll out some darker brown fondant and cut out a series of circles with a piping tip. Smooth these over the balls. Then arrange into a conical tower atop of a cupcake!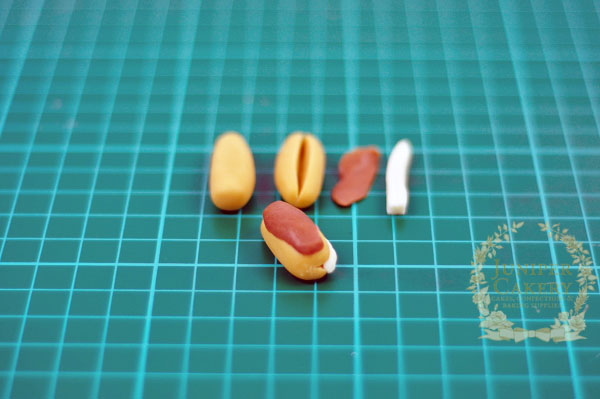 Step 12:
For fondant, chocolate éclair shape some creamy brown fondant into a small oblong shape. Slice half down the middle with a blade tool. Take some darker brown fondant and create a 'chocolate sauce' on the top and fill with cream fondant using the extruder gun.
Step 13:
Arrange atop your cupcakes and add tiny fondant macarons too!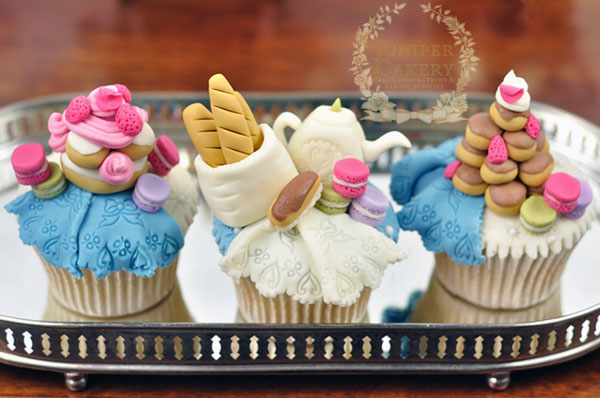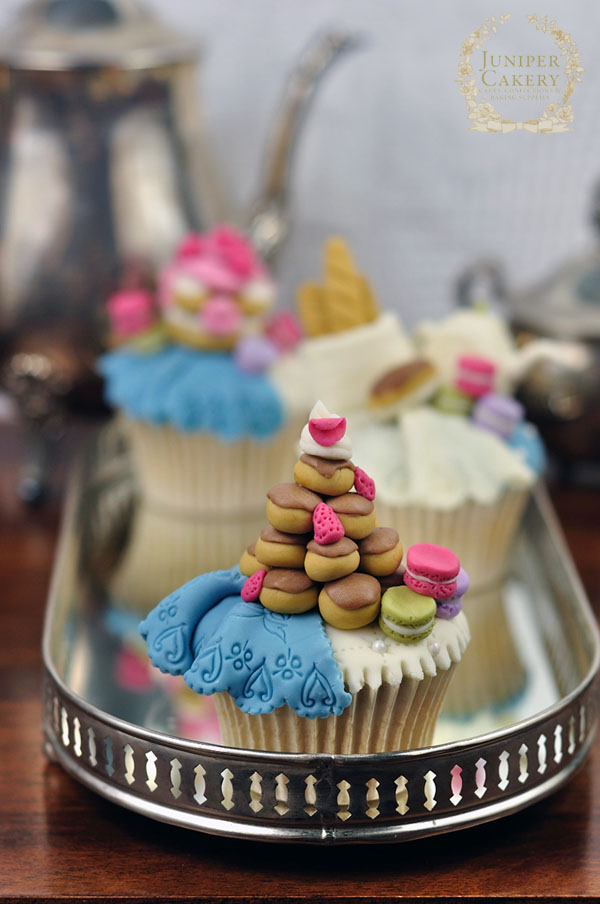 Now you can present your sweet Parisian themed cupcakes on tiered cake stands ready for a chic party or in a ribbon tied box as a gorgeous gift!
Want even more adorable decorations? Head on over to enroll in Sheryl Bito's class Tiny Cupcake Toppers to learn how to create the miniature cakes and pastries used on these cupcakes plus much more!
What's your favorite theme for a treat-filled party?