In quilting, there's nothing quite like the accuracy you can achieve with paper piecing. Star blocks done with foundation paper piecing range from basic, two-color designs to multicolored prisms that resemble the view from a kaleidoscope.
Today, we thought it would be fun to take a closer look at some paper-pieced star quilt blocks that you can incorporate into your quilting projects! Whether you are sewing up a single block or constructing a whole quilt, these projects offer up plenty of inspiration.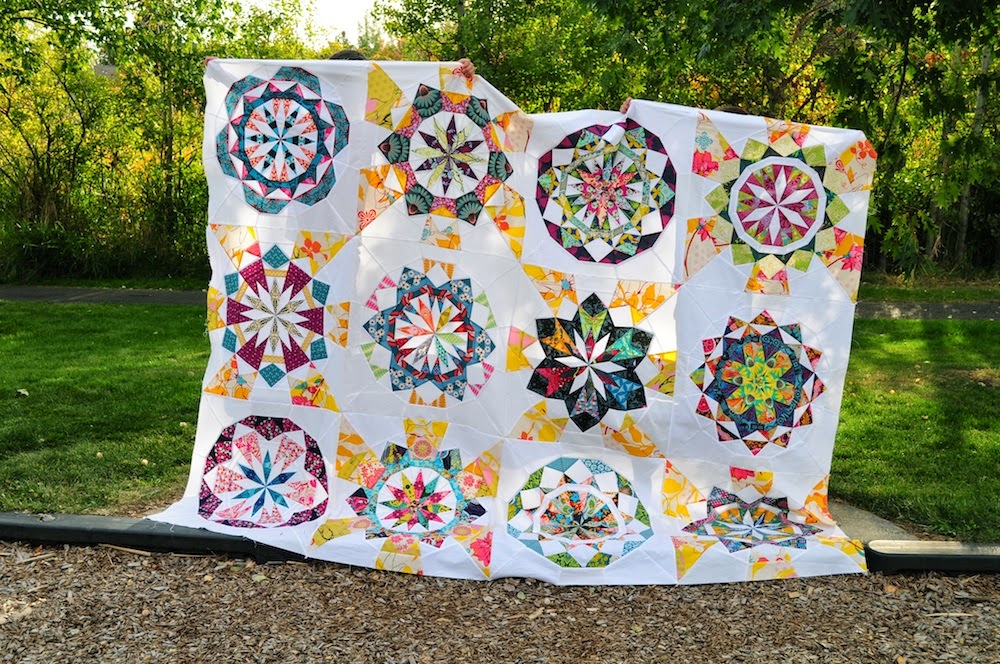 Photo via From Blank Pages
Did you see the amazing Celestial Star quilt-along that just wrapped up on Diane's blog, From Blank Pages? You can see each of these stunning paper-pieced star quilt blocks in greater detail. Sewn in a variety of Anna Maria Horner prints, these stars are foundation pieced using Diane's original pattern, available in the Craftsy shop. By sewing white backgrounds for half of the stars and printed backgrounds for the other stars, you can see how the blocks feature a great deal of movement as they "shine" in different directions on the quilt top.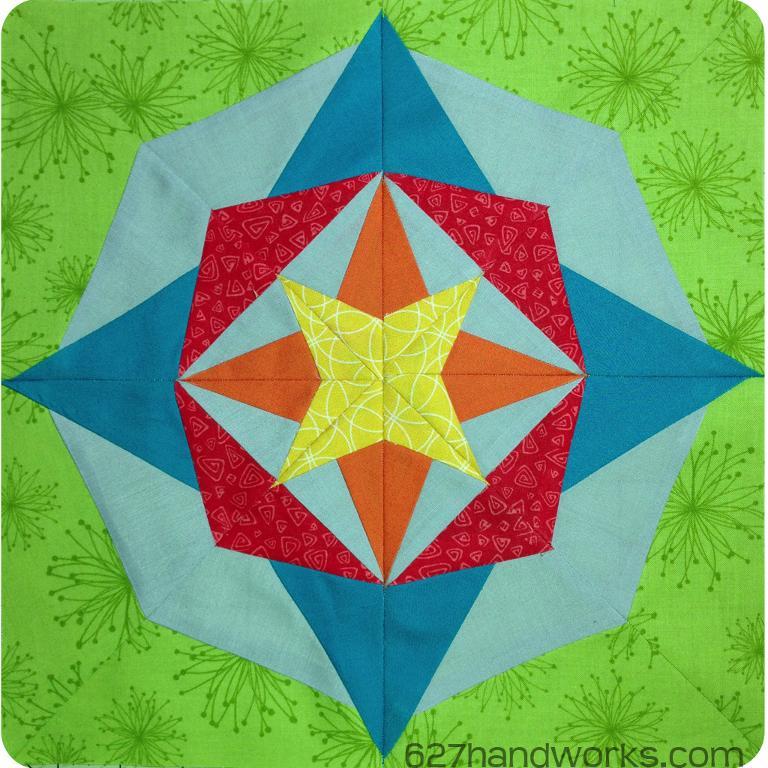 Photo via Craftsy member 627handworks
If you love rock 'n' roll music and sewing, you may want to check out a free quilting series hosted by Julie on her blog, 627 Handworks. The Block Rock'n series features a free paper-pieced star block each week, with the pattern named after a famous rock singer. The first block is named for David Bowie, and is sewn in bright, monochromatic prints. Other blocks are named for Bob Marley and Led Zeppelin.
and more Block Rock'n patterns.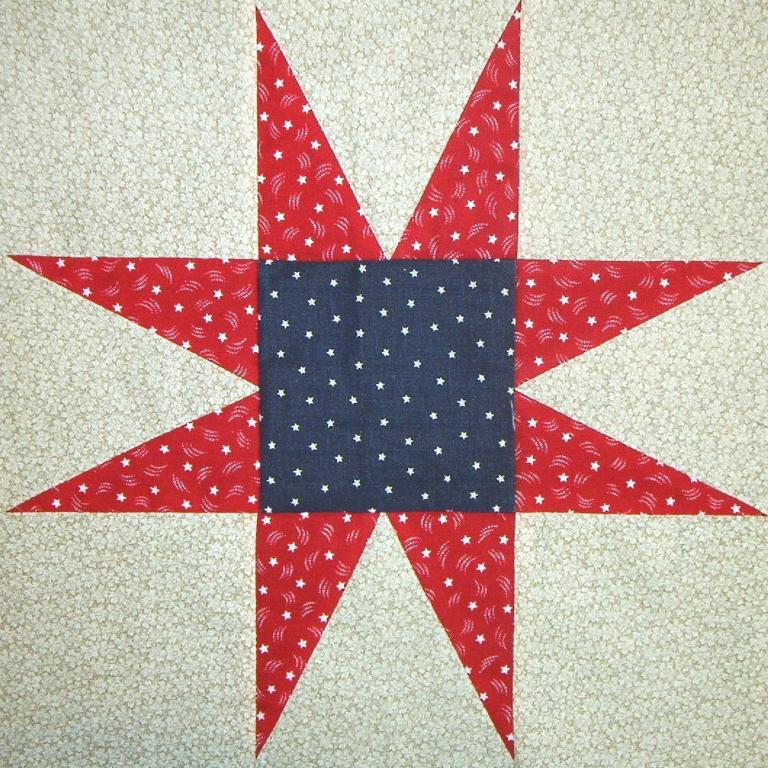 Photo via Craftsy member Julee's Thread and Needle
If you have your heart set on making a paper-pieced stars quilt, but don't have a lot of time or the patience required for an intricate design, you may want to try out this free block in the Starry Brights series from quilter Julee. The Pinecone Star block is relatively simple to piece, and you could sew it up in just two or three different fabrics to simplify the foundation piecing. Sewn in subtle patriotic fabrics, this quilt would look great all year.
and more Starry Brights blocks.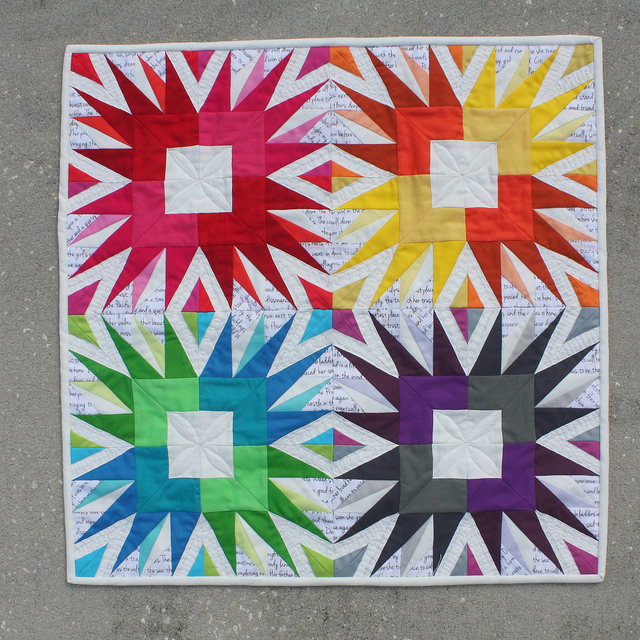 Photo via Don't Call Me Betsy
If you've followed along with Elizabeth's Lucky Stars BOM 2013 and Lucky Stars BOM 2014 clubs, you'll know that she shares instructions for a new paper-pieced star block each month, with full templates and piecing diagrams. Her new Showstopper Quilt Pattern offers another star block that's just perfect when sewn up as a four-block mini quilt. With a prominent bold star and secondary patterns, this block comes in two sizes, 10″ and 12″ with nine pages of instructions and full-color illustrations.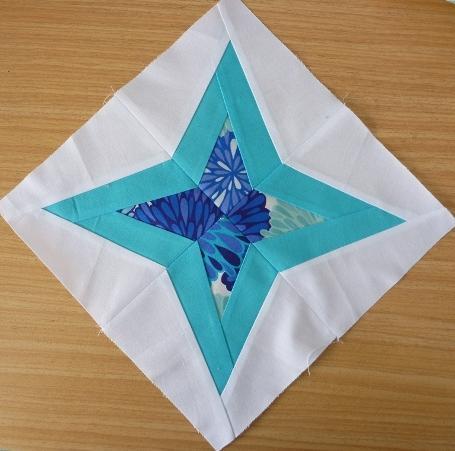 Photo via Craftsy member Quiet Play
If you love quilt blocks that are set on point, this beautiful paper-pieced star quilt block is suitable for advanced beginners. Make a 10″ block and you can add a simple border to make a throw pillow. Or stitch up several blocks and make a quilt of paper-pieced stars. The pattern does not include basic paper piecing instructions, but you can refer to this Craftsy post for a quick tutorial on how to paper piece.
Learn more about making intricate paper-pieced star quilt blocks in the new Craftsy class Paper-Pieced Stars with Carol Doak. You'll learn to make perfect points, use different types of foundations and choose the best fabrics for star blocks to get a 3-D effect. The course also covers yardage requirements so you can learn to make any number of blocks or an entire quilt without running out of fabric.
This course is a perfect companion to Carol's Mastering Foundation Paper Piecing, which includes Carol's e-book of 50 paper-pieced blocks for free!
Are you starry-eyed for paper-pieced star blocks?