Did you hear that Pantone released its 2015 Color of the Year? Marsala, a toned-down red, is described as "a naturally robust and earthy wine red" that has a great ability to tie other colors together and provide a unifying element.
A contrast from the fresh and lively Wild Orchid chosen by Pantone for 2014, Marsala is sure to be present in trend reports for fashion and home decor in the upcoming year. Whether or not you follow color trends in your quilting, we thought it would be fun to take a look at quilt projects and fabric lines that tie in this deep yet subtle red.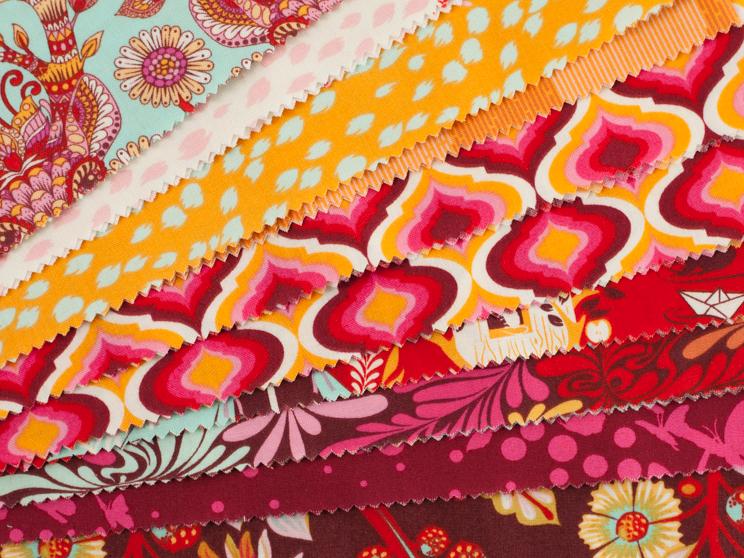 Need some new materials to work with? If you are looking to stash away some red quilting fabric or a nearby shade of pantone fabric and thread for use in the coming year, we recommend taking a look at Aurifil 2260 Deep Red quilting thread,  Tula Pink Moonshine (pictured) or Kaffe Fasset Classics fat quarters.
Here are five ways to use Pantone Marsala in your 2015 quilting projects!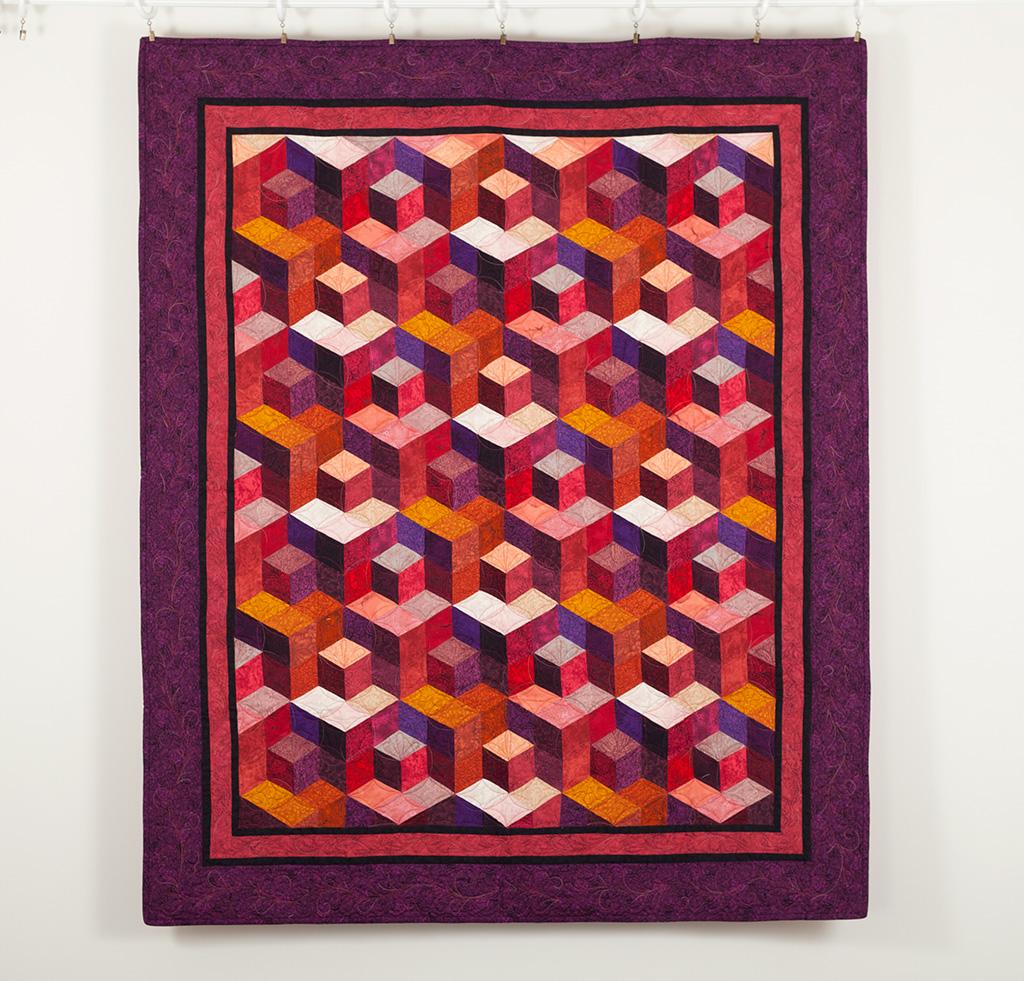 1. Pair it with purple
When you stick it side-by-side with a reddish purple, Marsala feels like one of the family. The Sunset palette of this Crayon Box quilt kit includes pre-cut fabric strips, border and binding fabrics in all the right tones to complement Pantone's 2015 color of the year.
Get the Crayon Box Quilt Kit here.
2. Deepen it with black
Batik fabrics incorporate closely related shades, and the Spice Market color option of this table topper kit makes Marsala look even richer when paired with half-square triangles in deep blacks and warm browns. Whites and orange-browns provide a nice contrast.
Get the Illusion Squares Table Topper Kit here.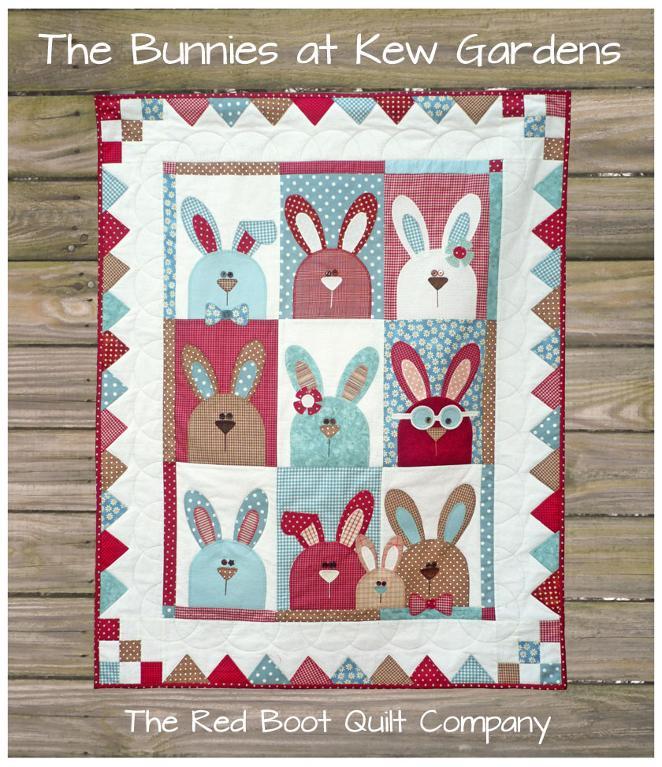 Photo via Bluprint member The Red Boot Quilt Company
3. Brighten it with aqua

Light, aqua blues aren't just for beachy colorways. If you're afraid that Marsala is only for fall-colored quilts, think again. This whimsical appliqué project is a great example showing how you can keep Marsala in mind year-round. This is a Pantone quilt that you won't tire of in the coming years.
Get The Kew Gardens Carrot Club quilt pattern here.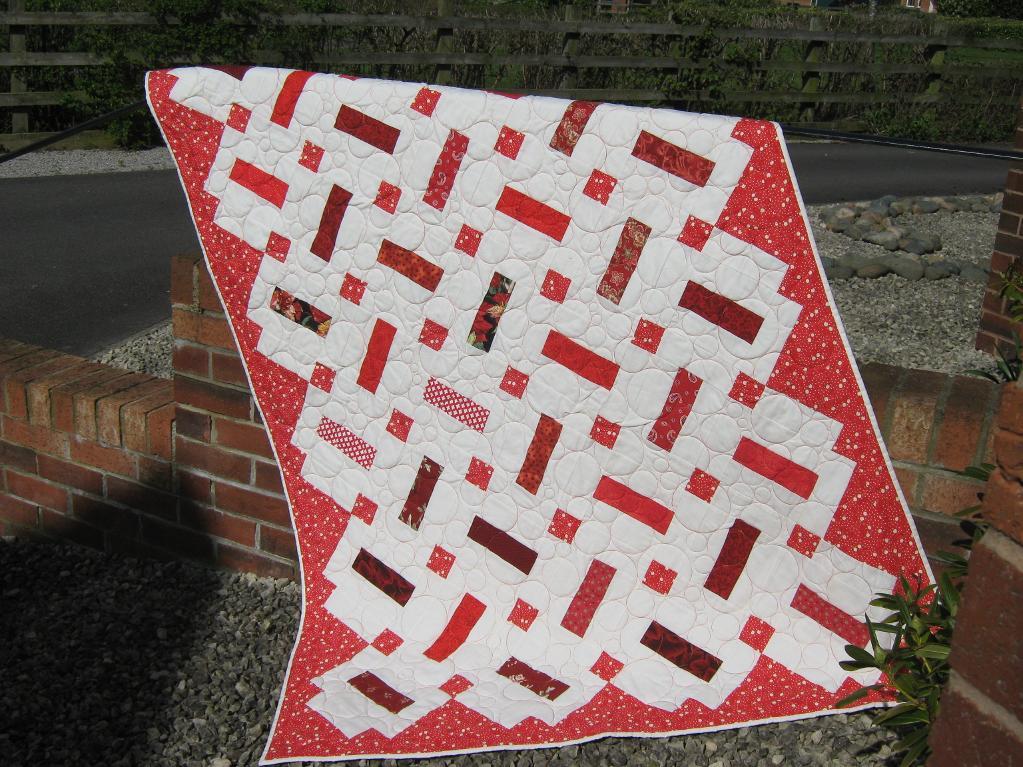 Photo via Bluprint member Quilt Times Designs
4. Go really red
If you want to stick very close to Marsala on the color wheel, you can stay in the red zone and get away with any shade you'd like! Pair a variety of red fabrics, yardage or scraps, with a crisp white background, and you're good to go.
Get the Red Sprinkles quilt pattern here.

5. Incorporate oranges and browns
Pantone's 2015 color is not a true red, and this means it pops really well against red's neighbor on the color wheel: orange. Browns, oranges and purples provide a royal palette for Marsala, as seen in the Echoes quilt kit in the Fire colorway.
Get the RJR Echoes Quilt Kit here.
What do you think of Pantone's 2015 color of the year, Marsala?