Ever since Pantone revealed its colors of the year for 2016, we've noticed Rose Quartz and Serenity gracing all kinds of cake designs. Now that wedding season is in full swing, those pretty hues are incredibly popular for romantic nuptials and summer parties.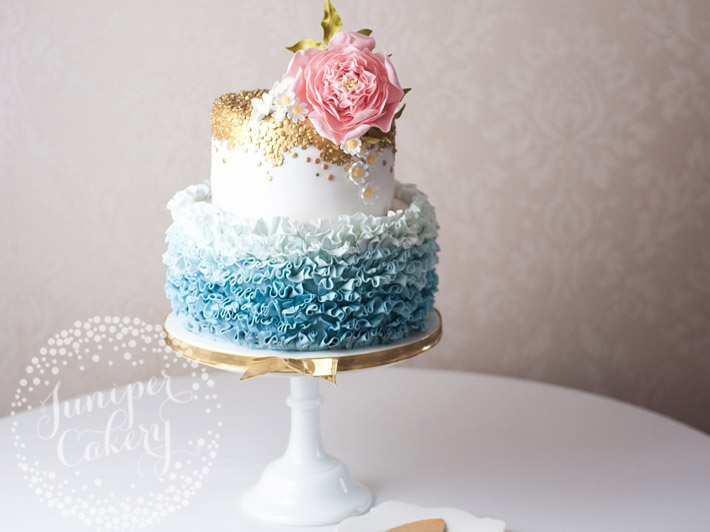 Want to make a Pantone cake inspired by this year's star colors? Here are five ideas that'll have you reaching for your palette knife!
The great thing about Pantone's Colors of the Year is that they're light and subtle, so you can keep your cake's palette simple and using either the pink or blue. Freshen it up slightly by using metallics and whites or ivories, too.
Working with on-trend colors is great, and it always pays to be on top of cake trends — but one of the THE best pieces of advice we offer when working with Pantone's Colors of the Year is to have fun and really let your style and personality shine through!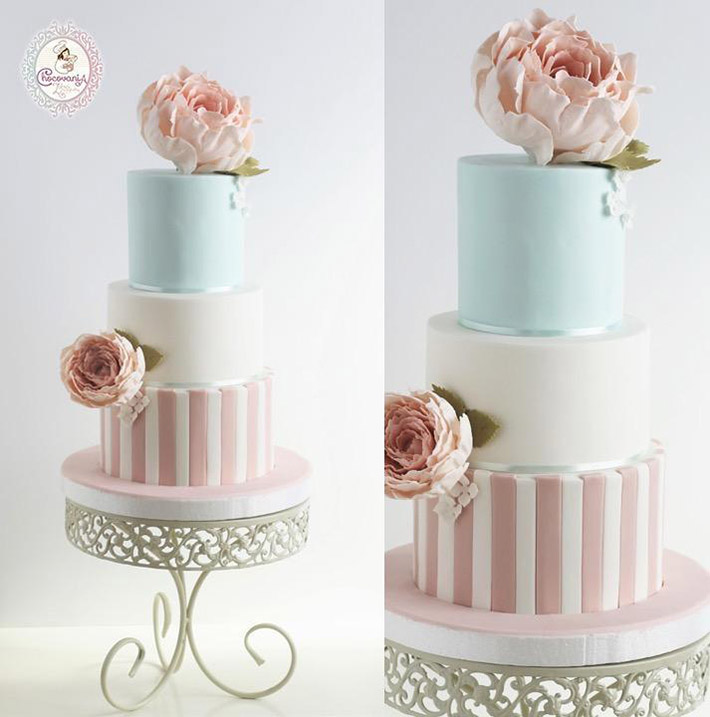 Photo via Bluprint member Zahra Ali
1. Pretty pastel cake
This beautiful three-tiered design is simple, elegant and fun. The sophisticated shades of pink and blue add a great amount of interest to the cake. We love the sweet sugar flowers and leaves perched on two of the tiers. Stripes or polka dots and solid tiers in Rose Quartz and Serenity are a fabulous way to add these colors to your cake.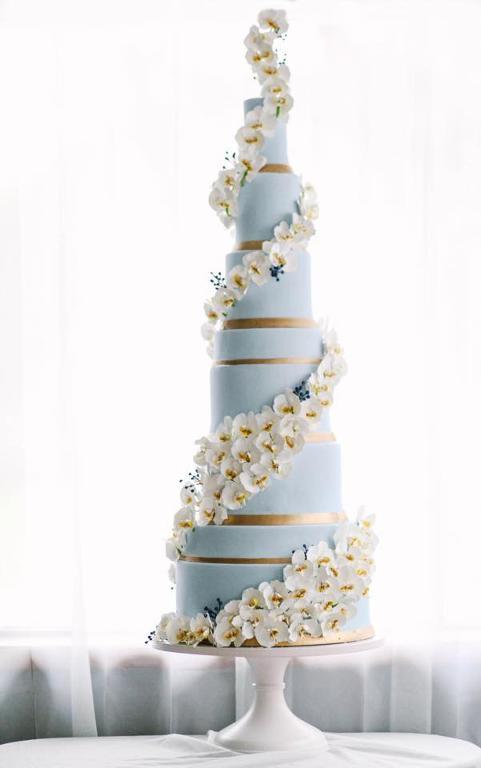 Photo via Bluprint member Alex Narramore
2. Towering orchid cake
This towering beauty's Serenity-like powder blue color makes the delicate sugar orchids stand out.Plus, it reminds us of elegant Wedgwood Jasperware pieces that'd look perfect at any grown-up party or wedding table!
We love the simplicity of this design: Sometimes less really is more — so choose either Rose Quartz or Serenity as the base color on your cake. Team it up with hints of luxurious metallics, simple white lace or florals for a true show-stopper.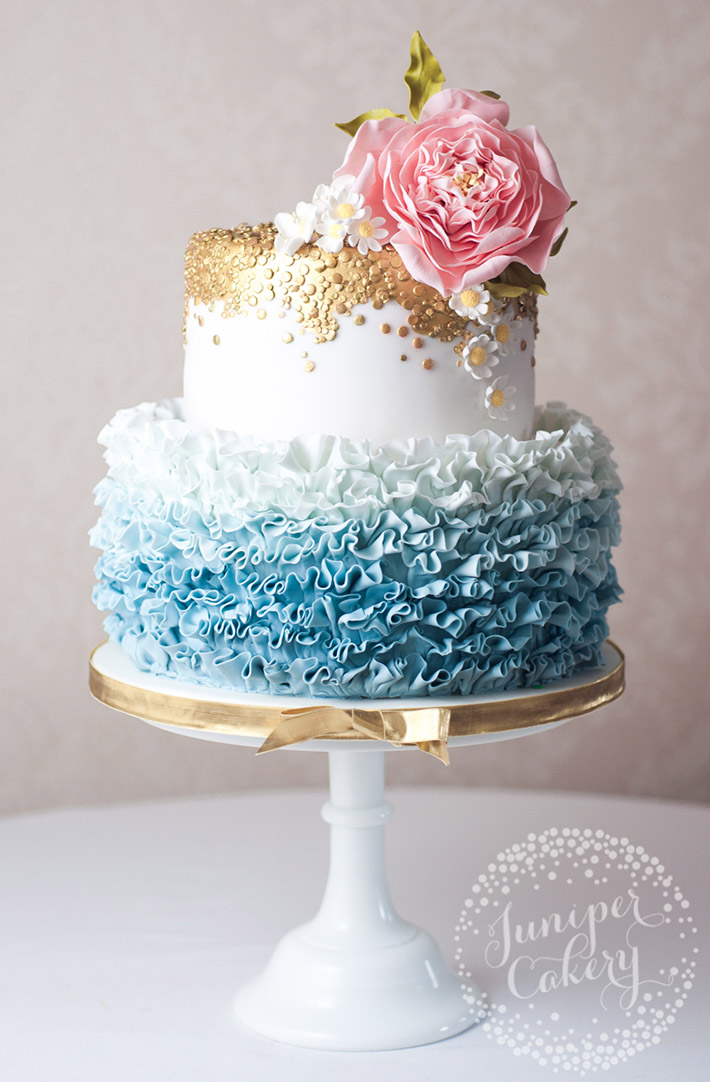 Photo via Juniper Cakery
3. Care-free ruffled wedding cake!
This fun yet glamorous design features ombré blue frills and a blush pink sugar flower — the perfect color combo for 2016. With a crown of gold-painted sequins, this cake has the perfect palette for a playful summer wedding reception.
Ruffles are a great way to add design, texture and color! Still an incredibly popular cake trend, fondant frills add instant romance and even a fabulous haute couture feel, and Pantone's colors of the year would look utterly glamorous as frills.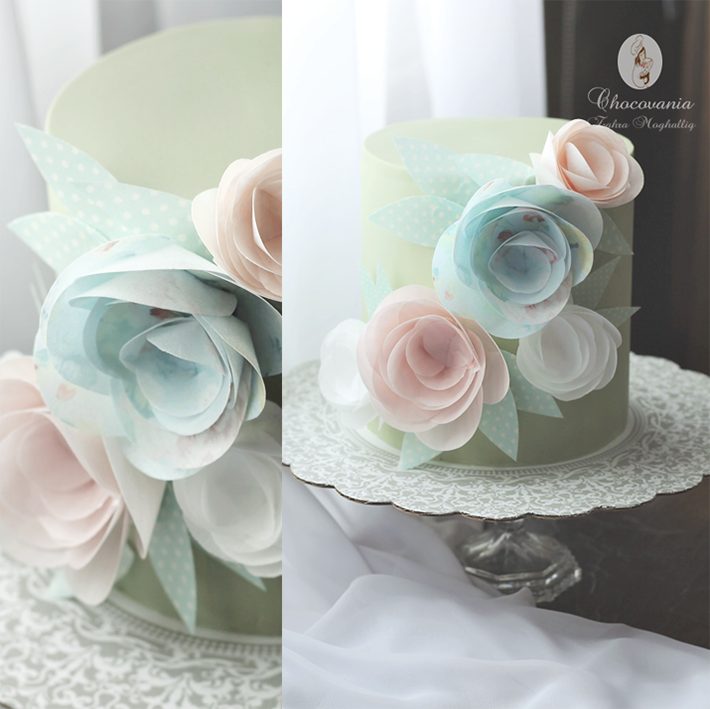 Photo via Bluprint member Zahra Ali
4. Pastel wafer paper cake
This is such a sweet cake. We love that while the wafer paper roses shades of soft pink and blue, the actual cake is a lovely, pale sage green tone. Adding in a different soft color can help draw attention to the pretty decorations. If you have an edible printer, print pink and blue patterns or florals onto your wafer paper and create adorable flowers, leaves or bows for your cake.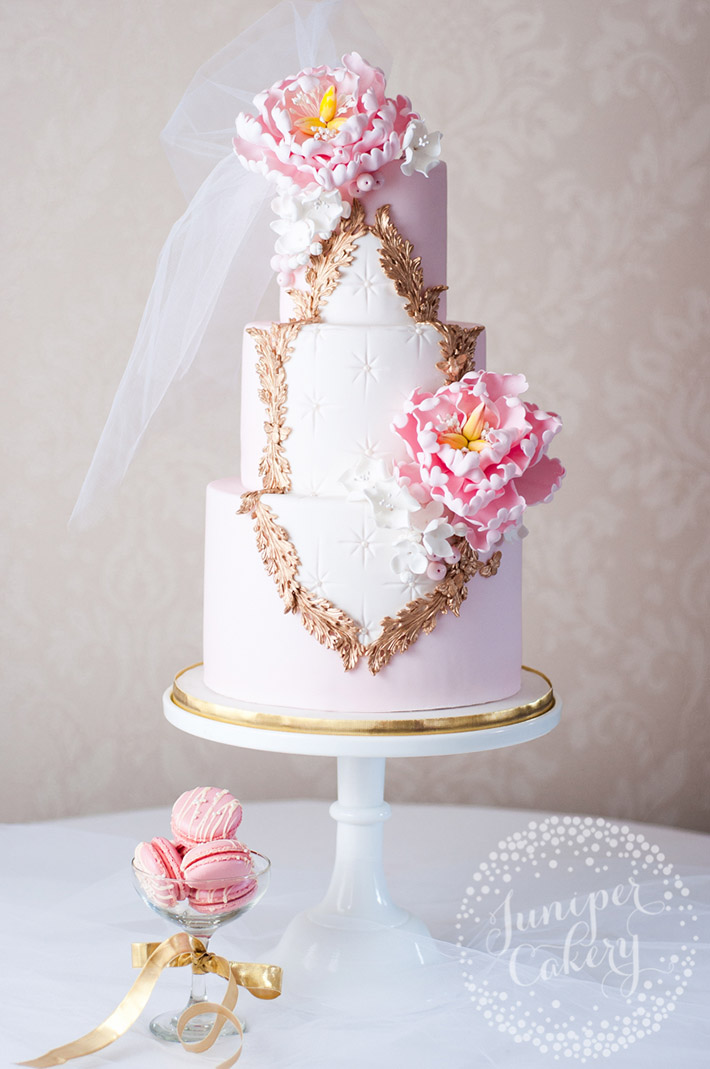 Photo via Juniper Cakery
5. Pretty in pink Rococo cake!
For this Rococo wedding cake design, we overloaded the pink with a few fresh elements such as a crisp white design and a luxurious gold frame. We love that all the pink blooms still stand out among the pink tiers and even against the golden acanthus leaf frame design.
Rose Quartz, Serenity, or both — which is your favorite color of the year?