Footprints in the snow, silvery icicles lowering tree branches and sweet little frosty patterns on a frozen pond are designs on winter's white canvas.
Living in the Northeast, I find that even those who find little joy in a coming snowstorm can't help but admit to the contemplative beauty in these winter wonders.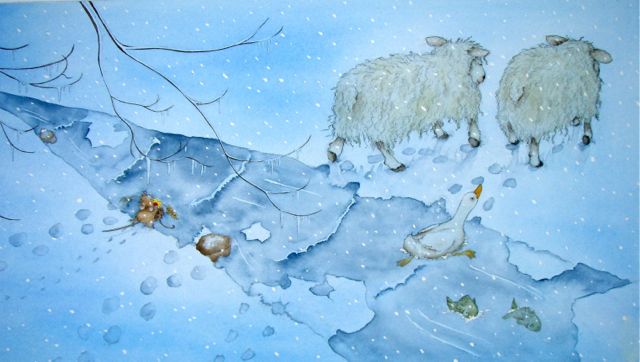 Each of these intricate details are surprisingly easy to achieve in painting and make your finished piece very effective.
Painting winter scenes of your choice
Here I have created a scene which will incorporate these very wintry details. I have drawn each detail we will be working on separately for an up-close how view of how I create them.
As you can see, the snowflakes are uneven in size to create depth. The icicles are shaped like icing dripping down the side of a cake. Footprints should match the walking pattern and foot shape of your characters or creatures (loosely at least).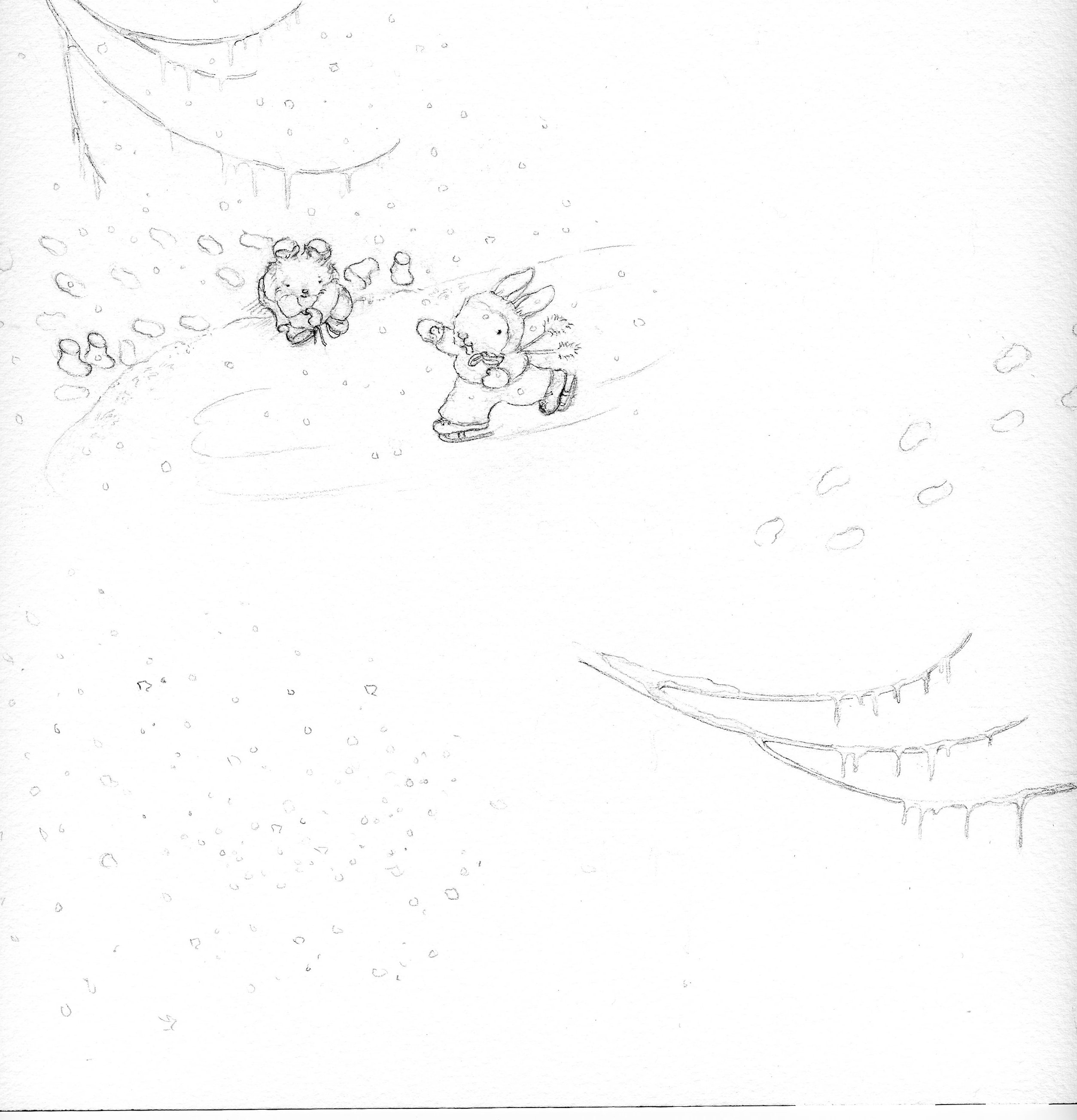 It would be hard to paint snow as white-on-white so a gentle blue background wash will highlight my snowflakes and icicles. I am using a masking medium on my flakes, icicles and some of the skate streaks on the pond.
Your color choices are subjective to the feel or mood you wish to project. This piece is lighthearted so nothing dramatic is needed here. Ultramarine blue with a little cerulean will work fine. You can lighten and deepen this wash as you need, as long as you have enough color to set off the snowflakes and icicles.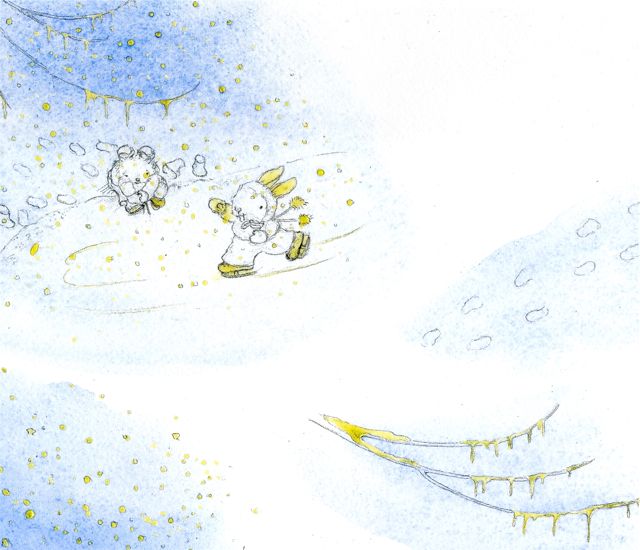 Icicles
Paint the tree branches only where they will be exposed from under the snow and ice.
Remove your masking medium. You can leave them as they are, which is probably pretty good, or you can do more by adding thin line of a darker than the background color down one side of each icicle to define them further.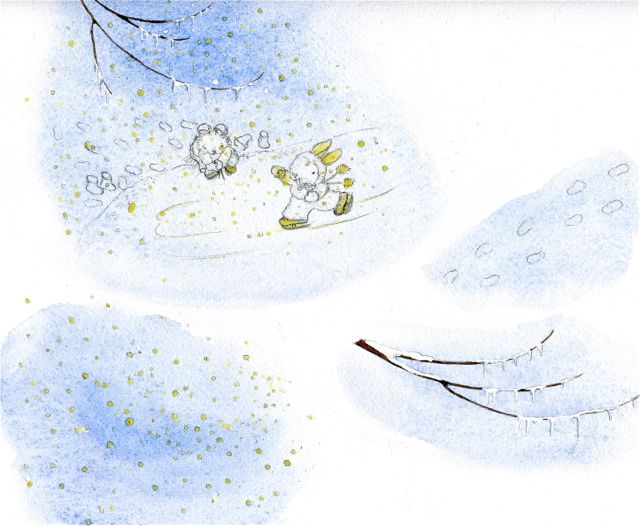 Footprints
Use either a dry brush technique or wet the entire footprint and dab a darker shade of your background color in the part of the print that went deepest into the snow.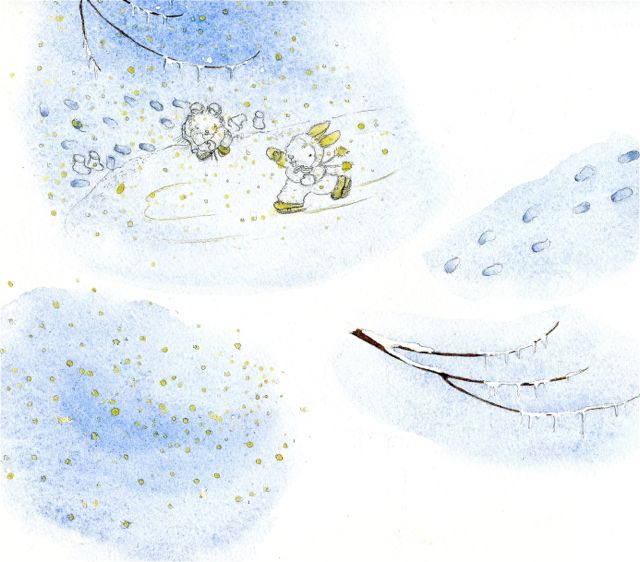 Frosty, frozen pond
A deeper shade than my blue wash will contrast nicely for the frozen pond. I simply added some gray to my background wash color.
Along the edge, in a couple of places, I made some tiny dots with white gouache to "spill" some snow onto the ice. It helps create the frosty effect you want here.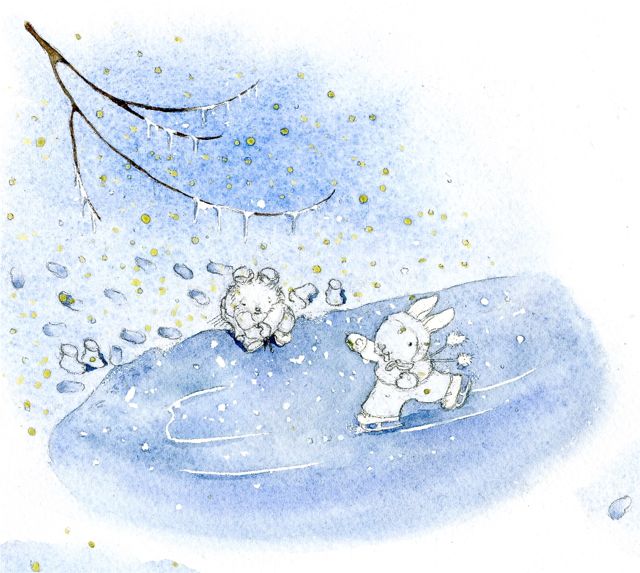 Complete the the piece
I finished my piece by adding the little animal figures and boots in the snow by the pond. Lastly, I removed the rest of the mask medium exposing the white snowflakes. You can add more snowflakes with white gouache if you like.
Gently erase any pencil lines around the footprints or anywhere else they are showing or look out of place. I have learned that some pencil lines should be erased and sometimes they just seem to work with the art and I leave them alone.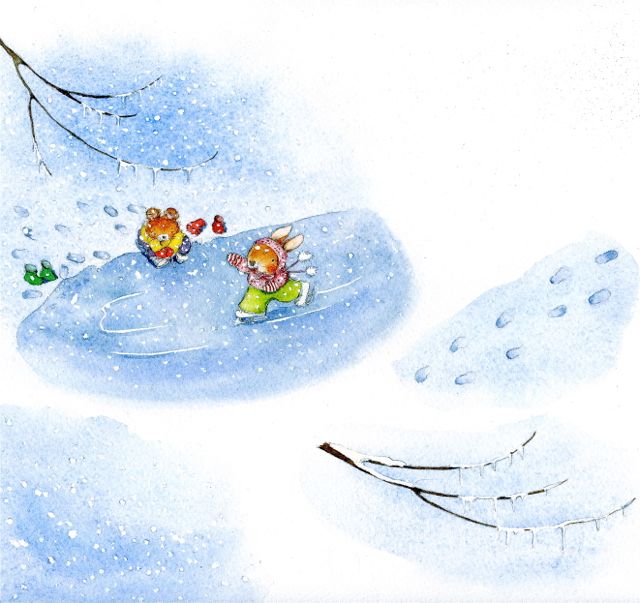 What ideas do you have for for making a wintry scene with paints?