Francis Bacon was one of the most original and independent voices in 20th Century painting. His non-traditional approach to both the medium of oil paint and to the temporal qualities of portraiture have been called "disturbing" and "dreadful" by some, but he has nonetheless changed contemporary painting.
If you're not familiar with the paintings of Francis Bacon, here's an overview of his work and techniques.
Francis Bacon's work throughout his career often focused on the subject of movement and time.
He was fascinated by those fleeting moments that were rarely captured in a painting, but for a generation had belonged to cameras and photography. Motion, gesture, animation of the figure and face were all things Bacon attempted to incorporate into his paintings. But his technique was not to simulate the lens blur of a camera capturing movement, but to describe movement by the shape and direction of the brushstroke. Perhaps no paintings better demonstrate the unique qualities of this technique better than his series of self-portraits from the 1960s and '70s.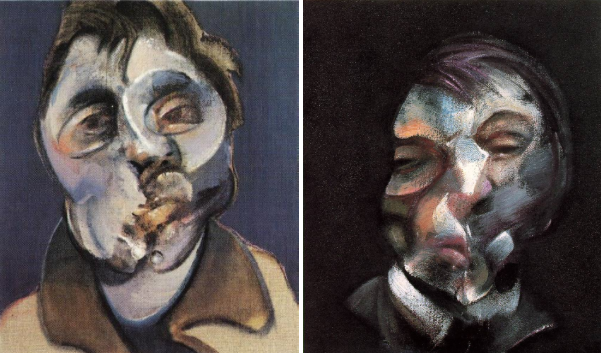 These self-portraits are almost cousins to Cubism in the attempt by Bacon to show multiple angles and facets of the face.
But where Cubism is a static repositioning and cataloguing of the subject, Bacon's paintings use the directional gesture of the brush to show a history of the subject's movement. The contorted faces and torqued features contain echoes and still-frames of previous poses. The mouth in the self-portrait on the right doesn't so much repeat as it simply appears in both Point A and Point B.
One of Bacon's most important and unusual techniques, which he began in 1947 and continued for the rest of his career, is painting in oils directly on unprimed canvas.
Though this has led to many of his paintings becoming an art conservator's nightmare, he preferred the "tooth" and and unforgiving nature of painting on raw canvas. Because the oils immediately stained the cotton, there could be no altering of an underpainting or "wiping away" any errant marks. This technique is critical to the appearance of all of Bacon's paintings post-1947, and quite a few other 20th century painters followed suit, including Jackson Pollock and Helen Frankenthaler. His Study for a Bullfight No.1 from 1969 shows the technique.
Especially in the handling of the bull one can see the soft washes of oil soaked into the raw cloth of the canvas. This method of painting also allowed Bacon to create rich, flat color fields devoid of brushstrokes, letting him draw the viewer's eye to the more gesturally handled moments within the painting.
The painting above also effectively demonstrates Bacon's technique of using geometry as a framing device.
Bacon frequently employed circles and rectangles as abstract substitutes for the architecture and furniture, and also as a ground for his otherwise preposterous figures. This can be seen in Study of George Dyer from 1969. George Dyer's twisted figure is echoed in the crumpled newspaper at his feet and the splayed legs of his chair while the rest of the space is a set of semi-rational geometric forms.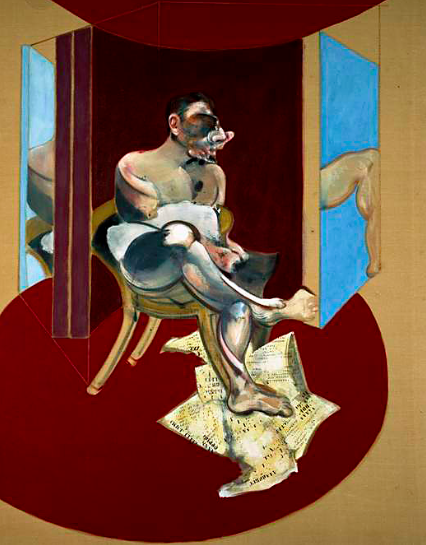 The dark red ellipse shows how Bacon's technique simulates perspective. It's even better demonstrated in his Self Portrait from 1973 where, in addition to the ellipse, we also get a set of diagonal floorboards to indicate space. Here Bacon's newspaper is even more abstract to match his face, while other items like the figure's shoes and the lightswitch are seemingly concrete and real.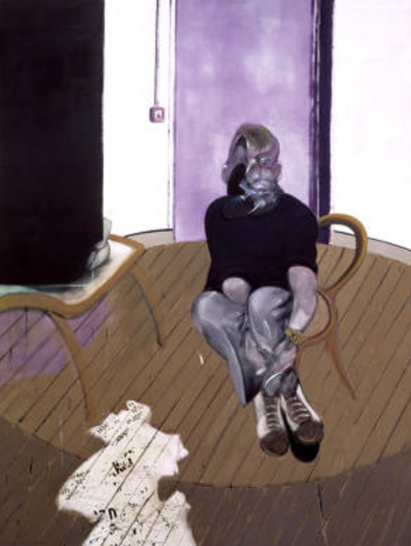 Some of Bacon's techniques lend to the feeling of hanging moments and captured movement in a kind of unreal space, while his use of unprimed canvas showcases the raw materials we paint on.
If Francis Bacon's work inspired you to take your oil painting to the next level, enroll in Drawn to Painting with Rob Zeller. You might also enjoy learning about limited palette oil painting.
How might you incorporate some of these techniques in your next painting?