Gifts are always a meaningful gesture, but even more so when it's something you've painted yourself. These eight awesome painting gift ideas are bound to inspire the painter in you, giving you ideas for hand-painted gifts that you can easily make at home.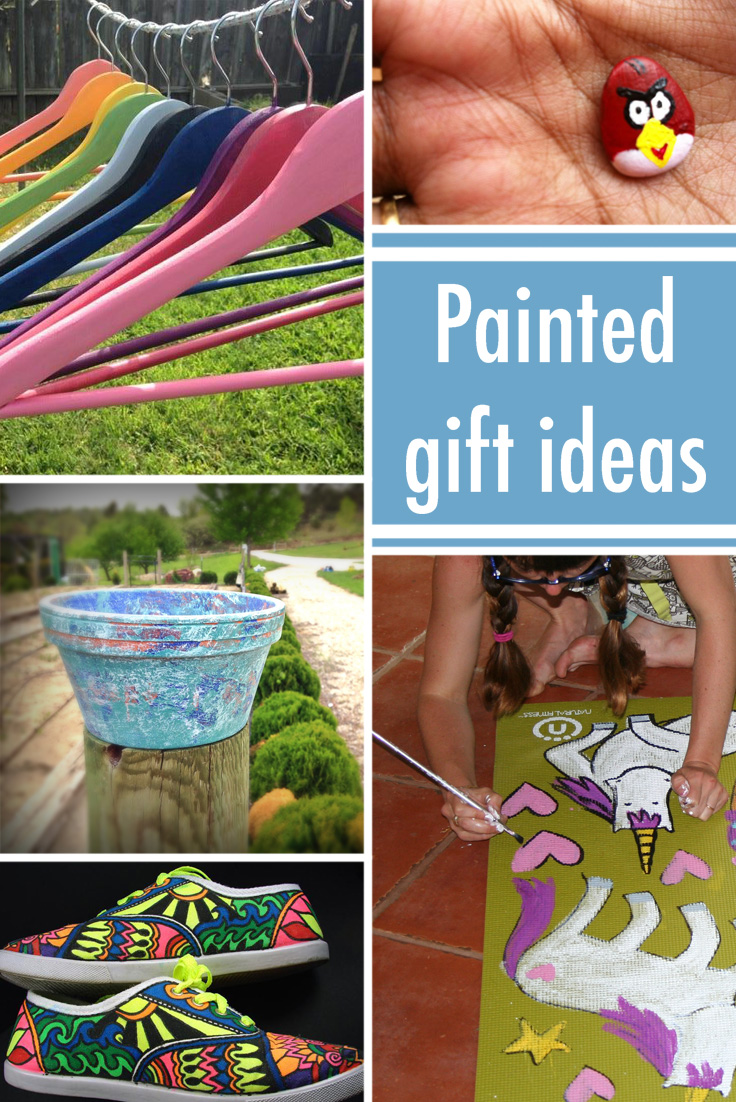 Photo collage, from top left clockwise: Painted hangers via Bluprint member FCSCrafters; Pebble painting via Bluprint member Kavima; painted yoga mat via CakeSpy; Painted shoes via Bluprint member Beadworx; Painted pot via Bluprint member Kjes. 
One of the best things about these painted gift ideas is that they are accessible for all levels of artistic skill. So whether you're a brand new beginner or a professional working artist, there are some inspiring ideas for everyone here. 
Get creative with these eight awesome painting gift ideas!
Photos and illustrations via CakeSpy
Painted yoga mat
Your favorite yogi will namaste in style with a fabulous custom painted yoga mat. Use either a grease pencil (on dark surfaces) or a sharpie to draw out your design, and then paint it in with acrylic paint. The acrylic paint can be made more flexible (to prevent it from cracking when the mat is rolled up) by adding a couple of drops of vegetable oil to the mixture, but this is not necessary for success. Either way, acrylic paint won't last forever, but it can last for several months or up to a year (a typical yoga mat life span). 
Note from the author: I have painted several yoga mats and have actually found that the types of mats you'll find inexpensively at big box type stores are actually the best type of surface for painting. So don't break the bank buying a fancy mat, especially if you haven't yet gained confidence in painting.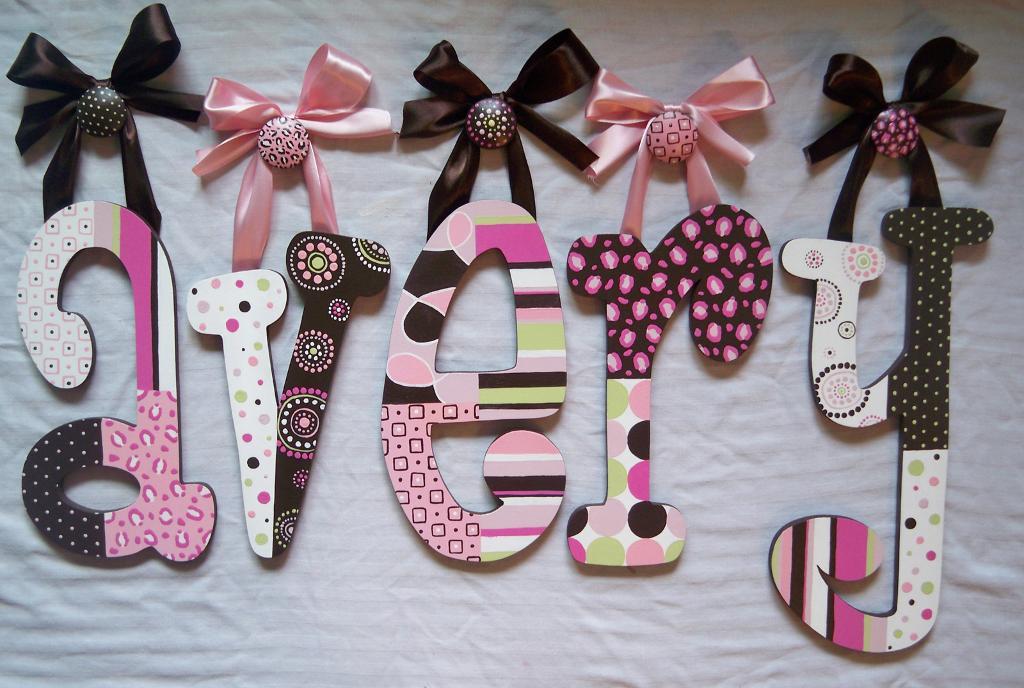 Wall letters via Bluprint member Belbambinidecor
Painted wall letters
Adorned wall letters are a creative painted gift which can add pizzazz to a room. Wooden letters are inexpensive and readily available in a variety of type styles in craft supply stores, and you can paint them with acrylic or even tempera paint. An entire name is fantastic for a kid's bedroom, or you can paint the letters of an inspirational word such as "create" for a work space. A single-letter monogram is also a wonderful gift for any age.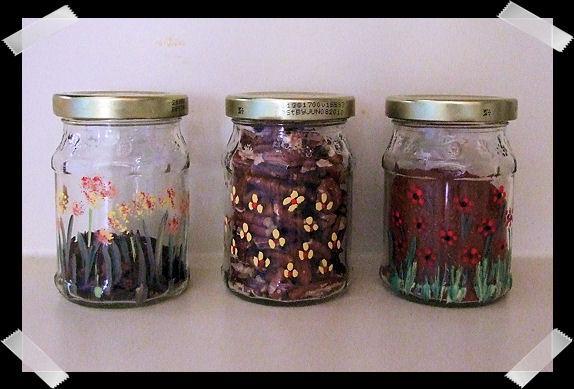 Painted spice jars via Bluprint member Screaming Mimi
Very nice spice jars
Clean, dry spice jars provide the perfect canvas for some dainty painting. Since spice jars are not washed very frequently, acrylic paint is just fine for painting the outside of the jars, since it's not going to be handled or put through the wash very frequently (as opposed to, say, a drinking glass). You can paint pretty flowers, or paint images of the herbs or spices contained in the jars.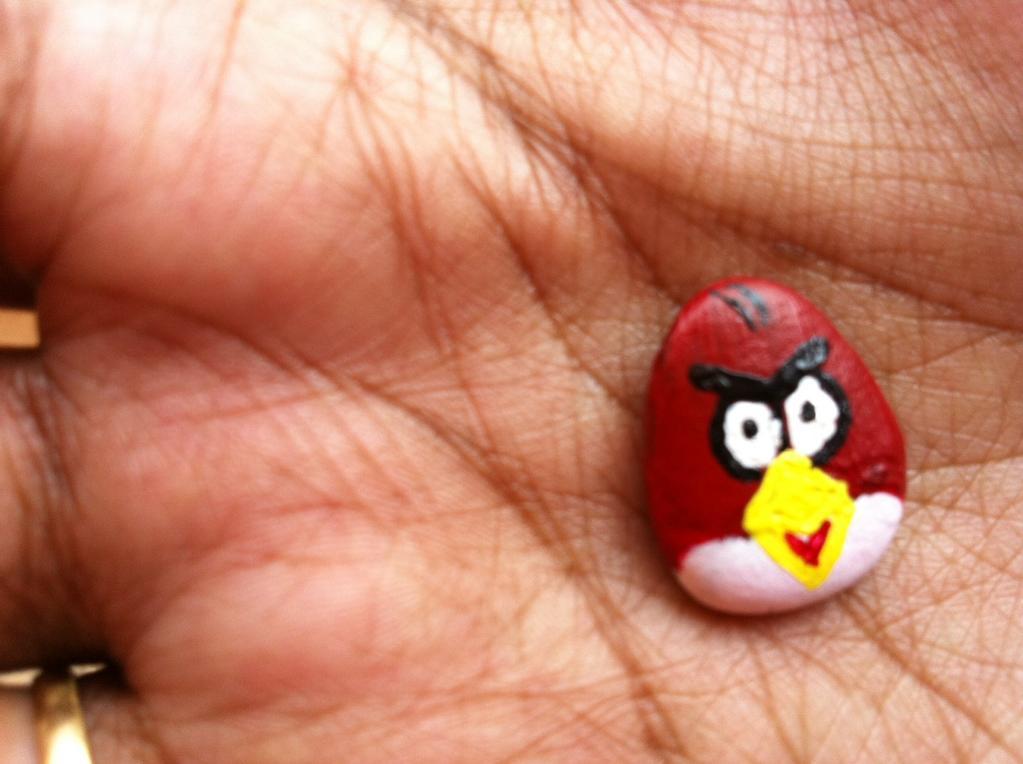 Pebble painting via Bluprint member Kavima
Charming painted pebbles 
All you need is a handful of pebbles and some acrylic paint to create unique painted pebble gifts. Thoroughly wash and dry pebbles (pebbles with smooth surfaces will work best) and paint with whatever design strikes your fancy, from kid-friendly characters to simple icons such as hearts or stars, inspirational words, sayings or even a full alphabet. Finish with an acrylic sealer to ensure that the paint won't rub off.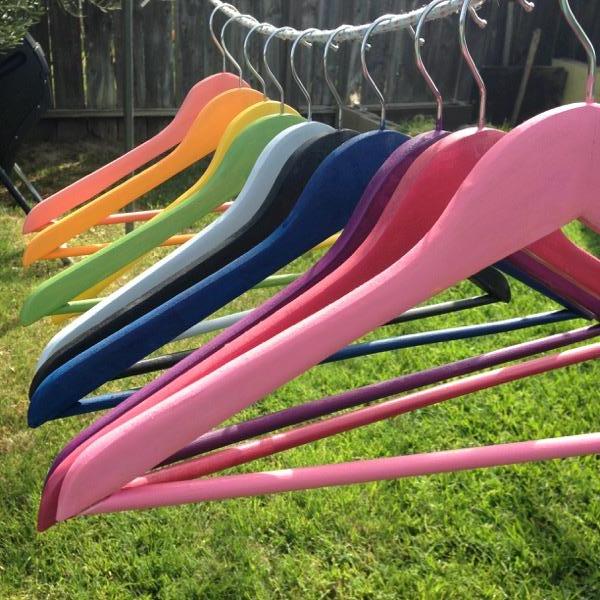 Painted hangers via Bluprint member FCSCrafters
High style hangers
Wooden hangers are transformed to a designer gift when you paint them in custom colors. All you need to do is rub the hangers with fine sandpaper to ensure that the paint has a smooth surface to rest on, and then paint with acrylic paint. Finish off with an acrylic sealer, and you'll have creative hangers that make for a wonderful gift. Create them in a favorite color or paint a rainbow.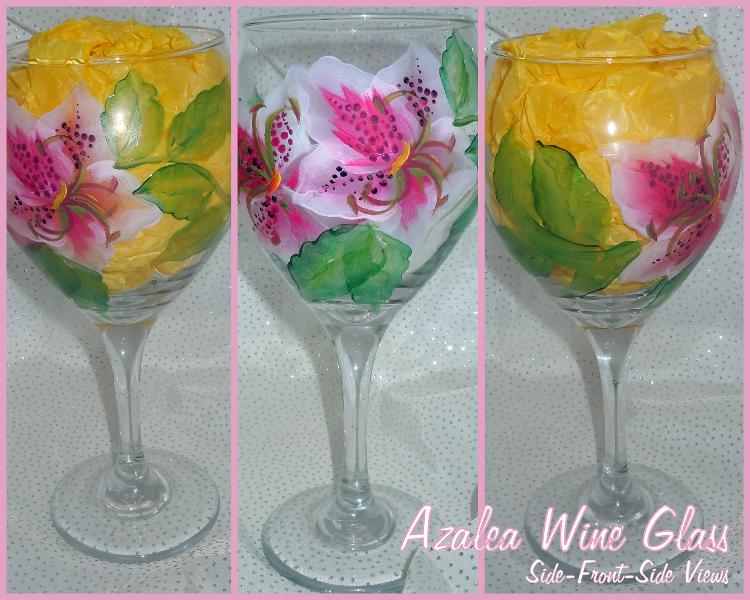 Painted Glassware
via Bluprint member CraftyKiWi
Vibrant painted glassware
Drinking wine is even more divine when it's out of custom painted glassware. The key to making painted glasses that will stand the test of time is using enamel paint to create your images: it will adhere to the glass and won't flake off like acrylic would. Be sure to always hand wash these precious gifts, though — the delicate hand painted imagery doesn't fare well in the dishwasher.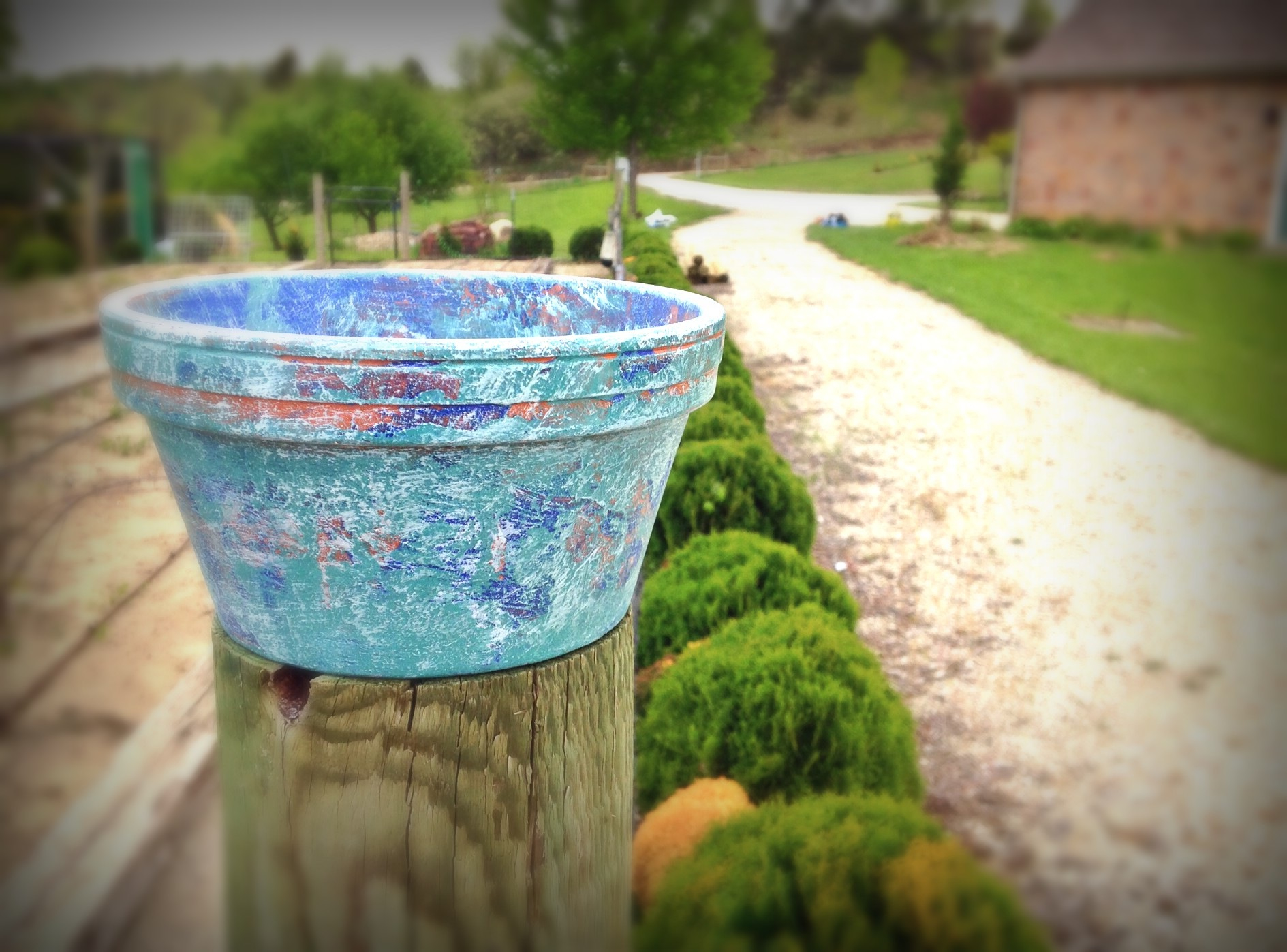 Painted pot via Bluprint member Kjes
Shabby-chic painted pots
It's easy to transform an inexpensive terra cotta planter into an artful piece of home decor. One easy method to attain this sort of look is to coat the pot, one color at a time, using watered-down acrylic paint, then use sandpaper to manually "age" the piece. The paint and original coloring will shine through irregularly, giving the pot a charming, shabby-chic finish.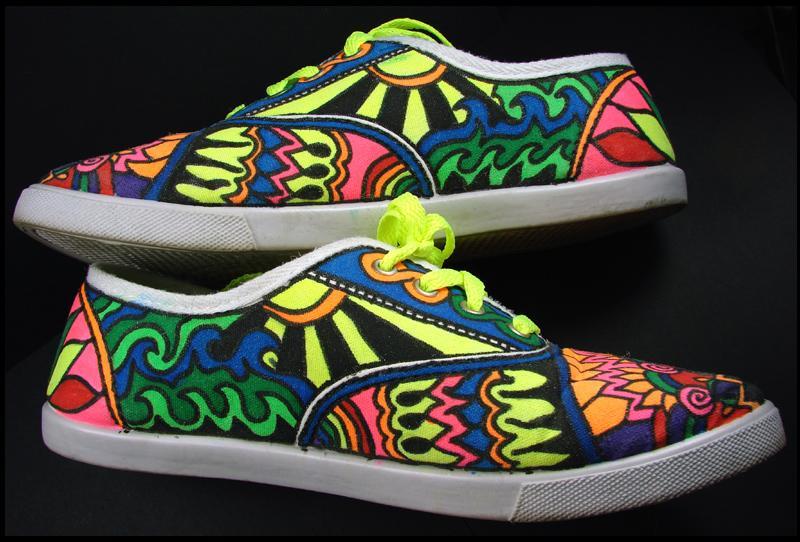 Painted shoes via Bluprint member Beadworx
Pumped-up painted kicks
These may look like designer sneakers, but they're actually just run-of-the-mill canvas sneakers made to look like a million bucks with hand-painted elements. Fabric markers were used to "paint" colorful geometric designs all over the surface of this particular pair. Fabric paint could be used for a more painterly effect. 
What is your favorite painted gift idea?
Online Painting Class
Learn inspiring mixed media techniques for working with a variety of acrylic paints, mediums and dry materials.Enroll Now »