When photos or films are shot in black and white, they seem to exude an elegance and timelessness. You can channel that classic look in your artwork, too, by painting black and white compositions.
Painting in black and white is exactly what it sounds like: limiting your palette to black and white paint. It's a method not unlike monochromatic painting (which employs a single color plus black and white), but without a hue — just black, white and the gray tones that come in between. While this might seem boring at first thought, there's actually quite a graphic and fascinating world of painting to be explored with just black and white paint. 
Why paint in black and white?
There are many reasons you might choose to paint in black and white. Think about taking photos in black and white. While it isn't the only option anymore, the color palette lends a certain stylistic and timeless aspect to images on film, so many people still choose to employ black and white photos to attain a certain mood or affect and for elegant affairs such as weddings. The same is true of painting in black and white: it can create a mood, add a sense of mystery or create an effect of elegant timelessness. 
Painting with black and white is also a wonderful way to build your skills as a painter; with such a limited palette, you learn a lot about light, contrast and how to capture shapes using tones rather than relying on colors.
Black and white painting inspiration 
Ready to try your hand at black and white painting? Here are some inspiring examples of how black and white painting can be used to spectacular effect. 
Nature becomes graphic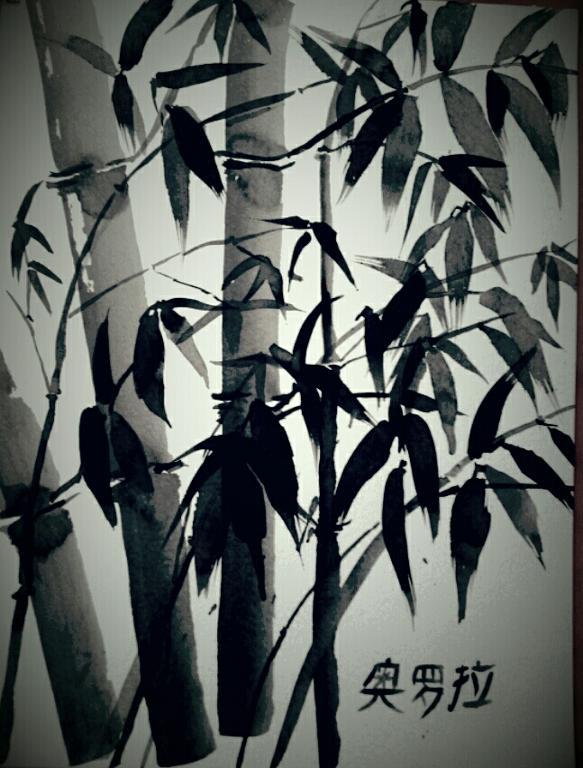 Bamboo via Bluprint member Sepideh Prs
A simple painting inspired by nature, featuring bamboo shoots and leaves, becomes a work of graphic design when rendered in black watercolor on white paper. Painting in only black creates a dynamic negative space on the white paper, which almost makes the image abstract. It's a powerful visual effect,  which would be as beautiful as a clothing pattern as it is a painting on paper. 
Nature becomes abstract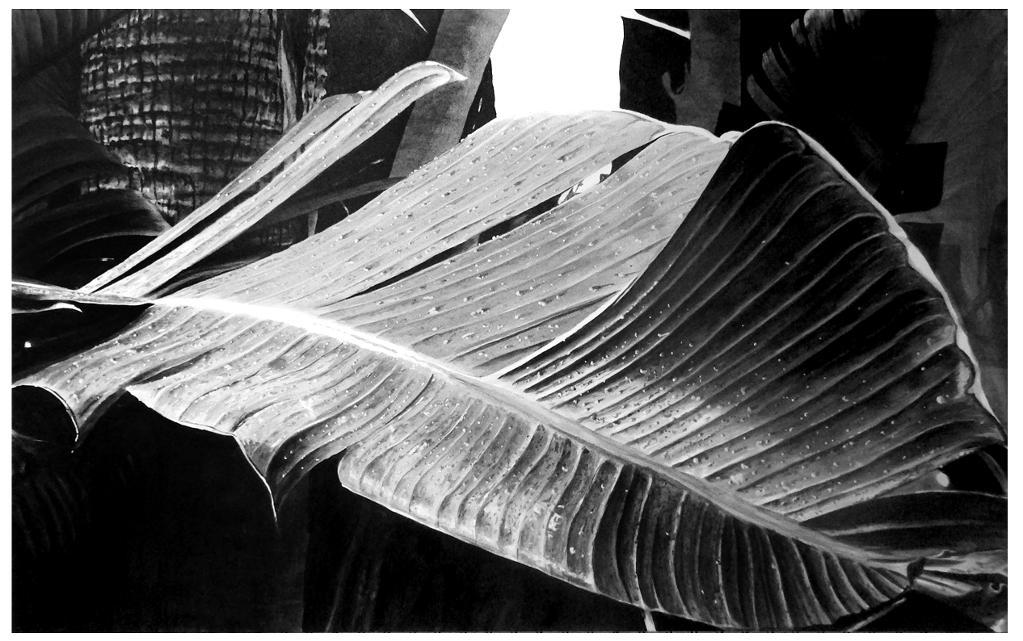 Just leafing via Bluprint member SAR Gallery
Extreme close up! What appears to be an abstract form at first glance is actually a beautifully rendered acrylic painting, made using a close-up photograph of a leaf as a reference image. Painted in black acrylic paint with white accents, the lack of color and interesting macro view create a fascinating, abstract image. 
5 Botanical Illustration Tutorials
Bring a garden of beautiful flowers to life in mixed media.Get My FREE Guide »
Set a mood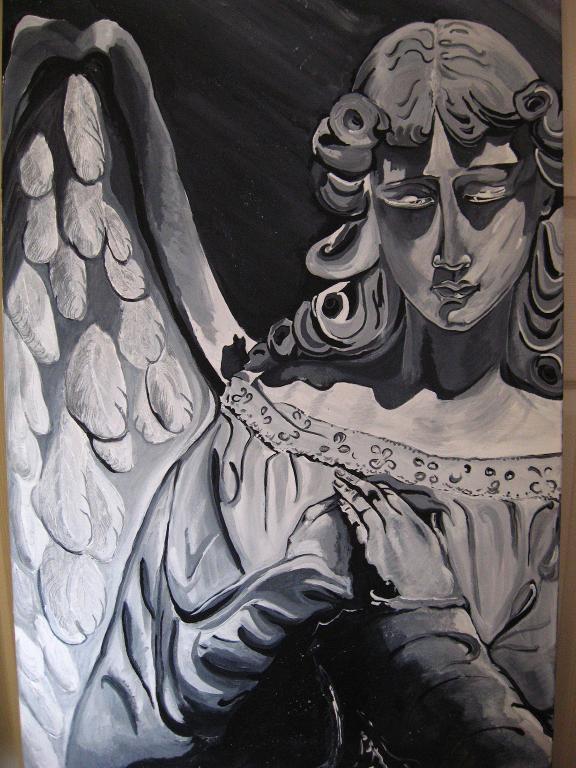 Angel via Bluprint member girouxcre2122413
A black and white palette allows you, as painter, to create a distinct, almost cinematic sense of mood to your piece. In the above image, an acrylic painting of an angel statue is also a study in light in shadow, capturing the unique way in which the sun "kisses" the structure and casts shadows. Adding color would only distract from the starkness of the light and shadow, and would take away from the mood set by using such a limited palette. 
Starlet style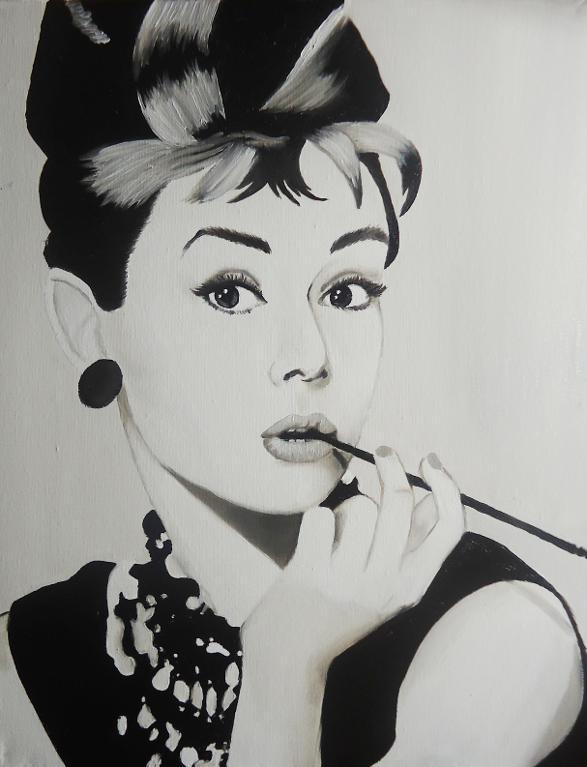 Audrey Hepburn via Bluprint member Christen Tyler
Rendered in oil, this painting of Audrey Hepburn in her iconic Breakfast at Tiffany's garb captures the style and elegance of the starlet in black and white. Even though the film was actually shot in color, the choice to use black and white makes the painting look timeless and iconic rather than retro or kitschy. 
Add a sense of elegance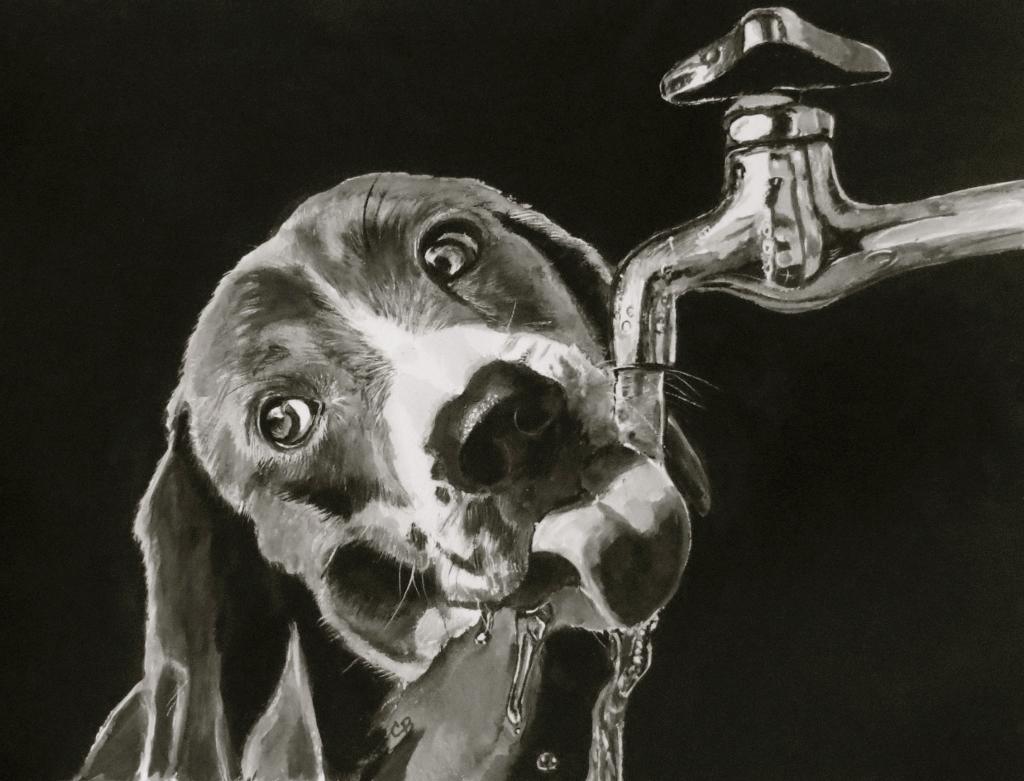 Drinking buddies via Bluprint member Carol Blackhurst
Have you ever noticed how every image seems to look just a little classier in black and white? Case in point: this mixed media watercolor and acrylic painting, featuring a scene of a mischievous dog drinking water from a fountain. While the scene itself is tongue-in-cheek, the use of a black and white palette gives the painting a beautiful and elegant finished look. 
A spot of color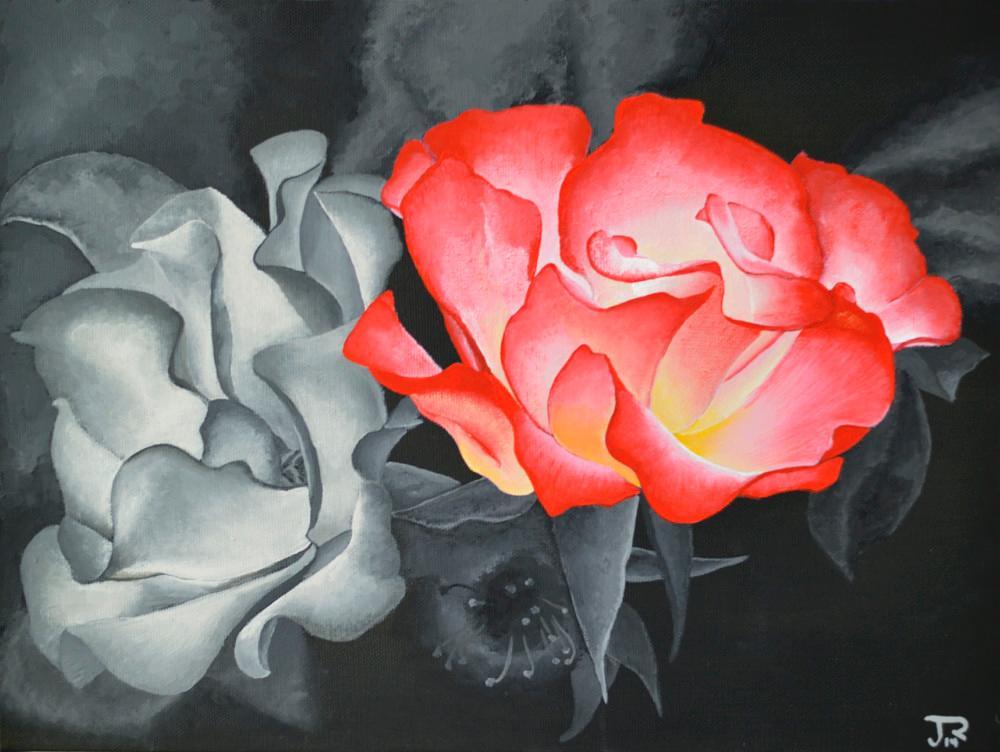 Wild roses via Bluprint member jillian3134723
Black and white…and red all over? Sometimes, a primarily black and white painting can be enhanced by a pop of color. The combination of one colorful blossom among a sea of more tonal flowers makes both parts of the painting pop. The color draws the eye right away, but the echoes in shape and form keep the entire painting a lively, interesting scene to behold.
Have you ever painted in black and white?
5 Botanical Illustration Tutorials
Bring a garden of beautiful flowers to life in mixed media.Get My FREE Guide »