This fall,  many of us will travel to quilt shows and festivals, to be inspired, learn what's new in the industry, and see amazing quilts! If you're headed to a quilt show, retreat or festival, don't show up empty handed! Read on to learn what needs to be in your travel quilting stash.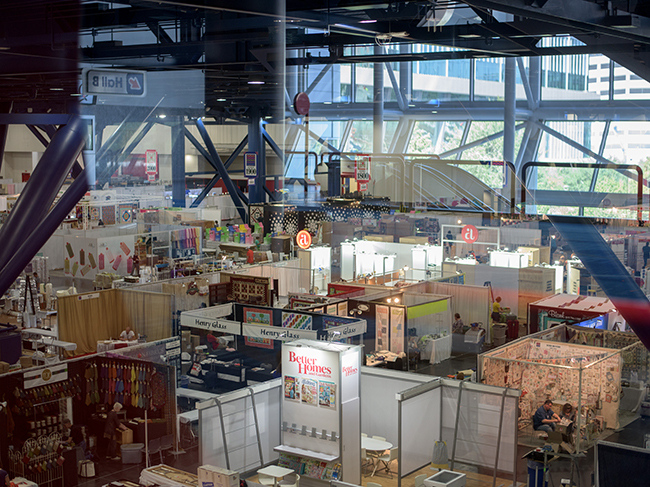 For those new to quilting event (and even seasoned veterans), this list will help you pack your bags!
1. An expandable suitcase
Half the fun of quilting event is shopping of course! And you'll need plenty of luggage space to tote all your new goodies home.
If you're traveling by plane, try to pack all of your essentials in a carry-on suitcase. A great strategy is to use a compact suitcase that zips open to a larger size, since you'll likely be bringing home more than you came with!
2. A backpack or extra-large tote
Again, think of all the fabric you hope to bring home. Pack very lightly on the way there so you can have a comfortable carry-on bag to wear on the way home.
3. Supportive walking shoes
Prepare to do a lot of walking and a lot of standing. You may have a long walk to and from your hotel to the convention center, between classrooms, as well as around the aisles of the show floor. In fact, bring a couple bandages in case you get a blister.
4. A lightweight shopping bag
Although you may score a free tote bag at the show, it never hurts to bring another you can fold up. You'll want it for collecting business cards, flyers, samples, and make-and-takes (small crafts you'll put together during the show to take with you).
5. A small purse or money belt for essentials
Carry your cash, cards, keys and phone in the smallest bag you can manage. (I prefer a cross-body bag with a long strap.) If you can, stick a small (child-size) water bottle inside and plan to refill it at a water fountain.
6. Snacks
Bring some small snacks like nuts or granola bars, so you can stick one in your purse each day for a mid-show pick-me-up.
7. Cash
Some vendors will only accept cash at the quilt show, so make sure to pack a few $20s, or an ATM card for quick withdrawals.
8. Business cards
If you're looking to make connections with other quilters and/or companies, bring a stack of business cards. These are also great for entering giveaways!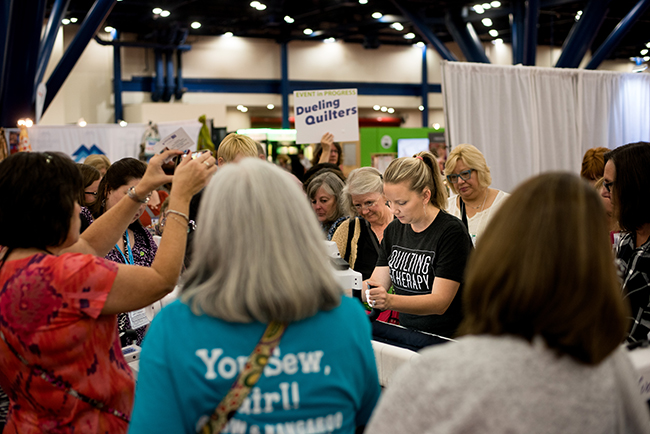 What not to bring to a quilt show
1. A bulky camera
Unless you're an official photographer for the quilt show, you can leave your oversized camera at home. Do bring your phone with a camera for taking lots of photos to share on social media, and a charger for that phone.
2. Too many outfits
Plan to dress in layers, with a comfortable outfit for each full day you're there.  Some quilters even suggest that your travel day outfit can be one you'd like to donate to a thrift store, so you can have more room in your suitcase to bring home fabric.
3. Your sewing machine
Leave your projects at home, unless you have a small hand-sewing project for the plane or car ride. You'll be far too busy to do any quilting. If you're taking a class, you may want to bring a rotary cutter, some pins and a foldable cutting mat — but check the itinerary for the class to see what's included.
4. Books, journals, or too much reading material
Again, less is more! If you must bring one quilting magazine to read, do it, but plan to pick up plenty of literature at the quilt show. A small notepad and pen is a good idea for jotting down notes at lectures.
What is on your packing list for attending quilt shows and quilt festivals?