Are you wild about owls? The colder months are the perfect time for a woodland-themed or forest-themed birthday party, which is where our friend the owl cake comes in!
From fondant feathers to buttercream piping, here are nine hooty delights for your next owl themed bash.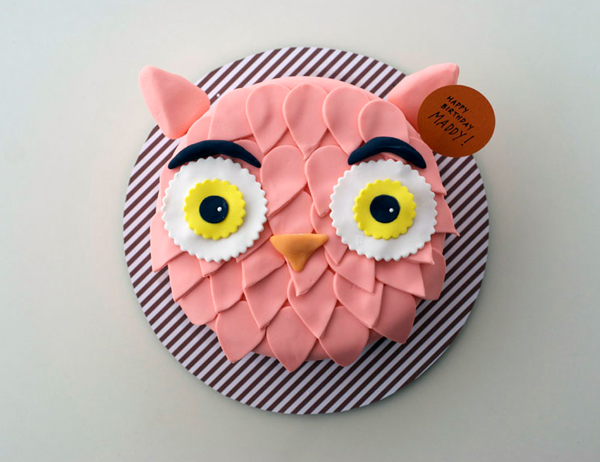 Photo via Coco Cake Land
Fondant fun pink owl cake:
A teardrop-shaped cookie cutter was used to create the illusion of layered owl feathers on this pink owl birthday cake. The eyes, beak and eyebrows are also all created from colored fondant. The striped cake board was made by tracing a piece of thick craft paper, cutting it out and adhering to a pre-purchased cake board, which is a great way to jazz up a plain cake board!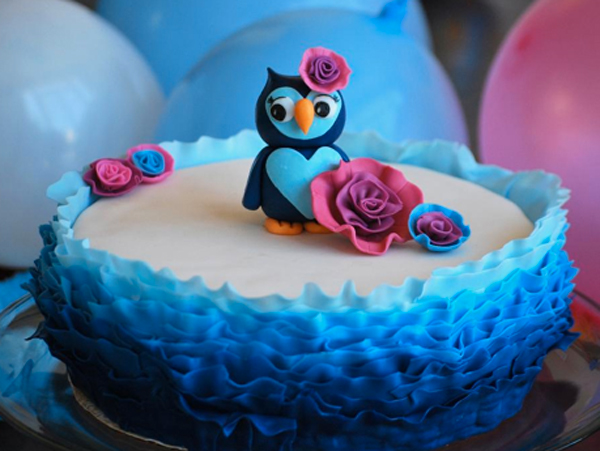 Photo via Craftsy member Krasita
Blue ombré ruffle cake with owl topper:
This cake is a feminine, fun combination of Maggie Austin's ruffle technique, taught in her class Fondant Frills, and a sweet cartoon-like blue owl fondant cake topper. The mini two-tone fondant rosettes add another element of whimsy and femininity, too.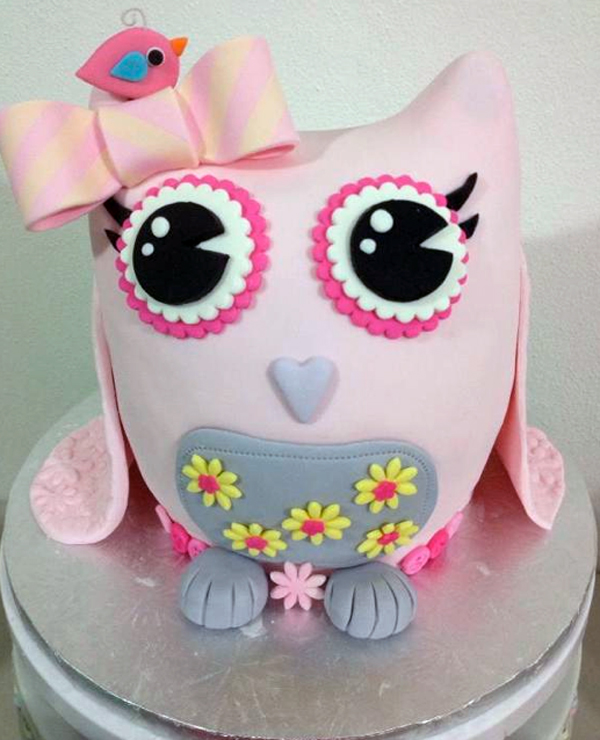 Photo via Craftsy member Karlagourmet
3-D baby owl cartoon cake:
Cute, sassy and cartoony, this pink 3-D owl cake has some clever details, such as scallop cookie-cutter shaped eyes, a darling striped bow, feminine eyelashes and an extra mini bird on top. Especially impressive is that this was Karlagourmet's first sculpted cake!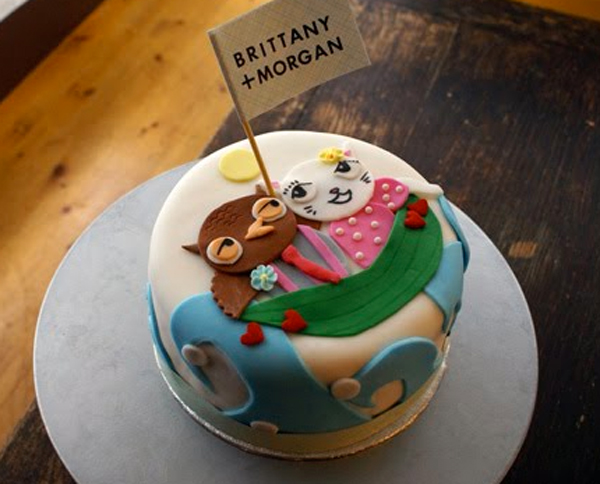 Photo via Coco Cake Land
Owl and the pussycat wedding cake:
An owl and the pussycat storybook-themed wedding cake, based on a vintage 1970s version of the book. The characters were created using fondant, sailing the seas of everlasting love!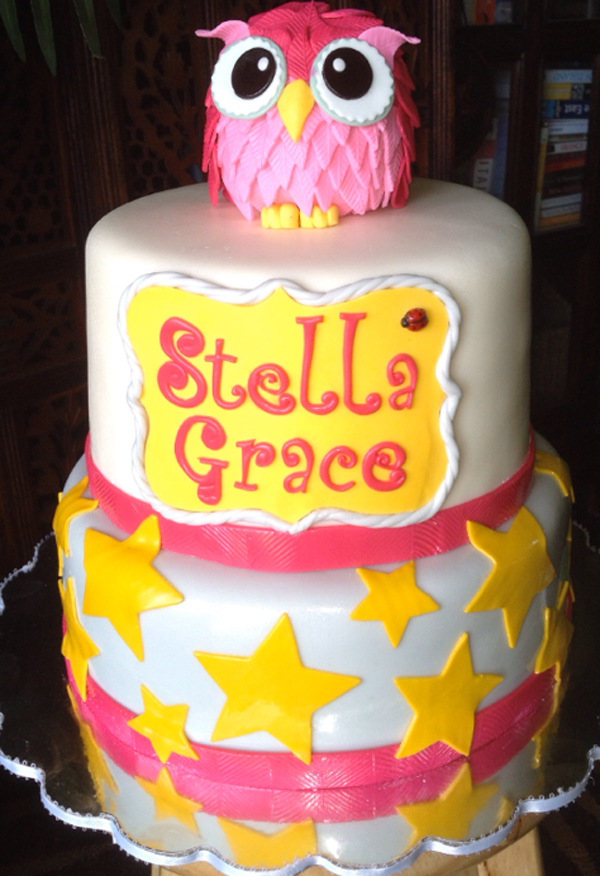 Photo via Cratsy member Vagabond Baker
Tiered party owl cake:
Craftsy member Vagabond Baker used a feather roller to create the perfect imprinted feathery texture on her owl cake topper's feathers. Such a sweet topper for this starry-eyed birthday cake!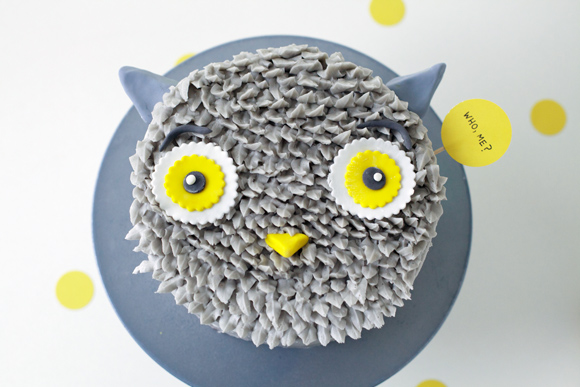 Photo via Coco Cake Land
Buttercream textured gray owl cake:
This wide-eyed wondering owl gets his textured fur from the use of a piping bag fitted with a classic leaf tip.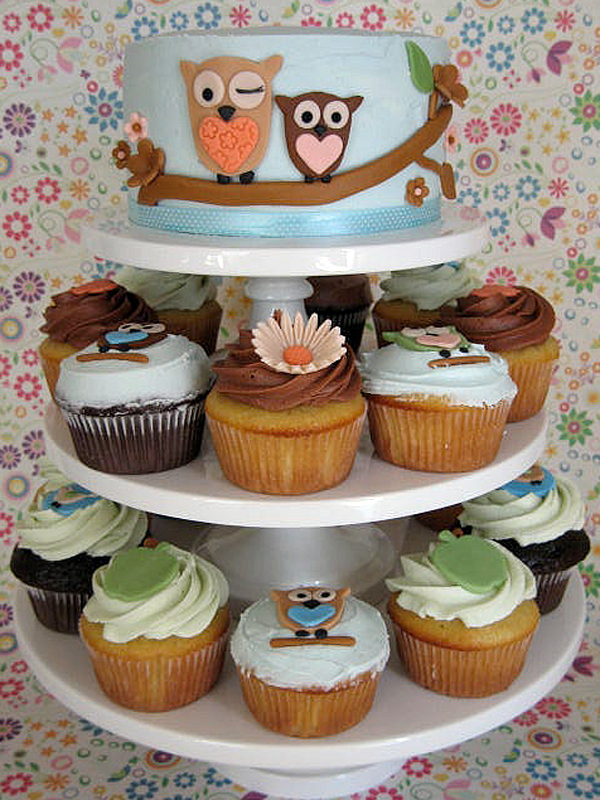 Photo via Blue Cupcake
Vintage owl cake and cupcake tower:
Owls just want to have fun! This retro-inspired cupcake tower is topped with a duo of perched fondant owls with a wink and a hoot.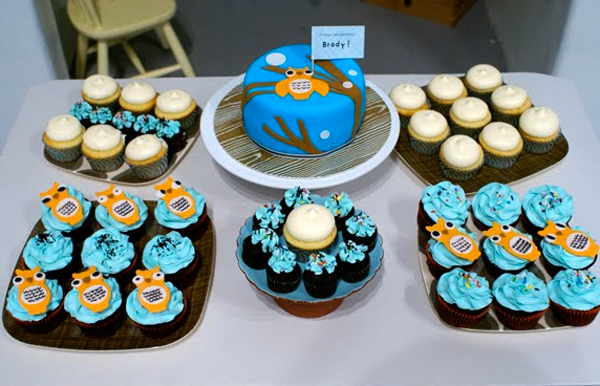 Photo via Coco Cake Land
Night owl cake and cupcake collection:
Blue and orange make the perfect color combo for a little boy's 2nd birthday party — owlie themed! Owl shaped cookie cutters were used to make the owl cupcake toppers and the cutting cake was covered in an electric blue fondant and decorated in a nighttime scene.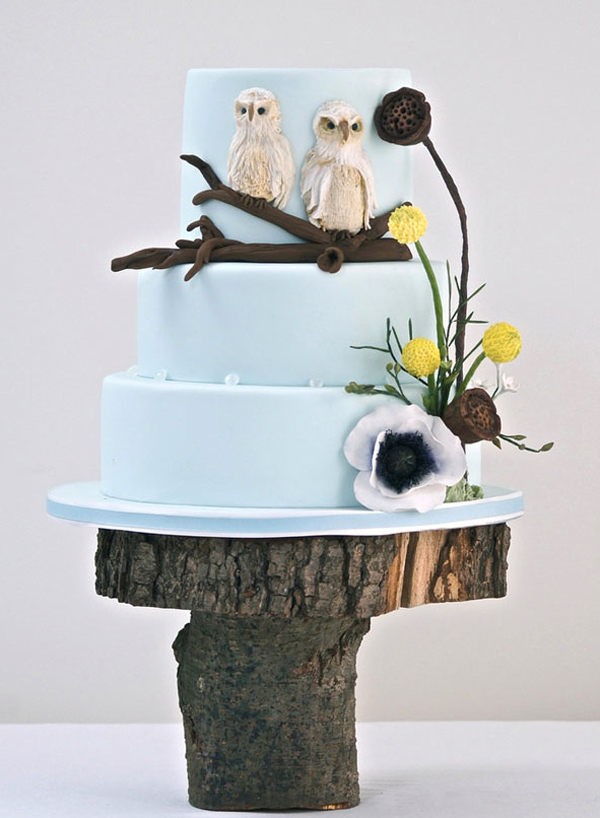 Photo via Cakes by Krisanthi
Beautiful snowy owl winter wedding cake:
British cake designer Krisanthi created this incredible snowy owl winter wedding cake, complete with wintry sugar blooms and an overall woodsy feel. I like the cake styling on the wooden cake pedestal, too. My favorite subtle detail might be the crystal shimmery dew drops that dot the border of the second tier. A true owly work of art.
Keen on making an owl themed cake? Try Sharon Wee's online Craftsy class Cake Topper Techniques: Fondant Animals. Owl bet you can easily make your own whimsical owl cake topper after taking this class!
Now, how about a little silly Saturday fun? Does this look familiar?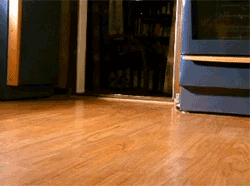 "Whenever my friends and I hear someone mention cake."