Weeknight meals tend to be quick, easy and thrown together at the last minute. We're all busy and don't usually have hours to plan and cook an elaborate meal. Not to mention the clean up — no one wants to deal with piles of dirty dishes! 
Sunday dinners, however, are a major favorite. We take our time and create something warm and comforting and wholly filling. There is roast chicken, sides galore, and maybe a pie or two if we're lucky.
Can I let you in on a little weeknight vs. Sunday dinner secret? The two can combine in one magically easy way with this simple recipe for oven-roasted chicken breasts. 
Photos via bunsinmyoven.com
You might be wondering, who has time to roast chicken on a weeknight, right? You do!
You really, really do! Let me show you how to make a truly special dinner in less than an hour on any night of the week.
About this magical method
Okay, I'm exaggerating a bit. The only thing magical about these chicken breasts is how utterly juicy they are with such a minimal amount of work. 
First up, you'll grab a package of bone-in, skin on chicken breasts. Each package should weigh about 1 1/2 pounds and you can make as much as you'd like here. I almost always cook 3 pounds at once, which gives us plenty of leftovers. 
Next up, you'll need butter. If you're morally opposed to butter, grab the olive oil — either works.
You'll also want something to season the breasts with. You can get as fancy or as basic as you'd like. My usual oven-roasted chicken breasts are simply sprinkled with garlic salt and parsley. It's a classic flavor that leaves the leftovers open for just about any use you can think of.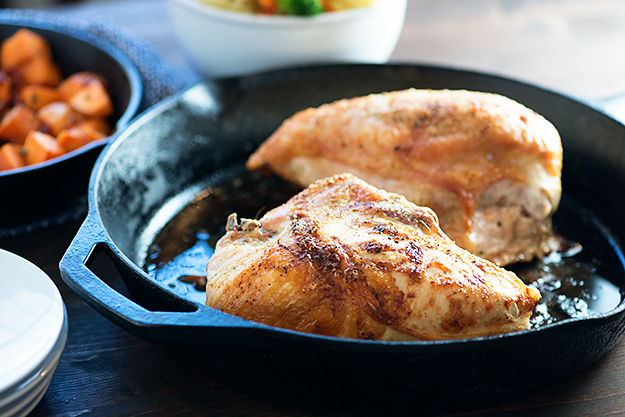 Oven-roasted chicken breasts recipe
(Planning your weekly dinners just got easier! Add this oven-roasted chicken breast recipe to your FREE Weekly Meal Planner Template, and stay oranized all week.)
Ingredients:
4 bone-in chicken breasts
4 tablespoons butter, room temperature
1 tablespoon garlic salt
2 teaspoons dried parsley
Directions:
1. Heat the oven to 425 degrees. 
2. Use your hands to rub the chicken with the soft butter. Be sure to coat each piece of chicken liberally. 
3. Sprinkle the meaty part of each breast with garlic salt and parsley.
4. Place skin side up in large oven-proof skillet or on a baking sheet lined with foil. 
5. Roast chicken for 35 minutes or until a thermometer reads 165 degrees F.
6. Let chicken rest for 5 minutes before cutting and serving. 
Have fun with the flavors!
Don't just stick to garlic salt for this chicken! You can add any spices you love. 
Sprinkle on some rosemary and thyme to give this a warm comforting flavor reminiscent of Thanksgiving dinner. 
Coat the chicken in taco seasoning for a spicy Mexican dinner. 
Add an Italian seasoning blend and serve it with a side of spaghetti with your favorite marinara sauce. 
For a real kick, sprinkle on a packet of dry ranch seasoning for juicy, flavorful chicken that you know the kids will love!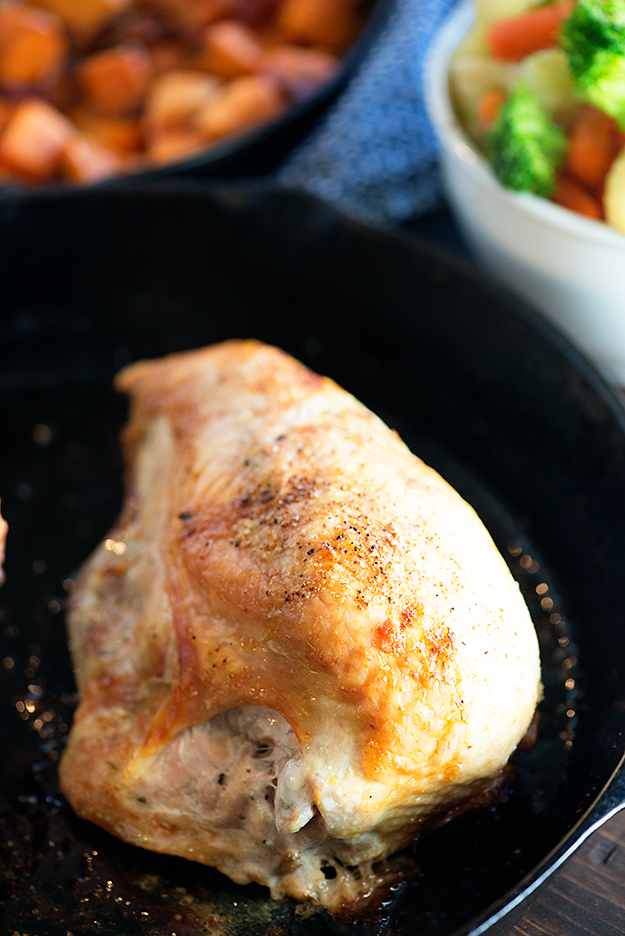 What about the leftovers? 
Oh, my friends. You can do just about anything in the world with these leftovers. That's what makes roasted chicken so wonderful. Cook once, eat two or three times! 
Personally, we love chicken enchiladas in our house. Just pull the chicken from the bones, toss with some taco seasoning and add to tortillas along with plenty of grated cheddar and a can of diced green chiles. Roll them all up, pour on some jarred enchilada sauce, sprinkle on a bit more cheese, and bake them until hot and bubbly. 
Another great use for this leftover chicken is a simple chicken salad. Pull the meat from the bones and toss with some mayo, a little mustard, diced boiled egg, chopped pecans, and a little dill relish. It's such a simple chicken salad, but it's perfect sandwiched between a couple of pieces of soft bread or served over sliced tomatoes for lunch.