When I can get my hands on fresh, whole fish, there is really only one cooking technique I'm interested in employing: salt-baked fish. Oven baking fish in a salt crust keeps the meat invariably moist and flavorful, unlike traditional baking methods. It's so good, I wouldn't feel right sharing any other recipe for oven baked fish with you.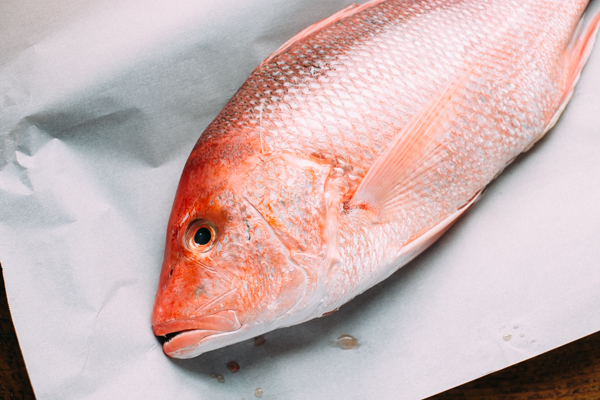 Photos via happyolks
How to make salt-baked fish – the ultimate oven baked fish recipe
Hi, my name is Kelsey Brown, and I'm obsessed with salt-baked fish. Since moving to the middle of the country, our seafood intake has been generally limited to our frozen summer catch in Alaska. So, when we stumbled upon a beautiful red snapper overnighted from the Gulf of Mexico at the market here in Denver on a snowy day in March, the winter blues necessitated we splurge on something that reminded us of a place balmy and sun-drenched.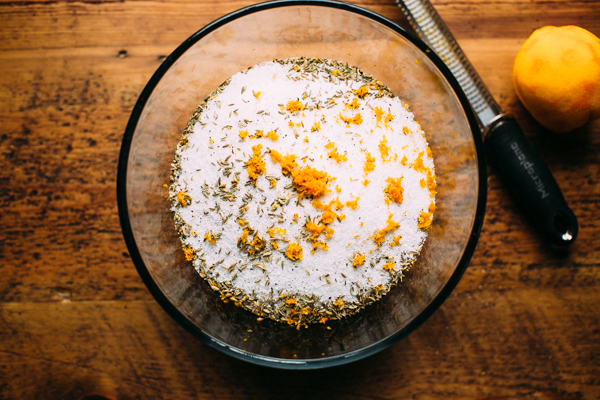 If you're unfamiliar with this cooking method, salt-baking involves encasing the fish in a seasoned salt-egg-yolk mixture and baking it in a hot oven. The fish is then served and consumed by breaking open the salt and eating what's inside. You can salt and oven bake using this technique with any fish, really, from whole salmon to trout.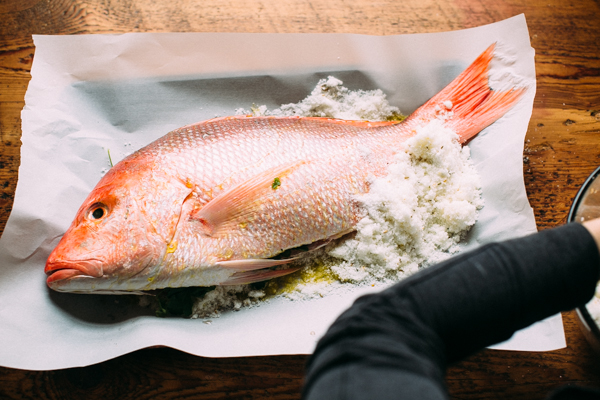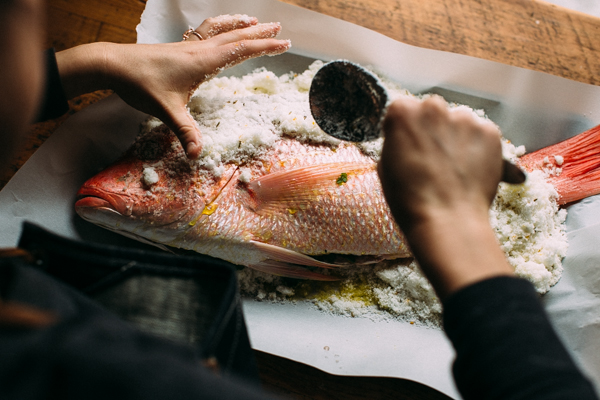 We make a paste of the salt to create a hard crust by mixing in egg whites and your choice of other seasoning based on the fish you're working with. For the snapper, I chose to add a hefty amount of orange zest and lemon zest as well as a healthy pour of fennel seeds to infuse a bit of anise as it baked.
You can also stuff the cavity of the fish with other herbs, butter and citrus as you prefer. For a 4 pound snapper, I recommend a large handful of parsley, slices of fresh lemon and ¼ cup of butter for the cavity.
Ingredients:
3-4 pounds fresh whole red snapper
3 pounds kosher salt
6 egg whites
1/2 cup fennel seeds
¼ cup juniper berries
2 tbsp cracked pink peppercorns
Zest from two large oranges
1 lemon, zested and then sliced
¼ cup butter (½ stick)
1 cup chopped parsley
Olive oil for drizzling
Note: In the case of red snapper, you do not and should not eat the skin, but pull it back in one fell swoop and serve the meat accordingly.
Directions
Clean and gut fish until blood no longer runs through the rinsing water. In a large bowl, mix together salt, egg whites, fennel seeds, juniper berries and pink pepper. Line a large baking sheet with parchment paper. Spread 2-3 cups of salt on the sheet before placing the fish on top at a slight diagonal so that the fish does not spill off the sides of the pan.
Stuff the cavity with parsley, butter and lemon slices. Drizzle fish with olive oil, then continue to mold the salt mixture around the fish tightly. I chose to not completely cover the fish, but you are welcome to completely encapsulate the fish in salt.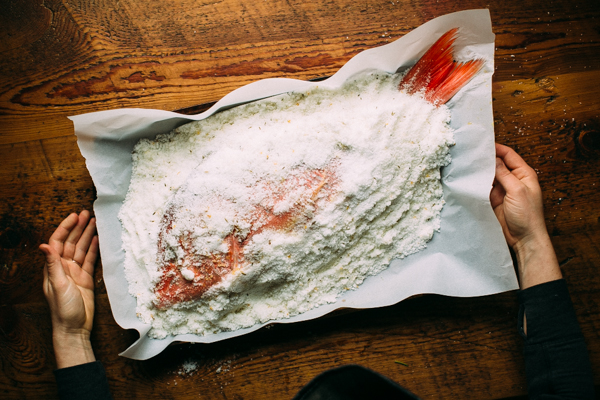 Place the fish in a 400-degree oven. For a 3-4 lb fish, it will bake for 25-30 minutes. The salt will harden and develop a golden hue around the edges and be hard to the touch. If you have a cooking thermometer, when the internal temperature measures 125° F, the fish is done.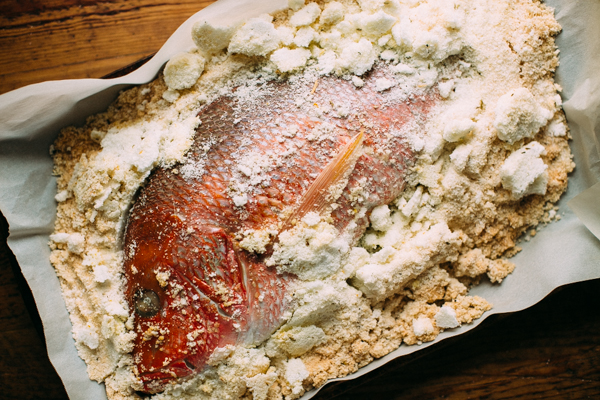 Break the shell with a knife or meat tenderizer and serve immediately. You'll never want oven baked fish another way.
What's dish do you make during the winter and early spring to instantly transport yourself to a tropical getaway?