So, you have a quilt you want to make…or two…or maybe even more! Here are some tips and ideas for keeping everything for each project together and organized. By using a few simple organizational techniques your projects will be completed faster and more unlikely to fall into the "forever unfinished" category.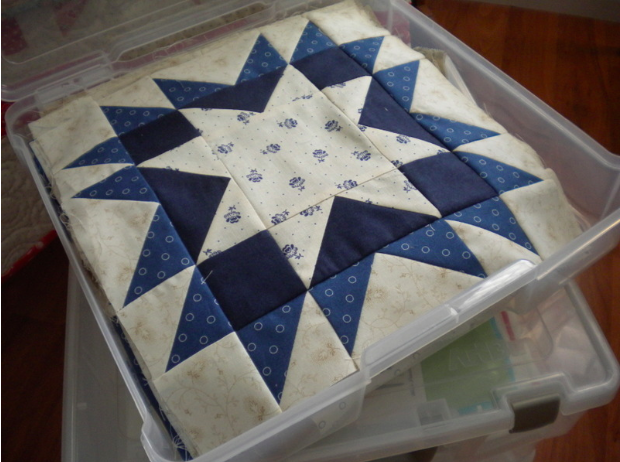 First, it's important to store everything together for your project. You can use any number of storage containers to do this. 12'' x 12'' clear plastic project boxes (available at quilt and craft shops) are a popular project storage container. One advantage to using this type of container is that most blocks are 12'' square or smaller and can lay flat in the box without getting wrinkled. Because the boxes are see–through it is easy to tell what is stored inside without opening the box. Shoe boxes are another popular choice for project storage since they are inexpensive and can be easily stacked . Whatever your choice of storage container, using the same type for all of your storage needs can make it easier to store projects not currently being worked on.
Everything for your project can go in your storage containers—cut fabrics, patterns, even threads if you purchased a particular style or color to go with the project. If there are a lot of pieces that can get easily confused you can bag them separately in paper envelopes or snack sized ziplock plastic baggies. Writing on the outside of the envelope or baggie with a permanent marker to identify the contents will help you be able to easily identify the supplies you need. It's a good idea to keep the extra fabric from your project together in one place until you're finished, just in case you make a mistake and need more of something. After your project is finished, remember to add the leftover fabrics back into your stash so they can be used for other projects.
Another idea for keeping everything organized is to actually make a list of the projects currently being worked on. Information for your list can include the name of the pattern, fabric collection names, date started and date finished. This can be very helpful information to have especially if the project takes awhile to complete—it's easy to forget things over a long period of time. Another reason to keep a list of projects is to make sure nothing gets forgotten. There are always more projects to make and new techniques to try, and having a written reminder of the works-in-progress makes it easier to keep them in mind.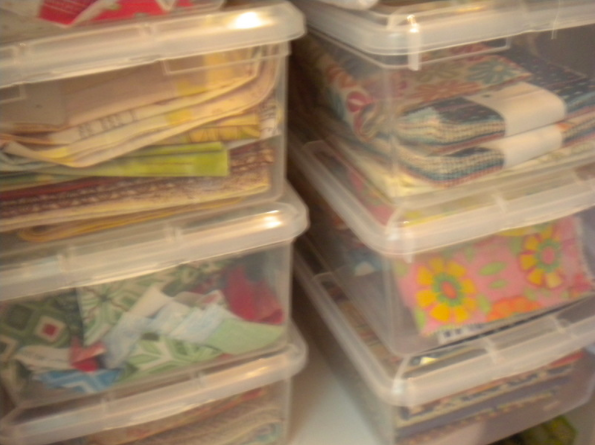 Using these simple ideas to keep things together and keep track of what you're working on can lead to more finished projects which always leads to more project starts! Do you have a favorite organizing technique?
For more tips on organizing your quilting room head here or learn how to make and use a quilt design wall here.
In case you missed it yesterday, learn about sewing with selvages. Come back to the Bluprint blog tomorrow for a free quilting pattern and a fun roundup of mini quilt projects.