When you're getting ready to launch into an embroidery project, one of the best moves you can make is to take some extra time and care in the organization of your supplies.
Organizing embroidery supplies before a project helps ensure a frustration-free stitching experience.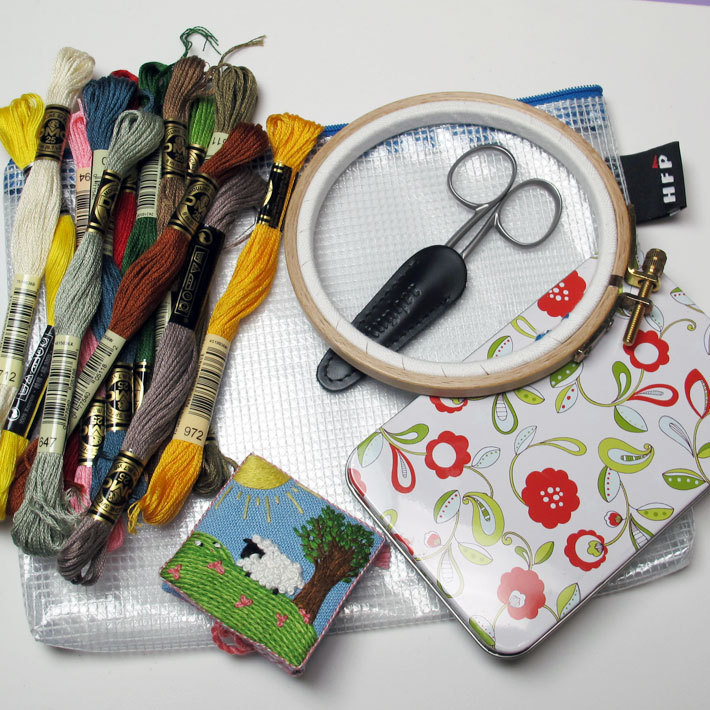 Photos via Needle 'n Thread
Think of your embroidery project the same way you'd approach cooking up a new recipe for the first time.
If you want your time in the kitchen to be efficient, relaxing, and even fun, it's a good idea to practice what the professional chef calls mise en place, or putting everything in place. You sort your ingredients, measure things out, and get everything ready to go, before you actually start cooking. You know in advance what ingredients you need, what you have, and what you need to get, so you don't come up short at a crucial point of the recipe. 
If you apply the same concept to an embroidery project, you'll set yourself up for a fantastic stitching experience!
Here are a few tips for organizing embroidery supplies for your next project.
First things first…know what you need!
The first step toward preparing and organizing your supplies for an embroidery project – assuming that you're working from a kit or a chart – is to read the materials list and instructions for the project carefully and thoroughly. 
If you're planning your own design and not working from a kit or a chart, it helps to make a list of supplies you'll need – or you think you'll need – to complete your project. You might change your mind on thread choices or colors as you go, but it's a good idea to start with a list of possibilities. 
Consult the materials list and gather together everything that you'll need to complete the project. This includes tools, accessories, threads, and fabric. Leave nothing out! Anything that you don't have, make note of so that you can order it or purchase it as soon as possible.
Once you've gathered everything and made a list of any materials you might be missing, it's time to organize your supplies for easy use, storage and handling.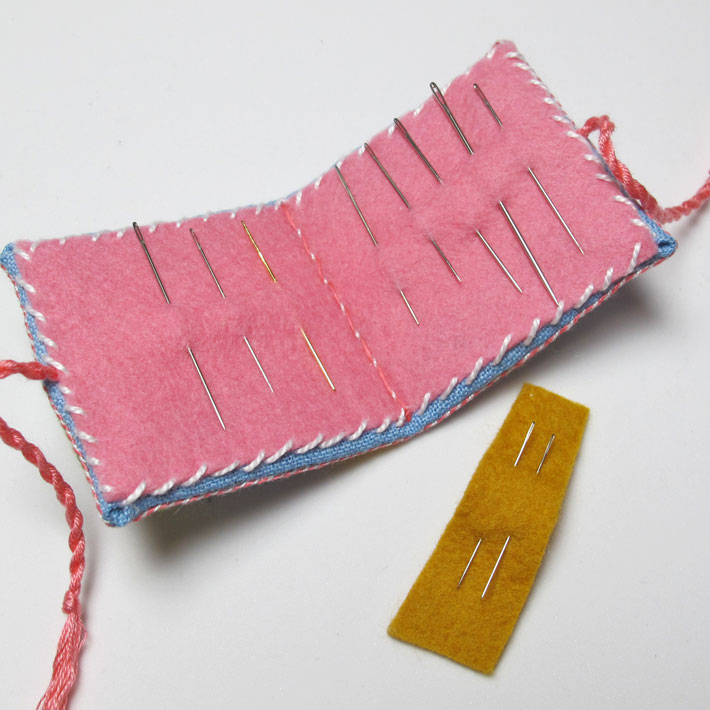 Needles
I like to use small needlebooks to hold all the needles necessary for any one embroidery project. Sometimes, I add two of each type of required needle to the needlebook, just in case I lose one!
A needlebook is a terrific way to keep your needles safe and to keep everything else in your supplies safe from your needles. This particular needlebook is lined inside with thick, soft wool felt, so it can even serve as a temporary pincushion while I'm working.
If you don't have a needlebook, a small scrap of felt for holding your needles will do. You might slip this scrap into a tiny ziplock bag or even a paper envelope, to ensure that the needles don't snag your threads or poke your fingers when you reach in to retrieve your supplies.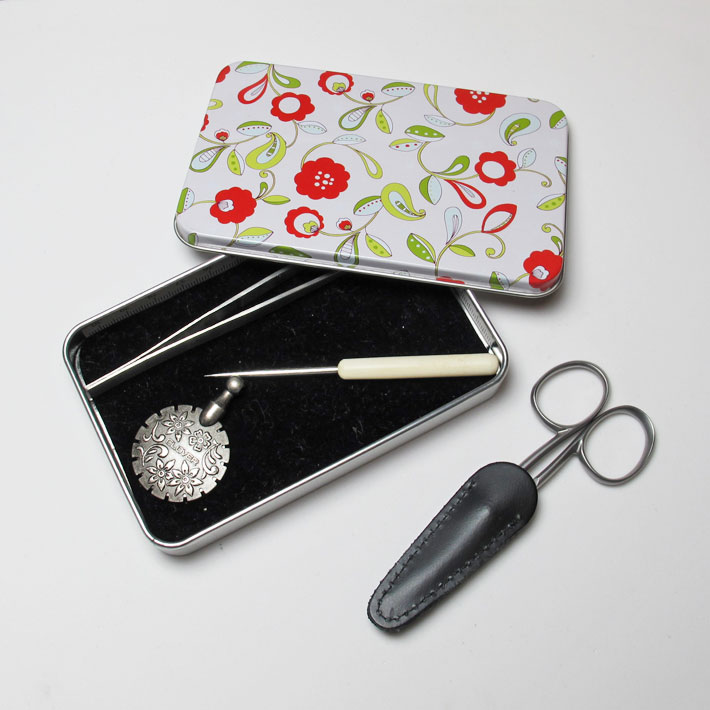 Misc. small tools
A small, flat tin, like the gift card tin above, which I picked up at a local craft store for a dollar, is a perfect way to store extra needlework tools that you'll need to complete your project.
Tweezers (for those inevitable moments when you need to pick something out!), a small thread cutter, and a laying tool are all tools that come in handy when working embroidery projects. Storing these in a separate, small tin keeps them safe and it keeps your materials safe from sharp tips and edges.
The lid of the tin can double as a bead tray, too!
If you don't need extra tools like these, you'll still definitely need a pair of small, sharp scissors. Make sure your scissors have a protective sheath on them before throwing them into your project bag. Again, you want to protect your other materials from the scissors, but you also want to protect the tips of the scissors from getting broken or marred.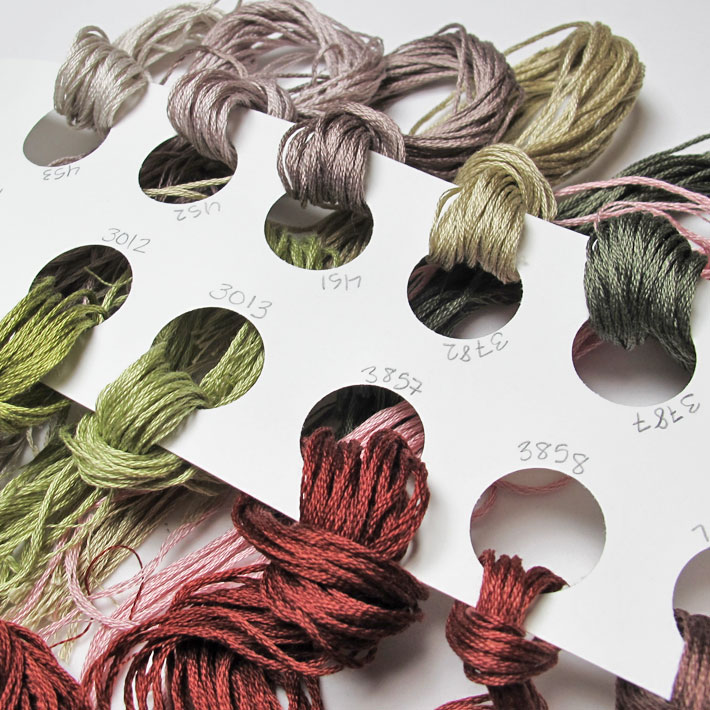 Now it's time to think about your thread!
If your project requires many different colors or types of thread, there are different ways you can prepare your threads to make your stitching experience a little more efficient and hassle-free. 
I like to pre-cut stranded embroidery floss into usable lengths of 18 – 20″ and hitch them onto punched cardstock strips, with each color number marked above each hole. This way, I can withdraw the threads one strand at a time from the whole hitched bunch, each time I need a new thread. I can also easily replace unused threads by hitching them into the same hole with the appropriate color.
I use a half-inch circle punch from the paper crafting area of any hobby store to punch holes into cardstock for thread holders — it's an inexpensive way to make my own thread holders to use for any project.
Finally, slide all your supplies for the one project into a bag that they'll fit into. 
I like to use zipper mesh bags to hold my projects. They're durable, convenient, relatively inexpensive, and they let your supplies breathe a bit.
But, in a pinch, a ziplock bag will do the trick, too! The bonus with a ziplock bag is that you can write the project name on the outside.
Consider keeping your thread in a separate bag within your project bag, to keep it in order and neat. Otherwise, it can get snagged, fuzzy, and messy.
With your supplies gathered, organized and bagged up, make sure you have a copy of your chart or instructions and slip those into the project bag, too. 
You're ready to go! Whether you're stitching at home or taking the project with you somewhere else, you've got everything you need to work your embroidery project, all neatly organized in one place. 
Now it's just a matter of sitting back, relaxing and stitching away!
Do you have any secrets for organizing your embroidery projects? If you do, feel free to share them below! We'd all love to hear them!