Instant downloads are so convenient, but often difficult to manage. One click and the designs are yours, but where did they go? It doesn't matter how many embroidery designs you have if you can't find them. Take the following suggestions and adapt them to your own needs.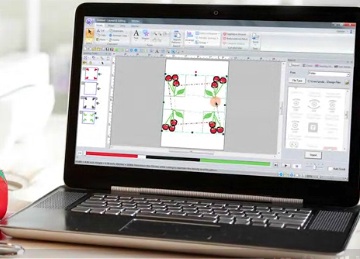 Keep embroidery designs at home
Keeping embroidery designs organized is not difficult. Just store them in one place on your computer, categorized by folders.
Think of your computer's hard drive as a filing cabinet. The best location for machine embroidery designs is in a specific folder on your computer's hard drive (C:). Once there, create a new folder called EMBROIDERY. This is your "home base" and will serve as your primary design storage area.
If you have a stand-alone cataloging program, you may want to set up your primary folder (EMBROIDERY) as the default from which it access files. As an alternative, you may to keep files on a thumb drive or external hard drive, which would change the home base address to another letter.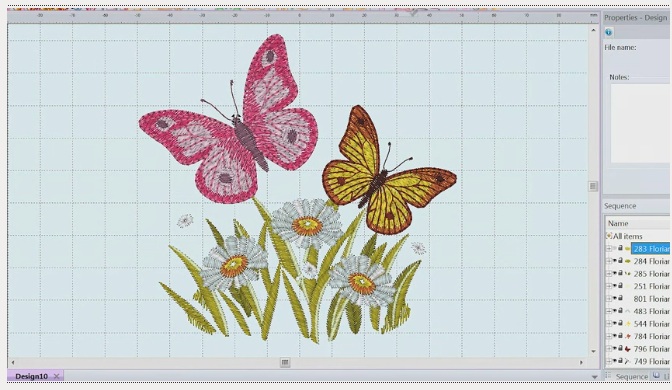 File this design in the "Animals" folder or the "Flower" folder? Maybe both!
Separate machine embroidery designs into categories
Create a sub-folder of the EMBROIDERY folder for each different category of machine embroidery designs you wish to organize. There are three basic methods of categorizing your designs: General Theme, Manufacturer, Technique.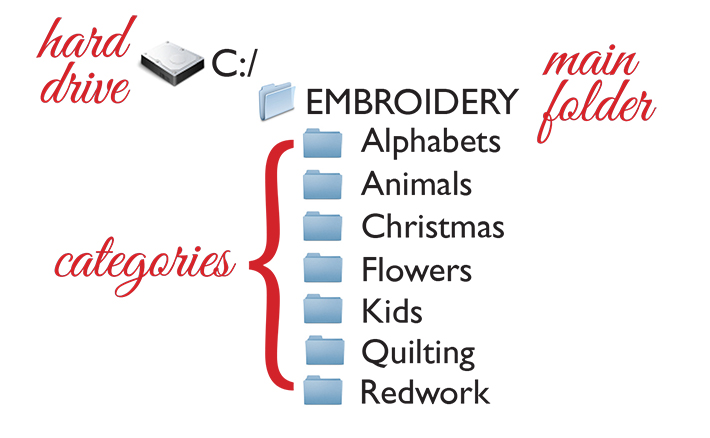 Organizing embroidery designs by theme
What types of designs do you most have? Categories by topic might include Alphabets, Animals, Christmas, Flowers, Kids, Quilting and Redwork.
It is best to start out grouping files very generally, getting more specific as sub-categories make themselves evident. You can easily change your filing structure later and move designs around if desired.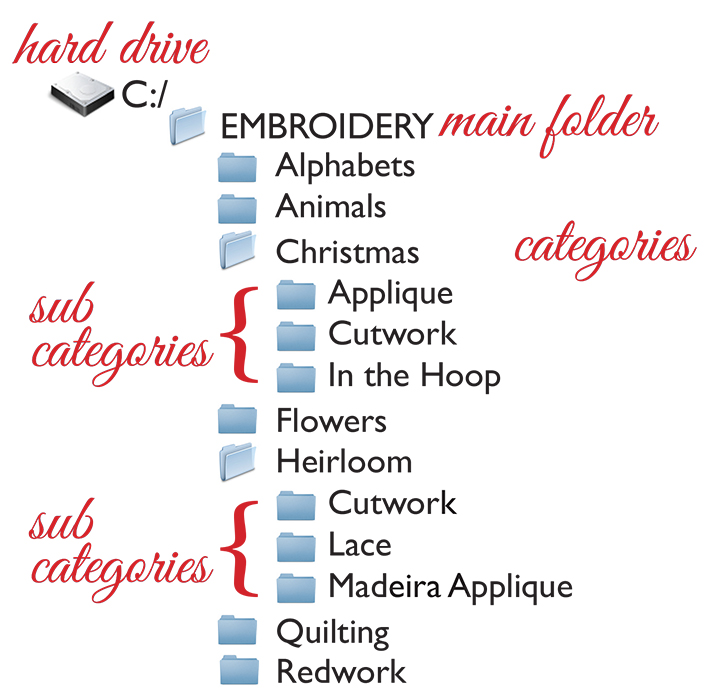 If sub-categories are needed, create them where appropriate within each of the machine embroidery design categories.
If you have a category of Christmas, you may want to break it down into Appliqué, Cutwork and In the Hoop. Or you may want to make your sub-categories: Gift Tags, Kids and Stockings.
If you have a large amount of heirloom embroidery designs, further break the Heirloom category down into sub-categories of Cutwork, Lace and Madeira Appliqué, for instance.
There is no wrong way. How you organize depends on the types of designs you have and where it makes sense for you to find them.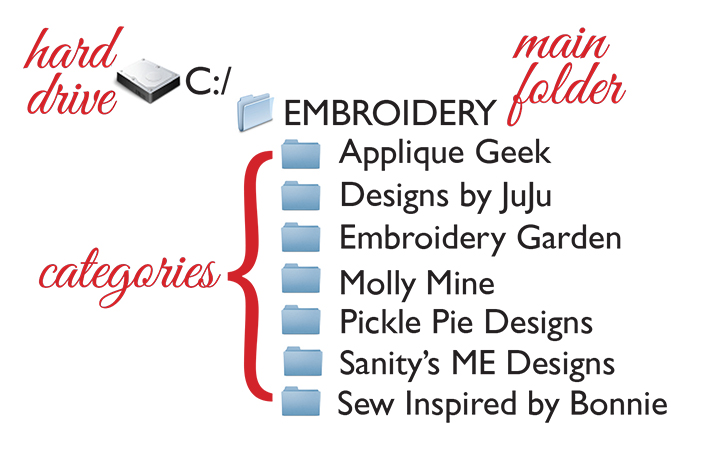 Organizing embroidery designs by manufacturer
Depending on your collection, you may, instead, want to file designs according to manufacturer. These categories may look like Appliqué Geek, Designs by JuJu, Embroidery Garden, Molly Mine, Pickle Pie Designs, Sanity's ME Designs and Sew Inspired by Bonnie.
If you are more apt to remember designs by where they were purchased, this organizing style will work best.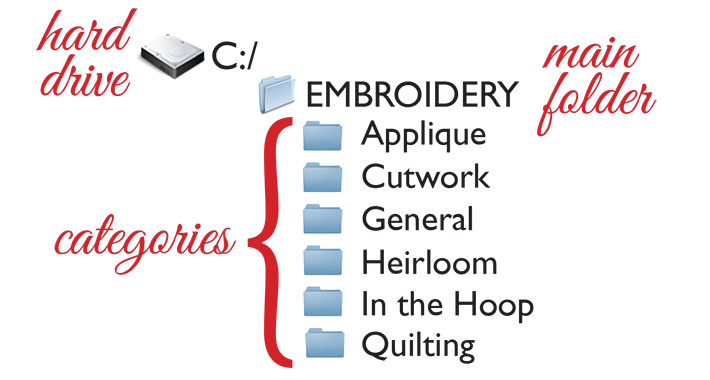 Organizing embroidery designs by technique
If your embroidery projects are most often searched according to their technique, you can arrange your folders that way.
What if the design fits two categories?
You can add designs like Christmas Appliqué to the Appliqué folder or add Christmas Cutwork files to the Cutwork sub-folder of the Heirloom folder. That depends upon whether or not you want to go to one main folder for all Christmas designs.
If you prefer Christmas designs be filed in their technique categories, place them there. You also can place a copy in both locations so that you will find them whether you look in the seasonal category or the technique category.
Use the design organizing style or styles that work for you
Ultimately, your design filing system will probably be a combination of all three of these styles. The most difficult part may be in locating all of the existing embroidery designs scattered throughout your hard drive. You may need to search for different embroidery file extensions to find all of them. Wherever the designs are located, click and drag them into their respective folders.
By properly organizing your machine embroidery design files, you will be better able to find them when you want to use them. Grouping in categories also makes it easier to backup files and to use some of the wonderful cataloging programs which are available.
Browse FREE Machine Embroidery Designs!
Explore popular patterns from the world's best designers.Get Patterns Now »