Some quilts are truly unforgettable. This is due to a variety of factors. Beautiful colors, stunning prints, detailed quilting and intricate design are a few things that might catch one's eye. The Orange Peel quilt is one of those designs that cannot be forgotten.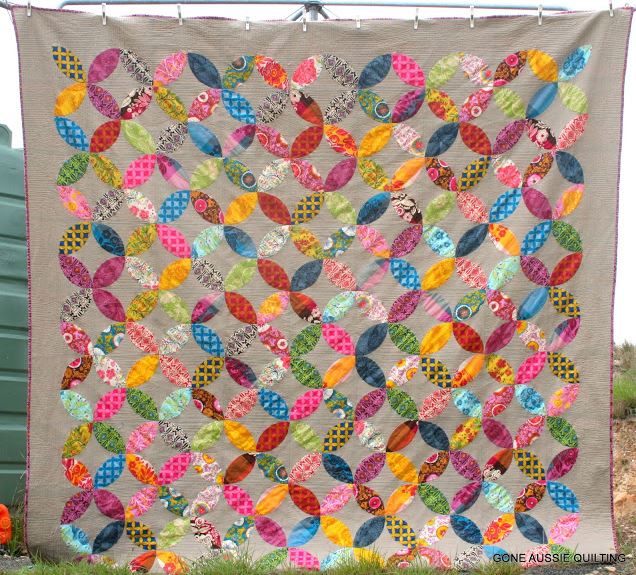 Photo via Jeanette Bruce
Orange Peel quilts have been around for quite some time. First published in the late 1800s, they grew quickly in popularity in the early 1900s. Small orange or petal shaped pieces are cut out and appliquéd to background fabric. Sewists of the time had a great appreciation for this because they could use the smallest of scraps to create a masterpiece. Four peels cut from fabric work together in a repeated pattern to create this stunner. Over time, creative quilters produced many variations of this block. Some of the names for these patterns are Ace of Diamonds, Tea Leaves, Orange Ring, Melon Patch, Lafayette Orange Peel and Joseph's Coat.
Above is one beautiful example of an Orange Peel quilt, made by Jeanette of Heidi Gone Aussie. Once the orange peels were made using fusible webbing, they were fused to background fabric via ironing, then stitched in place using a monofilament thread.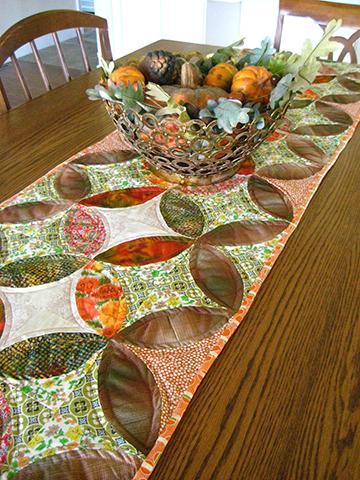 Photo via Bluprint member Sharon Holland
Orange peel quilts can be sewn effectively in a variety of sizes. Bluprint member Sharon Holland shares a stunning example, a beautiful table runner sewn out of the classic design. Though the curves can be tricky to create, Sharon recommends practicing on test blocks.
[box type="shadow"]If you're looking for pointers on sewing those tricky curves, Anne Petersen's Playing with Curves is a great avenue for sharpening your skills. Anne walks through the important techniques to ensure that your curves are consistently beautiful.[/box]
Joseph's Coat
Out of the variations listed earlier, Joseph's Coat is extremely popular and easily recognizable. This pattern is similar to the Orange Peel since they are both comprised of these petal or peel shapes. The Joseph's Coat petals are typically thinner than the pieces of an Orange Peel. The individual blocks require more pieces. Each generally consists of six petals arranged like a flower that is framed by six more petals in a circular shape.
Photo via Brioni Greenberg
Brioni Greenberg of Fat Quarterly created the incredible quilt featured above. Her Joseph's Coat began as a quilt-along with a friend and is comprised of a variety coordinating prints in all shades of pink, purple and yellow. Brioni calls this labor-intensive quilt a "real labor of love."
Photo via Jessica Kovach
Are you interested in making your own Joseph's Coat? All of the cutting, fussing and sewing does take quite a bit of time. If you are having a hard time committing to an entire quilt, how about making a quilted pillow instead? Jessica of Twin Fibers created this beautiful quilted pillow cover using the Joseph's Coat design. She used the pattern and instructions from the Joseph's Coat Quilt-Along hosted on the Don't Look Now blog for her rainbow-colored pillow, which measures as a 24" square when finished.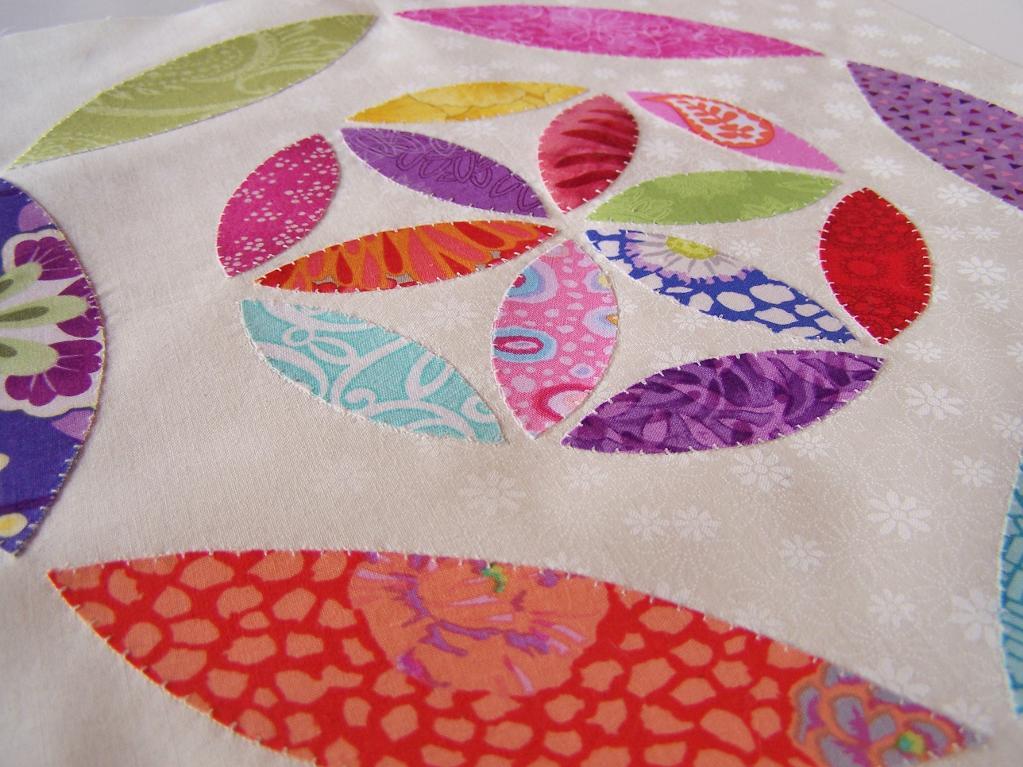 Photo via Bluprint member Sherri Noel
If you'd like to sew your own Joseph's Coat quilt, Bluprint member Sherri Noel has a Joseph's Quilt block pattern available in her pattern shop. This is one of 12 that are included in her sampler sew-along! The finished block is a 15″ square.
Photo via Katie Pedersen
Are you feeling charmed by these designs? The petal or peel shape can be incorporated in your actual quilting. Katie of Sew Katie Did dresses up her patchwork quilt with Orange Peel quilting in the project shown above.
Have you made an Orange Peel or a Joseph's Coat quilt? Do you have any tips?