The idea came to her on a bus ride. Fiber artist Hannah Claire Somerville had been toying with the idea of creating a visual representation of her daily commute, and had also been thinking about taking up embroidery.  The two ideas collided in her 1 Year of Stitches project.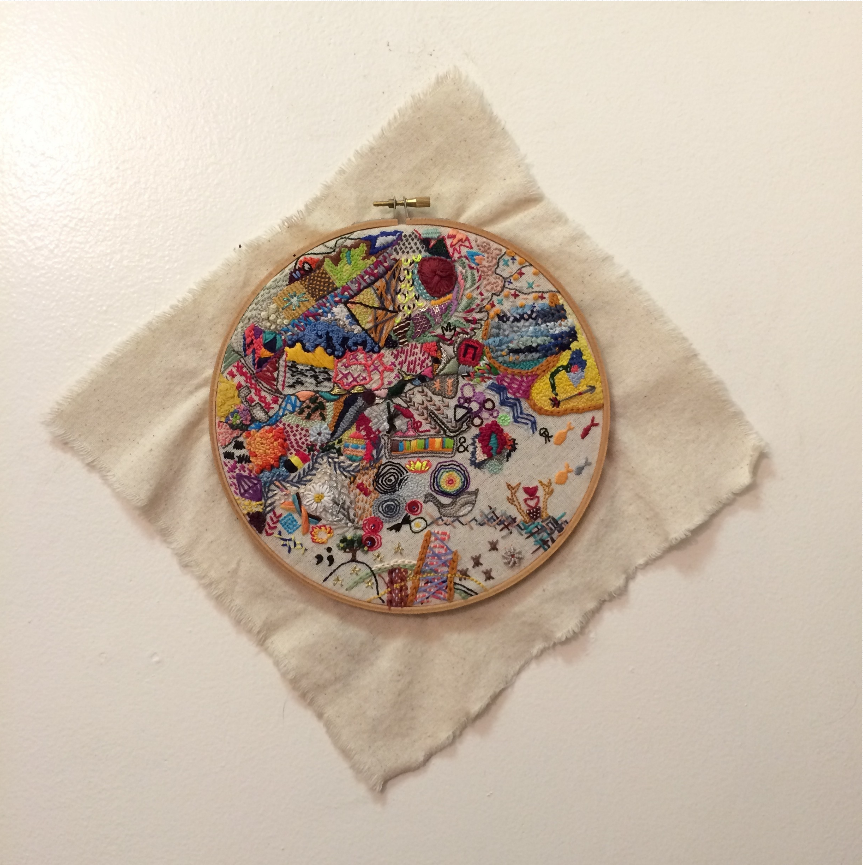 Every day since January 1, 2016, Hannah has added at least one stitch inside an 8" embroidery hoop. Now, she has an elaborate fabric swatch that represents small moments from her daily life.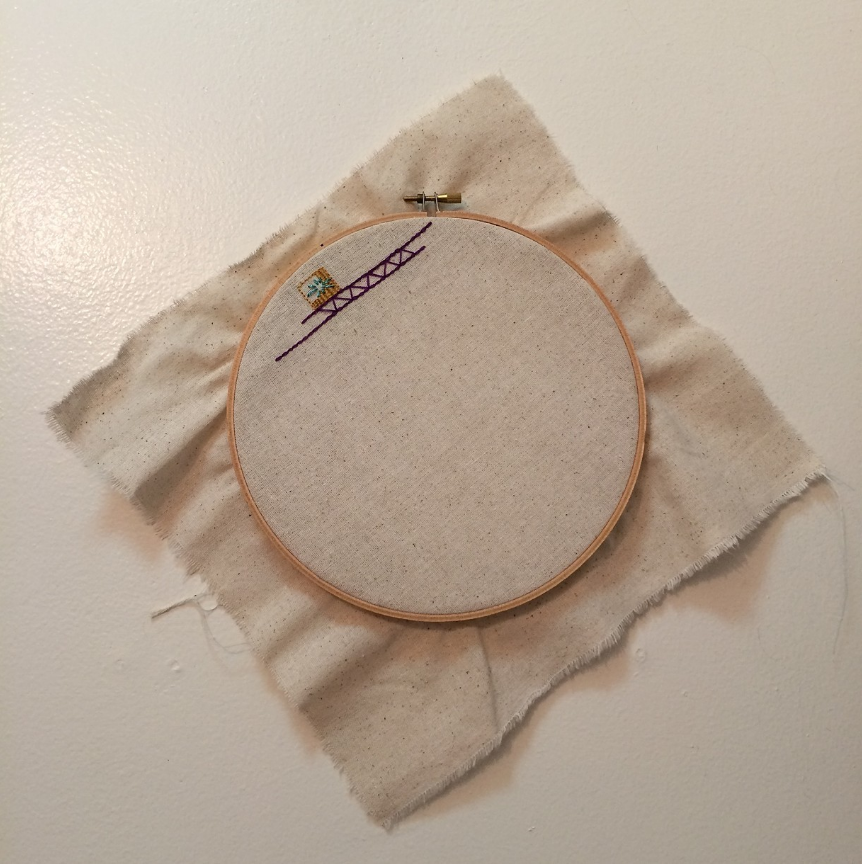 It started as a personal project: "I hadn't really been doing art for myself, so I just wanted to do something for me," she says. Stitching now is part of Hannah's routine, usually as the last thing she does at night.
But she's actively kept the habit from turning into a chore.
"I wanted to be kind to myself," she says, taking into account her busy schedule pursuing a Master's degree in museum studies. "I can stitch for 5 minutes or I can stitch for 50 minutes. And I made a promise to myself to not get mad if I don't get it done."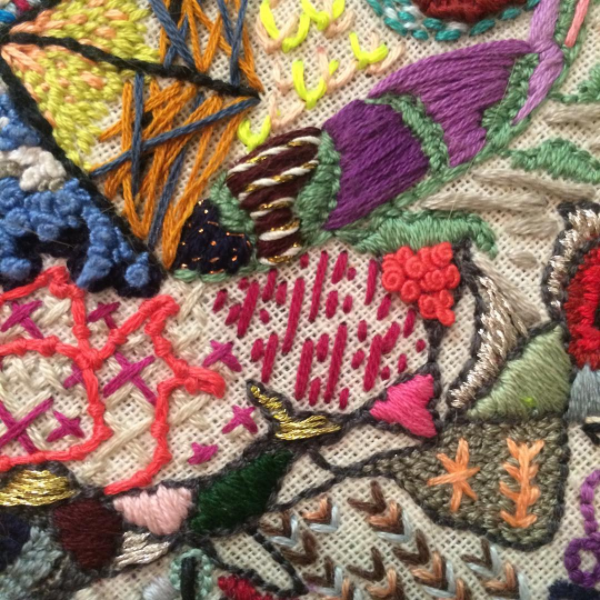 To let her project feel more personal — and less like an assignment for a client — she avoided planning how much time to spend each day or where to place the next stitch. That's been hard for Hannah, who describes herself as a process-oriented person, but it's also given her some creative liberties. "It's been freeing in that sense, to not make such a planned out composition," she says.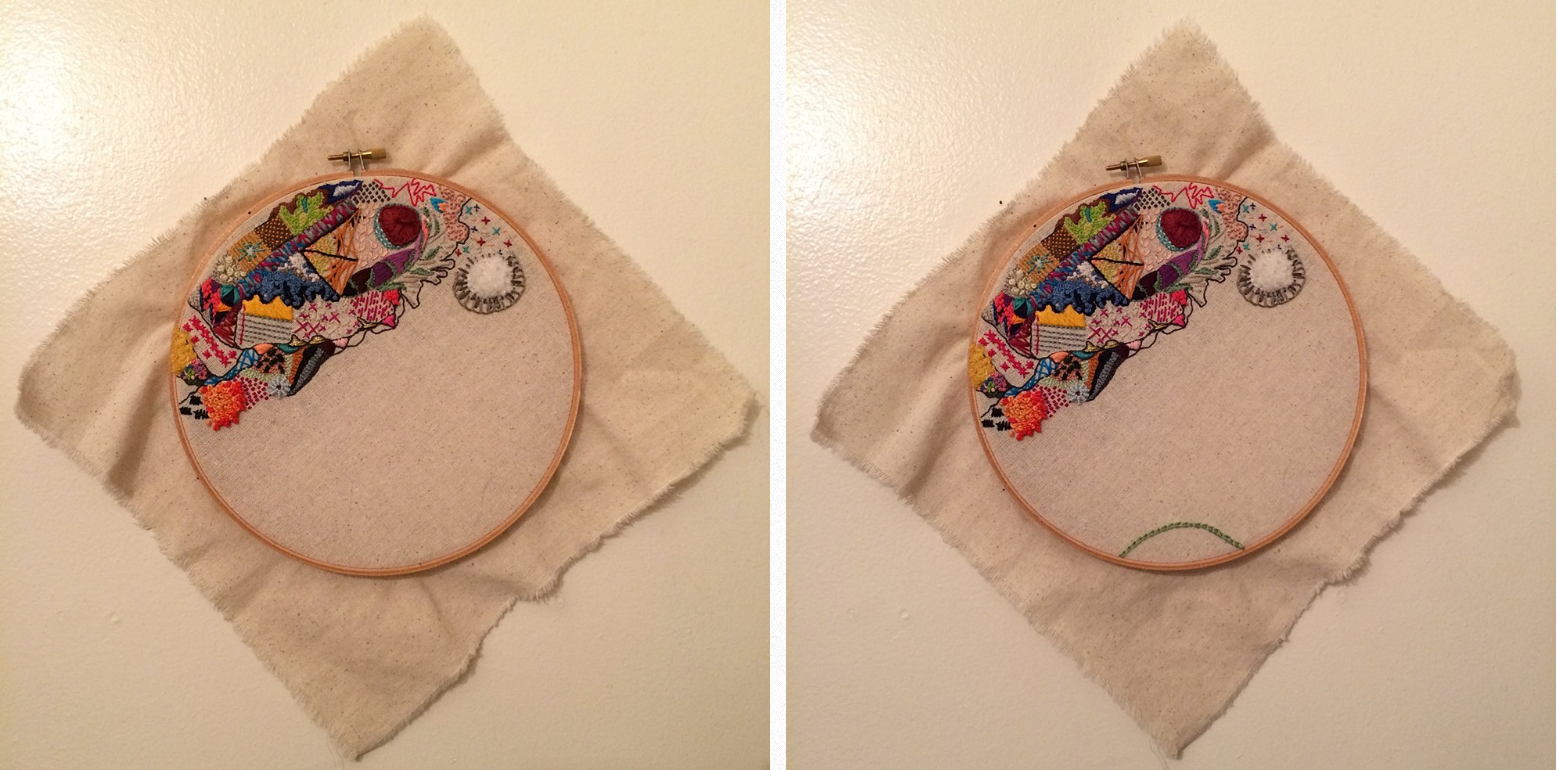 Her spontaneous style took shape as project evolved over time: She started on the upper left side of the hoop, worked her way down for few months and, suddenly in mid-March, jumped down to the bottom of the hoop. "The beginning looks really tight to me, because I was concerned about how I was going to make it last the whole year. But then I loosened up a bit."
Loosening up — both in her stitches and her process — enabled Hannah to explore the craft more. "I'm more willing to try things," she says (as long as her handy dandy seam ripper is by her side… she's not afraid to take out stitches that don't look right).
As she hoped, 1 Year of Stitches has been a deeply personal art project."This process has really helped me as an artist," she says. But it's also been very public, since Hannah posts every new stitch on Instagram.
"I've been really pleased with the great, positive response I've been getting from the Instagram community," she says. "To have people encouraging you and telling you what they like is really wonderful." The online community keeps her accountable and motivated to keep going day after day.
In return for the encouragement, Hannah gives back to the community in the form of inspiration. She's even spotted other Instagram users who started their own year-long stitch projects.
"I'm a total believer that everyone has a creative side, and it's healthy to explore it," Hannah says. "If I can make other people feel less intimidated to do that, then I feel like the project is a total success."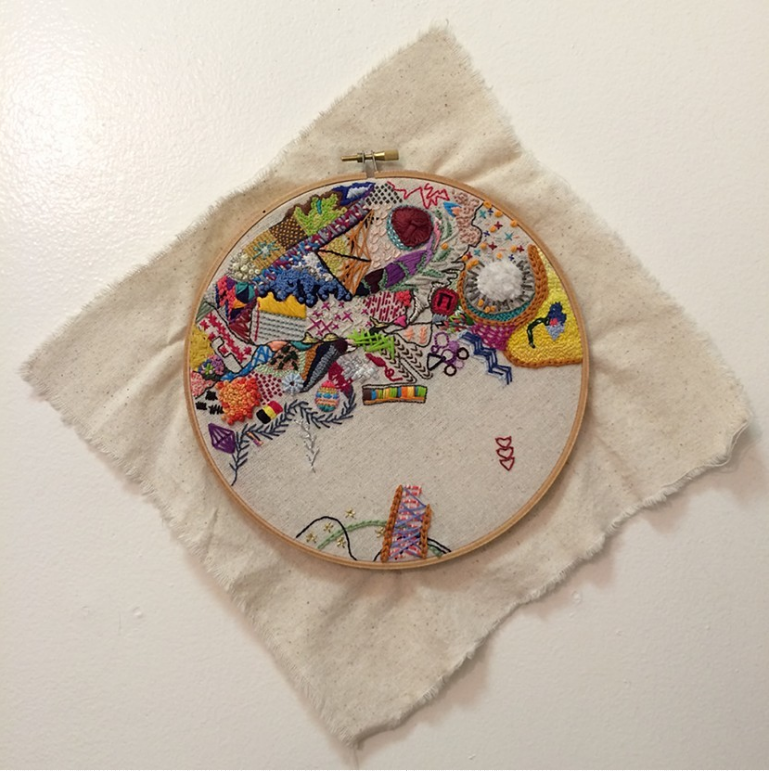 While the project is certainly already a success, it's not finished quite yet. When Hannah first started, she planned to continue for a year — until December 31 — so she has a few more months to go. Then, she'll wrap it up: "I think it's important to put some constraint on it. I'll have to force myself to stop."
We sure hope she picks up a new hoop on January 1.
Want to start your own year of stitching?
All you need is a fabric swatch, an embroidery hoop, floss and a needle. If you're new to embroidery, try out our free downloadable guide to hand embroidery, with tutorials for 10 essential stitches. Then, start posting your daily stitches on Instagram using the hashtag #1YearofStitches.