One-tier wedding cakes are a terrific option for couples dealing with a food allergy, looking to cut back on their budget or if they just aren't cake people (but want to satisfy grandma and grandpa). As a former wedding cake shop owner, I've made more than my fair share of tiny masterpieces. Here are my tips for creating the one-tier wedding cake of your clients' dreams.
10 tips for creating the perfect one-tier wedding cake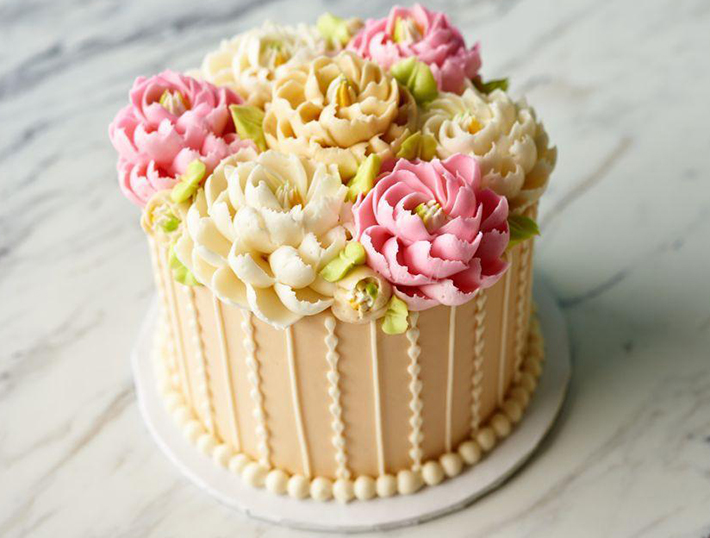 Image via Lauren Bozich & Marianna Carroll
1. Don't get overwhelmed early in the process.
Designing a traditional, tiered wedding cake can be overwhelming, but focusing on just a single tier may seem even more daunting — especially for couples who have a seemingly endless stream of options and ideas.
You can help the couple feel less overwhelmed by postponing the design process. When I owned my cake shop, my advice to people was to choose the cake design toward the end of the planning process. Definitely suggest they schedule a tasting and book with you early! Just let them leave the final color and detail decisions until after their suit, dress, flowers and other decorative elements have all been picked out.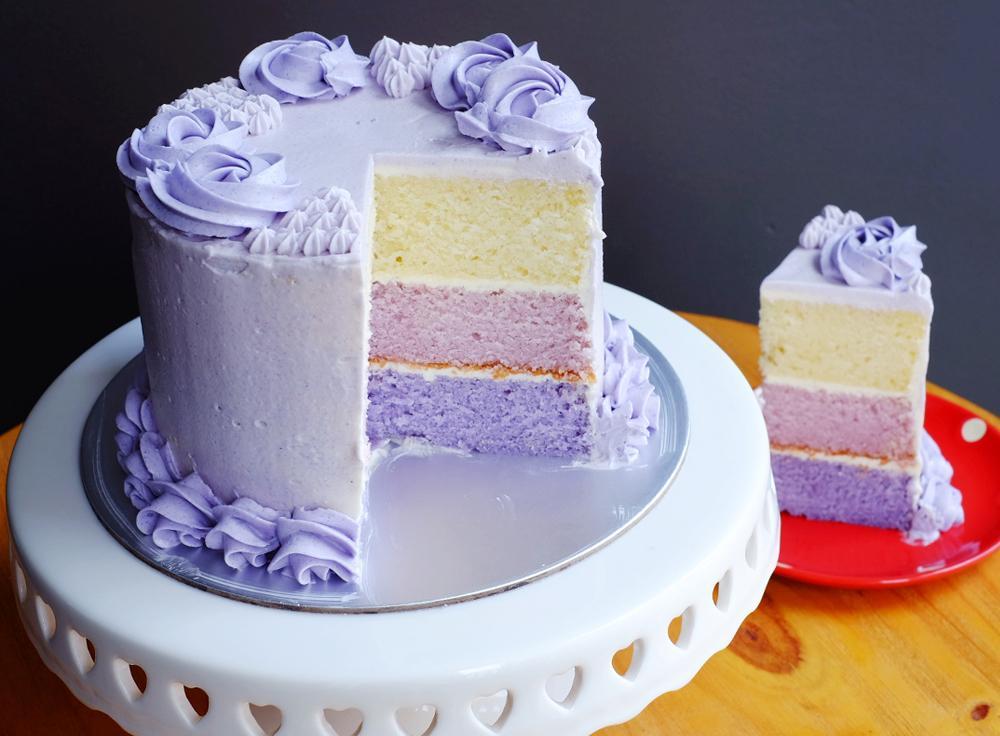 Image via Cherie L
2. Design from the inside out.
So often design choices are left to the exterior of a cake, but the inside can be just as much fun! Offer tinted cake layers in their favorite shades or suggest cake flavors that naturally match their wedding colors.
Rainbow layer, checkerboard, zebra stripes, and even tie-dye looks can all be accomplished by coloring and layering cake batters. Charge accordingly for the time and labor it takes to achieve the design.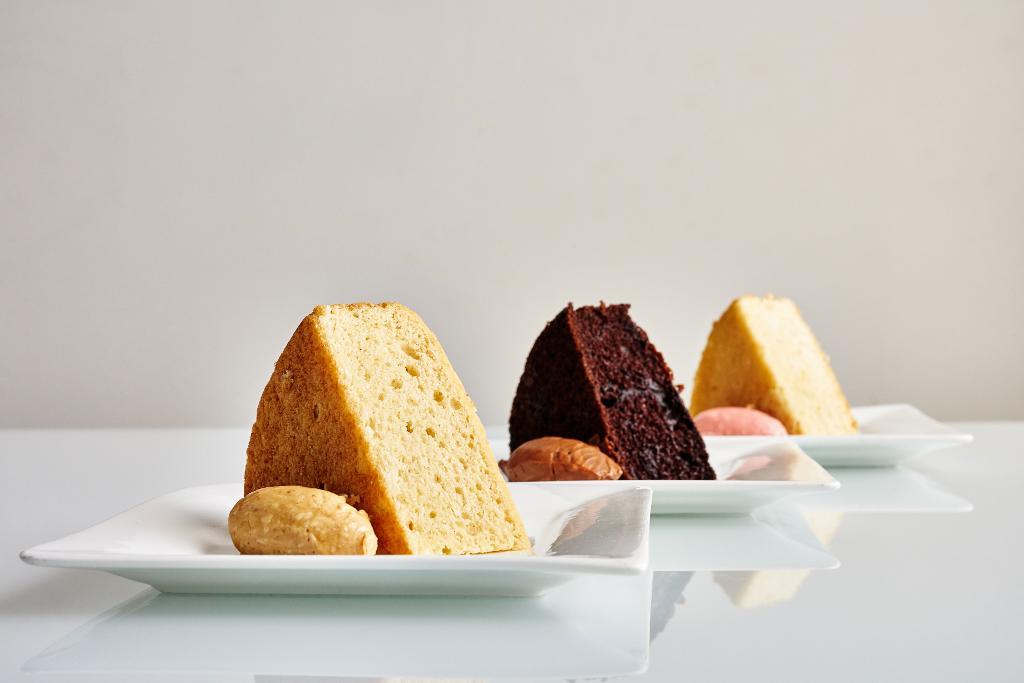 Image via James Rosselle
3. Be adventurous with flavor.
When couples choose to serve just a little cake and other desserts, they don't have to worry about the cake pleasing everyone. Encourage your clients to choose crowd favorites for the other dessert offerings. When it comes to the cake, they should go with what they love! They might choose a different flavored filling for each layer or even alternating layers of different flavors of cake.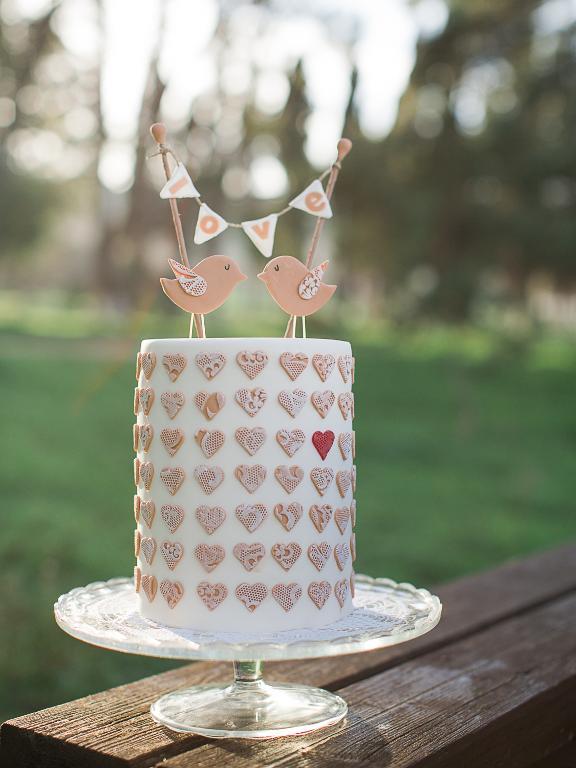 Image via Two Cherries On A Cake
4. Take it higher!
Turn up the volume on the cake's height. A few more layers add drama and more surface area for design details.
Just be aware that extra-tall or double-barrel cakes may require a little bit of structure on their interior to keep the layers in place. Be clear with your clients that you may need to charge more depending on how high they want to go.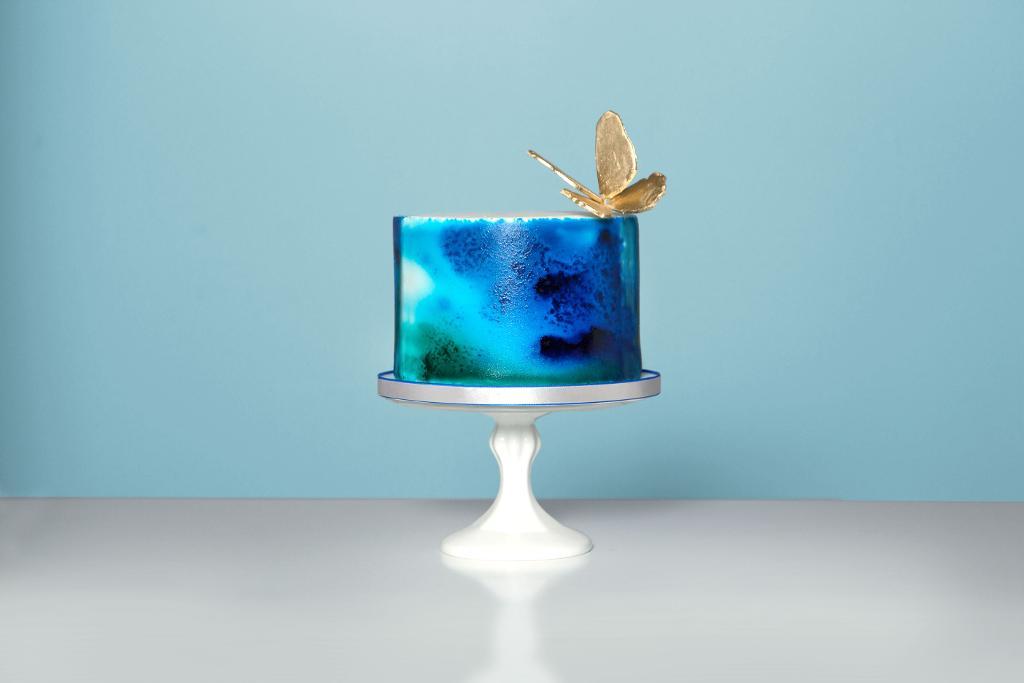 Image via Kate Sullivan
5. Level up with a statement-making cake stand.
Another way to add height to a single-tier display is to offer your clients a beautiful cake stand. A stand not only showcases their special cake, but also separates it from the other desserts they may have on display.
As a cake decorator, you might want to invest in an assortment of stands to have on hand that your clients can rent for their big day. It's a great way to bump up your bottom line while offering your couples a valuable service.
Beyond the traditional glass and porcelain varieties, consider offering untraditional options like tree stumps, wine crates or even a stack of vintage suitcases.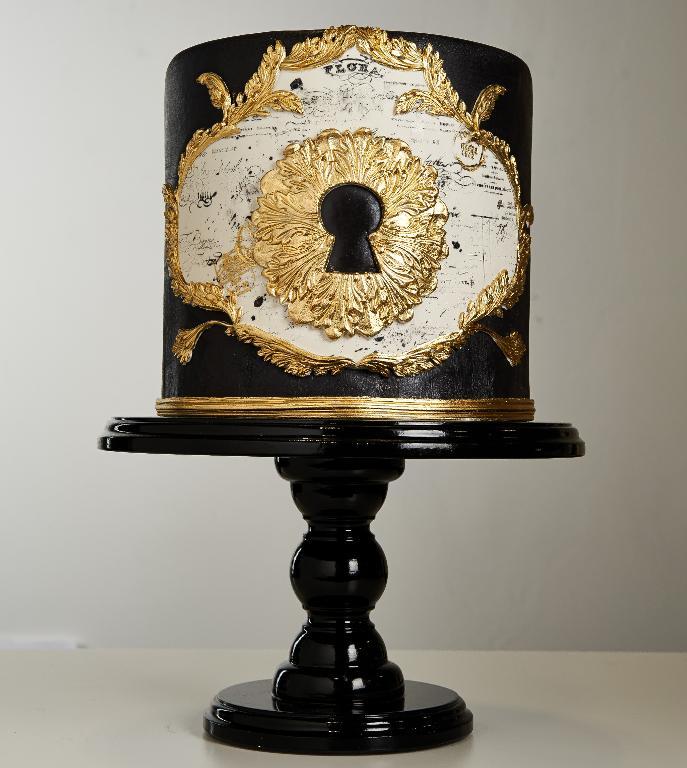 Image via Alexandria Pellegrino
6. Know your angles.
Single-tier cakes for events like birthdays or anniversaries are typically decorated to be viewed from the top down. A wedding cake, no matter how many tiers it consists of, will primarily be viewed from the side.
Remind your couple that they will be photographed standing behind their cake and while cutting into it. Decor elements like ombré buttercream, ruffles, quilted fondant, stripes or even ganache drips are all gorgeous and best viewed from the side.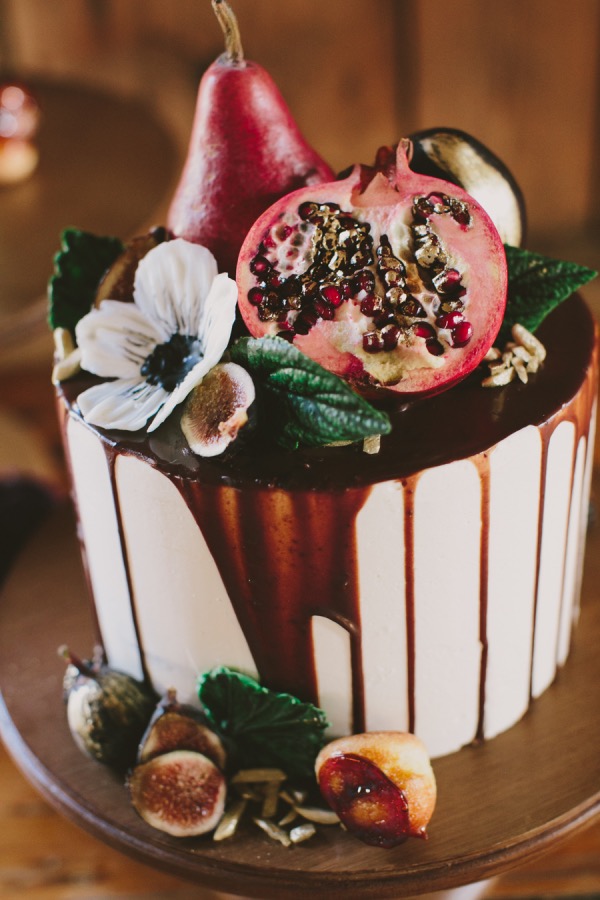 Image via Erin Gardner
7. Top it off
Adding a special topper to your clients' one-tier wedding cake may help the design feel more polished, complete or just plain wedding-y!
Go with a traditional choice like a shared initial, flowers or the quintessential little couple figurine. Or, suggest they pick a topper with an updated twist like a cursive, lazer-cut message or a set of love birds and bunting.
I always kept a list of creative sources for toppers (Etsy shops, Ebay, local cake supply stores, etc.) in my tasting binder for couples who were interested in finding one.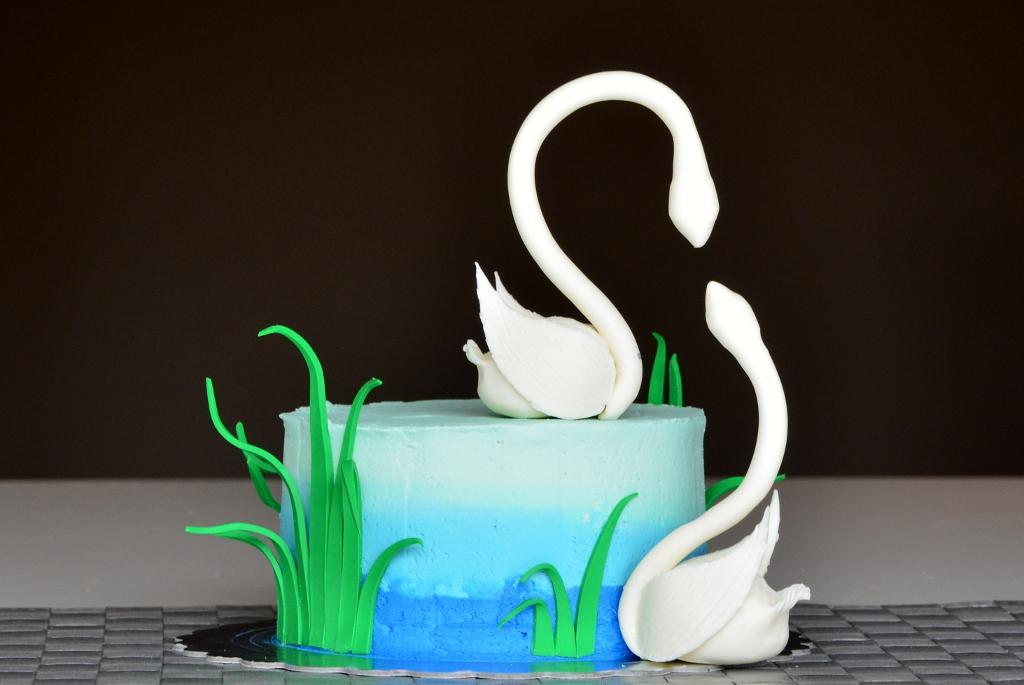 Image via Supriya Vaidya
8. Go with the odds.
Designing on a small space, like a one-tier wedding cake, can be tricky. You want the cake to look beautifully decorated, but not overdone — and that's especially important on a cake where space is limited. That's where odd numbers can help.
My favorite one-tier beauties either had a single, gorgeous focal point, or no more than three design elements. Try to maintain balance between the number of colors, shapes and themes involved.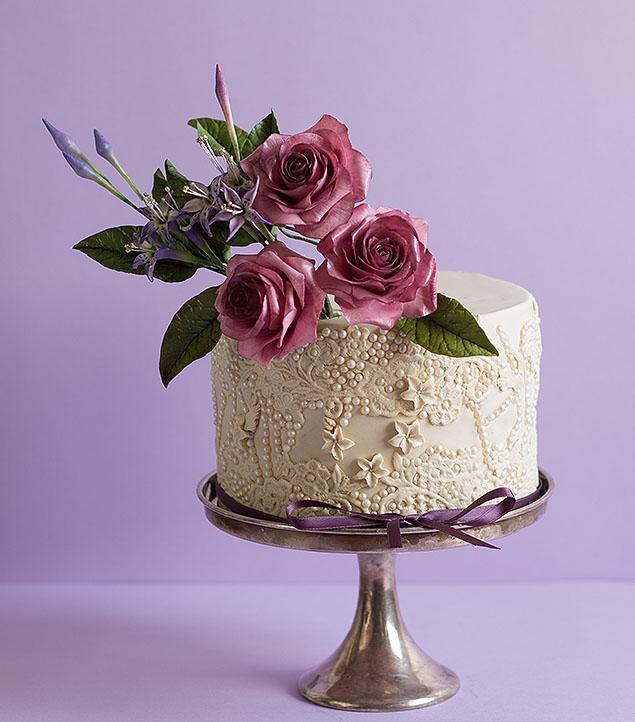 Image via Modernlovers
9. Splurge on something special
With a small amount of surface space to cover, elements that would have driven up the price point of a taller, tiered cake may be within reach for your customers. Offering them "splurge" options, like a custom sugar flower arrangement or hand-painted design, will help make their one-tier wedding cake feel that much more special — without breaking the bank.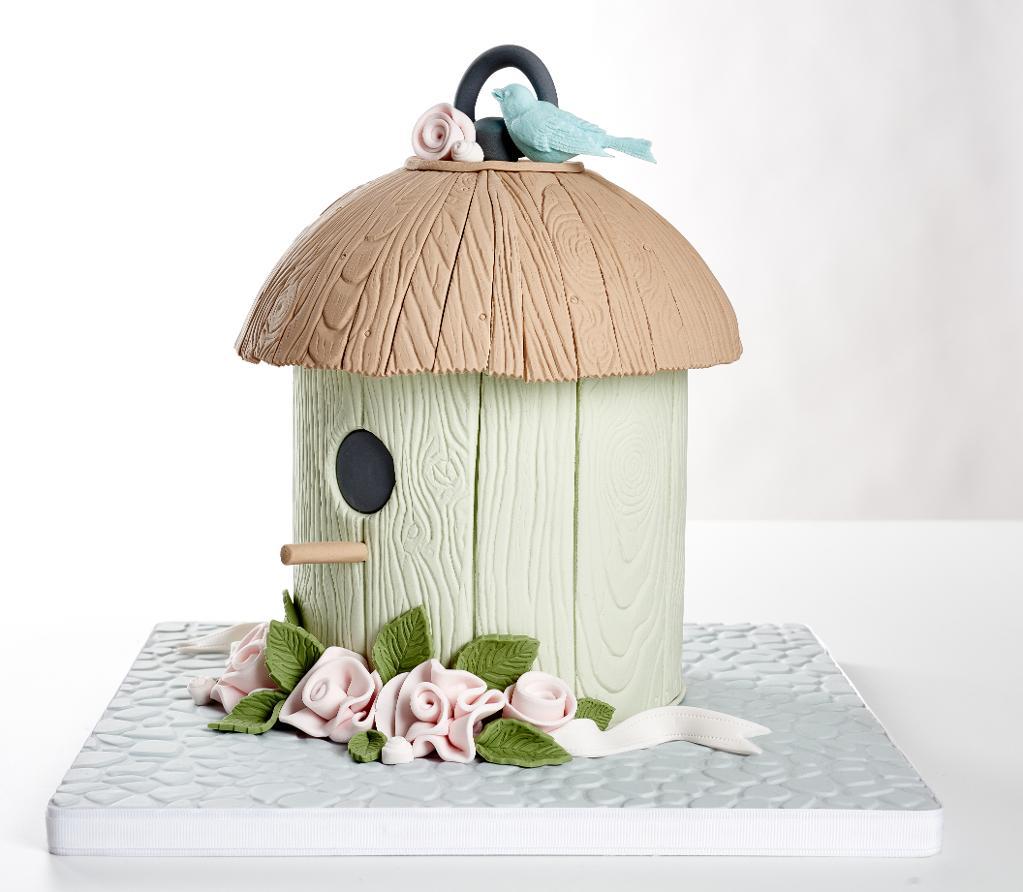 Image via Loren Ebert
10. Think outside the circle
Encourage you clients to view their one-tier wonder as an opportunity to show off something fun about their relationship. A whimsical cake feels right at home as part of a casual dessert buffet, for example. In the past, I've made one-tier wedding cakes in the shape of a baseball hat, sandcastle, and even a Volkswagen Beetle. Each was unique and represented something special about the couple it was for.
Create Small Cakes That Make a Big Impact!
Learn how to make an affordable collection of original cake designs for satisfied customers who keep coming back — and bring their friends! Enroll Now »