Pins and needles are basic quilting supplies used by every quilter. With such a large variety of different types of pins and needles available today, there is a perfect needle and pin for every project.
Here are some of the basics to keep in mind when purchasing these necessary supplies:
Pins
Pins help quilters achieve accuracy in their piecing by keeping fabrics securely together for sewing.
The most important feature in a pin for quilters is that the pin is sharp and thus able to glide smoothly through the fabric.
If your pins catch or snag the fabrics, they should be replaced. Bent pins should also be replaced. It is important to look for glass head pins since the heat from an iron can melt the tips of plastic head pins.
Many sewists and quilters also prefer silk pins for their ability to easily glide through most fabrics.
It's best to keep your pins in a pincushion. Leaving pins in a flat container makes it hard to pick up a single pin, while storing them upright in a pincushion makes it easy to use and replace pins.
Appliqué pins help quilters secure fabric pieces for appliqué. Because they are shorter than traditional pins, they are easily placed in small areas prepared for hand-stitching and appliqué. Not only are these shorter appliqué pins easier to keep out of the way, they are also less likely to snag threads.
Needles
Needles for hand sewing are also an essential item for quilters. Quilter's use hand-sewing needles for hand-quilting, attaching bindings, appliqué and hand piecing.
The first thing to remember about needles is that they are sized by numbers with the higher the number indicating the needle is finer (thinner) and shorter. You should work with the highest number you can that allows you to have good control over the needle. It's also easier to quilt smaller stitches with a shorter needle.
You also need to think about threading the needle. Higher numbered needles have smaller eyes and are therefore more difficult to thread. Quilters need sharp, strong needles that aren't too thick.
The most common needles for hand quilting are "betweens" needles which come in a variety of sizes. These needles are shorter but have strength in order for quilters to easily work with the quilt top, batting and backing. Betweens are sharp, and they are also easy to manipulate.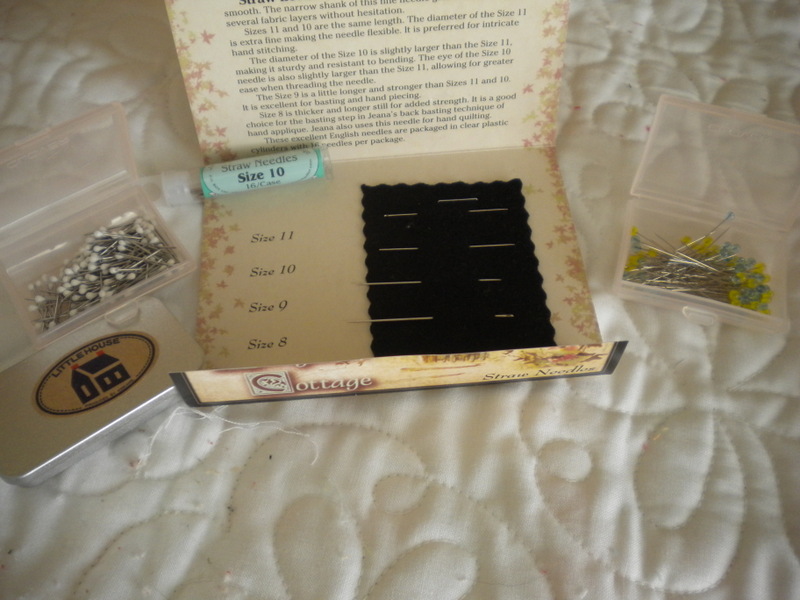 Straw needles are longer than betweens and are more flexible as well. They are also sharp and easy to manipulate. You will want to use straw needles for appliqué. Straw needles are also ideal for attaching binding to quilt edges.
Sharps are another type of needle used for handwork and needlework. Sharps are long and thin and often used by quilters who prefer to piece their blocks by hand. Betweens and straw needles are the most common needles used by quilters because of their versatility and strength.
Do you have favorite pins and needles?