Ombré is the hottest trend right now in the cake decorating world, but why should cake take all the glory when it comes to this colorful confectionery trend? Summer things up by incorporating ombré with ice cream in this sweet, frozen recipe. Not only are ombré ice cream popsicles as pretty as a picture, but they'll help you beat the summer heat in supreme style and taste.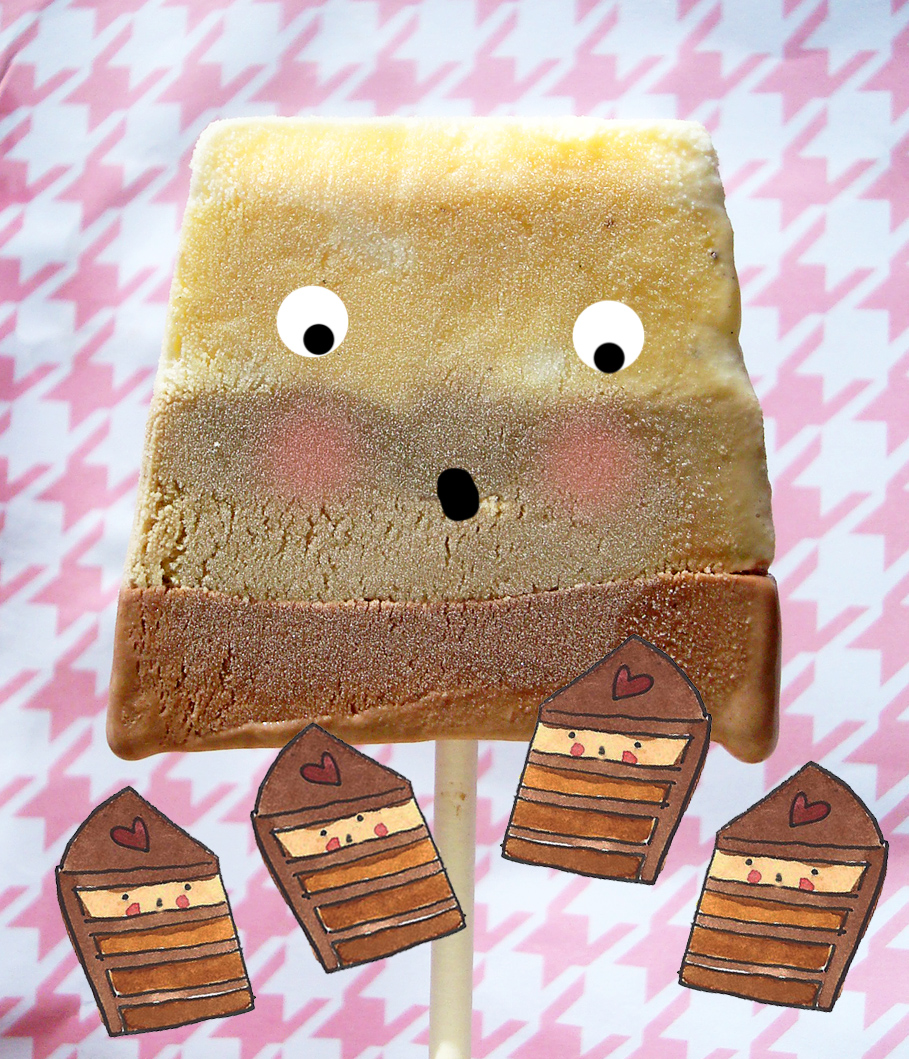 Photos and illustrations via CakeSpy
This recipe employs four different flavors of ice cream which are artfully layered in popsicle molds to create a gorgeously graduated palette. A harmonious mix of vanilla, french vanilla, coffee, and chocolate ensures that it's easy on the palate as well, tasting sort of like a coffee frappe on a stick — in the most delicious way.
How to make ombré ice cream popsicles
Makes 4-6 pops, depending on the size of your molds
Ingredients:
1 cup regular vanilla ice cream, softened

1 cup french vanilla ice cream, softened

1 cup coffee ice cream, softened (Note: a light brown-hued ice cream such as hazelnut or dulce de leche would also work)

1 cup chocolate ice cream, softened

4 teaspoons milk or half and half, divided
If you're looking to convert measurements, refer to our Metric Conversion Guide.
Supplies:
Icicle molds (you can use small plastic or paper cups if you don't have molds)

Popsicle sticks
Step 1:
Place each ice cream flavor in a separate bowl. Add 1 teaspoon of half and half or milk to each bowl, and mix until combined. This will just make it a little smoother.
Step 2:
Place the french vanilla, coffee, and chocolate ice cream bowls in the refrigerator. Keep the vanilla at the ready.
Step 3:
Pour or spoon a portion of the vanilla ice cream in the molds. Place the molds in the freezer for about 20 minutes, or until the ice cream is firm.
Step 4:
Pour or spoon the French vanilla on top of the vanilla in each mold. If the vanilla is not solid enough and the colors bleed into each other, do not proceed just yet. Place the molds back in the freezer until the ice cream is firm enough to have the next color added. Place back in the freezer until set.
Step 5:
Remove from the freezer and add the coffee ice cream. This time, insert the popsicle sticks, so that they go fairly high up the pops but not so high that they touch the bottom of the mold. Return to the freezer.
Step 6:
Finally, add the chocolate ice cream last. Place the molds in the freezer for about 2 hours, or until completely firm.
Step 7:
When ready to eat, remove from the molds and enjoy immediately.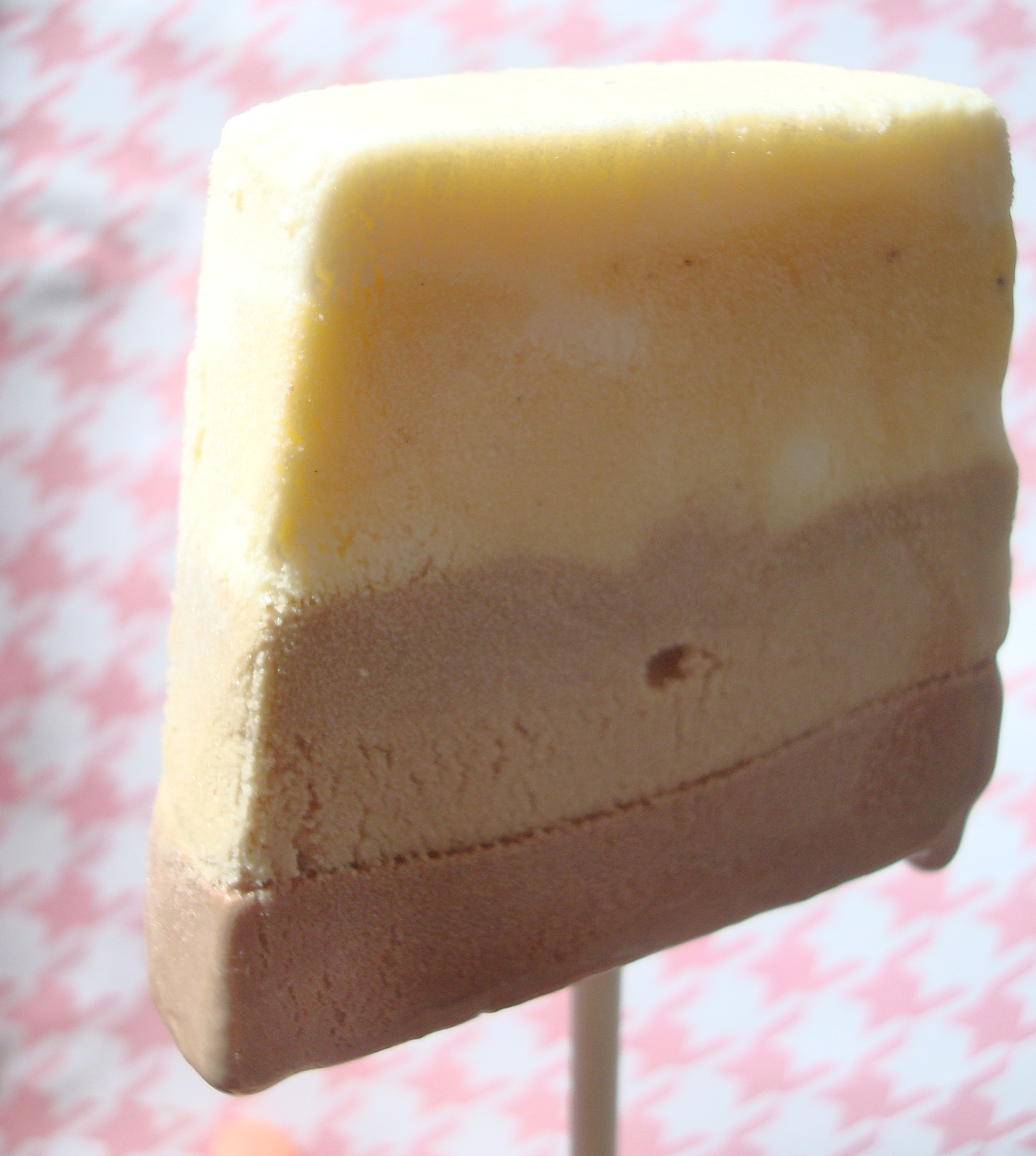 Bonus step: coat them in chocolate!
Melt chocolate in a double boiler. Remove the pops from deep freeze and dip quickly. Then place on a parchment-lined baking sheet. Put it in the freezer immediately. Wait for it to set before eating.
A note on flavors:
Can you mix things up? Yes. If you don't want to use quite so many flavors, you can simply divide four cups of vanilla ice cream and tint them with food coloring to form a gradient, or you can choose four flavors that you deem harmonious, which also graduate in color. For a smooth, seamless appearance, try to use flavors with little to no mix-ins.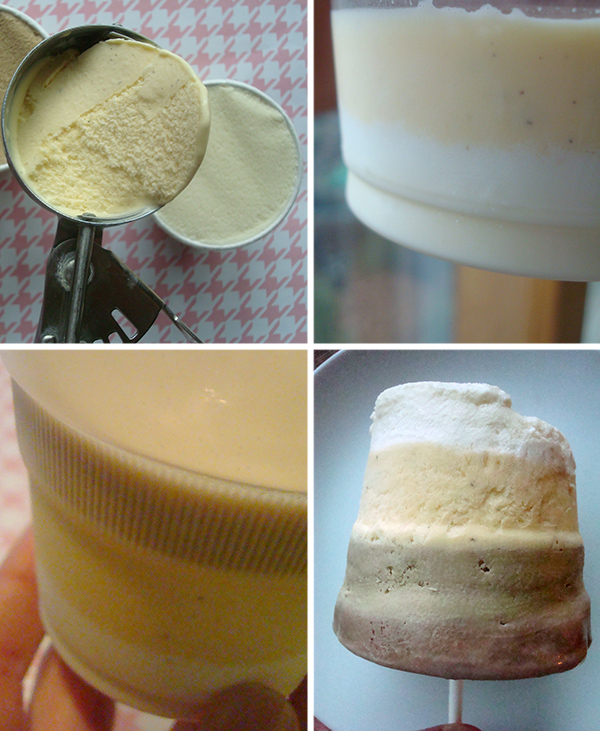 What's your favorite ice cream truck treat?