The first lace knitting stitch I tried was Old Shale. It is one of the most simple and beautiful lace stitches that utilizes a series of YO increases and K2tog decreases to create a scalloped pattern that resembles a shell.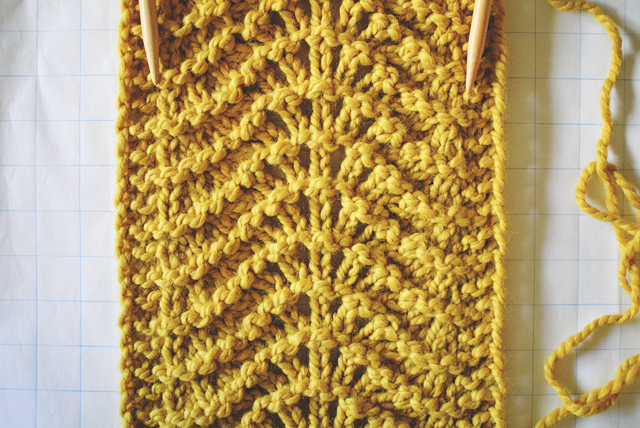 A scarf made with one repeat of Old Shale with 3-stitch garter edges.
The pattern is worked over 18 stitches and 4 rows. It is really easy to memorize and adapt to work in the round.
Here are some row-by-row photos, but if you know how to knit, purl, yarn over (YO), and decrease (k2tog), then you will have no problem working it!
Work two rows stockinette stitch (knit on the right side, purl on the wrong side), then work the pattern stitch: *K2tog 3 times, (YO, K1) 6 times, K2tog 3 times; Rep from * across the row. Work a knit row (wrong side facing) to complete the Old Shale pattern.
Working flat
Row 1 (RS): Knit across, turn.
Row 2 (WS): Purl across, turn.
Row 3: *K2tog 3 times, (YO, K1) 6 times, K2tog 3 times; Rep from * across, turn.
Row 4: Knit across, turn.
Working in the round
Round 1: Knit around.
Round 2: Knit around.
Round 3: *K2tog 3 times, (YO, K1) 6 times, K2tog 3 times; Rep from * around.
Round 4: Purl around.
A note on Feather and Fan
Often times, Old Shale and Feather and Fan are interchanged. In fact, I will admit that even I made the mistake of using the name "Feather and Fan" in reference to the Old Shale stitch. It was just last week that I learned the difference! They are completely different, even worked on a different number of stitches. The feather and fan stitch clearly resembles feathers, while the old shale pattern resembles a shell. You can find a great discussion on the two patterns, including how and why they get confused here: Feather and Fan versus Old Shale.
Exploring Old Shale on Craftsy
I found a few patterns labeled as Old Shale and quite a few more labeled as Feather and Fan, so if you are looking for a specific design, you might want to search using both phrases. Here are a few that stood out! I must say — I cannot wait for cooler temperatures to arrive!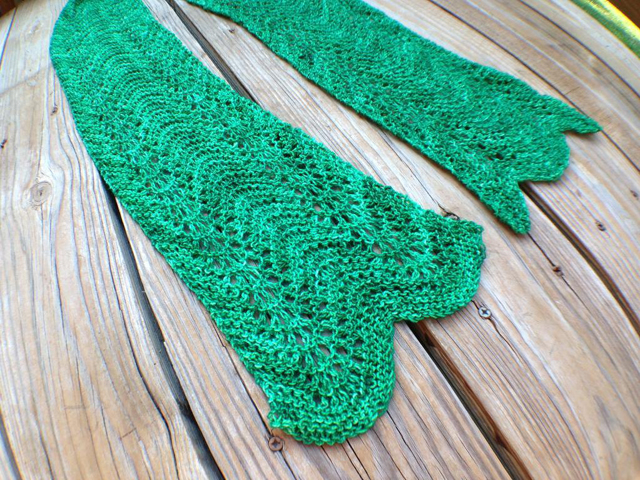 Textured Shale Sock Yarn Scarf Pattern by TreasureGoddess

This beautiful scarf was created with sock yarn! I KNOW what it's like to lust after gorgeous sock yarn but not really wanting to knit socks. This would solve that problem and the result is a lightweight, colorful scarf.
Note: The texture is created from not purling on the wrong side (so, you create a ridge on the right side).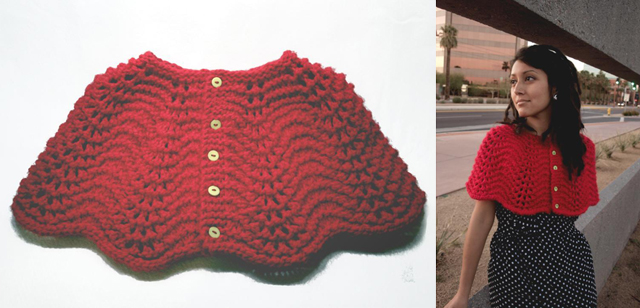 Main Street Sophisticate Pattern by heyrenee

This lovely capelet was knit flat and utilizes the yarn overs in Old Shale to shape the shoulders. The bulky yarn gives the lace some weight and warmth for chilly evenings, not to mention it will work up fast! Look sophisticated in no time.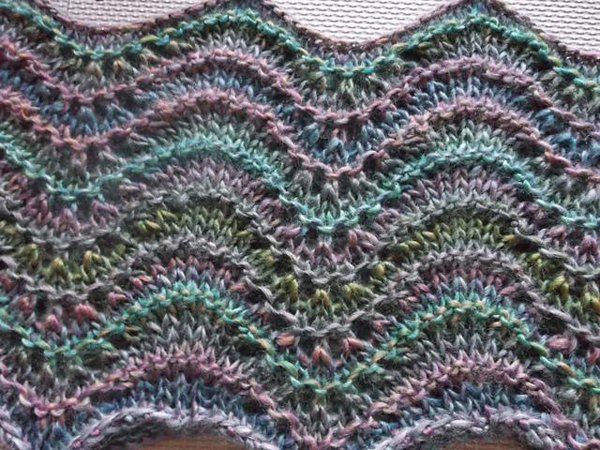 Mermaid Rock Pattern by Irish Sapphire

An extra long cowl knit with bulky yarn. The lace is actually accentuated by the beautiful colors in the yarn!

Bryson's Baby Blanket Pattern by Mary Riley Hunt

This FREE pattern is for a small lacy baby blanket. It would be a great weight for a car seat or stroller blanket. The Old Shale pattern is called "feather and fan" but it is the same stitch referenced above.
My favorite use of the stitch is a basic cowl, like this one I knit when exploring the stitch:

I CO 90 with a 6.5mm 16″ circular needle, joined to knit in the round and worked 3 garter stitch ridges. I worked Old Shale for 18 repeats, or about 15″, then finished off with 3 more garter stitch ridges, binding off purl-wise. The extra long length makes it possible to pull the cowl over my head/ears on extra cold days.
If you want to start designing your own stitch patterns and exploring more advanced techniques, check out Miriam Felton's class, Lace Shawl Design.
Come back to the Craftsy Blog tomorrow for tips on dressing up your knitting with decorative stitches.
Have you knit with the Old Shale stitch? What sorts of projects have you made?