Granola bites are both deliciously chewy and super healthy! Each ball is a burst of energy, made with fruit and oat goodness that you'll find filling and very satisfying. Even better? These "no-bake" granola bites are incredibly simple to make, requiring zero baking, cooking or heating!
You'll never be without a snack when armed with this healthy, no-bake granola bite recipe!
I make these for my family as a daily grab-and-go snack. I add them to my kids' school lunches, pack them for long drives, pack them for play dates or to enjoy after swim practice. It's most definitely a wonderful (and welcomed) alternative to sugary processed snacks or snacks high in sodium!
I buy all my dry ingredients for these granola bites at a farmer's market-style grocery store, where there are self-serve bins full of dried fruits, nuts, seeds, flour, oats, rice, chocolate, certain candies etc., that you can just scoop into bags and pay by the pound. I buy only what I'll use, so it only costs a few dollars! I've listed the ounces needed for each dry ingredient in the recipe below, so you too can buy the exact amounts. Easy to make, easy on the pocket and loved by the household– can't beat that!
Lets meet our cast of granola bite characters…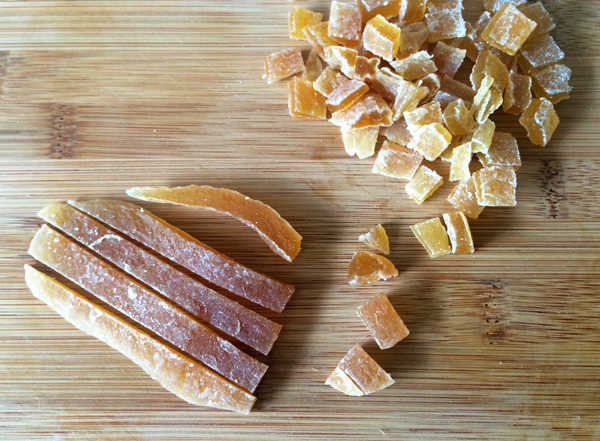 We'll need dried mangoes. Mangoes are typically found only in large pieces. Cut them into ¼-inch pieces.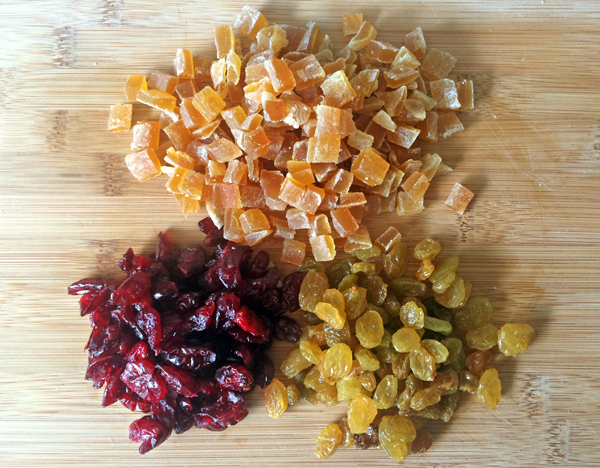 We'll need dried cranberries and golden raisins too!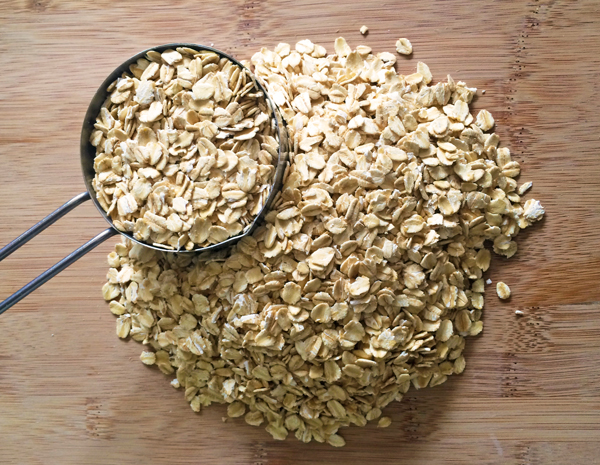 Old fashioned rolled oats, not to be mistaken with quick-cooking oats, are less processed and retain their texture better than other pressed oats.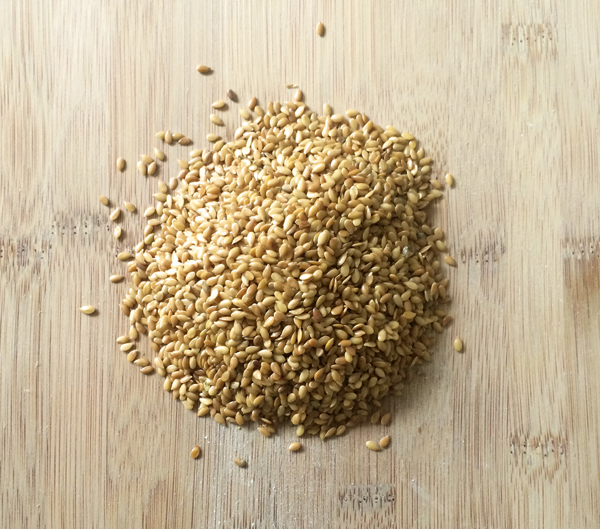 Flaxseed! Flaxseed contains many nutrients, among them is omega-3 fatty acids which have a ton of health benefits. I try to sneak it in my cooking when I can!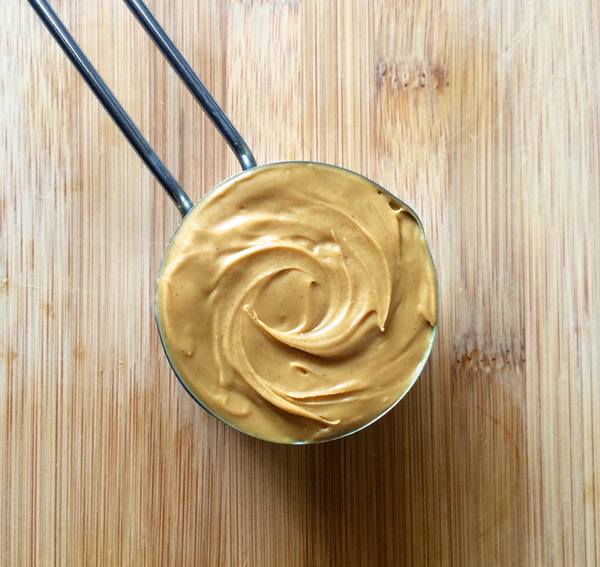 Peanut butter or almond butter. Either choice is a good choice!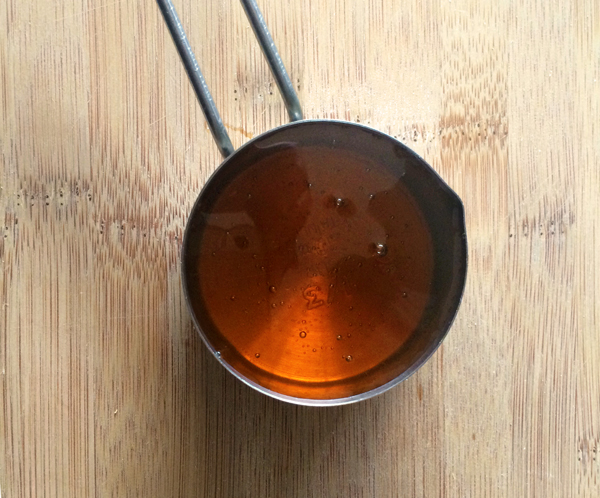 Honey for the sweet and sticky! Substitute agave nectar for a vegan version!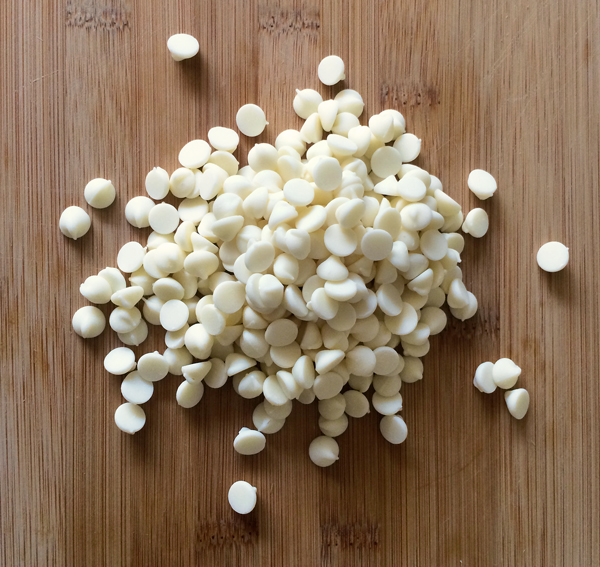 Yogurt chips, which are completely optional. I add them in when I can find them. These little yogurt chips are like grocery store unicorns. Sometimes, if you're lucky, they're available, otherwise they're difficult to come by. But by all means, they're not necessary to add, however they definitely add a depth to these fruity granola bites!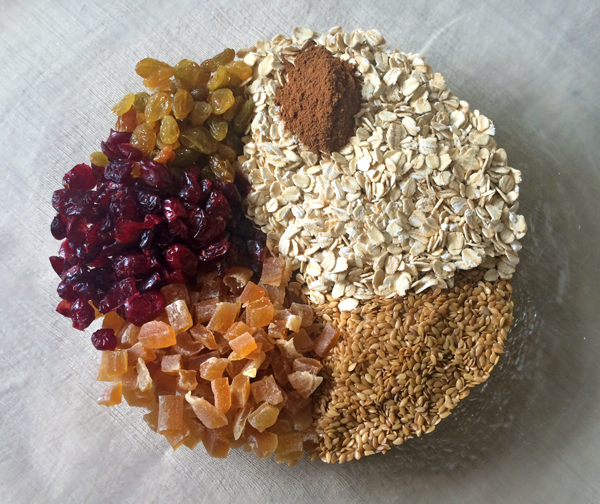 Throw all the dry ingredients in a bowl and don't forget to add the cinnamon!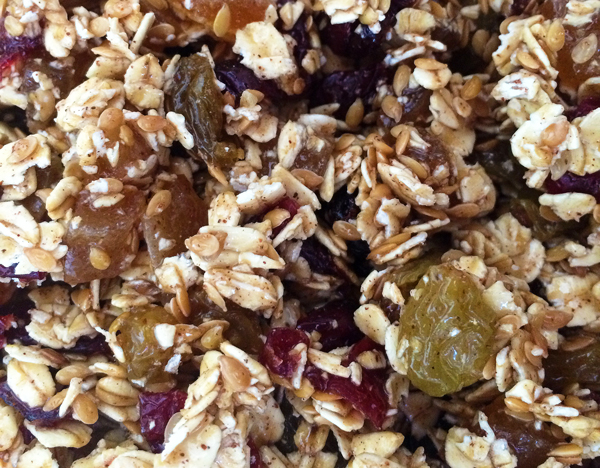 Dump the nut butter and honey (or agave nectar) into the bowl and mix everything up with a spatula.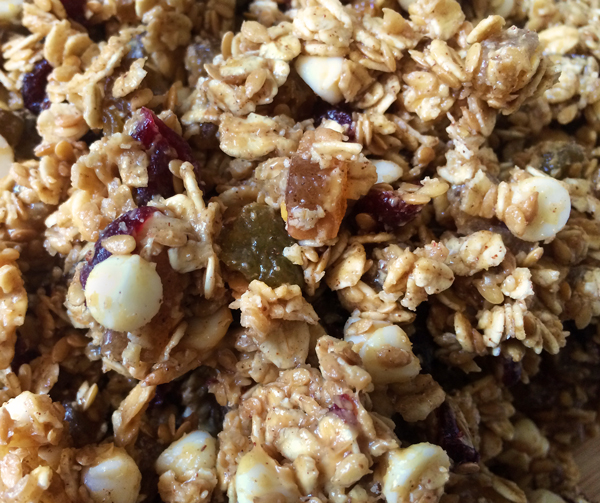 Here's the mixture with yogurt chips included.
Using your hands, compress and roll into 1-inch balls. Place on wax paper-lined cookie sheet and refrigerate to set.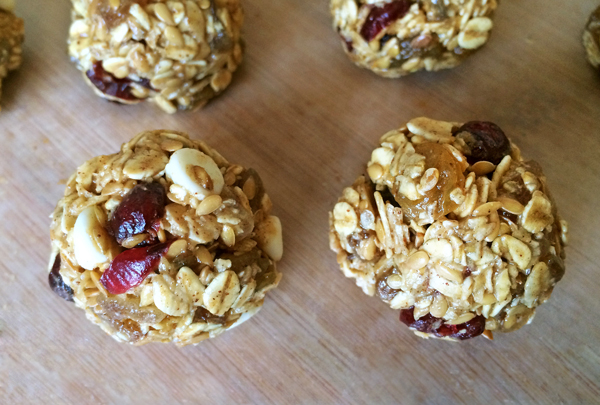 They taste as delicious as they look! Take your pick…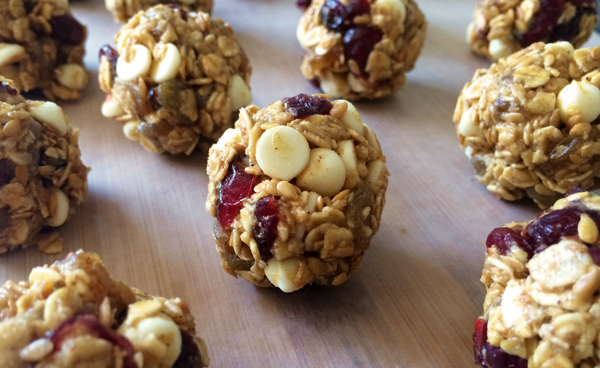 Fruity granola bites with yogurt chips, yum!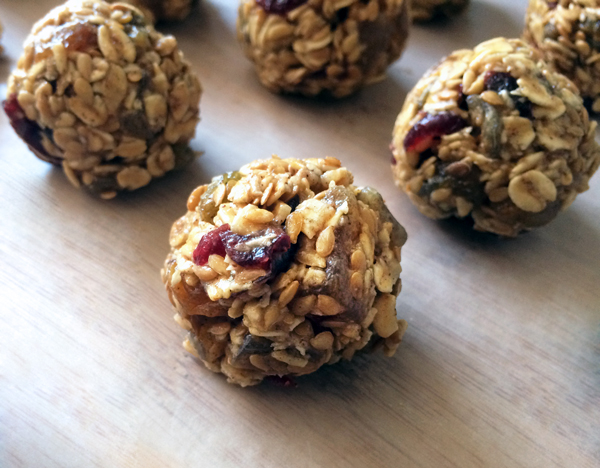 Or go without and make 'em vegan — still, yum!
Fruity no-bake granola bites recipe
Makes 3 dozen 1-inch balls
Ingredients
1 cup (1.7 oz) old fashioned rolled oats (not instant oats)
½ cup (4 oz) chopped dried mangoes
⅓ cup (1.5 oz) dried cranberries
⅓ cup (1.8 oz) golden raisins
¼ cup flaxseed
1 teaspoon cinnamon
⅓ cup honey (substitute agave nectar for vegan version)
¼ cup peanut or almond butter
⅓ cup (2 oz) yogurt chips (optional; omit for vegan version)
Directions
1. Combine all dry ingredients in a bowl.
2. Add nut butter and honey or agave nectar and combine well.
3. Roll into 1-inch balls and refrigerate to set.
4. Keep refrigerated in an airtight container for up to one week, or freeze in a freezer bag for up to one month.
You might also enjoy these 10 trail mix recipes.