Newborn photography is a huge responsibility: Parents are trusting you with their new, tiny baby. Yes, you want to capture incredible and amazing images that they will treasure for a lifetime, but you also want to be sure that you're shooting with the safety and comfort of the baby in mind.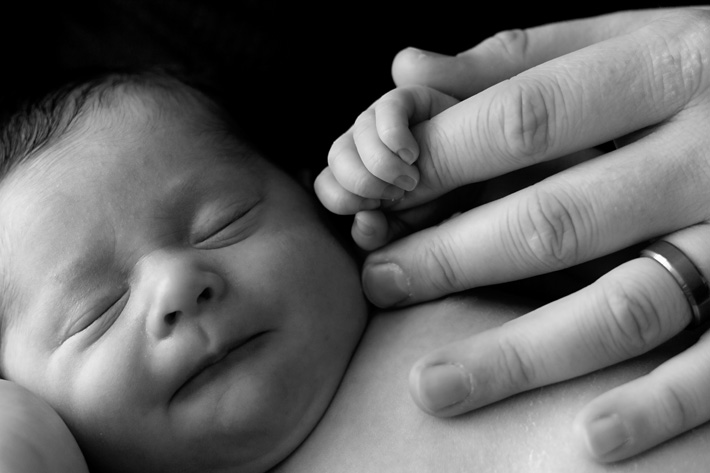 Photos via Boost Your Photography
Practicalities and planning for newborn photography
Most newborn photography sessions take place when the baby is between 5 and 10 days old. At this stage, newborns are super sleepy, making them easier to work with, and they are still fairly flexible and moldable. As they get a little bit older, newborns gain more control over their limbs and bodies and get much more proficient at wiggling out of whatever cute little pose you were attempting.
Scheduling newborn sessions involves a willing flexibility on your part. Best case scenario: Talk with the parents-to-be beforehand about the timing and expectations of your shoot. That way, once the baby arrives, the parents will already know what to expect and how to contact you for final scheduling.
What to do the morning of a newborn session
Plan for a sleeping baby. Most newborn photographs rely on an exhausted, sleeping baby who is willing to submit to whatever poses, outfit changes and interactions you have in store. Advise the parents to try to keep the baby awake for the two hours leading up to your session. (Reassure them that this is likely to be a futile endeavor but still to try.)
Then, aim to feed the baby as full as possible about 15-20 minutes before you plan to start shooting. This will help induce a baby coma of peaceful sleeping. If you know that arriving, organizing your supplies and setting up might take those 15-20 minutes, you might want to recommend the parents wait until your arrival to feed the baby.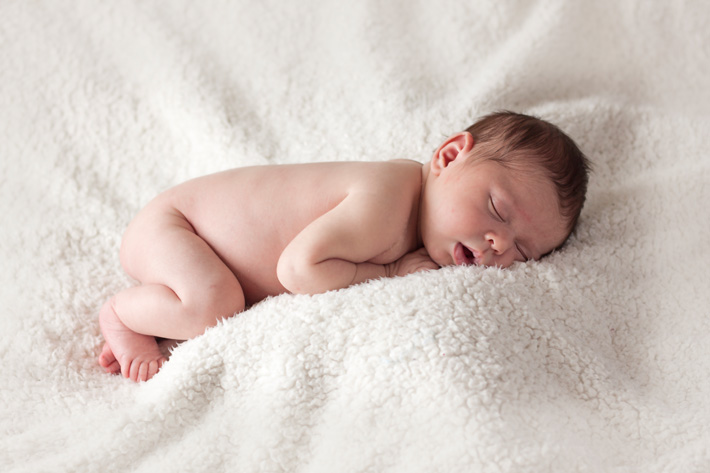 Plan for a warm baby. You want the baby to be as comfortable as possible — and that means cranking the heat. Ask the parents to turn the thermostat up to 80-84 degrees F or use a space heater in the room. You could also try using an electric blanket to pre-heat the blankets or backdrop the baby will be lying on, but you never want to place an active electric blanket on or near the baby.
Safety while photographing newborns
Newborns are delicate and fragile, and you always want to use the utmost care when moving and posing an infant. Always wash or sanitize your hands before any newborn session. (It goes without saying that you must reschedule a newborn shoot if you think you might be getting sick.) Ask parents' permission before touching or moving the baby, or ask for their assistance in posing. Be prepared to work slowly to get the pose or look that you want.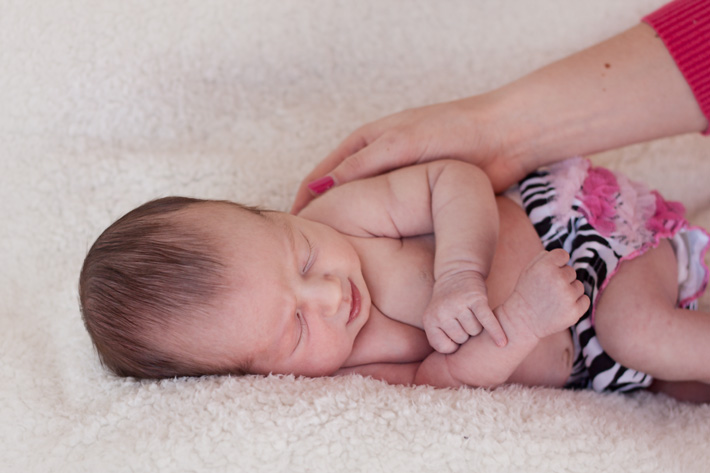 A curled up, sleeping baby will often stay that way when reassured with a steady hand and a firm hold. Wait a few beats for the baby to settle before withdrawing your hand and taking the photographs. Swaddling  is another great way to immobilize a baby for certain shots.
Even sleepy babies may fight the urge and try keeping an eye open. Gently use the back of your knuckle to massage down the baby's nose. This usually causes the infant's eyes to close and give you that peaceful, sleeping look. It may only last a moment, however, so consider asking a parent to help so that you can capture the shot the minute their hand is out of the way.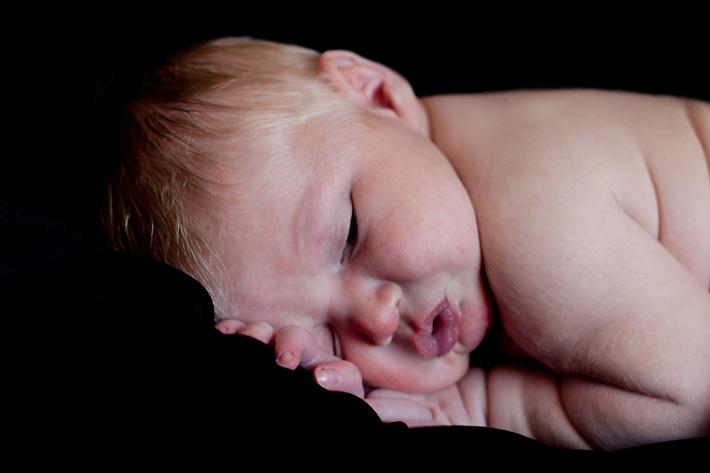 Newborn babies cannot support their own heads. Any photograph you have seen with a baby's head lifted or propped up on its hands, or balancing on a prop was done as a composite. The photographer took two or more shots with a parent supporting the baby's head (one shot holding from above and one from below) and removed those hands digitally during post-processing. This style of shot can only be done safely with an adult carefully supporting the baby during the entire process. Unless you have a lot of experience compositing separate images, do not attempt this type of shot.
Plan ahead for the types of shots that both you and the new parents want. Spend a little time plotting out which shots work well with various backgrounds or when to risk upsetting the baby with an outfit change. A little forethought and a big dose of safety will go a long way towards a successful newborn photography session.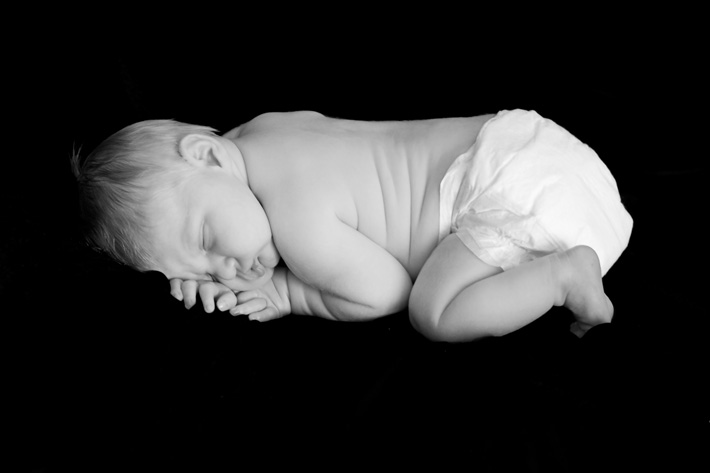 Looking for more information about newborn photography? Check out "Bluprint's Ultimate Baby Photography Tips and Tricks" and the other two posts in this newborn photography mini-series: "Quick and Simple Backdrops for Newborn Photography" and "Tips for Easy Newborn Photography Props."
Capture Every Precious Moment
Portraits of baby's first year are some of the most important and sentimental photos you'll ever take — so make sure they do that special little cutie justice! Learn how ot take keepsake photos in this online video class.Enroll Now »