Newborn photography is often about simplicity. Tiny hands. Tiny feet. Tiny details dwarfed by the giant-sized appearance of parents and siblings. Using a basic backdrop allows you to keep the attention on the baby and to remove distracting elements from the background. Here are some of my favorite tips to keep your backdrops simple and easy to use.

Photos via Boost Your Photography
Choosing the right backdrop stand
Backdrop stands range from the complicated and expensive to the basic and homemade. When shopping for a backdrop stand (or DIY directions), keep the following considerations in mind.
First, you want something that you can set up and take down quickly and unassisted. Newborns have a finite amount of time when they are sleepy and cooperative, and you do not want to waste that time fiddling around and trying to set up your backdrop!
Practice setting it up and taking it down. Consider timing yourself. After purchasing a simple, adjustable metal backdrop set, I was worried that I would never use it because it seemed so intimidating to set up. After a few practice rounds, I timed myself to discover it took me under 4 minutes by myself to set it up. Perfect.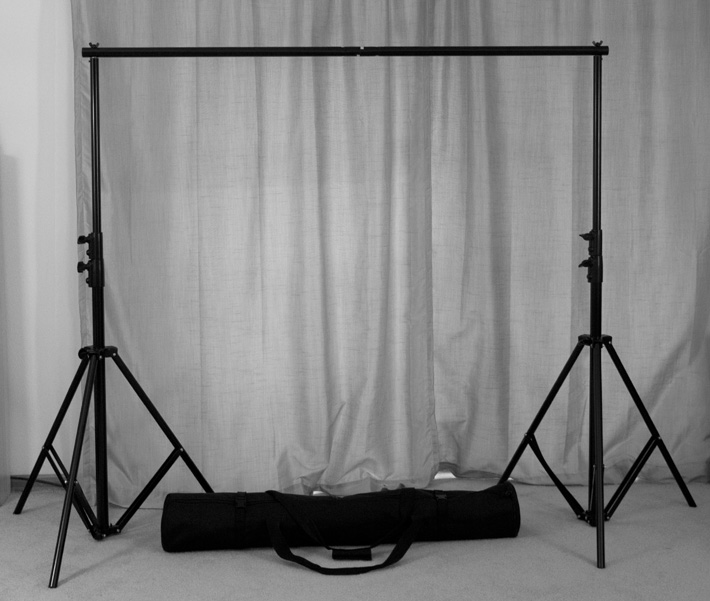 Second, you want a backdrop stand that is portable. Most newborn photography shoots are done in the client's home, and you want to easily be able to bring your stand along with you. Many commercial stands ship with a customized case with a handle for easy portability. Mine is about the size and shape of a skinny golfing bag. It stashes easily in my trunk or in the floorboards of my car. If you are planning to build your own stand, make sure that you also create a storage bag.
Third, test the stability of your backdrop stand. The last thing you want is a toddler sibling pulling the whole thing down upon her head! Try pulling on a hanging backdrop and watch how much your stand moves or sways. Most backdrop stands have adjustable tripod bases for added stability, and you want to be able to spread those out as wide as possible.

Finally, be sure that your backdrop stand is large enough for the scenes you want to shoot. Babies are small, of course, but think ahead about the types of shots that you will want to capture. A smaller backdrop will work for close-up shots of the baby by itself, but you will need a larger backdrop if you want to include the rest of the family, for example. My backdrop stand is adjustable in width from 56 to 112 inches, and the backdrops I use most commonly vary from 50 to 80 inches wide.
Backdrops for newborn photography
You do not have to shell out a large amount of money for "photography backdrops" or special fabrics. Keep your selection simple. A black backdrop is a must-have if you want to take powerful black and white shots, and an off-white, textured backdrop works well for newborn shots and close-ups.
My go-to backdrop is a 2.5-yard length of black stretch velvet that I purchased from the fabric store, using a 40%-off coupon. My other two favorite backdrops are a fuzzy dark brown blanket and a blue microfleece blanket with an off-white, Sherpa-lined back (shown in set-up shot and used in opening image). Look for fabrics and blankets that do not wrinkle and that shake out easily. Smooth backdrops mean less post-processing work.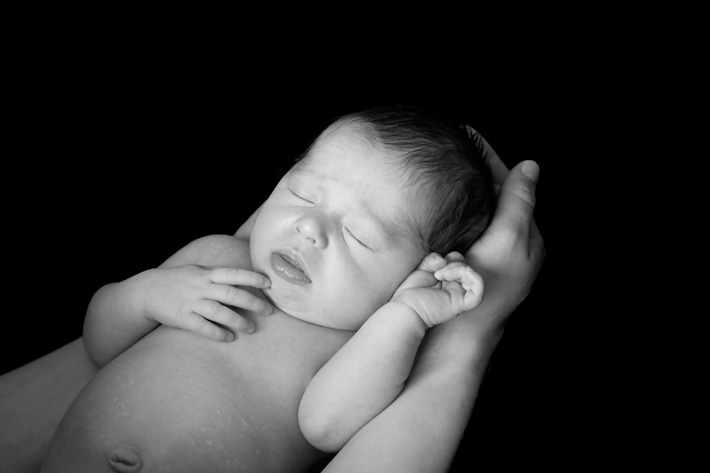 Not sure what kind of backdrops would be most useful to you? Spend some time studying newborn photographs. Find your favorites and pay attention to the types of backgrounds and textures they use, then seek out your own.
Looking for more information about newborn photography? Check out Craftsy's Ultimate Baby Photography Tips and Tricks.