It's time for the debut of the newest superstar in your life! And you need ideas to showcase the cuteness while keeping the little one comfortable during the photo session. The answer? Sweet, soft knitted costumes and props.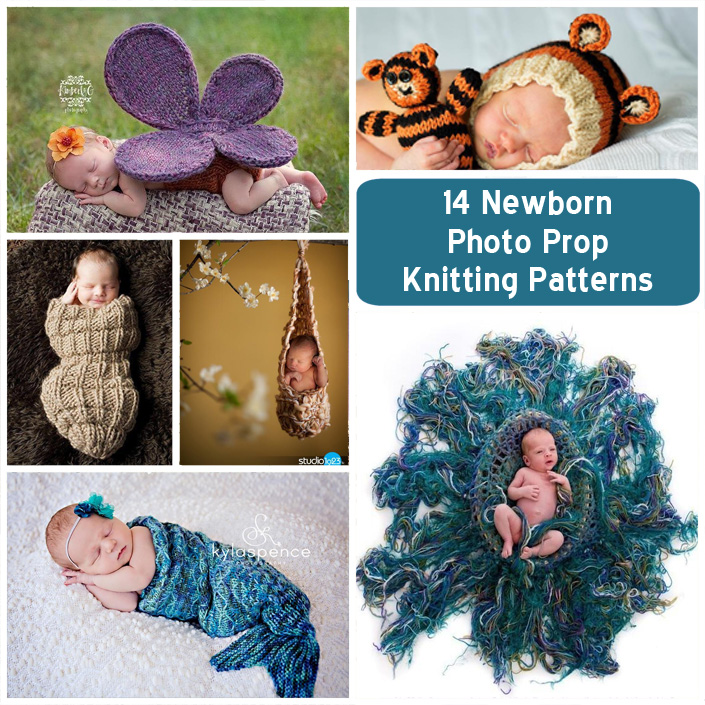 These knitted newborn knitting patterns for photo props, blankets and clothes make perfect gifts for baby showers or for photographers who shoot newborns. From flights-of-fancy costumes to down-to-earth snuggly wraps, from wild animals of the forest to yummy concoctions of the kitchen, you'll find ingenious patterns to turn any baby's premiere into a blockbuster.
Photo via melodysmakings
1. Butterfly Babe
Let your imagination take flight with these easy wings shaped by tubing or wire available at your local hardware store. Add your own special touch with variegated yarn or easy colorwork to mimic the brilliant patterns of butterfly wings.
Photo via 4aSong
2. Newborn Mermaid Tail Photo Prop
Everyone will be enchanted by this mermaid tail cocoon that fits babies 7 – 15 pounds or more. You choose to knit the prop in the round or flat and seamed. Consider using multicolored yarn to show off the stitches and give it the easy quilted lattice scales a shimmering underwater look.
Photo via LittleBearMomma
3. Peanut Shell
Your little peanut will snuggle down in this cocoon! This is a quick easy knit in super bulky yarn using basic stitches, increases and decreases. Because it's knit in the round, there's very little seaming.
Photo via Cutiepatootees
4. Cute as a Cupcake Hat
This scrumptious hat is the perfect topper for that sweet little face. Knit in the round with simple stitches, the design also uses basic crochet to trim the icing. If you're new to crochet, download our free Beginner's Guide to Crochet to help complete the pattern.
Photo via MandiY
5. Pretty as a Princess Crown and Skirt Set
Your baby rules your heart and will look the part in this ballgown diaper cover and royal diadem, both knit in the round. The designer recommends that you use the kitchener stitch to give a seamless look for the royal photo op.
Photo via deniza17
6. Dog Toy Baby Blanket
It's a toy, it's a blanket, it's a two-in-one cuddly costar for your baby! The blanket is knit flat on straight needles while the puppy is knit in the round on double-pointed needles.
Photo via melodysmakings
7. Tiger Bonnet and Stuffie Set
Your little cub will capture hearts in this matching hat and huggable toy. Knit flat and in the round, the pattern includes five sizes for newborn through 3 years.
Photo via craftystuff
8. Baby Romper Dungaree, Bonnet & Toy Set
What's more cuddly than a teddy bear? A baby in teddy bear romper hugging a toy bear! This set includes patterns for hat, romper and toy designed for easy flat knitting on straight needles. Ribbing around the face and halter neck ties on the romper ensure easy fit on most newborns. The designer used mohair yarn to get the soft, fuzzy feel.
Photo via Prop Shop
9. Newborn Fringe Blanket
Surrounded by waves of colorful fringe, baby sits comfortably on the knit center of the blanket. Set this blanket down in basket or bowl and you have a unique 3-D backdrop.
Photo via MadAboutColour
10. Newborn Baby Hanging Cocoon Prop Chunky
This soft textured pouch is very versatile. Strong enough to hold baby securely if hung close to a surface, it can also be wrapped as a cocoon or arranged laying down to give the appearance of being suspended. The designer recommends using three different soft yarns to create texture, visual interest and support. Consider combining a thick-and-thin bulky yarn, a bouclé and a strong medium weight yarn.
Photo via BrianaKCrochet
11. Monster Newborn
Everyone will go wild for this set that includes hat, pants with a tail and toy in sizes from newborn to children's size 5. The designer used Lion Brand Vanna's Choice yarn, which is easy to work with and soft enough for a baby's delicate skin.
Photo via natalya1905
12. Newborn Blanket Wrap Photo Prop
In a hurry for a versatile, adorable photo prop? This simple pattern only takes an hour to make with basic knitting stitches. Knitting with worsted weight yarn on large size 17 needles makes the blanket very stretchy, so it can wrapped or draped however you want.
Photo via melodysmakings
13. Little Lamb Overalls and Hat Set
Your precious lamb will look even more adorable in this set that's easy enough for beginners. Four sizes from newborn to 12 months. Use super bulky yarn for a super cuddly, super quick outfit.