There are countless quilt blocks out there, just waiting to be sewn. New versions and entirely unique blocks are being made all of the time! Out of all of the different varieties, certain blocks really stand out in quilting. These blocks are unforgettable, and I think that we'd all agree that the New York Beauty is one of them.
Photo via Bluprint member Banner Creek Designs
The New York Beauty block is a very old quilt design that has many variations.
Earlier versions of this block had different names, including Crown of Thorns and Rocky Mountain. The name New York Beauty came about in the early 1900s. Many like to think that the triangles display the "beauty" of the Statue of Liberty. Much debate and curiosity surrounds the name of this beloved block, since it appears to have originated in the Southern states and not in New York at all. Despite the arguments, it remains a breathtaking and popular block. If you'd like to read more about the history of this block, check out this informative post on Wonkyworld.
What does this beauty look like?
In general, it is a series of triangles sewn in a curve along a quarter circle. The finished quarter blocks can be sewn together in a variety of ways. Four together make a finished circle or a variety of different placements can be used. These blocks can be sewn by hand or machine, pieced traditionally or via foundations fabric/paper.
Are you interested in sewing a New York Beauty quilt of your own? Here are some beautiful New York Beauty patterns to try:
Photo via Bluprint member Sherri Noel
There is a Scrappy Block of the Month in Sherri Noel's pattern store, and the lovely New York Beauty block seen above is included in the mix. Learn how to make the basic block using paper piecing. This single block can be used so many ways! Turn one into a mini quilt or make a bunch and turn it into a large quilt. If you're interested in a sampler quilt, check out Sherri's Bluprint shop for all of the other blocks.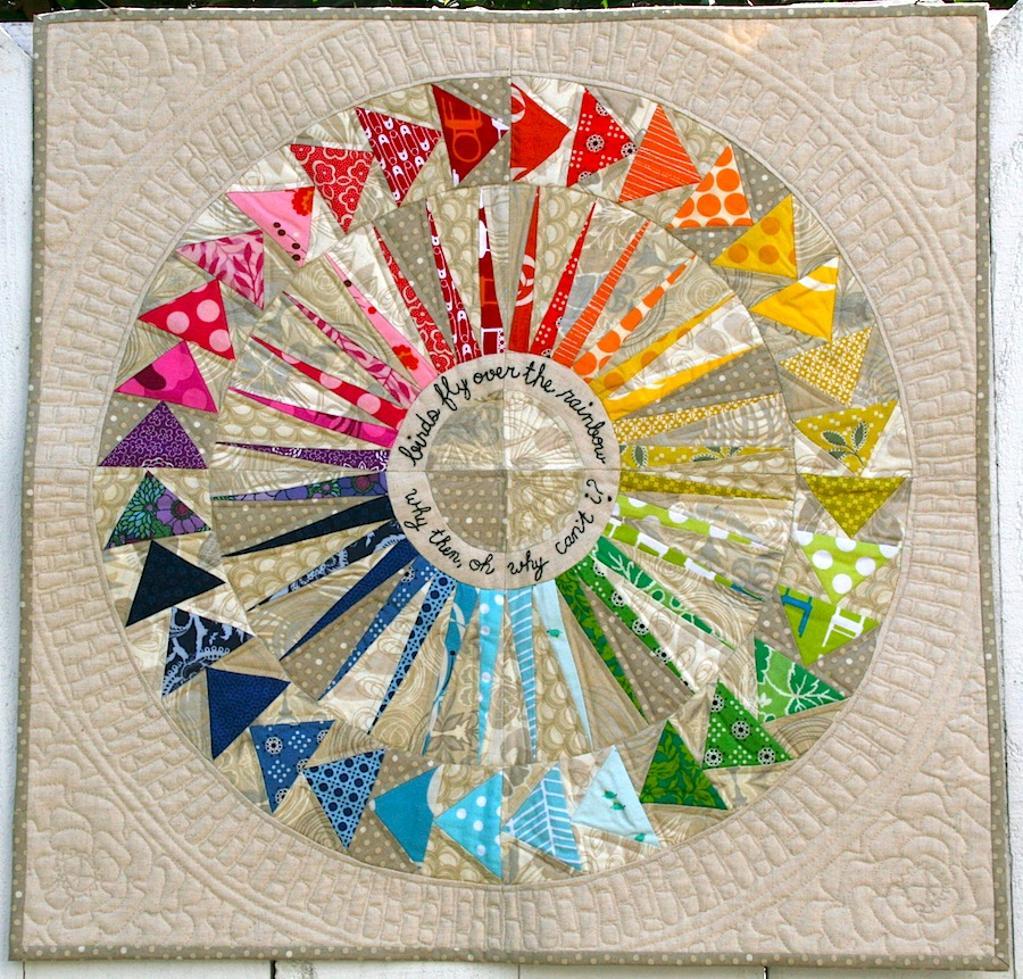 Photo via Bluprint member Janice Ryan

The NY Beauty Circle of Flying Geese pattern by Janice Ryan is a real stunner. This is another pattern that uses paper piecing. If you need a bit of help, the designer shares links to her tutorials for both paper piecing curved Flying Geese and how to sew tight curves.
What do you think about the New York Beauty? Have you ever made one?