Ring in the new year with style — cake style, that is! From clocks to fireworks, buttercream to fondant, here are some New Year's Eve party cakes and ideas that really sparkle. While they may be good for almost any occasion, these creations really shine when welcoming in the New Year!
Photo via Coco Cake Land
Sparkly silver decor and peppermint party cake:
Go for a different color scheme: mint green, pastel pink, white and silver! As long as there's silver or shine involved, and a handsome sprinkling of confetti, your party will scream New Year's Eve.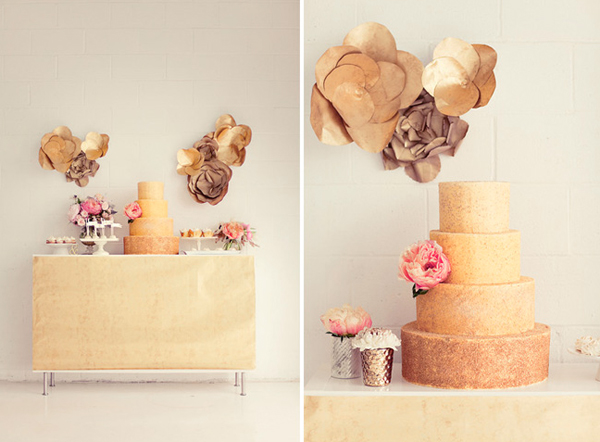 Cake by Sugar Bee Sweets; photo via Green Wedding Shoes
Golden sparkly shine New Year's Eve wedding party:
I do love the idea of getting married on New Year's Eve — everyone's already in a festive, partying mood and ready for doses of sparkle, glitter and champagne. This golden tower of four tiered-cake-ness is ready for such a party is glamorous, modern and just sparkly enough.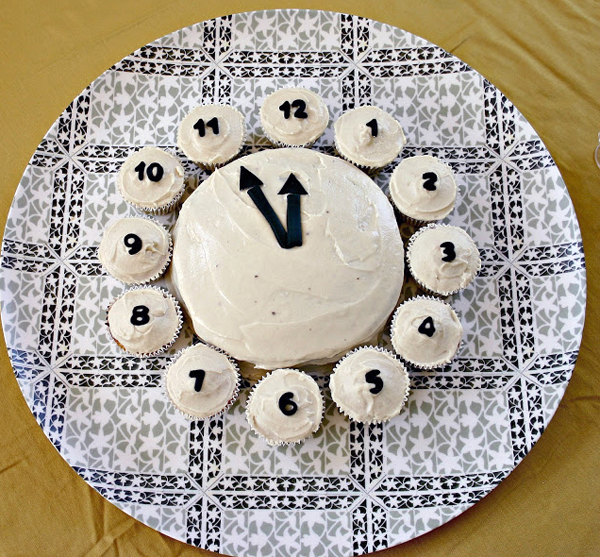 Photo via Ascarella
Tick-tock clock cake and cupcakes:
Cute, clever and easy breezy — I like this cake for its simplicity but you could use the idea as a template for a clock of many colors — silver or gold leaf fondant main cake and metallic-striped cupcakes, for instance.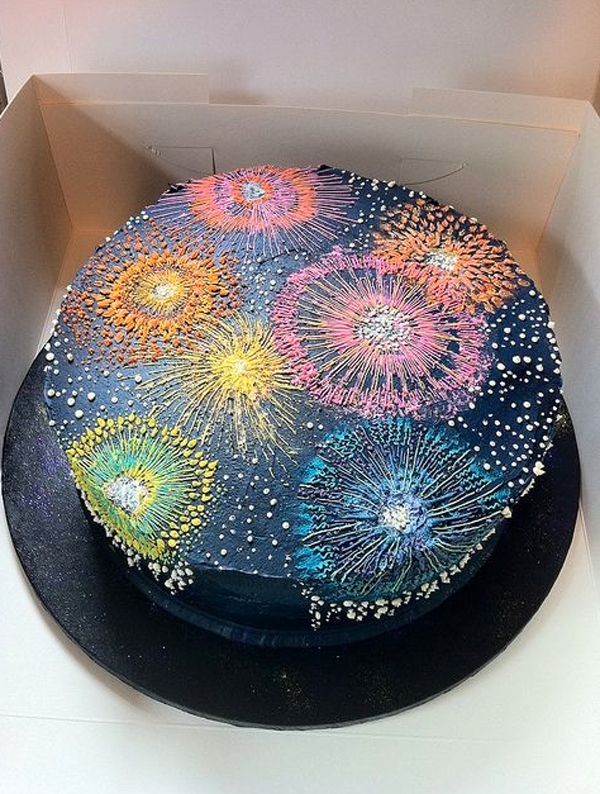 Photo via Katja's Kupcakes
Star-burst fireworks piped buttercream cake:
This clever cake is bursting with color — literally! Piped lines in different colors and sizes create the illusion of beautiful fireworks exploding against the night sky. I like the sparkly dots of icing all over as well — it looks like stars, or glitter fall-out from the fireworks.
Photo via Sweet Grace Cakes
Break out the bubble champagne bottle cake:
Stars, bubbles, an awesome bucket of "ice" and a big old champagne bottle — this cake really takes the New Year's Eve cake! Hard not to think "celebration" when you see a cake such as this!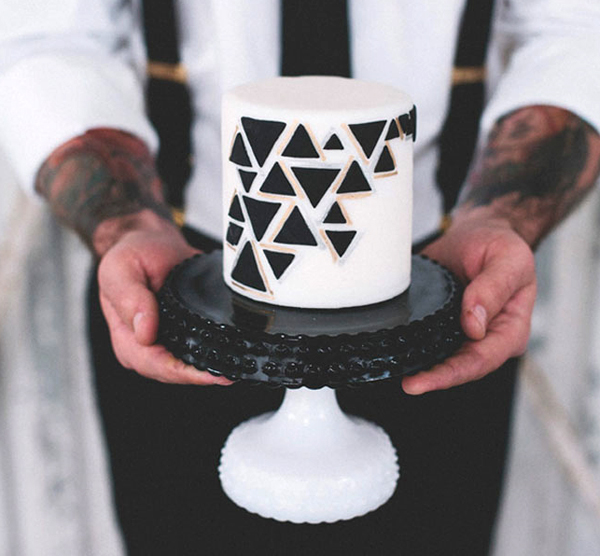 Cake by Sweet & Saucy Shop; photo via Green Wedding Shoes
Black tie modern New Year's party cake:
If cool, sparkly and on-trend is what you're looking for, this black-tie geometric theme with a touch of gold sparkle should do the trick. I would top this with a glittery gold cake topper, too!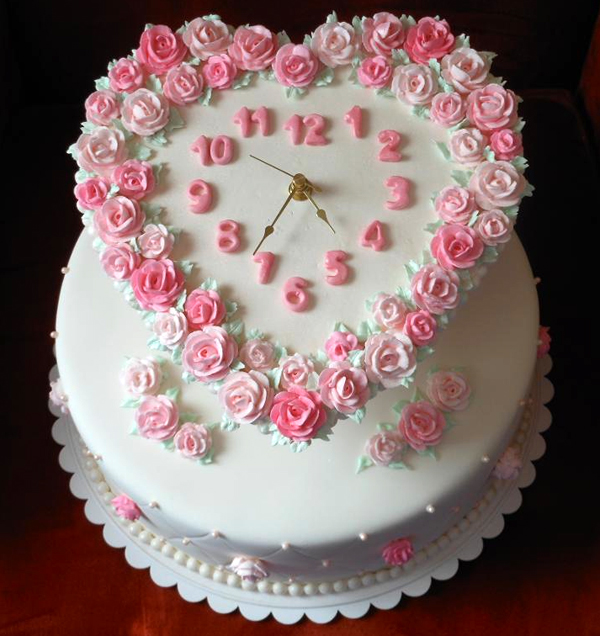 Around the Clock cake via Bluprint member C-MAC
Roses and hearts clock cake:
Why not girl-ify your New Year's Eve? Perfectly piped roses and leaves surrounding a forever ticking clock — youth is wasted on the young, right?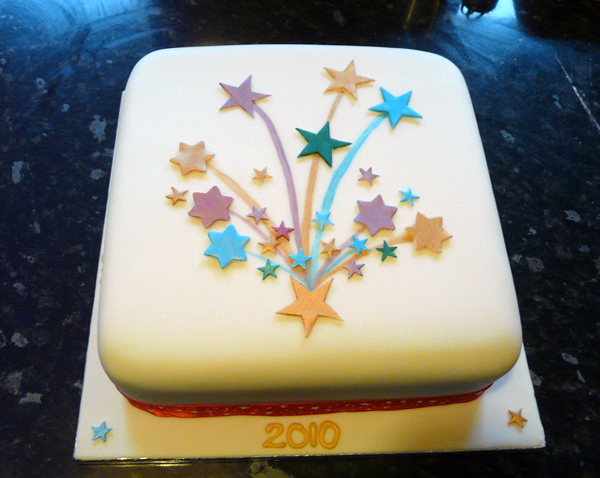 Photo via No More Tiers
Blast of stars cake:
I like the simplicity but mostly the idea of this shooting star cake. The shooting star motif would look so pretty climbing up a tiered cake with a burst of stars coming out of the top, no?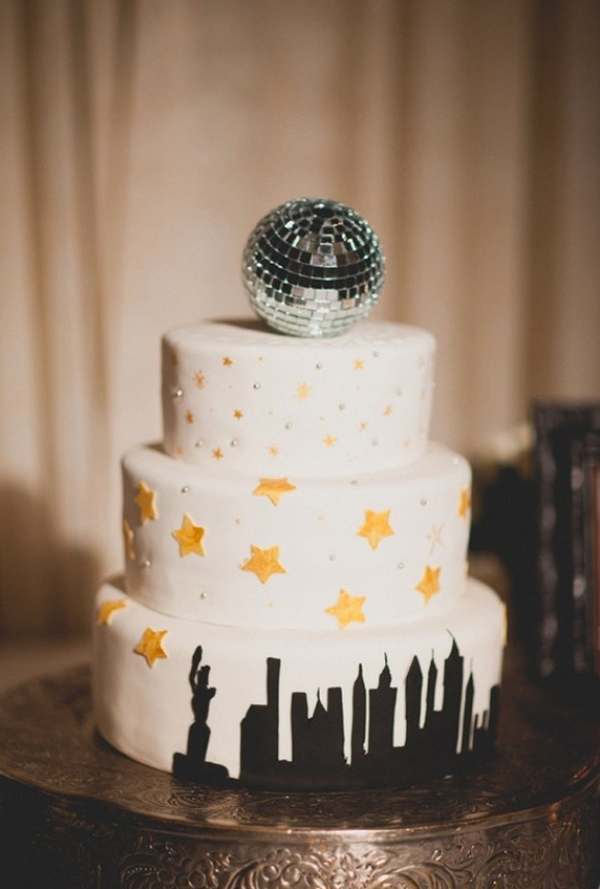 Photo via Taylor Lord Photography for Style Me Pretty
The night is young disco ball topped wedding cake:
This tiered star-covered cake was created for a New Year's Eve wedding. I love the gradient of stars from bright yellow to tiny dragée and the black silhouette of the cityscape. Nothing says "let's hit the dance floor hard" like a disco ball topped wedding cake!
What says New Years Eve to you — clocks, stars, fireworks? What kind of cake would you make? A vintage glam cake with plenty of sparkle and bling, such as a cake from Marina Sousa's online class the Jeweled Wedding Cake? Or a gravity-defying cake — a Dali-inspired melting clock creation like one of Lauren Kitchens' designs?