Sure, it could be because I grew up in the 1980s playing with a Lite-Brite, but I love neon yarn.
A lot of knitters and crocheters tremble in fear when faced with the possibility of donning electric neon yarn. But stitching with neon yarn doesn't mean you have to glow in the dark. With just the right pattern and mix of colors, you can create trendy accessories and home decor.
Check out some of our favorite neon yarn projects and yarn from right here on Bluprint and add some bold color to your next project.
triPad Sleeve Kit
No need for neon to stand alone. Mix them with primary and neutral colors for just a little hint of neon, like designer Pam Powers did with this iPad sleeve. The chunky yarn is perfect for giving tech cases like this a little extra cushion.
Get the triPad Sleeve Kit here.
Luma Tote
Sometimes you want little hints of neon, and sometimes you just need to break out all your neon yarn at once. The latter is definitely the case with this bright tote. Two strands of neon yarn are held together throughout, making it one of the quickest crochet projects you've ever stitched.
Get the Luma Tote crochet pattern here.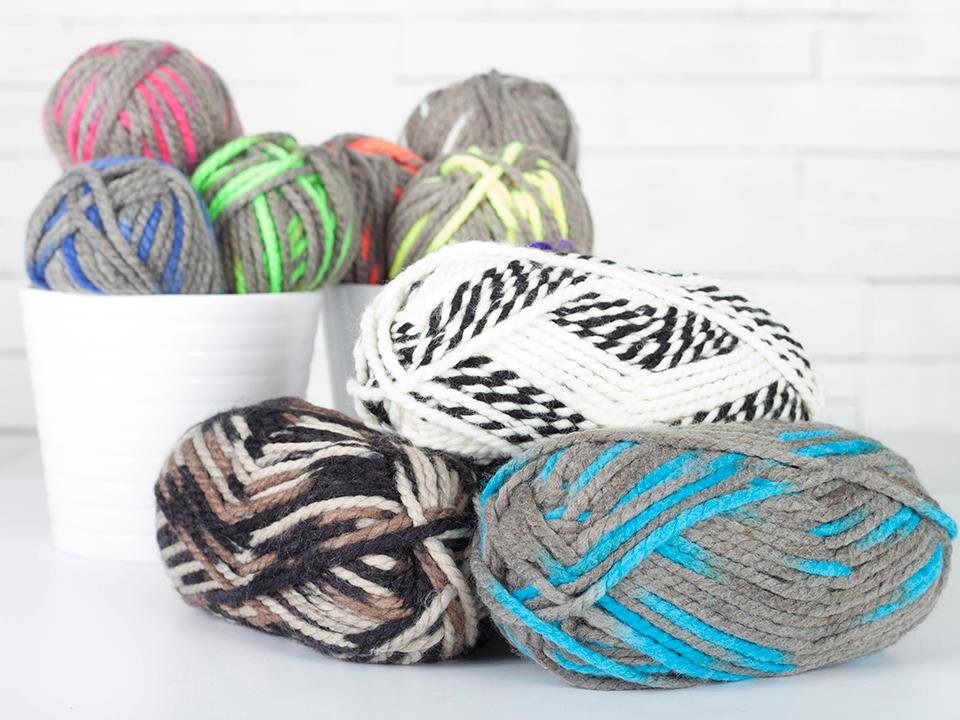 Lion Brand Wool-Ease Thick & Quick Neons Yarn
I just made a clutch using this yarn, and I love it. It's mixed with a neutral color, so I even slapped a bright pink button on there for more neon. This yarn is perfect for anything from clutches to scarves, hats, belts — you name it.
Get the Lion Brand Wool-Ease Thick & Quick Neons Yarn here.
Follow the Line Blanket
Neon as home decor? Who'd have thought? A few stripes of neon yellow look right at home with cream and black neutrals. It's a great pattern for testing out your color-change skills, too!
Get the Follow the Line Blanket knitting pattern here.
Neon Stripe Blanket
Neon home decor works for crochet stitches, too. This blanket is an updated version of the old school afghans that used to be draped on the back of my grandmother's couch. This blanket is perfect for beginner crocheters, not to mention a perfect way to use up scraps of neon yarn.
Get the Neon Stripe Blanket crochet pattern here.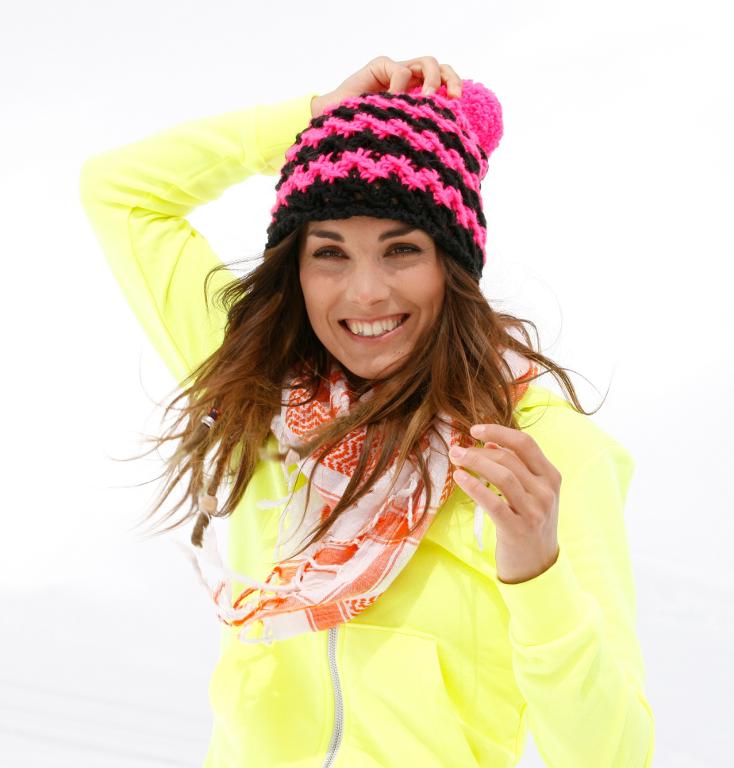 My Mountain Zugspitze Hat Kit
It's obvious by now that neon and black make a pretty great pair. Here, neon pink can brighten up any dreary winter day with just a few zig zags of color. The kit comes with the yarn and the pattern, so grab your needles and you can get started right away.
Get the My Mountain Zugspitze Hat Kit here.
Virvel Hat
Camel is a neutral that we sometimes forget about. Pair it with a neon like designer rohnstrong did here and you'll have yourself a super cool accessory that also lets you practice your intarsia skills.
Get the Virvel Hat crochet pattern here.
Groovy: The Socks
Yeah, the 1980s had some pretty awesome neon trends, but so did the 1960s. Look no further than these neon socks that have the illusion of tie-dye. If you're feeling shy about wearing neon, start with these socks and ease your way in.
Get the Groovy: The Socks knitting pattern here.
Are you a fan of neon? How do you use it in your knitting and crochet projects?