To stripe or not to stripe? When it's a question, I seem to always like to stripe it up! I love the look of stripes, especially on cakes and sweets. The bold graphical element and long lined-up strokes always make me gleeful. I am also loving all of the experimentation and play going in the world of cakes — new looks, new techniques, new colors — it's all so much fun.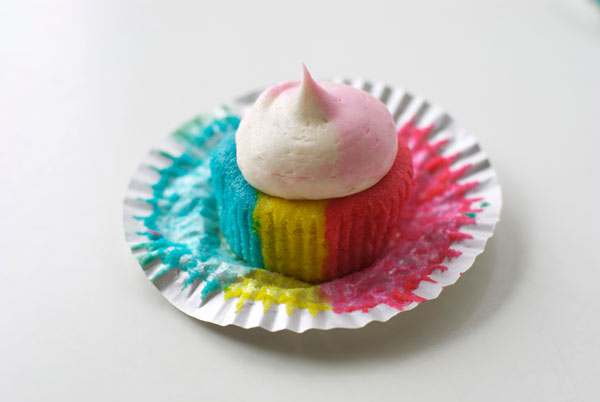 Tutorial photos via Lyndsay Sung of Coco Cake Land
You've piped in stripes, made fondant lines and royal icing dots and dashes — now you can also make your cake striped, too. It's super easy when you use plastic batter separators such as Batter Babies! Follow along with this simple tutorial and you'll be striping your way to the oven in no time at all.
These cupcakes are so much fun for an 1980s themed birthday party, a circus-themed 1st birthday party, a bright bachelorette bash and so much more!
Neon striped cupcakes tutorial
You will need:
One vanilla cupcake recipe, like this vanilla cake recipe from Sweetapolita, or a vanilla cake box mix
Two cups of vanilla buttercream, or a store-bought can of vanilla icing. Divide your buttercream into two bowls and tint one bowl with a tiny bit of pink food color.
Gel colors in turquoise, yellow and pink.
Cupcake batter separators such as Batter Babies.
A 1-dozen cupcake or muffin tin lined with cupcake liners of your choice.
A piping bag fitted with a large open circle tip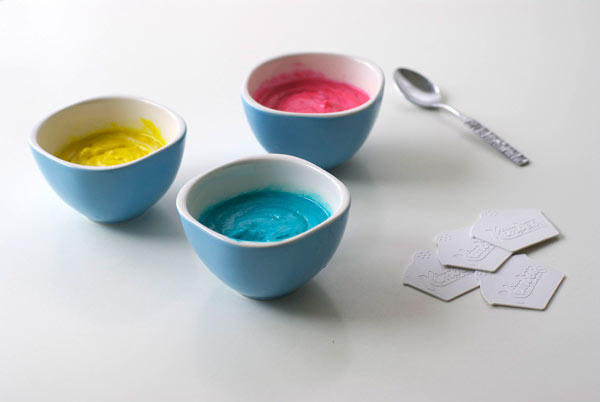 Instructions:
Step 1:
Mix together your cupcake batter. Divide equally into three bowls. Using a small amount of gel color (it is potent!), color each bowl of batter — one turquoise, one yellow, one pink.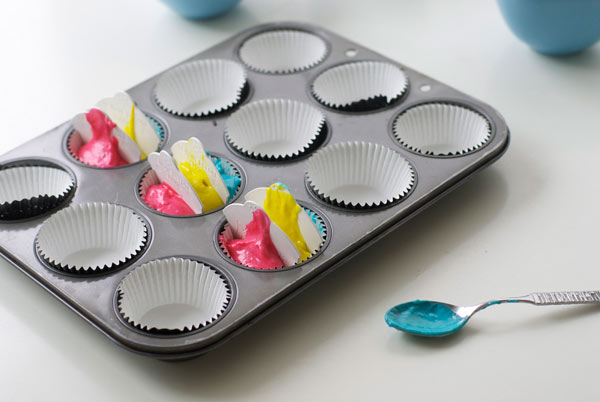 Step 2:
Insert your cupcake batter separators into the cupcake liners. Using one spoon for each color of batter, fill the cupcake liners with the three different colored batters.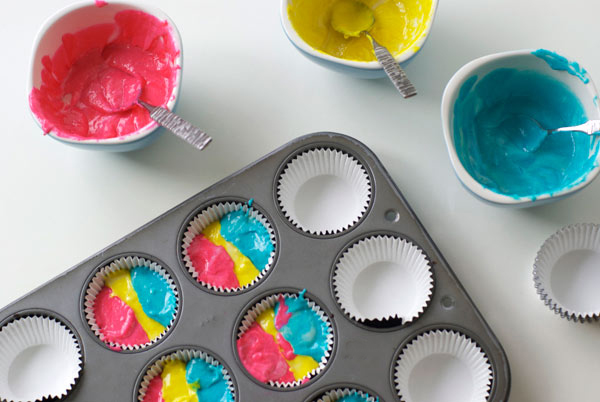 Step 3:
I only had six batter separators, so I did three cupcakes at a time. Once the batter is in the liner, simply lift up the batter separator. Rinse the batter separator with hot water to give it a quick clean before continuing to use it.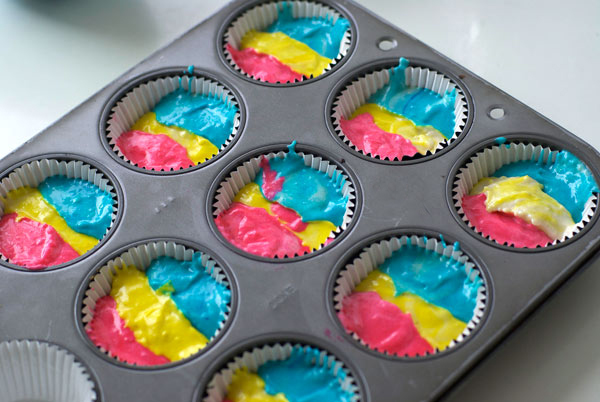 Step 4:
Continuing filling your cupcake liners until you've filled the whole pan.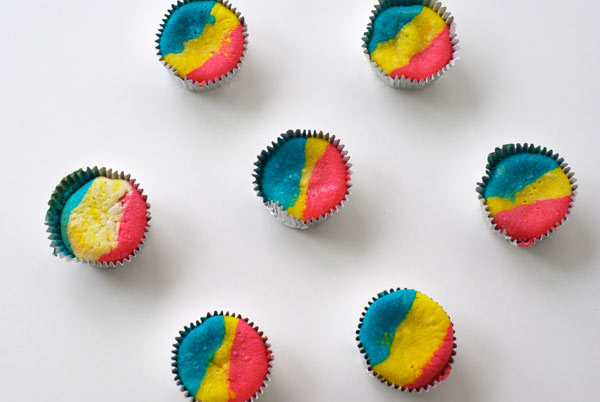 Step 5:
Bake according to recipe's instructions and let cool on wire racks before icing.
Step 6:
Next, fit your piping bag with your open circle tip. Fold the bag over a glass or a yogurt container to help in filling with buttercream. Using a spatula, fill one vertical half of your piping bag with the plain colored vanilla buttercream. Fill the other vertical half with the pink-tinted buttercream. This will create a cute striped pattern when you pipe your cupcakes.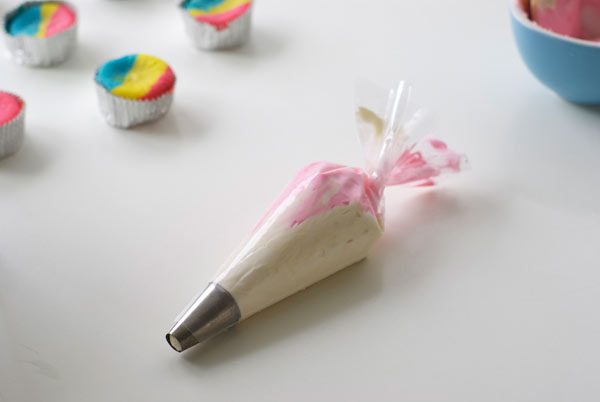 Step 7:
Ready to pipe your cupcakes? Holding your piping bag directly on top of your cupcake, squeeze out the piping bag to create a fluffy blob of buttercream. Pull away to create a perfect Hershey's Kiss-type buttercream wisp.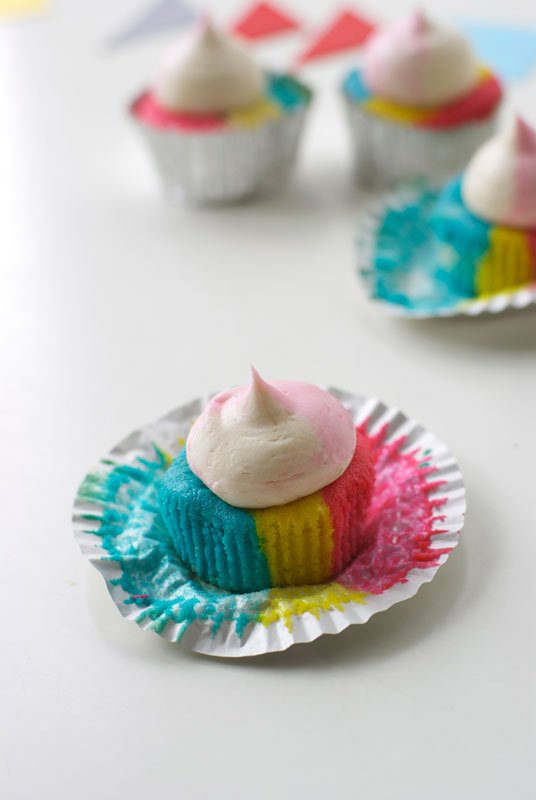 Step 8:
Continue piping the rest of your striped cupcakes.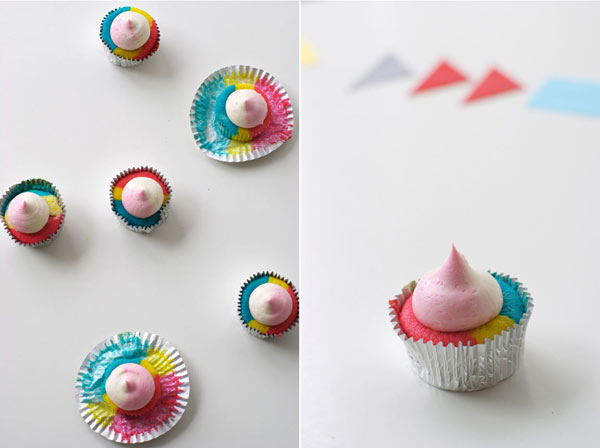 Now go throw a striped party! Enjoy!
To top off our neon striped cupcakes tutorial, I've collected a few more stupendously awesome striped cakes to go with it, each with their own unique techniques!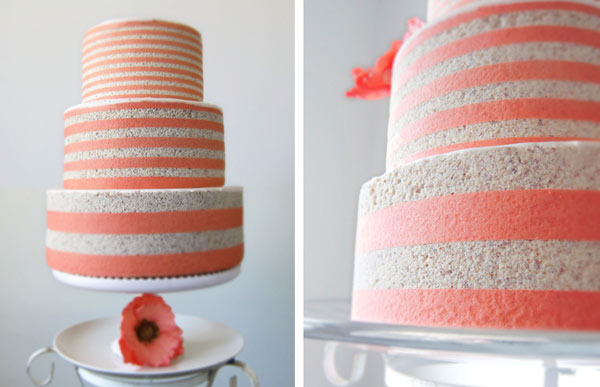 Photo via M Robin Cake Design
Bold pink striped naked wedding cake:
M Robin Cake Design is truly remarkable cake artistry created by artist and designer Marcella Robin. With a background in sculpture, Marcella combines both the visual and the delicious. Can you take a guess at how she creates these stunning "naked cake" designs? Check out this super cool video to catch a glimpse of her process.
In her own words, her current focus is on "entremet wedding cakes. These specialty cakes include layers of mousse, Bavaroise, dacquoise, sponge cake, caramels, fruit and other fillings. With its bold design and enticing outer layer of decorative sponge cake, the entremet is unique and above all delicious." I'm intrigued!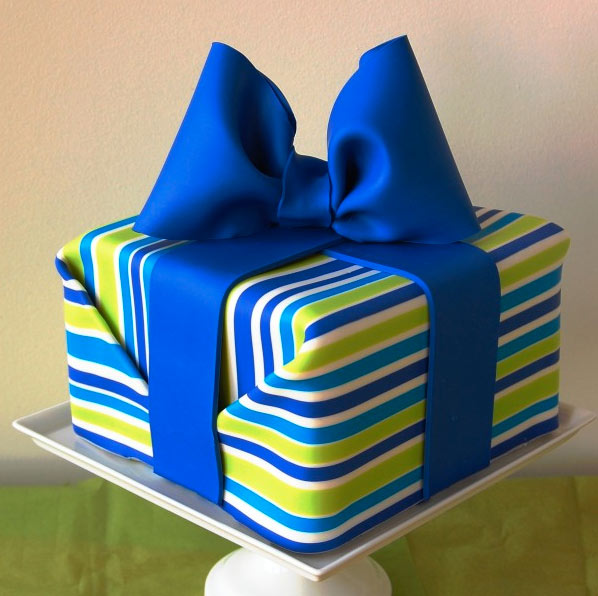 Photo via Baking Arts 
All tied up vibrant striped chocolate wrapped cake:
Richard of Baking Arts is the innovator and artist behind this gorgeous chocolate wrapped striped cake! I love the matching bouncy-looking royal blue edible bow, too.
Has anyone tried this striped technique before? I'd love to know how your results were!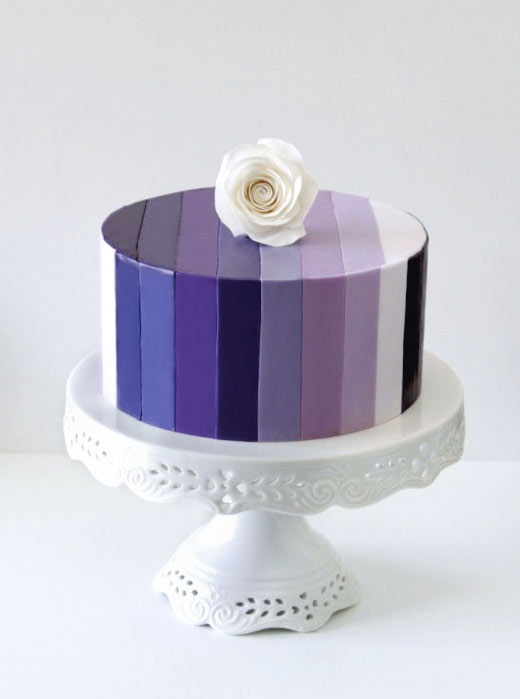 Photo via Miso Bakes
Purple ombré fondant striped cake:
Miso of Miso Bakes created this gorgeous ombré purple fondant striped number topped with a delicate white sugar rose. I love how the masculine bold stripes are offset by the feminine flower — the perfect balance of modern and romantic.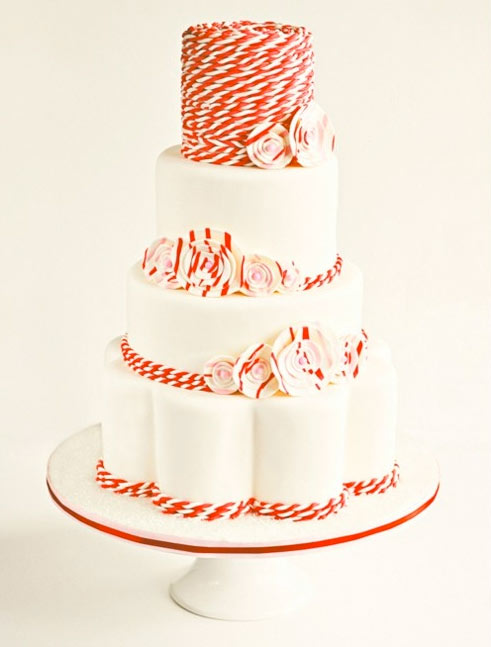 Photo via Sweetapolita
Peppermint candy red and white striped cake:
I adore the instant visual appeal of this red and white striped twisty rope wonder by Sweetapolita! It just screams whimsy and happy candy-land fun. I love the twisting red and white fondant rope technique as both a border of the cake tiers and a wrap for the top tier. The whole cake is offset by matching candy striped fantasy flowers. This cake is too much fun.
Have you made a striped cake before?