Neon colors were HUGE in the 1980's and just like many of the trends from that era, this radiant and vivid colorway made a comeback recently, not only in fashion but in cake designs and parties as well.
Be inspired to brighten up your confections and celebrations with these dazzling neon cakes designs and party ideas!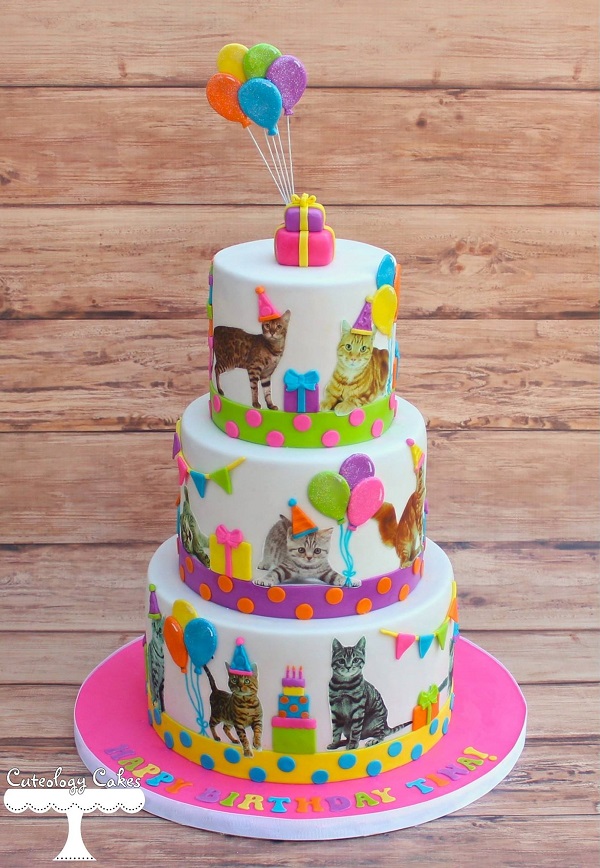 Photo via Cuteology Cakes
Neon kitten birthday cake
This bright neon kitten birthday cake by Cuteology Cakes is simultaneously adorable and hilarious! The three tiers are adorned with cats printed onto edible images and embellished with fondant neon birthday party decor, such as balloons, gifts, and hats in a variety of flashy colors.
The fondant polka dot ribbon that covers the bottom of each cake adds to the entire design, while also providing uniformity throughout the tiers. The cake is finished off with a 3-D gift and balloon topper and a personalized cake board, tying the entire presentation together.
For additional fun and creative ideas, check out the new course Perfect Party Cakes with Zoe Clark for inventive designs and practice working with edible icing sheets.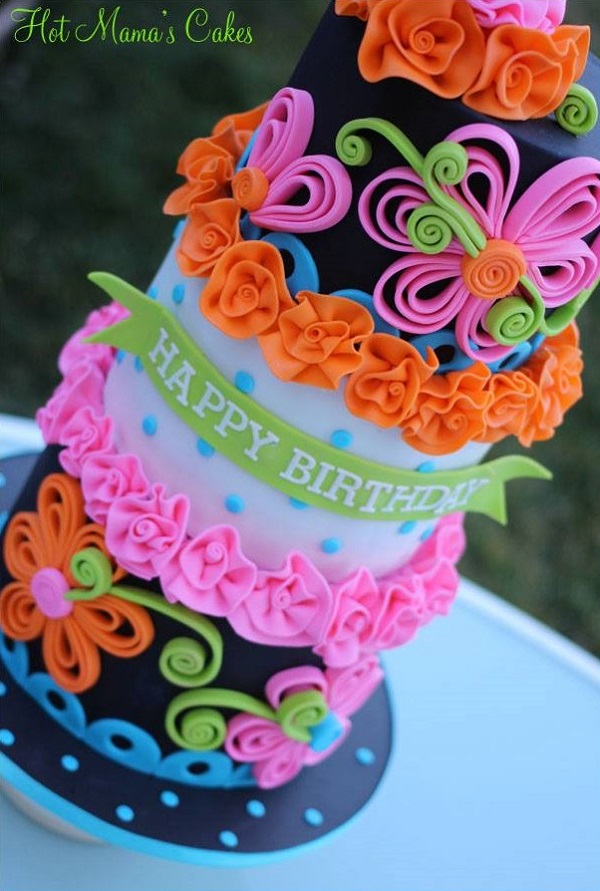 Photo via Hot Mama's Cakes
Neon quilled cake
This gorgeous cake by Hot Mama's Cakes was decorated with neon flowers, achieved with quilling and ruffling techniques. The colors are especially vibrant against the black background. When constructing the tiers, spacers were added between them to allow room for the ruffled flowers.
To simulate the quilled and ruffled flowers, enroll in the Bluprint course The Wilton Method®: Stunning Small Cakes with Valerie Pradhan and learn the step-by-step techniques to achieving these designs. In Colette Peters' Piece of Cake!, take your skills to the next level with unique embellishments to enliven your cakes.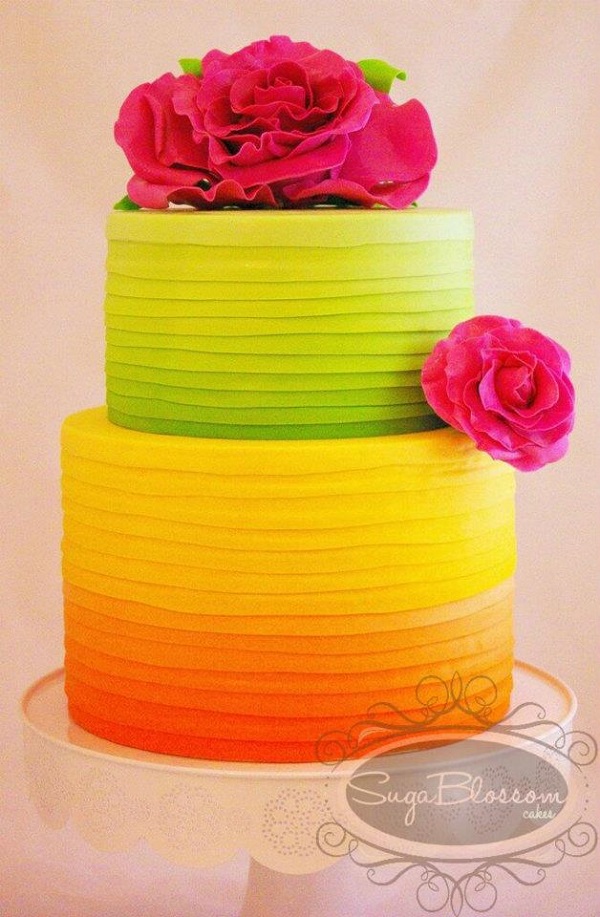 Photo via SugaBlossom Cakes
Summer neon wedding cake
Neon can also be utilized for more subtle and sophisticated designs, as perfectly demonstrated with this stunning summer wedding cake by SugaBlossom Cakes. The two tiers were decorated with strips of fondant in a neon ombre effect, then adorned with rich pink fondant roses.
To add dimension and different textures to your cakes, check out the Bluprint course Designer Fondant Textures with Marina Sousa who will teach you techniques to achieving elegant designs. For guidance in creating beautiful blossoms, Nicholas Lodge shares his tips and methods in The Ultimate Sugar Rose course.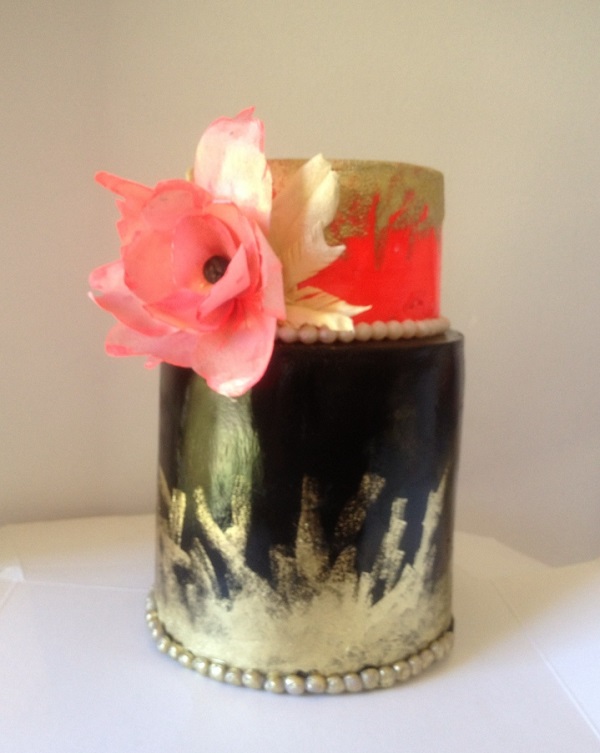 Photo via Bluprint member Beccarey
Neon wafer flower cake
In the course Delicate Wafer-Paper Cakes with Stevi Auble, Bluprint member Beccarey created this amazing two-tiered neon cake. The black and peach layers were covered in gold accents and dressed up with white fondant pearls. The wafer flower was then airbrushed and the petals were hand painted with neon peach paint.
Find out more about airbrushing and the necessary equipment in Lisa Berczel's The Art of Airbrushing course.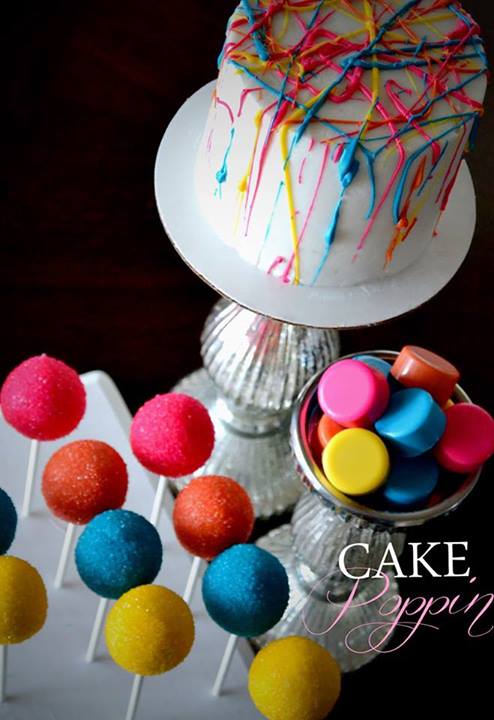 Photo via Cake Poppin'
Neon sweets
Cake Poppin' baked and decorated this cheerful and vibrant collection of neon sweets, including cake pops, chocolate-covered cookies, and a miniature cake! After being dipped in chocolate, the cake pops were further embellished with bright sanding sugar to add some extra pizzazz. The mini cake was dressed up with neon chocolate with the splatter technique.
For more ideas to decorating miniature cakes, check out the new Bluprint course Mini-Cakes, Many Occasions with Rachael Tueufel.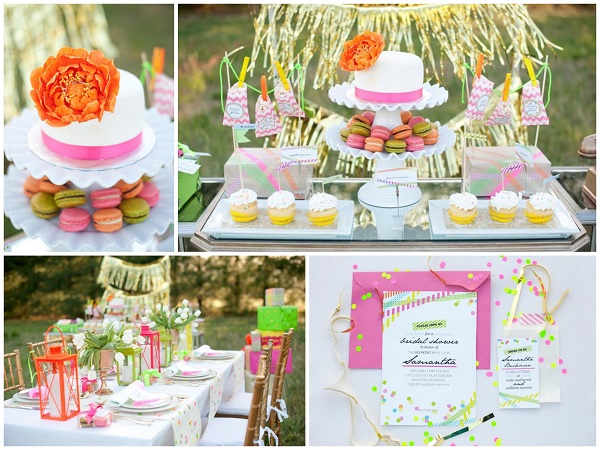 Photos via Carly Jones Photography
Neon bridal shower
Neon can easily be incorporated into party themes, as was immaculately done in this stunning neon bridal shower by A Styled Fete. The exquisite and tasteful display was complemented by printable designs by Anders Ruff, while the dessert table showcased a cake and colorful macarons by Petites Bouchees with a beautiful flower by A Cake to Remember. See the full neon party for additional details.
Check out the Bluprint courses The Wilton Method®: Decorating with Fondant with Beth Somers and Spring & Summer Sugar Flowers with James Rosselle for instructions to creating a similar cake for your next celebration.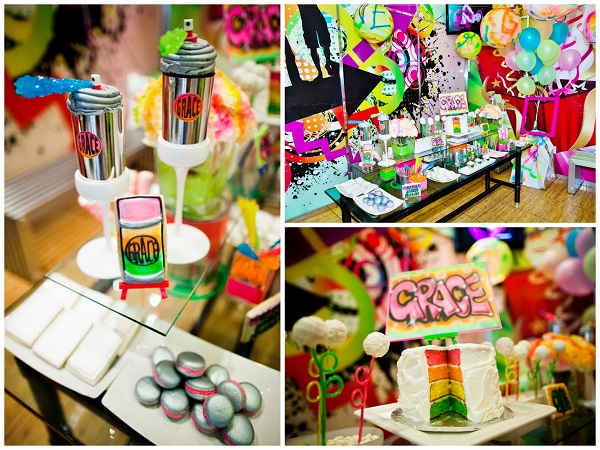 Photos via About Love Inspired Photography
Electric neon first birthday
And how can we discuss neon without a superfun nod to the '80's with a graffiti flair?! This boisterous electric-neon party was styled by Million Dollar $mile Celebrations for a first birthday with incredibly creative details. The cookies by Casey's Confections were beautifully decorated as spray paint cans and displayed on miniature easels, while cupcakes were also made to resemble aerosol cans with the use of multi-colored rock candy sticks being sprayed out of the cans! Finally, the cake by Sugarlips Cakery was displayed with a slice removed to exhibit the inside neon rainbow design. Check out the full Electric Neon party for all the details.
For more ideas to incorporating designs inside your cakes, make sure to check out the Bluprint course Decorating from the Inside Out with Amanda Rettke. Also, learn techniques to decorating cookies with fun designs in Autumn Carpenter's Decorating Essentials: Designer Cookies.
Would you rather incorporate neons into a new, modern look or are you partial to retro nostalgia?