It's hard to resist the siren call of the sea. These nautical painting ideas reflect some of the many ways  you can draw artistic inspiration from the ocean. 
Here, we'll explore just a few of the many directions you could choose to take when creating nautical paintings.
From lovely lighthouses to sweeping seaside sunsets to stately ships and sweet seashells, these paintings from Bluprint members are bound to inspire you to create some nautically inspired artwork.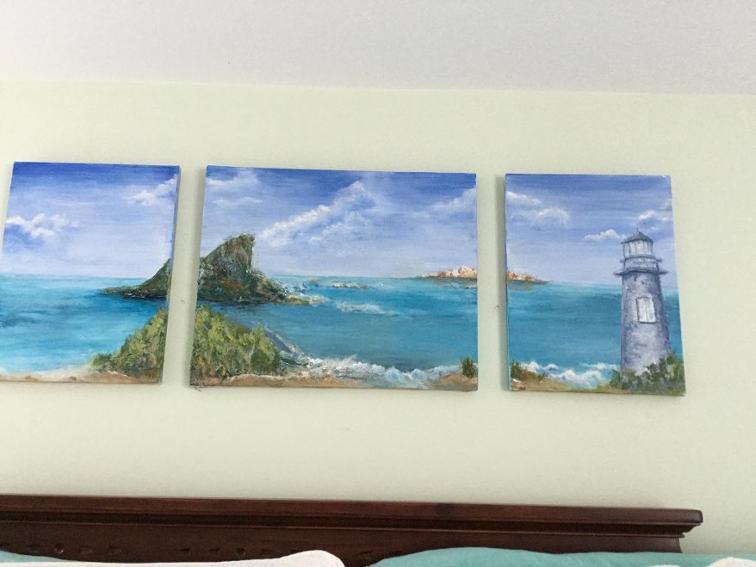 Sun and Ocean via Bluprint member Edelgard S
1. Lighthouses
When it comes to architectural landmarks, nothing fits a nautical theme more than the lighthouse. These tapered cylinders aren't merely a centerpiece for your painting, though. Lighthouses can help you practice painting dimension.
The artist employed some interesting effects in the acrylic painting shown above. The mountains were painted with a little tissue paper to give them dimension; a paper towel gave the lighthouse its unique texture. And the three-part canvas display is a creative, unexpected presentation.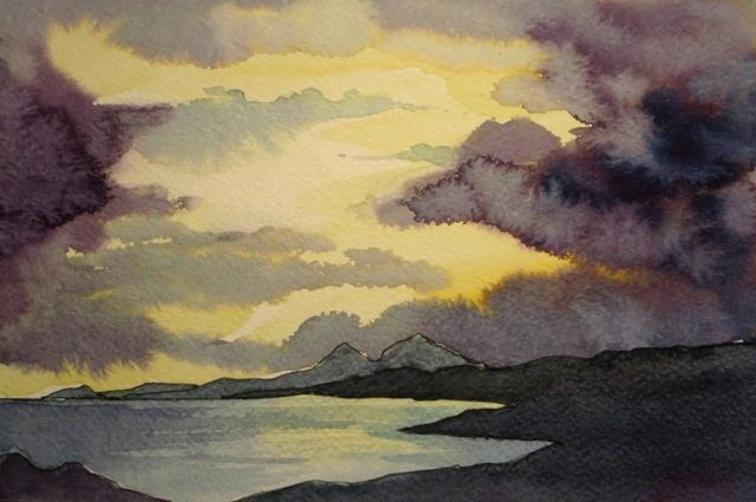 Sunset over Jura via Bluprint member caroline_s
2. Seaside sunsets
There's something about a sunset by the water that's absolutely stunning. The water offers the opportunity to play with color reflections on the water. Plus, you can explore the difference between painting soft, ethereal clouds; colorful sky gradients; and the cool, smooth surface of the water. 
Seaside sunsets are a great nautical painting theme for artists of any level. For one thing, it's forgiving: since there's an abstract quality about sunsets, you can have a little bit of fun. You don't have to follow the same rules of painting a building or a person.
The watercolor painting shown above offers an expressive approach to painting a sunset. The artist lets colors bleed together and allows some of the paint to try with slightly "hard" lines. This artistic cacophony works beautifully with the subject matter.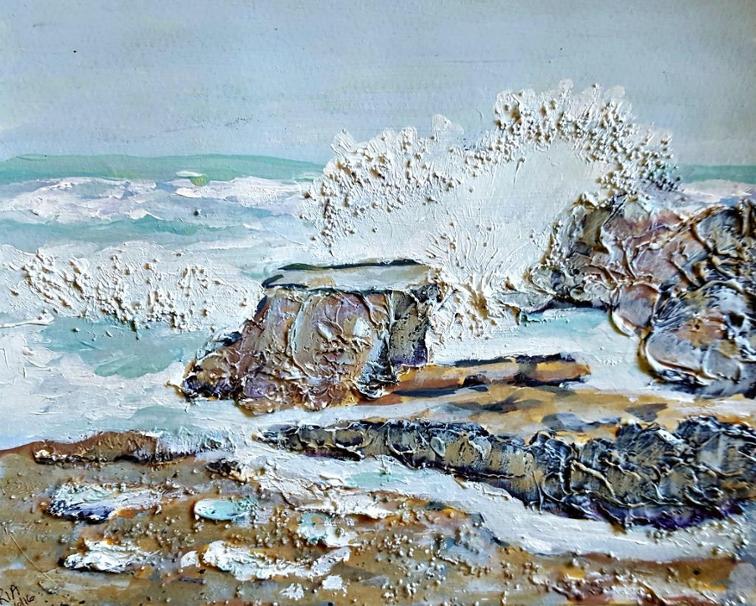 Stormy sea via Bluprint member xela7072
3. Stormy seas 
The churning of a stormy, choppy sea provides some very interesting subject matter for your painting. The whirls of water and whisps of sea foam become graphic elements in a piece like the acrylic painting featured above, which uses acrylic texture media to add dimension to the painting. While abstract up close, when you back up, you really get a sense of the energy and power of the surging sea.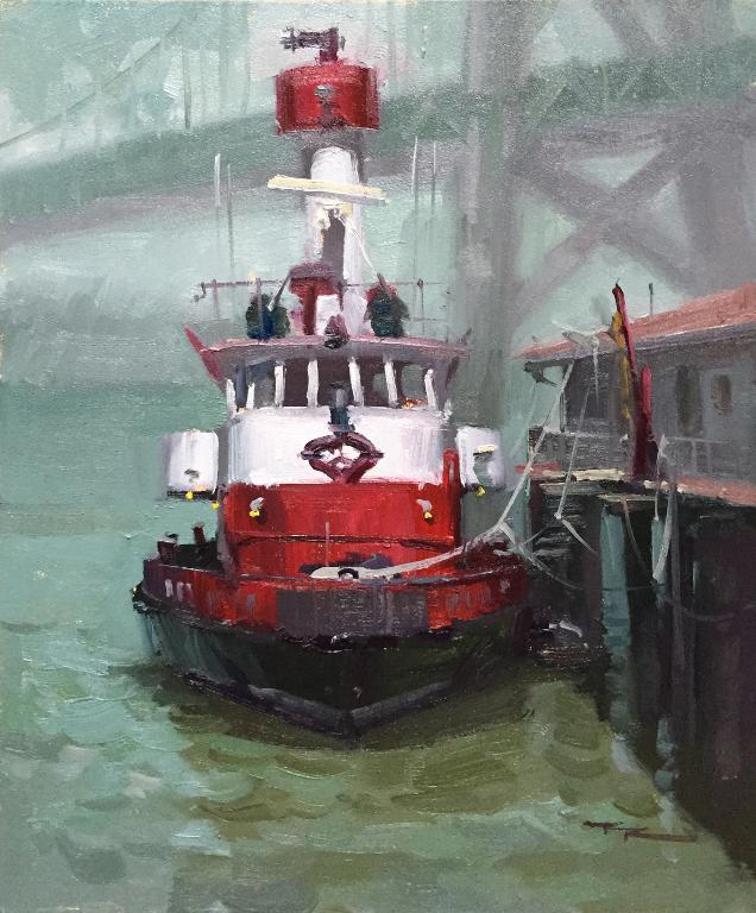 The Guardian via Bluprint member NZpainter
4. Boats 
Boats aren't just a vehicle for pirates or cruise-goers: They can also be the centerpiece of a painting. Ships have plenty of interesting shapes, colors and light effects that lend themselves to compelling paintings.
For instance, in the oil painting above, a bright red and white boat provides a stunning color contrast to the murky sea and grey urban backdrop, adding intrigue to the composition. The unique shapes and stately stature of boats makes them a challenging but rewarding subject for painting.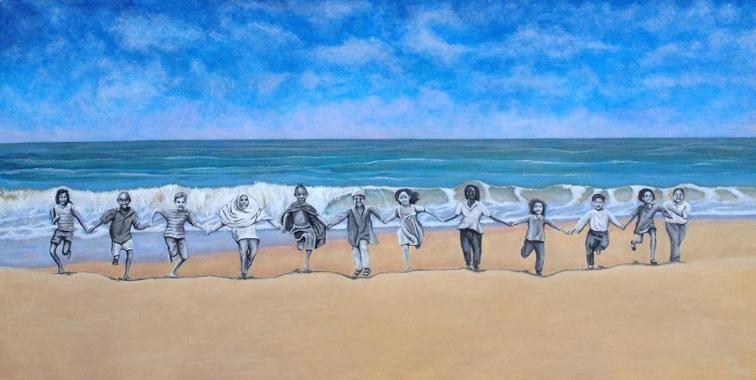 Color Blind via Bluprint member mrdill2
5. Beachgoers 
Seascapes provide an interesting backdrop for portraits or paintings featuring people visiting the sea. There are a number of different approaches that you could take!
For instance, a portrait of a family lounging under an umbrella could be sweet in an impressionist style. The sea can also be symbolic: In the above oil painting, a vibrant seascape is contrasted by grey-toned children. In this way, the nautical backdrop provides symbolism as well as a beautiful backdrop.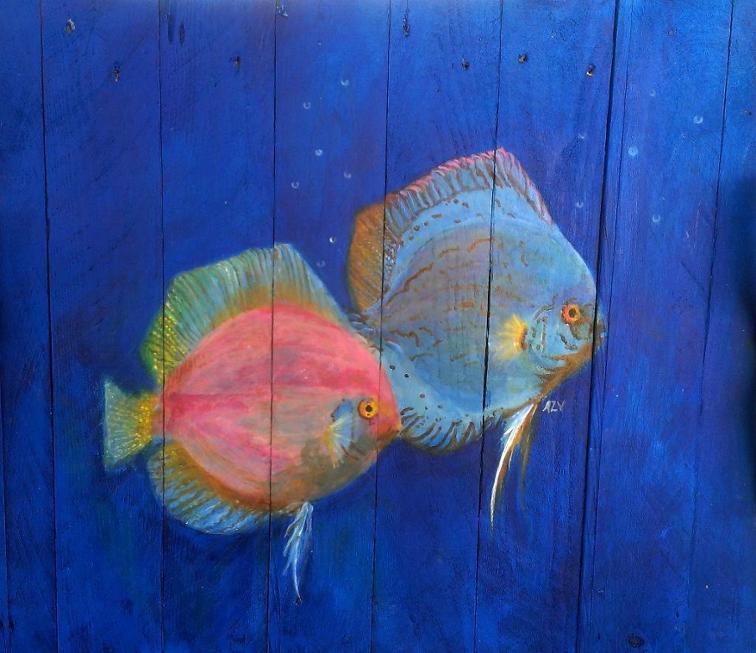 Iridescent pair via Bluprint member AnnaZV
6. Sea life 
There's literally a lifetime (and beyond!) worth of painting inspiration living under the sea. From mighty sharks and squid to elegant starfish, there are all sorts of shapes and colors to inspire you when painting sea life.
The above painting features two vibrant, exotic fish. The color really pops thanks to the use of blue interference paint, which helps add a prismatic effect to the finished piece.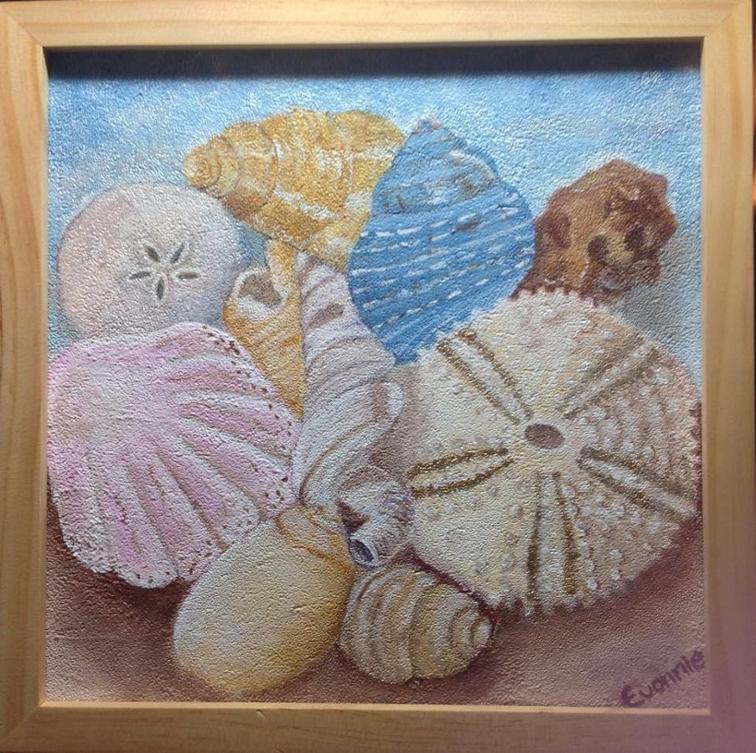 Seashells via Bluprint member YvonneZaborac
7. Seashells 
A subset of sea life, seashells can provide visually appealing subject matter for painting. In the piece shown above, the textures and colors of various seashells come together almost like a floral bouquet. The use of glass bead gel over the painting adds an interesting texture to the finished piece. 
Creating Realistic Waterscapes in Mixed Media
Gain the skills to create lifelike waterscapes in mixed media.Get My FREE Guide »