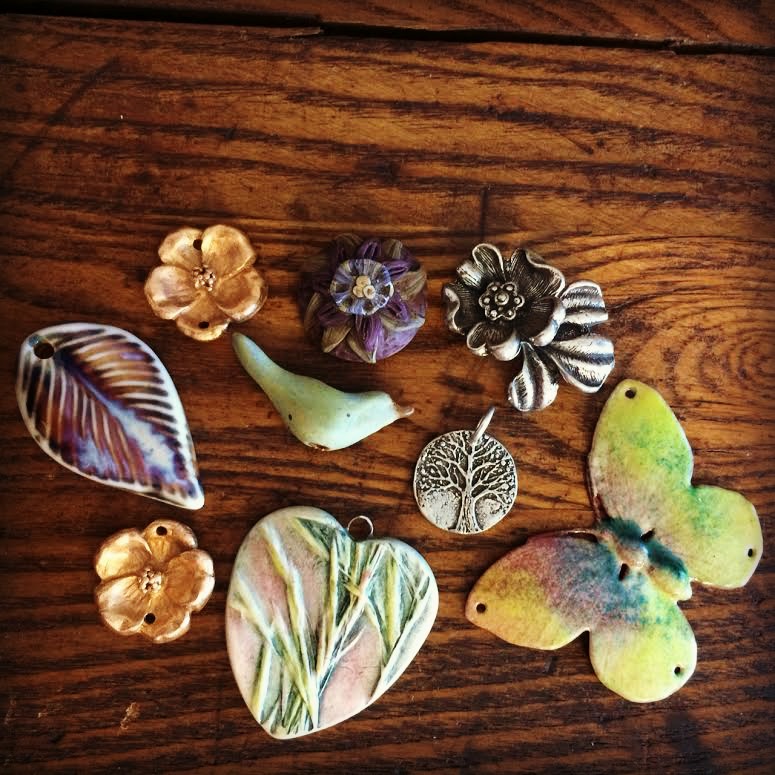 Photos via Lorelei Eurto Jewelry
To me, there is no better source of inspiration than nature outside our front doors. You'll find endless color combinations, shape inspiration, and flora and fauna that can be so easily translated into jewelry adornments. This genre especially appeals to me in my designs. Probably 90 percent of my creations have some sort of nature theme to them.
Here are a few different ways to approach creating nature-inspired jewelry:
You can take the most literal approach by creating using elements such as artisan-made pendants and components that are already in the shapes and imagery you want to portray. Some of the most popular shapes that designers are creating are leaves, trees, flowers and animals. Artists are so clever these days and are constantly creating new and inspired designs that will always aid you in your nature-inspired jewelry designs.
However, you can find these shapes also in manufactured components like Czech glass, floral ribbons or metal charms and findings. These Czech glass shards (leaves), and nuggets (rocks), owl beads, printed floral Japanese cording and brass stampings all have a very earthy vibe but weren't necessarily handmade. Pair these with the handmade beads, and you've got yourself a double whammy.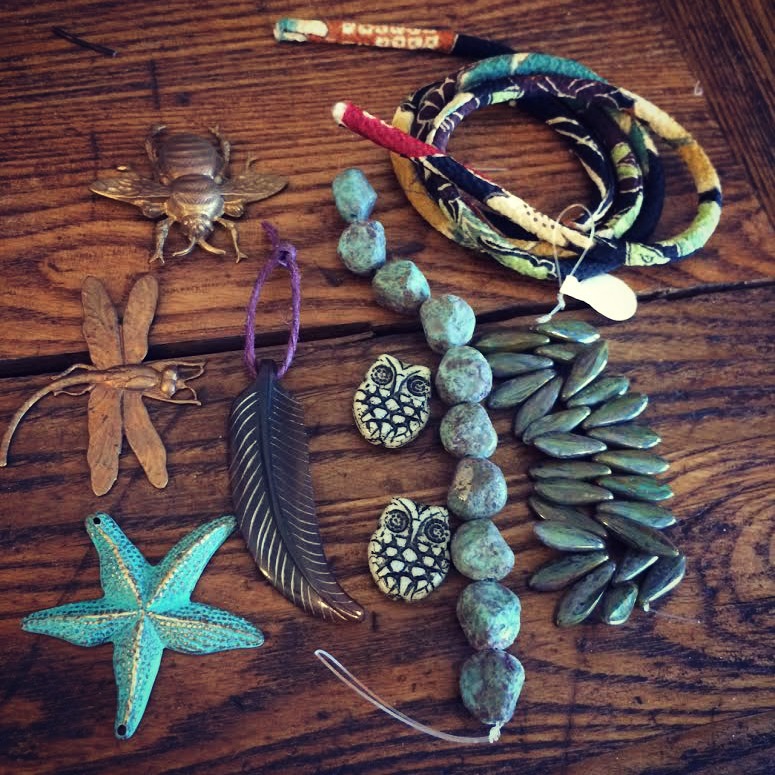 Another approach would be to take a less literal approach by using suggestive components that creates a natural theme when layered or used with other types of beads. Incorporate colors that reflect an evening sunset, or resemble a deep dark wooded path. One of my favorite things about this type of jewelry is the ability to tell a story with the components.
Here are some examples of my own nature-inspired designs: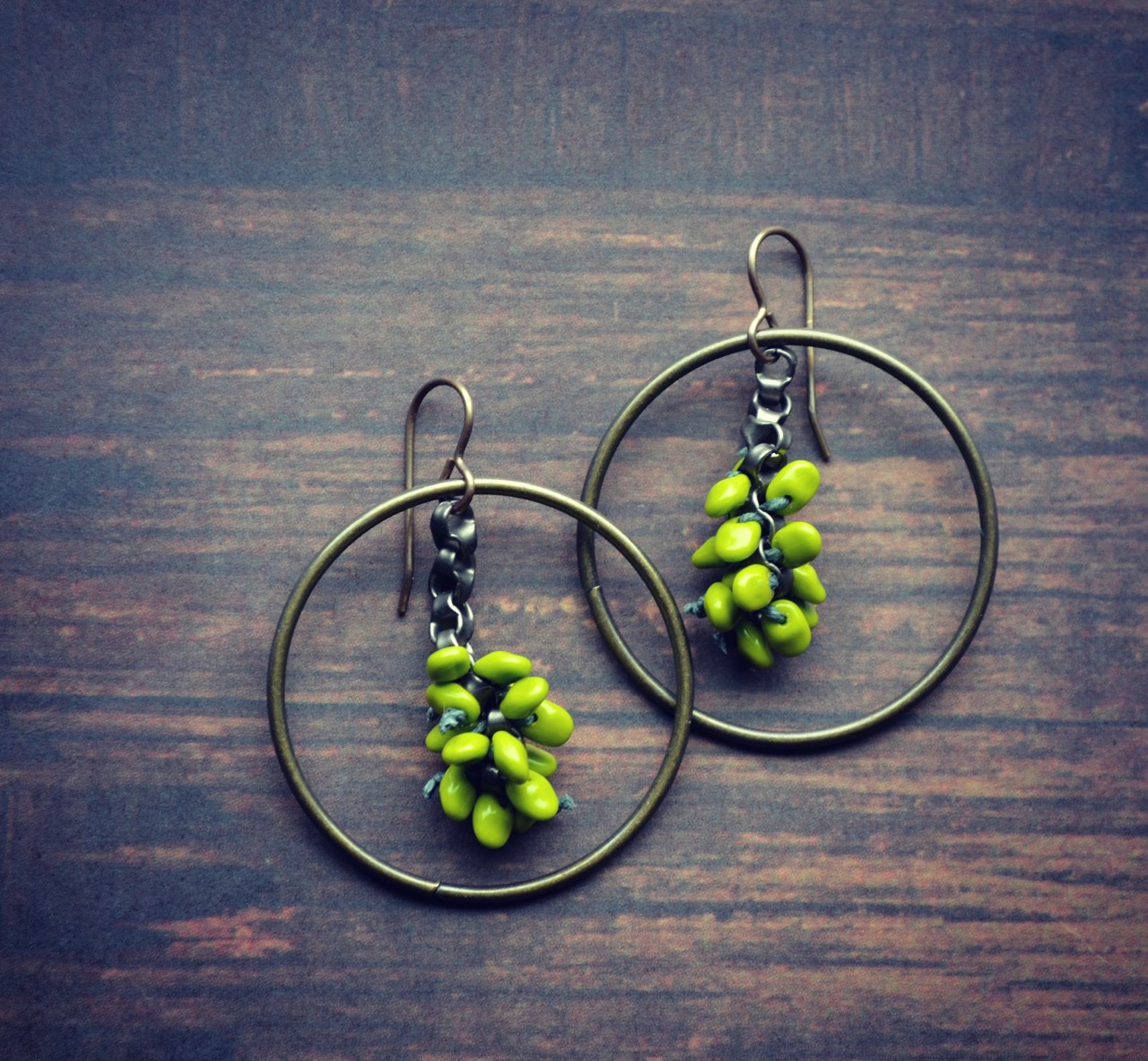 These earrings don't feature any handmade beads, but the Czech glass beads mimic small buds, and all I did was knot a few onto the end of a cool shaped chain. The large brass hoop frames them nicely.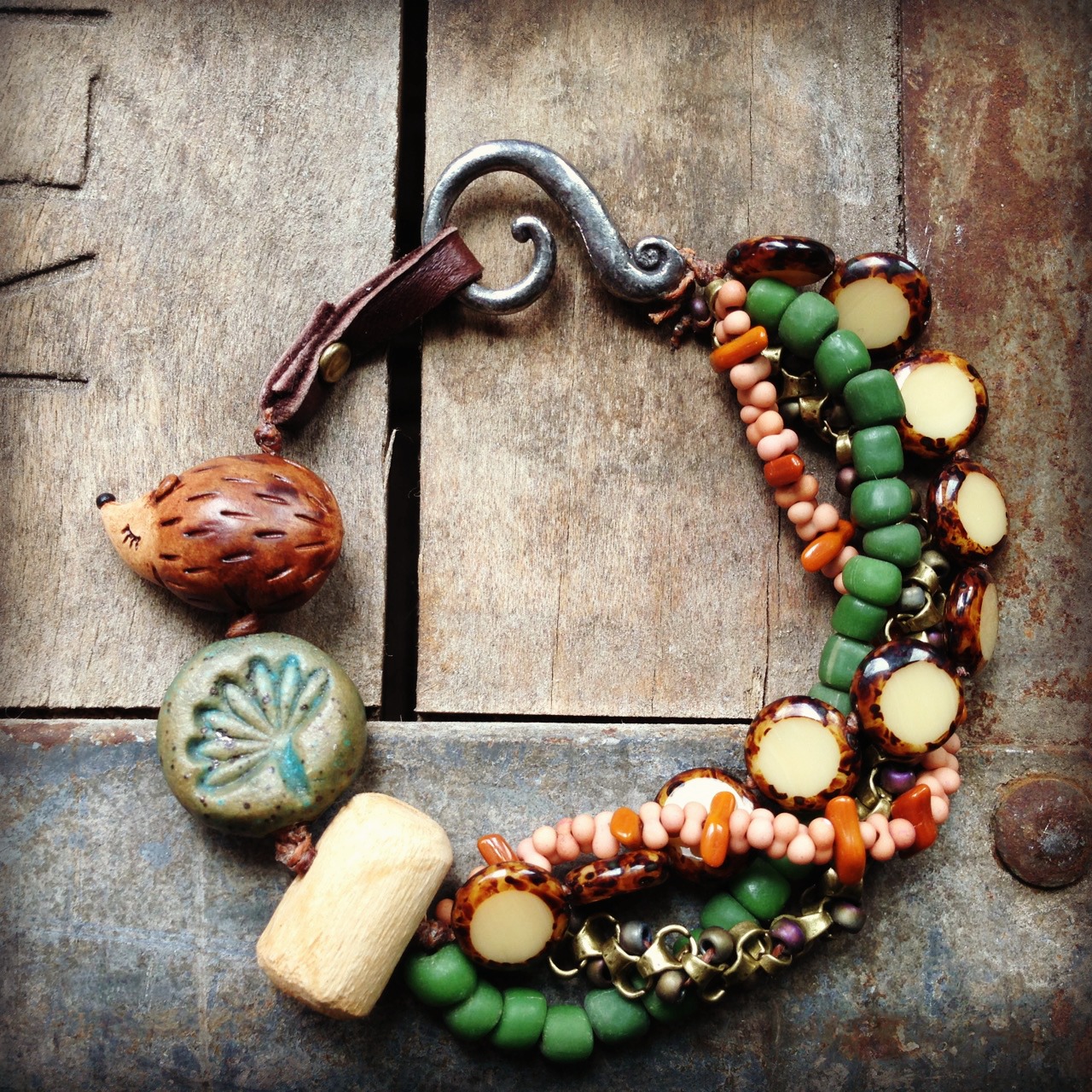 This Hedgehog bracelet features handmade beads like this polymer clay hedgehog from Humblebeads, ceramic coin from Starry Road Studio, a hand-carved wood nugget from Nature Scavenger, and hand-cast pewter hook clasp from Green Girl Studios. This popular multi-strand style gives off a nice earthy feel with the chain and glass beads I included with the artisan beads.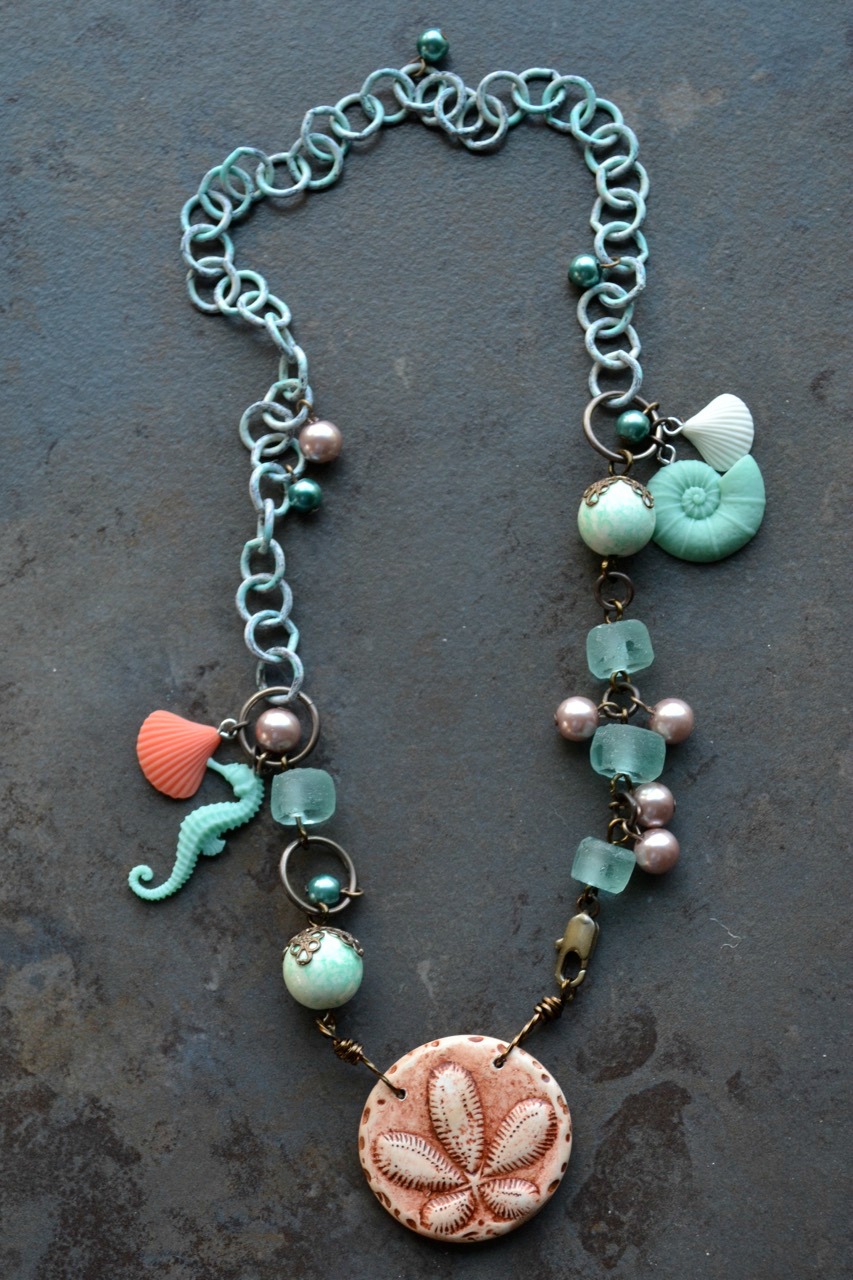 Another way to reflect a natural vibe is to use asymmetry because nature is in no way symmetrical! By bringing in texture and movement mixed with a more static and solid structure, your jewelry designs can mimic these organic qualities.
A great example of that is this sea-inspired necklace design shown above. I created the asymmetrical design with some round link chain, a variety of sea-inspired dangles and some some pink pearls for extra movement. The components in this type of placement give a nice flowy feeling as if they were floating in the ocean. The focal is a handmade polymer pendant from DistleFunk.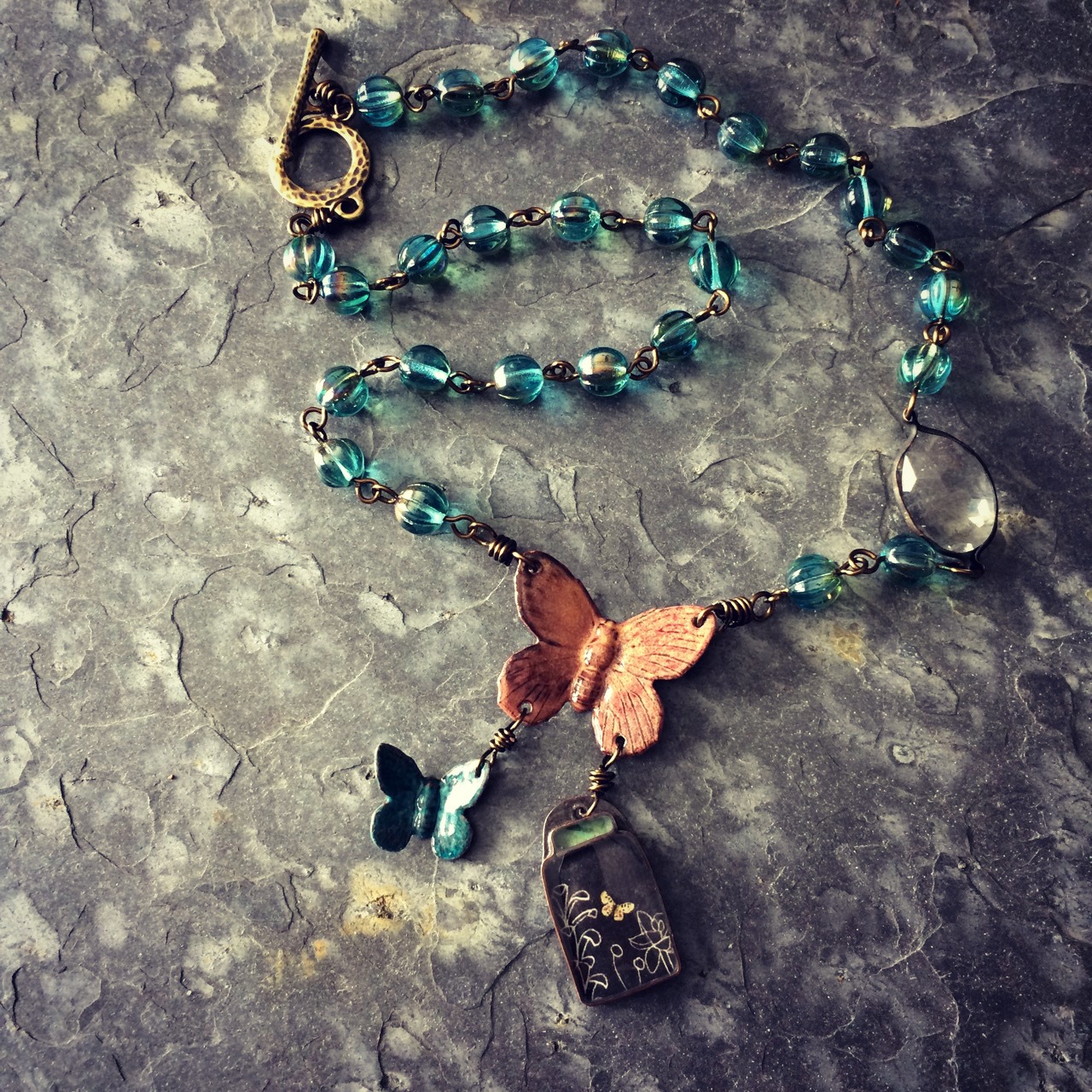 Everyone's interpretation of nature is different and this is why it's an excellent source of inspiration. Go out for a walk and snap some pictures as you go. You'll be uncovering a treasure trove of inspiration everywhere you look.
Where is your favorite place to find inspiration?