Many quilters and sewists love dyeing their own fabrics. This is yet another way crafters can put their own personal stamps on their creations. Hand dyeing fabric is an enjoyable way to create one-of-a-kind fabrics to sew or quilt with.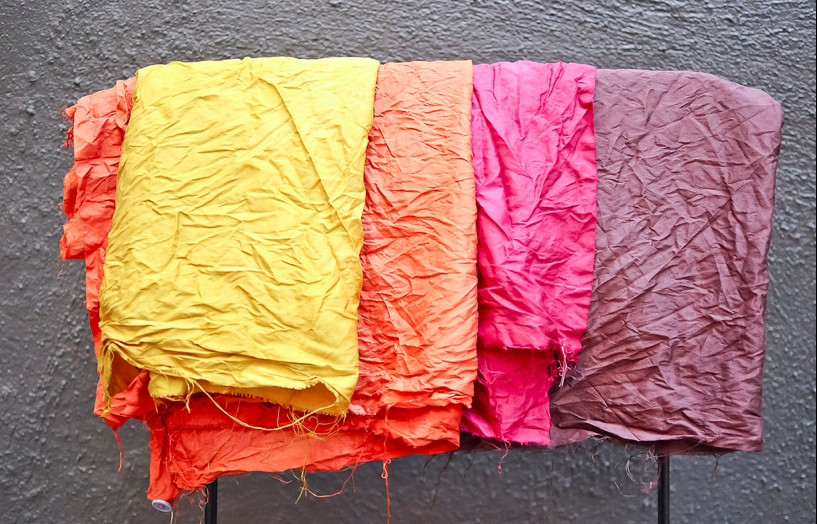 Photo via Karyn Valino of The Workroom
Today many dye fabrics with chemicals. But did you know that people have been dyeing their own fabrics naturally long before chemical products were ever made? Vegetables and fruits were used to create unique colors and designs on solid fabrics. Despite the chemical dyes that are available today, plenty of crafters still choose to dye their fabrics the natural way.
What items from nature can be used to dye fabric?
The list is huge, and you'd be surprised at how many of these items you already have on hand!
Beets, carrots, plums, avocado pits, onion skins, turmeric, blueberries, bark, nuts, sunflowers and clover are just a few! Teas and coffee grounds are very commonly used, too. Visit Pioneer Thinking for an extensive list of items that can be used for natural dyeing
When dyeing, be sure to use high-quality natural fabrics. They will hold the dye the best. One-hundred percent cotton, silk, linen and wool are ideal. And always use light fabrics. White is the obvious choice, but other lighter colors, like pastels, can work well, too.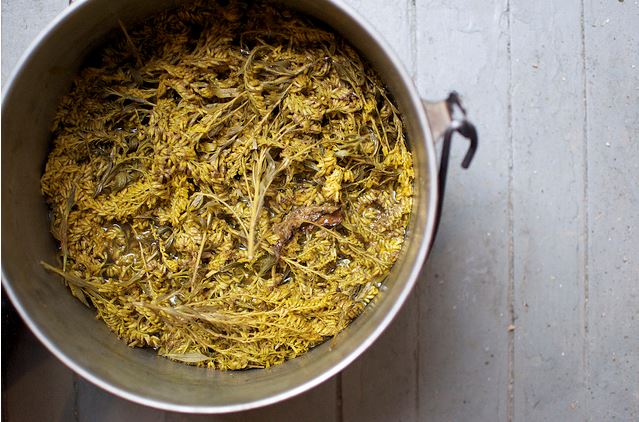 Photo via Karyn Valino of The Workroom
Dyeing fabric naturally requires a surprisingly few amount of steps. Here is a basic overview to give you an idea of how it works.
Step 1:
Gather necessary items: fabric, plant items, either salt for berry dye or white vinegar for plant dye, a large pot, a strainer or colander, water and a measuring cup.
Step 2:
Prepare fabric for dyeing. Prewash according to fabric type. Simmer water and mix in either salt (for berries) or white vinegar (for plants) for approximately 1 hour. Rinse and wring out fabric completely, and set aside.
Step 3:
Prepare nature fabric dye. Refill pot with clean water and simmer. Add desired plant for dyeing and bring to a boil. The length of boiling time will vary based on the item used.
Step 4:
Dye fabric! Submerge fabric in dye. Allow to sit for desired length of time. Rinse thoroughly when finished and air dry.
Sounds pretty simple, right?
If you are interested in learning more about hand dyeing fabrics the natural way, there are plenty of tutorials available online. Here are just a few:
Scoutie Girl – Dip-dyed goods (napkins and tote) made with blackberries, turmeric and tea
If you're interested in learning more about fabric dyeing, you'll love the Craftsy classes The Art of Cloth Dyeing and Fabric Patterning with Wax Resist. And see how fabric is made in our virtual fabric factory tour.
Will you try hand dyeing fabric?