Did you know that November is Native American Heritage Month in the United States? What a perfect time to be inspired by Native American quilt designs from the Bluprint community and beyond. Enjoy this roundup of remarkable Native American quilts!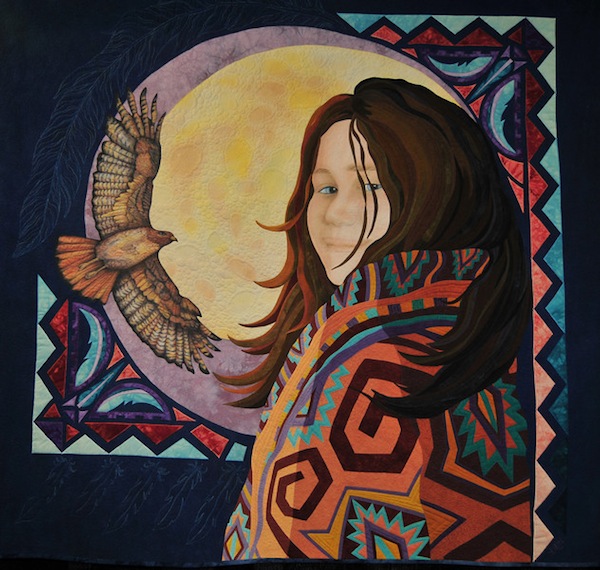 Photo via Quilting Life
Moon Dance by Annette M. Hendricks is a multi-award-winning quilt that portrays a young woman with an expression of wonder and gratitude. The flying hawk above her signifies freedom, and the stunning quilt features traditional Native American imagery. Her work contains dye painting and acrylic painting, curved piecing, machine appliqué and free-motion quilting.


Photo via Bluprint member Karen Louise
The Bright Starburst quilted wall hanging made by Bluprint member Karen Louise features a pieced central medallion with star points radiating outward in the style of Native American quilt designs. She was inspired by the cover quilt in the March 2013 issue of American Quilter magazine and quilted the background and borders with a free-motion feathers design.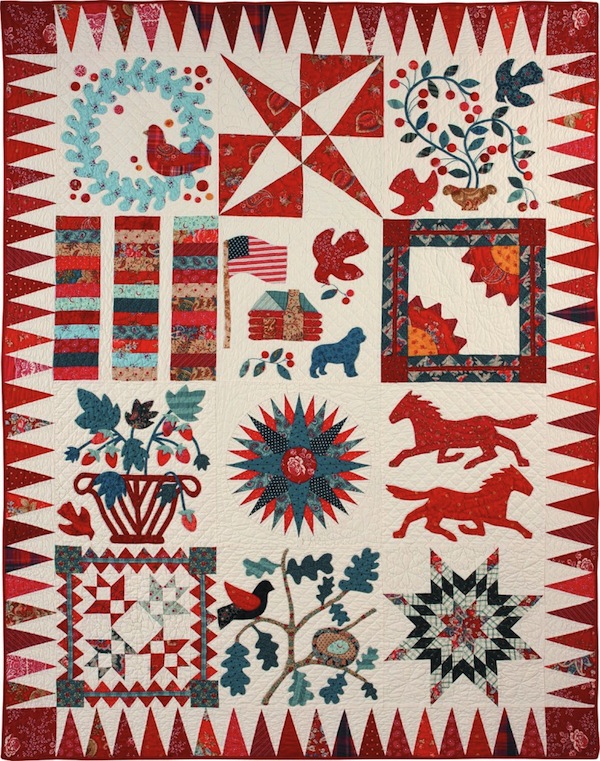 Photo via PickleDish
If you're interested in a Block of the Month club featuring a Native American quilt design, Kansas City Star Quilts offers a pattern for all 12 blocks featured in The Spirit of Sacagawea. The blocks, designed by Laurie Simpson, feature a nice mix of appliqué and piecing and are intended to honor and tell the story of Sacagawea, a brave young mother and the only woman to travel with the Lewis and Clark Expedition.

Photo via Bluprint member Sarawolferoland
With its dusty color palette  and geometric borders, this Rolling Prairie Bargello quilt pattern resembles a Native American quilt design. Creator Sara used a pattern from the August 2011 issue of American Patchwork & Quilting Magazine. The quilt includes 84 different prints and colors, and even more amazing is the fact that Sara quilted the entire project on a small Singer sewing machine. She enrolled in Quilting Big Projects on a Small Machine, taught by Ann Petersen, which gave her the confidence to tackle the 86″ by 91″ quilt.

Photo via Bluprint member grasshopper1977
Would you believe it if we told you that this Native-style baby blanket is actually made from a very large bandana? The fabric works as a panel, which features Native American patterns in contrasting black and white with a pop of color. The red satin blanket binding and red minky backing fabric give the baby blanket a softness that can't be beaten. This is a great project for beginning quilters who would like some practice with mitered corners.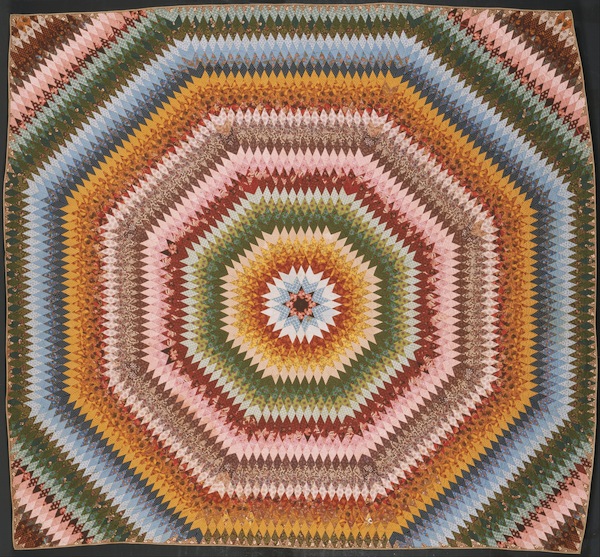 Photo via the Philadelphia Museum of Art
Pieced from a stunning array of nearly 4,000 diamonds, the Sunburst Quilt, dated around 1839, was made by 19th-century quilter Rebecca Scattergood Savery. Each diamond in this Native American style quilt was hand-stitched together to form the striking design. Do you see American Indian imagery in the colors or pattern of this quilt?

Photo via Bluprint instructor Anita Grossman Solomon
The pineapple quilt block isn't inherently Native American, but this quilt design finished in two solid fabrics really does resemble traditional Native American quilt motifs. Anita's Two-Color Pineapple Quilt is one of the projects featured in her Bluprint class, in which she teaches how you can make two pineapple quilt blocks with just two fat quarters! Check out Traditional Blocks Made Simple to learn how to make this quilt pattern.
Do you have an appreciation for Native American artwork?