Sometimes the story behind a quilt is as inspiring as the quilt itself. That's certainly the case for the latest project from quilter Donna Marcinkowski DeSoto.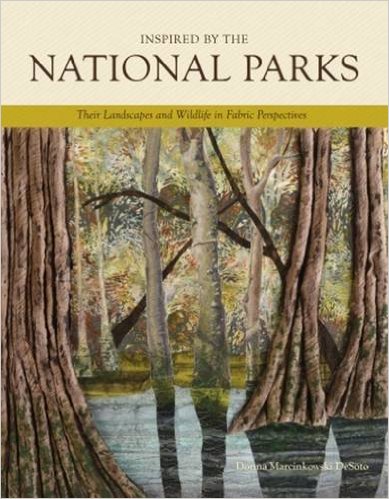 Donna brings quilters together to create collaborative art quilt exhibits. As soon as Donna heard about the upcoming National Parks Service centennial, she knew the celebration had potential for a big group quilt project. "Just when I was thinking of it, I got goosebumps. And goosebumps are a really good thing," she says.
So Donna put a call out to the quilting community for Parks-inspired designs — and her fellow quilters (including Bluprint instructor Cyndi Souder!) were equally inspired. Now, you can see over 100 finished projects that represent 59 U.S. National Parks in her book Inspired by the National Parks: Their Landscapes and Wildlife in Fabric Perspectives.
We gave Donna a call to find out more about the quilts, the book and the National Parks, just in time for the NPS's 100th anniversary.
Tell us a little about how the quilts represent the National Parks.
"We made three quilts for each park: one shows a landscape, one shows flora and one shows fauna. We ended up with 177 quilts made by 148 different artists who wanted to celebrate the National Parks."
What kind of creative direction did you give to all the quilters?
"Not a lot! We had size limits, and they also had to make the quilt so that it would travel easily. One of the other rules was I didn't allow any photo transfer — I was afraid that too many people would head to their photo album and reproduce a photo from their family vacation.
The art quilters who participated have a wide range of skills and techniques and interpretations. I was daunted and inspired by the work of the other quilters. They are just so precious."
Your book includes stories from park rangers and other park personnel. Can you tell us a little about those stories?
"The National Parks are so accessible on the Internet, so it wasn't hard for me to call and meet with rangers. Based on their answers to the questions I asked, I put together the words in the book.
The rangers were all so excited about the project. They're very passionate about the work, and I don't know that they get an opportunity to tell how they feel often. Each time I talked to a ranger, I wanted to drop whatever I was doing and go to that place.
So, if you get to read the book, don't just look at the pictures! Read the beautiful narratives by the rangers. Then go see a park!"
What do you hope readers will take away from your book?
"My hope with the National Parks quilts was to reach people other than quilters and get them interested in fiber arts. I've been getting all sorts of calls and emails from people who had no idea that quilts could look like these. I've had people tell me they changed their vacation plans based on the quilts they saw or the stories they read in the book. That's pretty neat.
I also hope that people are reminded of what we have right here in the United States — the beauty and grandeur of the National Parks. I hope that people have a renewed interest in the National Parks."
Feeling inspired? See the finished quilts!
If you'd like to order the book to see the quilts and read the stories, head to Donna's site here. A percentage of the earnings from Donna's book are being donated to the National Parks Service.
Plus, the National Parks quilts are touring the country — check out the exhibit schedule to find a chance to see them in person.
Want to be involved in Donna's next "Inspired by" project?
This isn't Donna's first big collaborative quilt project. It all started with Inspired by The Beatles, and no there are three more books planned: Inspired by Elvis, Inspired by National Parks Sites in the National Capital Region and Inspired by Endangered Species. If you're interested in receiving information on these upcoming projects, you can connect with Donna at desotomailbox@cox.net.