There are many different forms of portraiture in the world of figurative art. Some portraits are done simply as an exercise in learning or refining the principles of drawing or painting the human face. Then there are more formal portraits, often commissioned, where likeness is essential, but the environment surrounding the subject isn't important, if it is even shown at all. A further variation is the biographical portrait, where visual elements are added to communicate and summarize some aspect of the subject's life story or occupation. Finally there is the narrative portrait, where the subject's surroundings give the viewer a glimpse into a specific moment in time. A narrative portrait's setting implies a story, be it real and painted in the moment, or staged. Let's take a look at some examples of narrative portraiture throughout history.

Arnolfini Portrait Jan van Eyck 1434
This is perhaps one of the most famous narrative portraits of all time, showing Giovanni di Nicolao Arnolfini and most likely his wife, dressed in formal clothing. While some scholars debate whether van Eyck's oil painting depicts a wedding or some later legal proceeding, there is no doubt this painting is intended to show a moment in time. Van Eyck has even signed the painting on the back wall under the chandelier "Jan van Eyck was here 1434" indicating he was a witness to the occasion.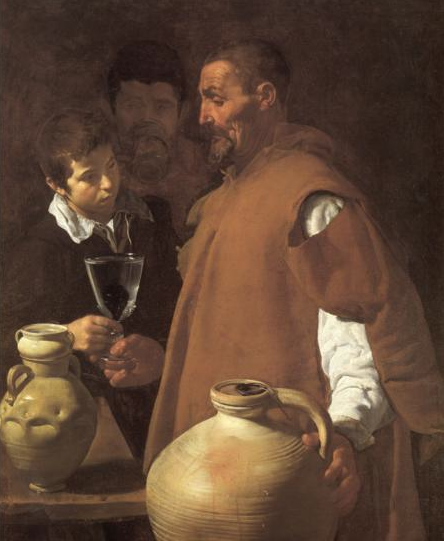 Waterseller of Seville Caravaggio 1623
This excellent painting by the Italian master Caravaggio shows a man selling water in a market. Even without the title, the narrative is clear. We see a man with clay pitchers offering a glass of water to a young boy. His ragged attire indicates his station as a peasant. No figure looks directly at the viewer, further reinforcing the painting as a window into a moment in time.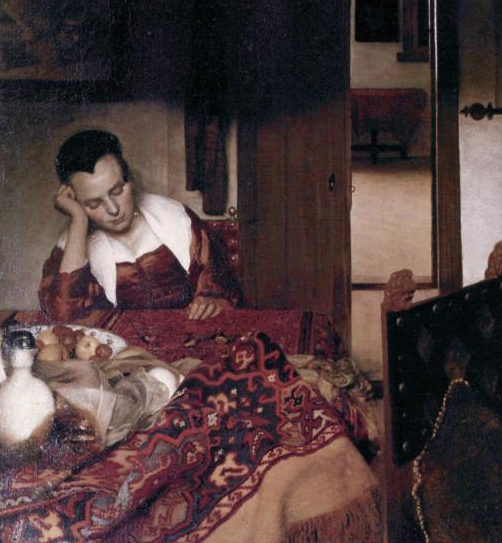 A Maid Asleep Vermeer 1657
A narrative portrait doesn't have to have a lot of action to be a narrative. In Dutch painter Johannes Vermeer's beautiful painting above we see a young woman asleep at a table. The title tells us she is a maid, and we are given the freedom to imagine the rest of the story.

The Death of Marat David 1793
Often history plays an important role in a narrative portrait. In Jacques-Louis David's painting, the viewer will have been aware of the assassination of Jean-Paul Marat, a leading figure in the French Revolution. David's obviously sympathetic portrait shows the vulnerable Marat stabbed in his bathtub while writing a letter. Even without knowing the historical context, the narrative is still quite strong for the viewer. The setting, pose and accouterments surrounding the subject tell us quite clearly something has happened.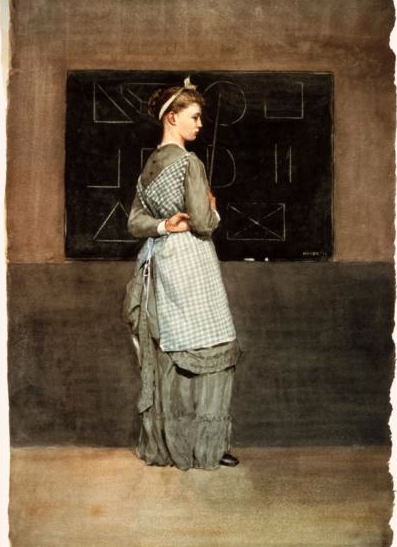 Blackboard Winslow Homer 1877
The simple narrative in this gorgeous watercolor by Homer couldn't be clearer to any of us who ever attended school. The figures on the blackboard tell us this is a geometry lesson from a very young teacher, or perhaps a student who has been asked to explain something. We can imagine some small, rustic schoolhouse and a roomful of attentive children somewhere just out of frame. A beautiful and simple narrative portrait.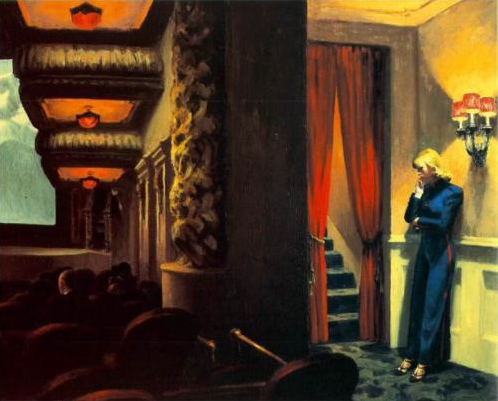 New York Movie Hopper 1939
This might be my favorite narrative portrait. We see a young female usher in an alcove inside a movie theater, lit by a wall sconce. The black and white picture flickers on the screen at the far left. The narrative comes from more than just the setting we see. Her posture seems to indicate something. Is she thinking? Tired? She stands alone while others are enjoying the movie together. The specificity of the location combined with the ambiguity of her circumstances makes for a wonderful narrative portrait.
What is your favorite narrative portrait? Tell us about it! You might also enjoy learning how to capture a likeness in a portrait.