If you are looking for a quick and easy baby quilt idea, why not try an appliquéd name quilt? Parents typically put so much time and thought into choosing a baby's name, that a personalized gift with the baby's name is often a good choice!
The fabrics you choose for your quilt or receiving blanket are up to you, but we suggest a combination of quilting cottons, flannel or minky. You can add appliqué to a blank square on any patchwork quilt or make a wholecloth quilt that features the baby's name prominently.

How to appliqué a name quilt
Here's a quick guide to making appliqué letters for your customized blanket. Name quilts are not limited to baby gifts, however. Try an appliquéd name on a quilt as you send a young adult off to college, a tea towel for a hostess gift or a framed fabric gift for the holidays!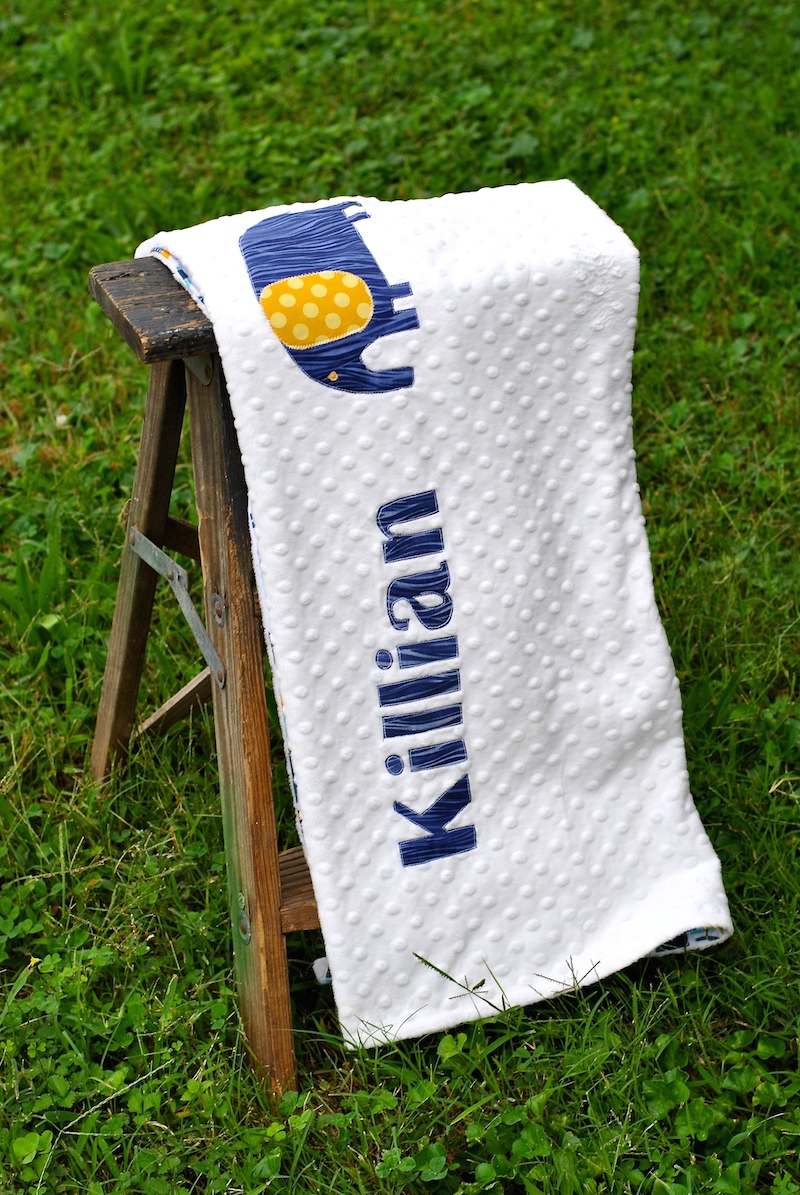 Photo via Craft Buds
Materials:
Fabric scraps for appliqué letters
Computer and printer
1 yard of fabric for front
1 yard of fabric for back
1 yard of batting (optional)
Iron-on fusible adhesive such as Wonder-Under® or HeatnBond® Ultrahold
Iron and pressing cloth
Coordinating thread
Finished size: 35" x 39" or smaller receiving blanket
Directions:
1. Use a computer and printer to type out the letters for your name. You'll want to choose a font that is bold and consider how hard it will be to cut out the letters. Enlarge the font size (I used font size 172) and print.
Tip: If you can, reverse the letters to create a mirror image before you print. If you cannot reverse the letters (there's no easy way to do this in newer versions of Microsoft Word, for example), no problem! You'll just want to trace the reverse of your letters on the back of your paper, as pictured below.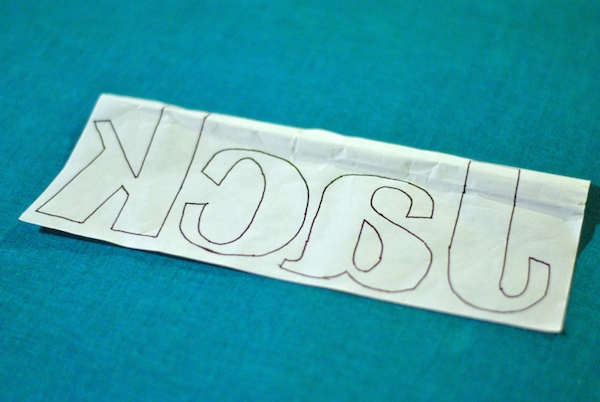 2. Trace the name onto the paper side of a piece of paper-backed fusible. The spacing of your letters does not matter at this point. You can even use scraps of fabric and fusible adhesive to get the most mileage out of your materials! Cut away the excess paper from your letters, leaving a rectangle. The letters should appear in reverse.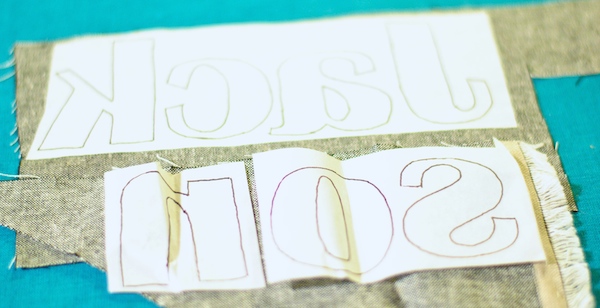 3. With the paper side up, use an iron and follow the manufacturer's directions to adhere the name to the wrong side of your fabric scraps.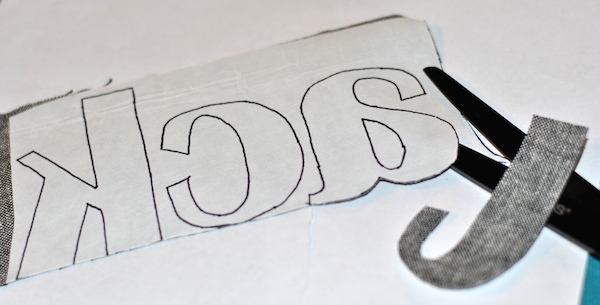 4. Carefully cut around the letters with a pair of scissors.
5. Peel off the paper backing from each of your letters.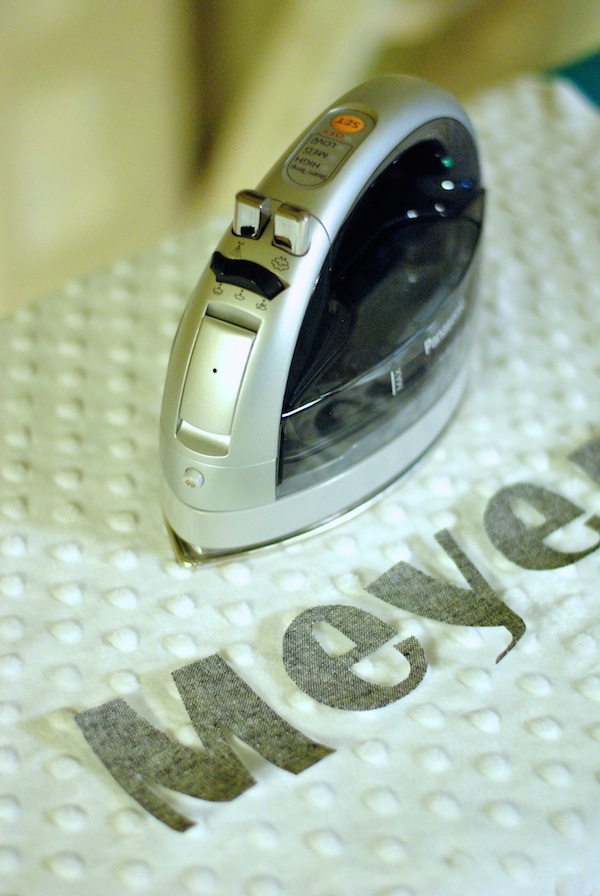 6. Place the letters on the fabric you chose for the front of your appliquéd name quilt (such as the minky fabric pictured above). Once you are happy with the placement, use an iron to fuse the letters to the fabric.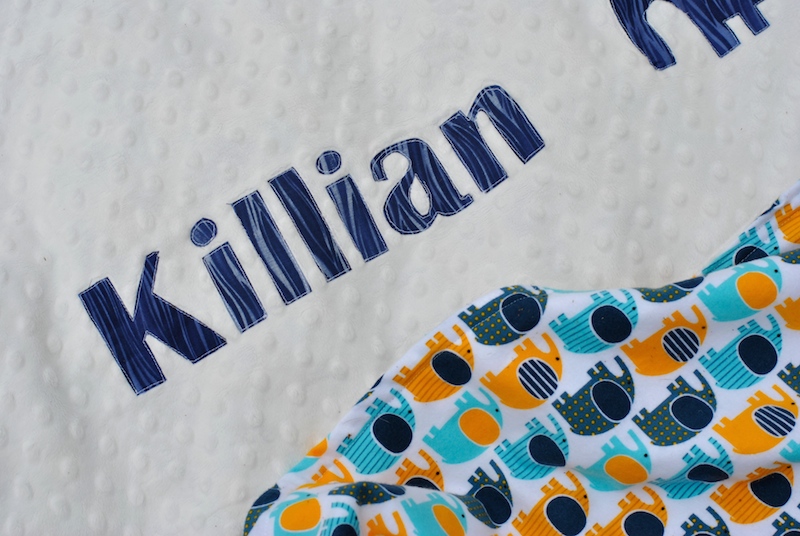 Photo via Craft Buds
7. After fusing the letters, stitch around each letter with a straight or zigzag stitch, whichever your prefer. Square up the front and back fabrics for your blanket.
Finish a simple receiving blanket: Stitch together the front and back fabrics, with right sides facing, 1/2" from the perimeter. Leave a 6″ hole in one side for turning. turn the blanket right side out and topstitch the blanket 1/2" from the edge.
Finish a simple quilt: If you wish to add batting to your quilt sandwich, quilt the project as normal and finish the edge with binding.
There are so many different versions of the appliquéd name quilt that we've included some samples below for inspiration!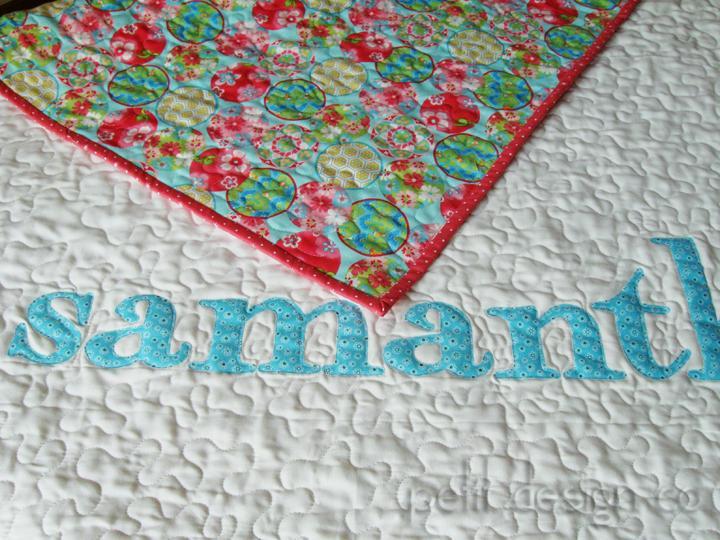 Photo via Craftsy member PetitDesignCo
This wholecloth quilt features cotton fabric on the front and back, with large, lowercase letters appliquéd to the front. A simple meandering, free-motion stitch adds texture to the baby quilt, and a pop of red on the binding finishes it off.
Read more about the Baby Name Quilt here.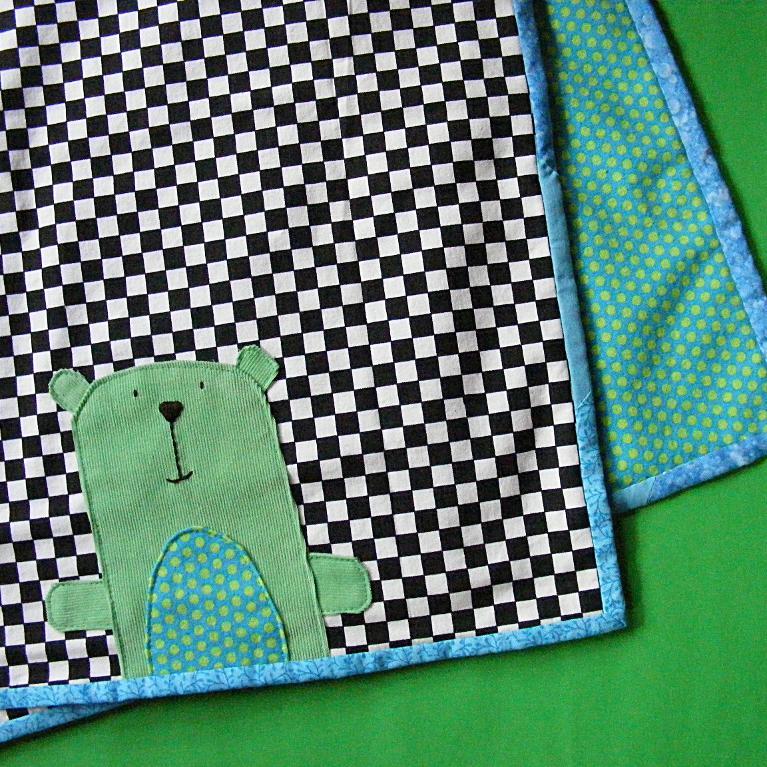 Photo via Craftsy member Shiny Happy World
Add an appliqué name to this blanket and you'll have a "beary" sweet little name quilt for a baby boy or girl! The combination of quilting cotton on the background and jersey fabric for the animal appliqué shows how fun it can be to play with texture. Considering cutting up a T-shirt and using that to add bubble letters for a customized appliqué name blanket.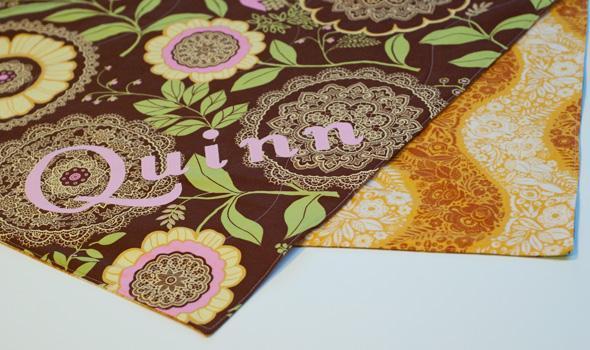 Photo via Craftsy Instructor Amy Alan
Sew a vintage-inspired receiving blanket with quilting cotton on the front and soft flannel on the back. Amy used fusible appliqué to apply the letters for the name Quinn and secured them with a zigzag stitch before lightly quilting the entire blanket with straight lines.
Photo via Craftsy member Frankie Ann
Have fun and embellish your appliqué letters when you choose a theme! The butterfly pictured on top of the "A" is a fun addition to the name appliqué. A blanket stitch in a contrasting thread gives the patchwork name quilt a happy, homemade touch.

Boost your appliqué aptitude with quick die-cutting, skillful decorative stitching and innovative stitch-stacking techniques in Craftsy's Amazing Appliqué class.
Sign me up!
 What's your favorite theme for an appliquéd name quilt?