With the recent reemergence of fads from the 1980's and growing popularity of the decade's trends, younger generations have been introduced to classic retro cartoons, including one of my personal favorites: My Little Pony! Since a new era of animated pony fans has emerged, the demand for My Little Pony cake decorations has increased tremendously.
With a sprinkle of friendship and magic, trot through these dashing My Little Pony cakes, cupcakes and treats!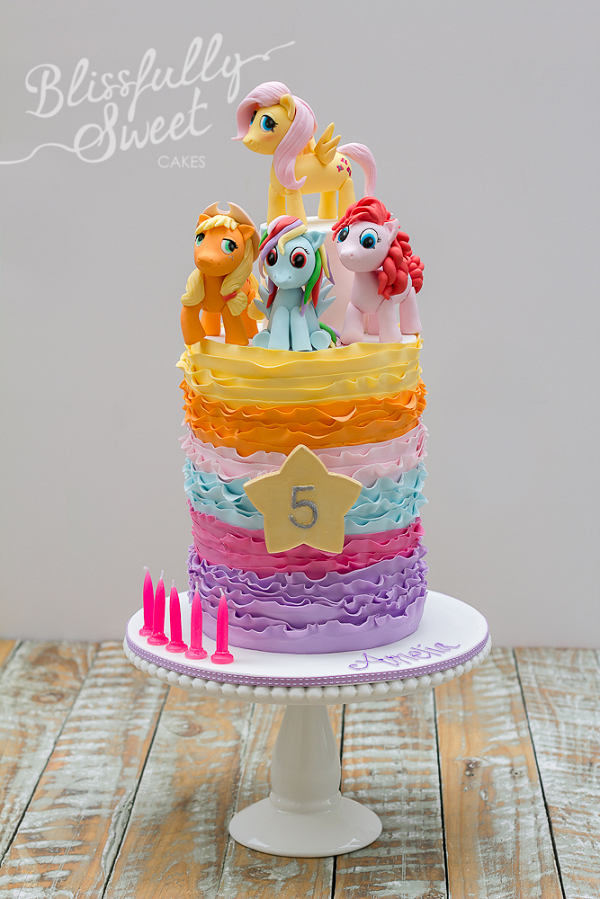 Photo via Blissfully Sweet
My Little Pony ruffle cake
This absolutely precious My Little Pony ruffle cake created by the amazing Blissfully Sweet was designed entirely by the recipient to celebrate her fifth birthday! The tall cake is covered in an array of ruffled fondant colors and dons a star with the birthday girl's age on the front. The meticulously modeled fondant ponies top the beautiful cake, adding magic to the presentation.
To apply the ruffled technique to your own creations, make sure to check out the Bluprint course Fondant Frills with Maggie Austin and re-create a similar look to your cakes and confections.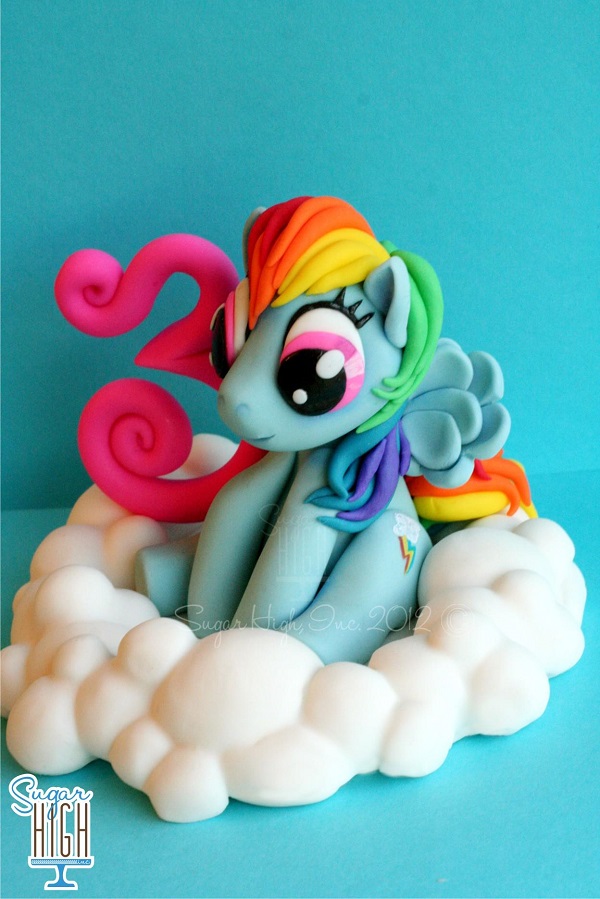 Photo via Sugar High, Inc.
My Little Pony fondant topper
This breathtaking My Little Pony fondant topper by Sugar High, Inc. was made to top a cake for a sweet rainbow-themed party. The pony was carefully modeled to resemble one of the animated characters and sits upon a fluffy cloud, easily produced by rolling a variety of fondant balls and covering them with a layer of white fondant. The pony's signature symbol was hand-painted on its side, and the topper was personalized with the birthday girl's age.
If you are new to figure modeling or require extra practice, take the course Cake Topper Techniques: Fondant Animals with Sharon Wee to feel comfortable branching out to different creatures and characters.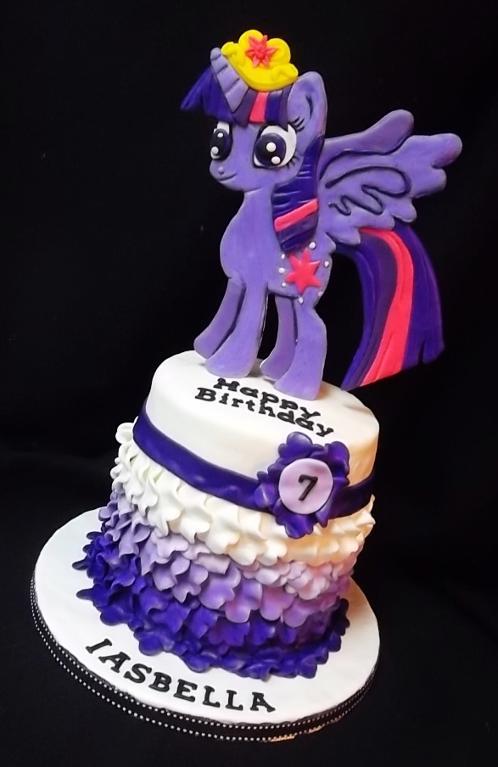 Photo via Bluprint member hiheather
My Little Pony petal cake
In the Bluprint course Advanced Fondant Techniques with Marina Sousa, Bluprint member and cake artist hiheather created this delightful My Little Pony petal cake for a seven-year old's themed birthday. The cake was iced with buttercream, then covered in fondant. Additionally, purple ombre petals were added to the perimeter of the confection. The My Little Pony character was cut out of fondant, decorated and placed over the top of the sweet and feminine cake.
To learn more about adding dimension and patterns, such as the ruffles above, be sure to check out Marina Sousa's Designer Fondant Textures to apply to your own creations.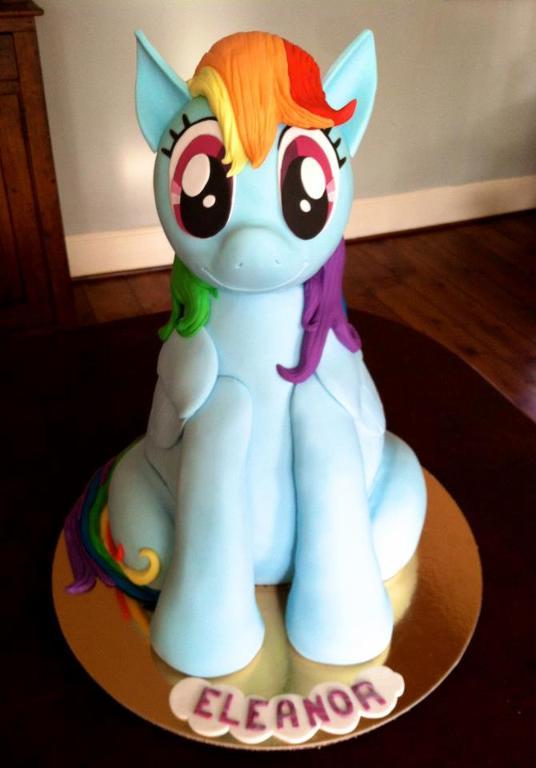 Photo via Bluprint member Shweetums
My Little Pony 3-D cake
At over two feet tall, Bluprint member and cake artist Shweetums constructed this incredible My Little Pony 3-D cake for a very lucky little girl after taking the course Cake-osaurus Rex with Catherine Ruehle. After learning how to build, carve and sculpt a structure, the pony's body was created, and its surface was covered with fondant. The features and embellishments made of fondant and gum paste finished the beautiful piece.
For additional instruction on creating three-dimensional sculptures, check out the course Sculpted Dog Cake with Elisa Strauss and once you're ready to take on a challenge, Mike McCarey's Advanced Cake Sculpting: Bobbleheads class is a must!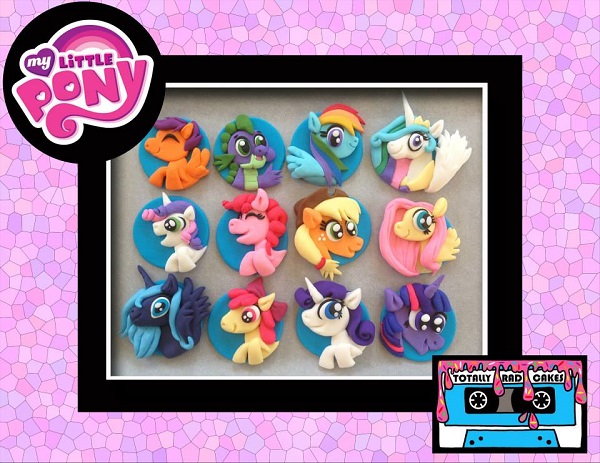 Photo via Totally Rad Cakes
My Little Pony fondant cupcake toppers
A great way to incorporate more of the My Little Pony characters into your treats is to create fondant cupcake toppers, such as this captivating collection by Totally Rad Cakes. Each topper depicts one of the animated characters, including different facial features and actions to depict their distinct characteristics. Though not full figures, the toppers include more than enough dimension and texture to come to life atop a cupcake!
If you're looking to practice working with smaller fondant shapes, you can learn special techniques and tools you need to make miniature treats in the Bluprint course Tiny Cupcake Toppers with Sheryl Bito.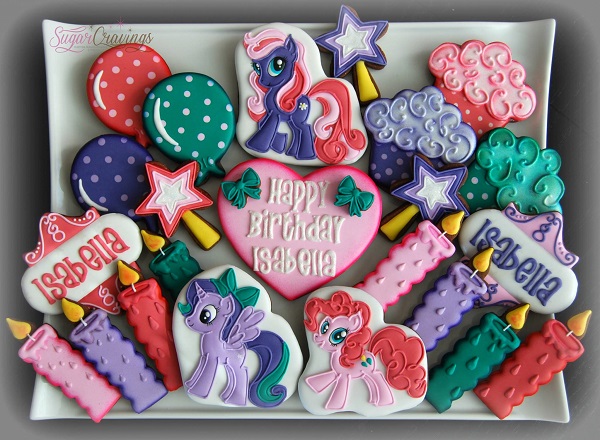 Photo via Sugar Cravings
My Little Pony cookies
To celebrate Isabella's birthday, Sugar Cravings created this superb set of My Little Pony cookies, using royal icing to pipe on the marvelous designs. The collection features a few of the animated characters and demonstrates the benefit of adding supplementary motifs, such as the candles, balloons and cupcakes, which can cut down your work time without sacrificing a captivating presentation.
Learn more about creating tempting cookies in the Bluprint course Decorating Essentials: Designer Cookies with Autumn Carpenter.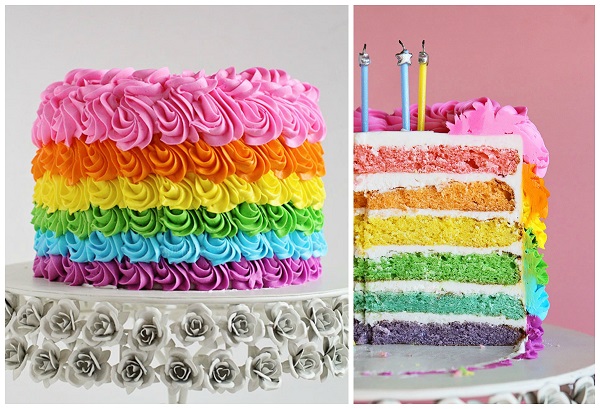 Photo via Bluprint instructor Amanda Rettke
Rainbow rosette cake
Bluprint instructor Amanda Rettke and creator of the blog i am baker created this breathtaking Rainbow rosette cake for her daughter's fifth birthday — it would work perfectly for a My Little Pony celebration! Each of the cake's six layers were dyed a different color of the rainbow, as the batter was separated and colored in rainbow bright hues. Once cooled, the same colors baked on the inside were mirrored on the outside with the use of beautiful piped buttercream rosettes, creating a stunning display!
Get additional instruction from Amanda on baking creative and fun shapes and patterns within the cake to surprise your guests in her Bluprint course Decorating From the Inside Out!
What was your favorite childhood animated show or film?