Warm up to the changing of the seasons with this comforting recipe for mushroom chowder, made all the more delicious with hints of smokey bacon and the last of sweet summer corn.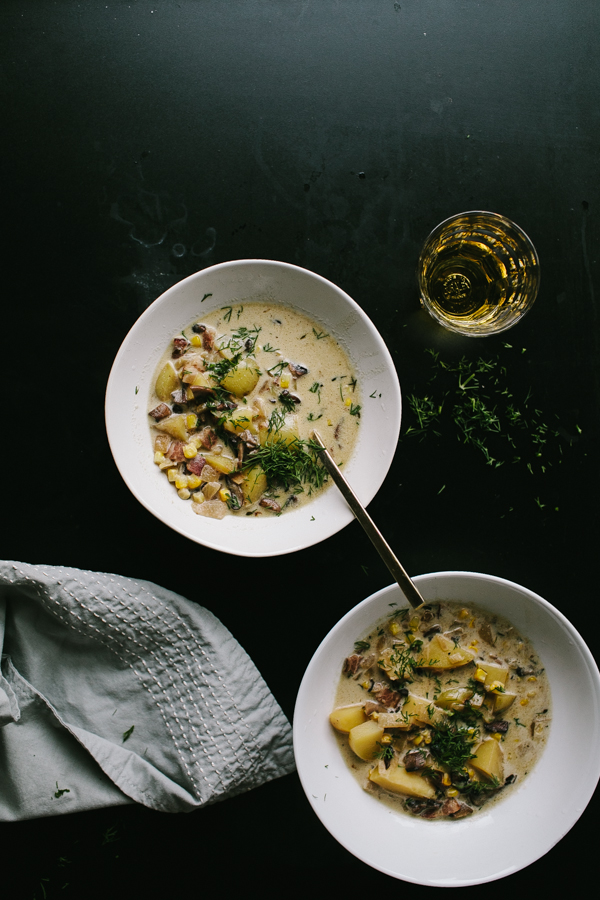 Was today one of those days where you woke up to gray? It was for me. Dim lit skies with a soft trickle of rain hitting the sunflowers in the garden — too heavy to hold their heads upright. It's the passing of one season to the next. Where traces of summer linger in the last plums, sweet corn and a few tomatoes still hoping for one last burst of heat. And fall swoops in with apples (first gravenstein then honeycrisp), dark leafy greens, zucchini then squash.
I love these brief moments where one seasons passes the torch to the other and in the crossover there is a place for a recipe that is both summer and fall. Fresh yet comforting. A little light and while being a bit hearty and altogether satisfying. Chanterelle chowder is that very sort of recipe.
It is smoky, creamy and robust with a sweetness of fresh corn and a brightness from a showering of dill tossed in at the end.
I'm not quite ready for the heft of a typical chowder made thick with roux so mine is more broth-focused than creamy but you can change that if you'd like. Also, I've brought my love of beer to the bowl by deglazing with a lightly colored wheat. The second round of this soup I made the mistake of deglazing with a pungent and hoppy IPA which made the soup bitter. So go with something light, like a session or lager, or use white wine instead.
If you can't find chanterelles, cremini mushrooms work nicely too.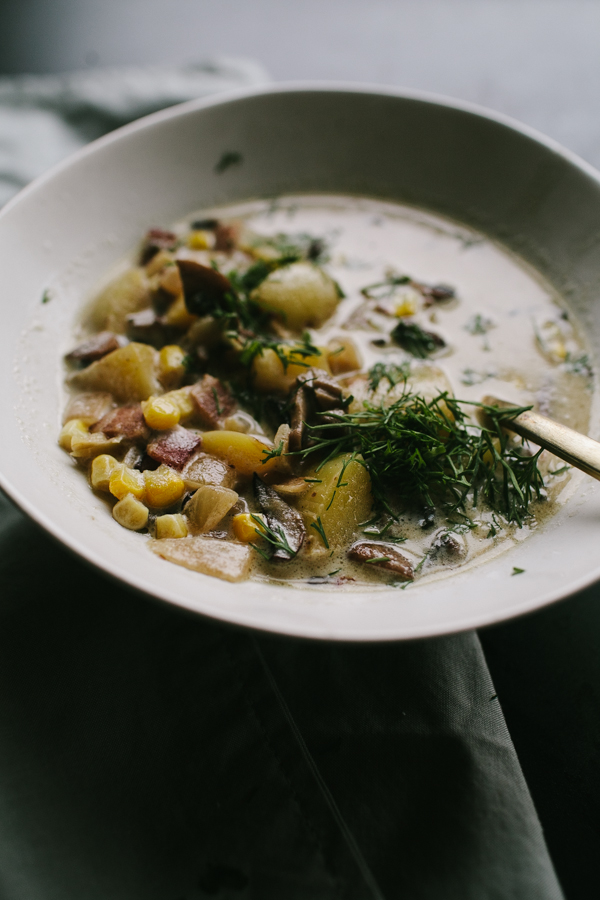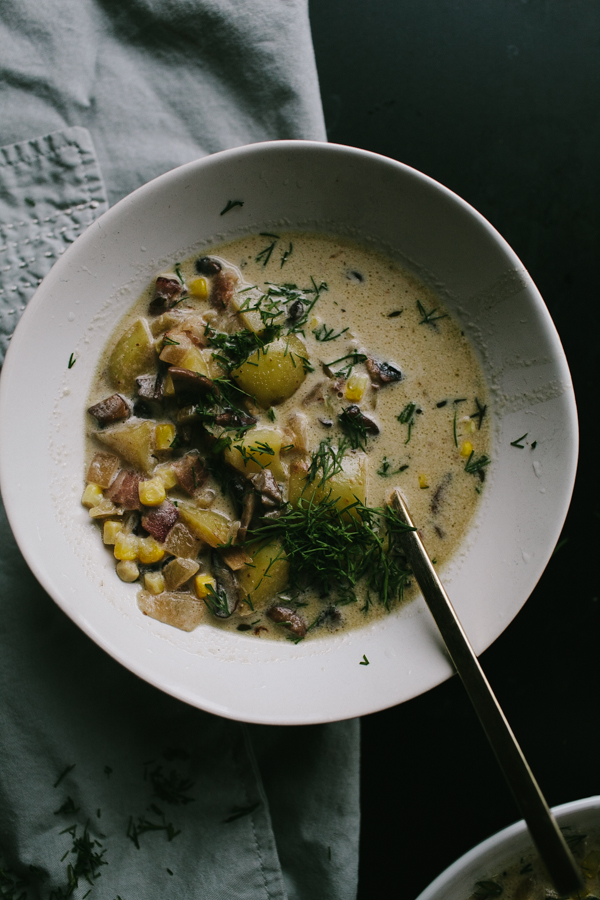 Chanterelle chowder —
Serves 4
Ingredients
4 strips bacon, thinly sliced
1 onion, diced
1/2 bulb fennel, diced
3 garlic cloves, sliced
1 1/2 teaspoons fresh thyme leaves
2 – 2 1/2 cups (6 ounces) roughly chopped chanterelles
1/2 cup (4 ounces) wheat beer or white wine
2 1/2 cups (1 pound 4 ounces) chicken or vegetable stock
1 1/2 cups (6 ounces) cubed (1" inch) yellow potatoes (2 small/medium)
1 cup corn kernels (6 ounces) (fresh or frozen)
3/4 cup (6 ounces) cream
2 tablespoons chopped fresh dill
Salt and pepper
1 tablespoon fresh lemon juice (optional)
Directions
1. Cook the bacon in a large dutch oven or saucepan over medium heat until the fat renders and it just starts to crisp, 5-7 minutes.
2. Add the onion, fennel and garlic with a pinch of salt then saute for an additional 7 minutes until the onions are translucent.
3. Turn the heat to medium-high then add the thyme and chanterelles. Sauté until deeply caramelized, 3-5 minutes. Deglaze with the beer (or wine), scraping up the browned bits off the bottom of the pan.
4. Add the stock and potatoes, bring to a simmer then cook until the potatoes are just tender, about 15 minutes.
5. Add the corn and heavy cream then simmer just until the corn is cooked through.
6. Stir in the fresh dill, 1/2 teaspoon kosher salt and pepper. Finish with lemon juice then taste and adjust seasoning to your liking.
Note: For a thicker chowder, stir in 2 1/2 teaspoons flour before you add the beer or wine. Cook the flour for 1 minute, so the finished soup doesn't have a raw flour taste. Slowly whisk in the beer or wine then proceed as written.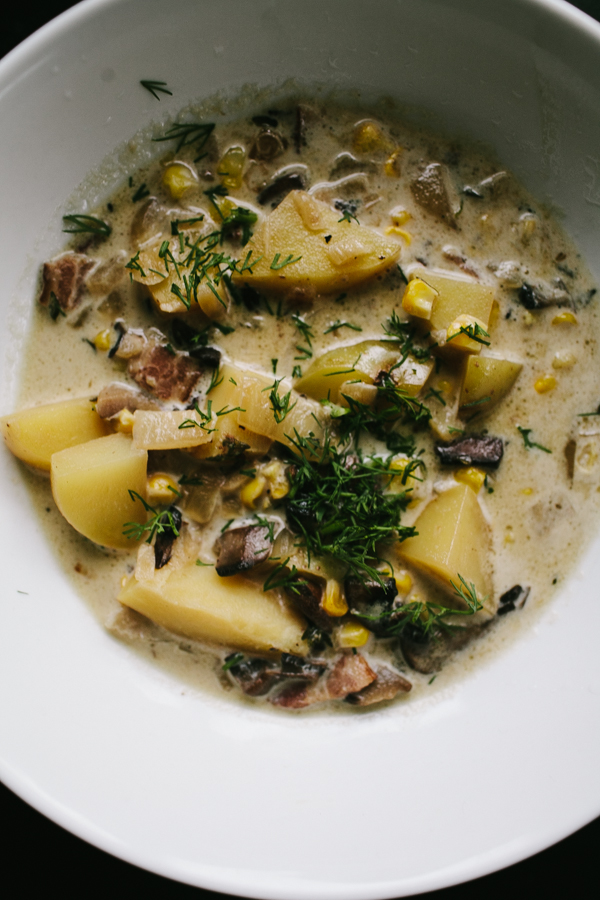 This recipe uses a base of chicken or vegetable stock. Of course you could buy it at the store, but homemade stock has a much better flavor and freezes beautifully. Learn how to make homemade stock in this class, plus many other vital cooking techniques in this online class 20 Essential Cooking Techniques from Craftsy!
What's your favorite fall soup?