Photo via TomKat Studio
"Up" Inspired Cake: This cake is just as bright, buoyant, and beautiful as the Disney film! The true centerpiece on this fondant-covered cake is the artfully arranged discs which, when assembled, create a rainbow cluster of balloons like those in the film which lift and entire house into the sky.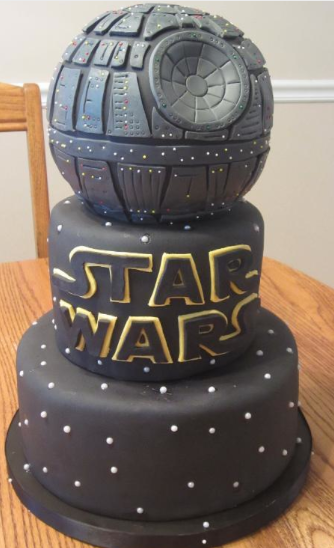 Photo via Bluprint member Janci76
Star Wars Cake: More superstar than death star, this cake is artfully covered with fondant and decorated with pearl sugar "stars" and detailing on the ship. But take time in planning your schedule, advises the cake designer–piecing fondant like this takes some serious time!

Photo via When Geeks Wed
Back to the Future Cake: Though self-described as "geeky", this cakes is nonetheless quite gorgeous! Designed by Black Cherry Cake Company, this three-tiered beauty is appointed with vibrant blazing letters and hand-made characters made to resemble the film's characters. It even has a mini-sugar Delorean car.
When it comes to Wizard of Oz Cakes, one is simply not enough!

Photo via Fodrizzle
This cake celebrates all of the magic that is Oz with a series of layers with patterns and colors inspired by the film, including a bottom layer inspired by Dorothy's dress; a cascading yellow brick (cake!) road leads to the piece de resistance, a perfectly shaped Emerald city topper.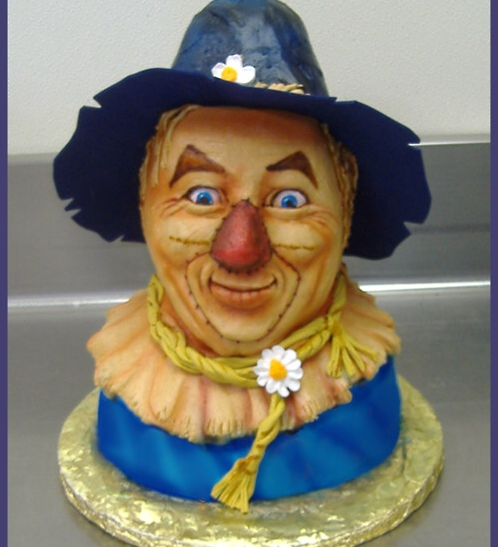 Photo via Between the Pages Blog
For a truly inspiring Oz-themed cake, look no further than this realistic bust of the Scarecrow, designed by Arshawsky's Cake Ops. This scarecrow may not have a brain, but he's got plenty of good looks to make up for it, expertly rendered in what the designer calls a "life size buttercream portrait"!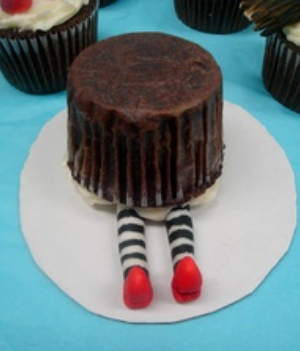 Photo via Foodiggity Blog
Of course, if a realistic portrait like that is out of your range, consider staying simple with these "Ding Dong, the Witch is dead!" cupcakes. Simply craft black and white stockinged legs with ruby slippers for feet, and then crush a cupcake frosting side down on top–people will get the idea and applaud your creativity.

Photo via Serendipity Creative
Breakfast at Tiffany's Cake: Served at a Breakfast at Tiffany's theme party, this cake may not portray the stars and story line literally, but possesses all of the sparkle and sweetness that make the classic film memorable. Created using square tiers of cake coated with Tiffany blue tinted fondant and white piping and ribbon detailing, it is perfect for a pinkies-out affair.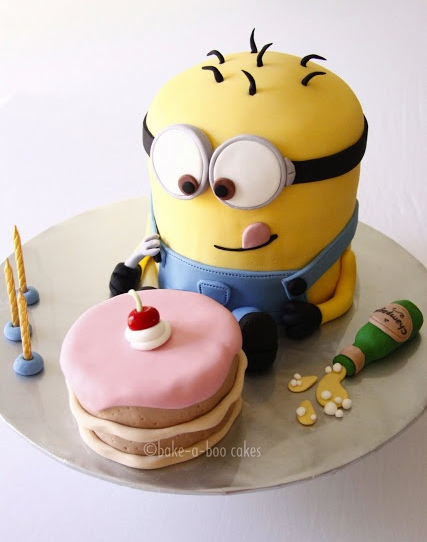 Photo via Bake-a-boo
Despicable Me Cake: The movie may be called Despicable Me, but this cake is downright cuddly! The simple shapes of the animated character's construction are appealing when assembled in tinted rolled fondant atop cake–and adding to the cuteness, there's a mini cake as part of the presentation, too.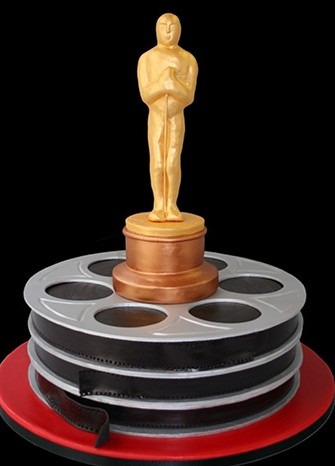 Photo via Mark Joseph Celebration Cakes
Oscar Cake: If you can't choose just one movie to feature in cake form, go gold! Everyone's a winner with a top-notch cake like this one, expertly decorated to look like an Oscar. With its lustrous metallic gold and silver detailing, it's not only a dessert but worthy of centerpiece status as well.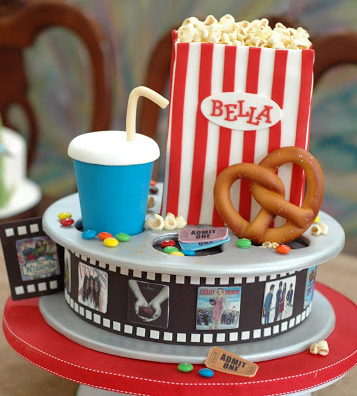 Photo via Pastrychik
Movie-Themed Cake: Of course, if you prefer a less casual approach to the movies, a movie theatre themed cake is a fantastic choice. This cake, which has a photo "reel" around the perimeter of the cake, is topped with candy and fondant treats including a pretzel, soda, and popcorn–all the treats that make a trip to the movies so fun!
For sweetness that's practically cinematic, movie-themed cakes are a sure-fire blockbuster! The only downside? They'll surely be eaten before the credits roll! If you're a pop culture feign you'll also enjoy 1990's cakes and 1980's cakes.