With Mother's Day just around the corner, now is the time to begin thinking about the perfect gift to make for your mom or any of the women in your life. Nothing says "I Love You" like handmade. And, if you create a gift you're able to customize every last detail to the person you care about — imagine what an impression that will make on them! Get inspired with a variety of ideas for bringing that perfect present to life.
Explore more than 10 unique Mother's Day quilts, from mini quilts to handbags to bed-sized beauties, that the women in your life will love!
Mother's Day pillows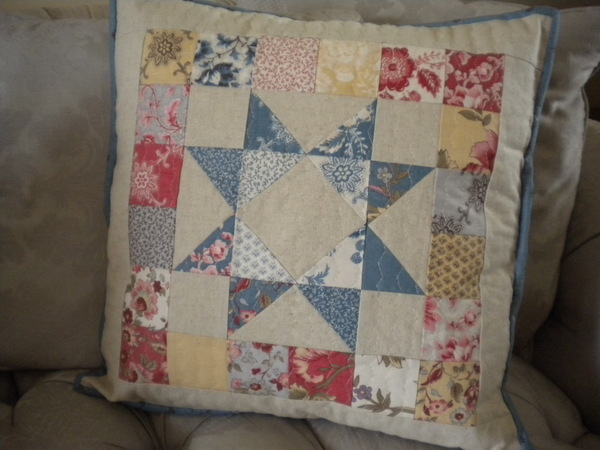 Scrappy Patchwork Pillow via Bluprint member SherriQuilts
How about a fast, easy patchwork pillow for mom? This 16″ x 16″ pillow is the perfect size for using as decor on a bed or a sofa. Make the pillow using scraps from your stash or use some of mom's favorite colors to customize it just for her. This pattern comes with full color illustrations and gives directions for making an envelope style pillow closure for the back. Bind your pillow with prepared binding or make the pillow without binding.
Get the Scrappy Patchwork Pillow.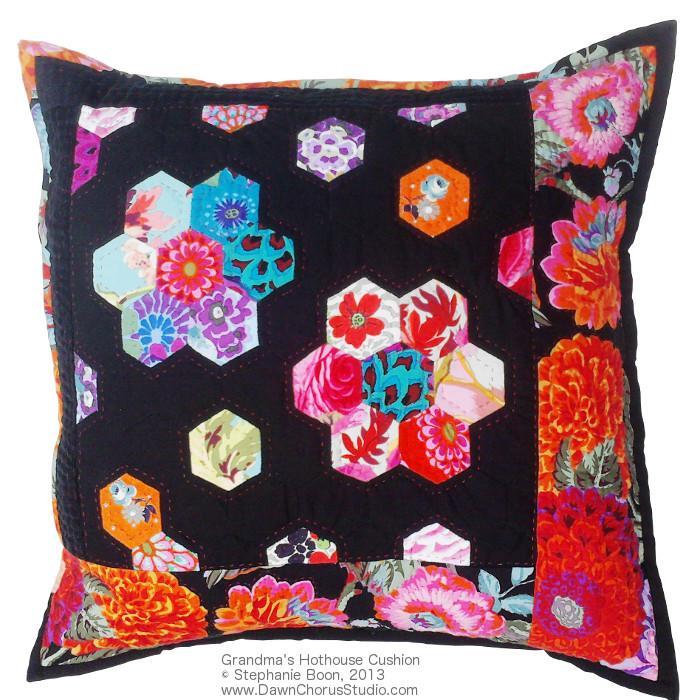 Grandma's Hothouse Cushion via Bluprint member Dawn Chorus Studio
Always wanted to give English paper piecing a try? This beautiful pillow is a great first project for trying out new techniques. The mom in your life will love the hexies in her favorite colors, and the pattern includes all templates in actual size along with diagrams and full instructions. The pillow measures 18″ x 18″ for a beautiful sofa cushion or accent piece.
Get the FREE Grandma's Hothouse Cushion.
Mother's Day mug rugs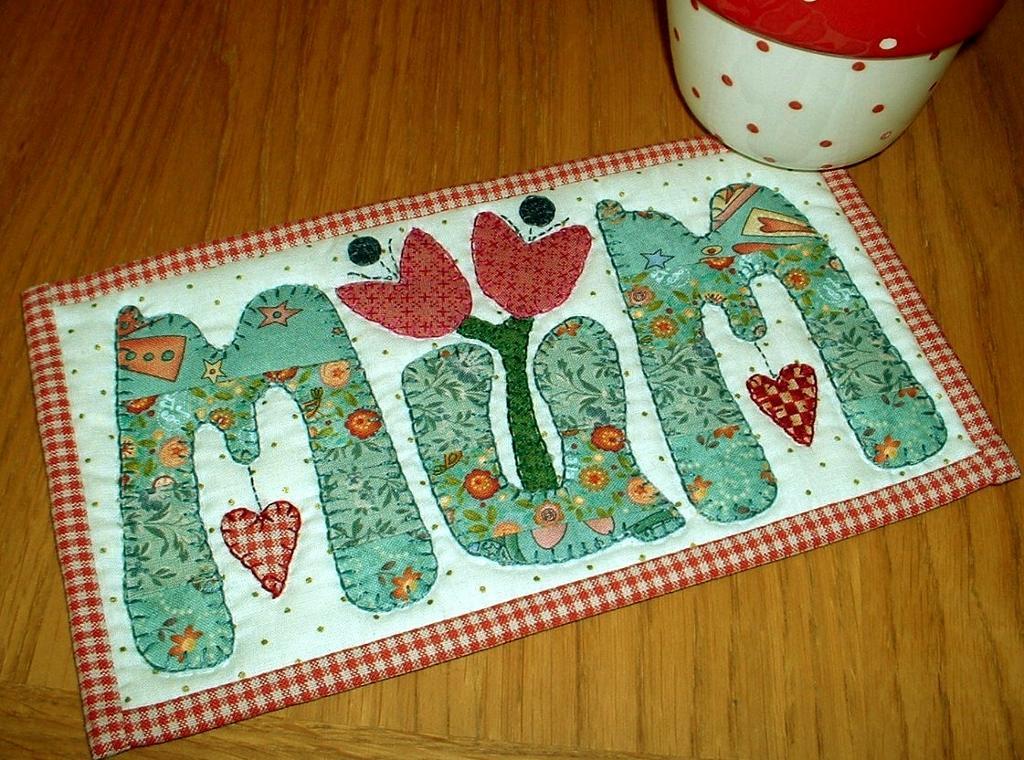 Mum/Mom Mug Rug Pattern via Bluprint member The Patchsmith
How about a personalized "Mom" or "Mum" mug rug? This 5″ x 9″ finished mug rug features a unique strip appliqué method, and can be completed in just a short amount of time. The pattern has been updated to include both the "Mom" and "Mum" options.
Get the Mom/Mum Mug Rug pattern.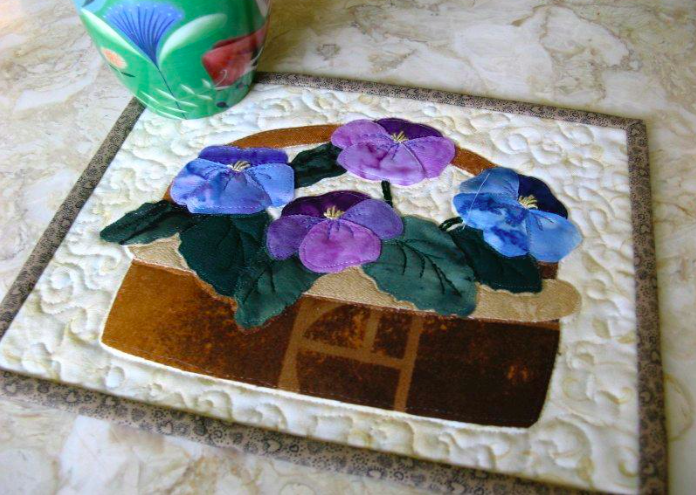 Pansies Basket for Mom Mug Rug by Bluprint member 2strings
Give the beauty of delicate pansies to your favorite lady. This gorgeous mug rug would be a great fit for gracing her desk or coffee table, and provide an ideal resting spot for a drink and a small snack. Better yet, the fusible web appliqué with raw edge stitching makes construction quick and simple.
Get the Pansies Basket for Mom Mug Rug.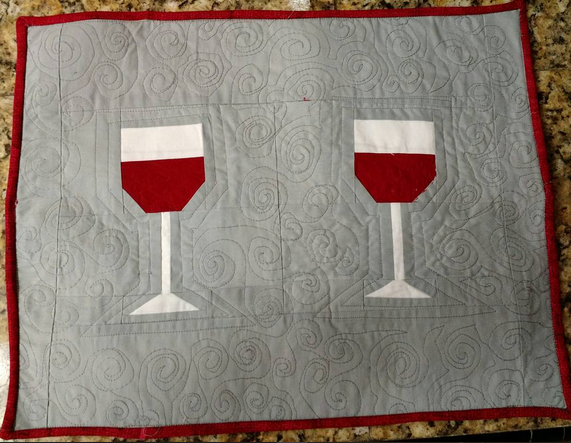 Wine Lover Mug Rug – Wine Mini Quilt by Bluprint member Sher's Creative Space
If the mom you know is anything like us, this is her version of a happy Mother's Day! A take on a traditional mug rug (but much more fun), this little quilt makes a perfect coaster for that wine glass. 
Get this "wine glass rug" pattern.
Mother's Day table runners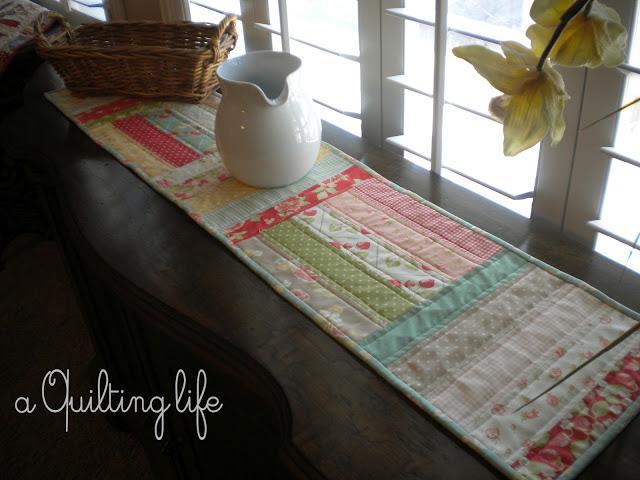 Simple Table Runner via SherriQuilts
Mom will love a beautiful spring table runner, and this Simple Table Runner pattern comes with the option for two different sizes. Use extra Jelly Roll strips or fabric from your scrap bin to piece this simple yet classic table runner design for Mom.
Get the Simple Table Runner pattern.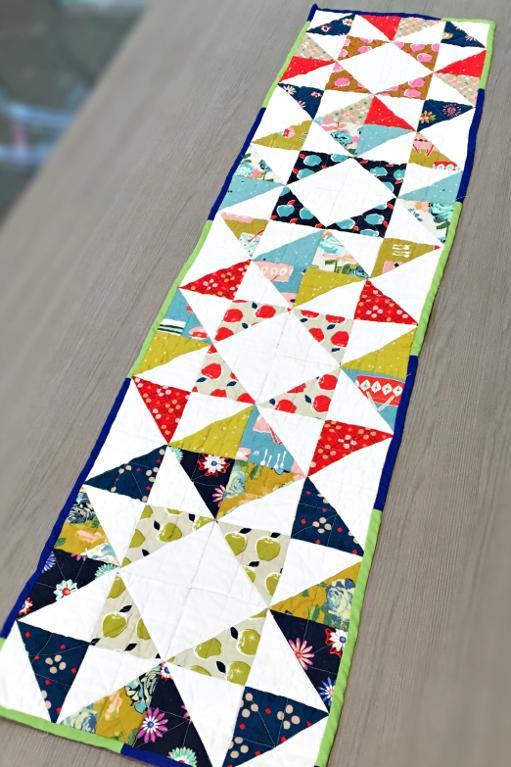 Contemporary Table Runner via Bluprint member thestitchingscientist
Does Mom's table need an update? This modern table runner is sweet and simple and uses two large charm packs. Practice your half square triangles and make something Mom will love at the same time! Finished measurement is 64″ x 16″, perfect for a console table or a table runner for Mother's Day brunch.
Get the FREE Contemporary Table Runner pattern.
Mother's day ironing board cover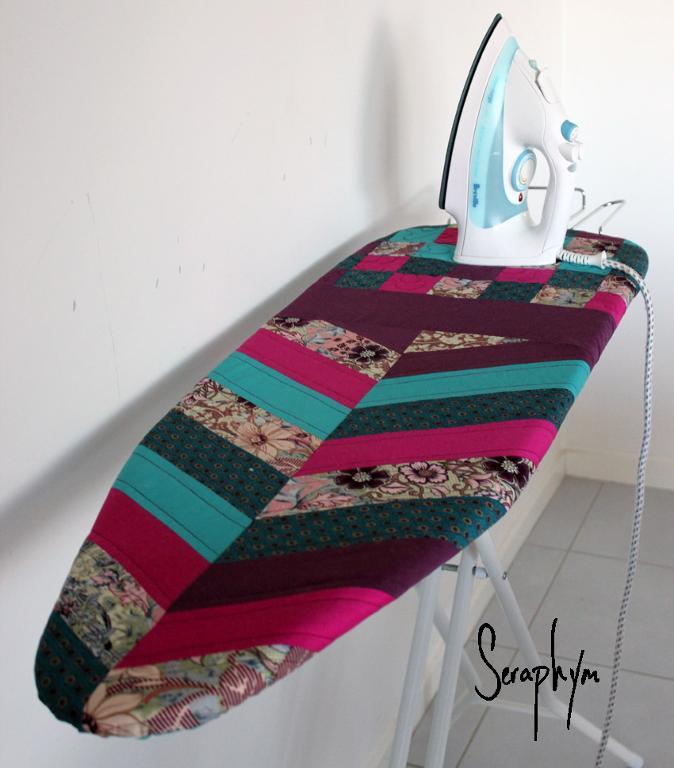 Quilted Ironing Board Cover via Bluprint member SeraphymHM
How fun is this ironing board cover? It uses herringbone and postage stamp quilting techniques, making it a great skill-builder AND an awesome gift. It secures with elastic under the ironing board and can be modified to fit different sized boards, too.
Get the FREE Quilted Ironing Board Cover pattern.
Mother's Day placemats, napkins & kitchen decor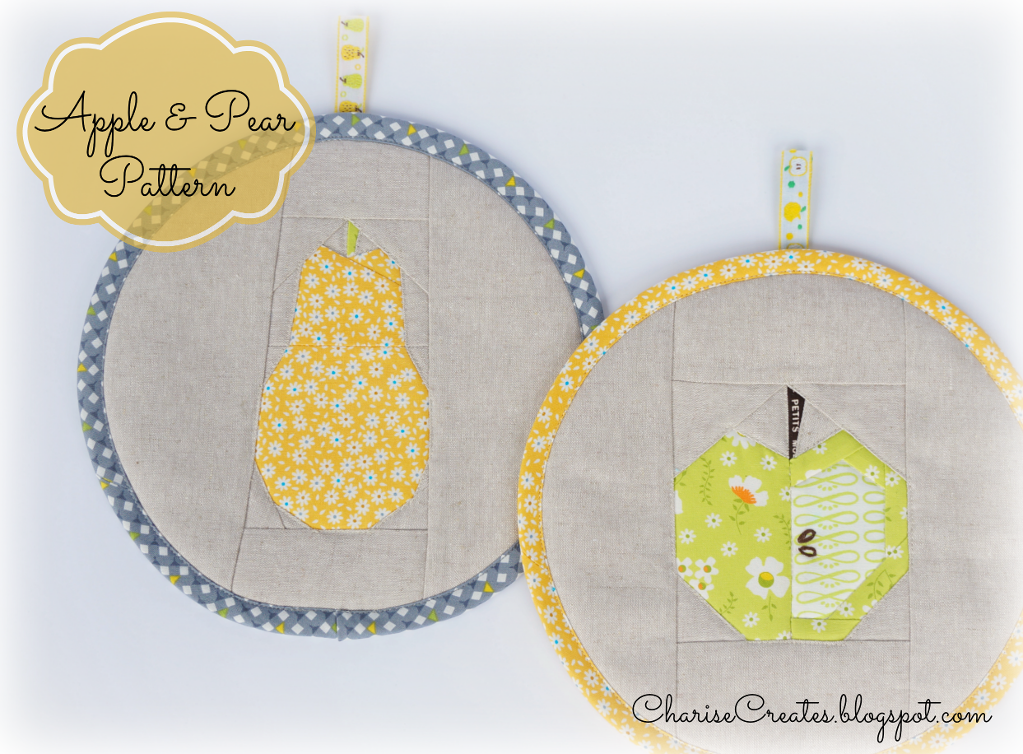 Apple and Pear Paper Piecing Pattern via Bluprint member Charise Creates
These sweet fruit patterns provide templates for foundation paper piecing. Whip them up, then use them in everything from potholders to pouches to wall decorations. How cute would they be hanging in the kitchen in embroidery hoops?
Get the FREE Apple and Pear Paper Piecing Pattern.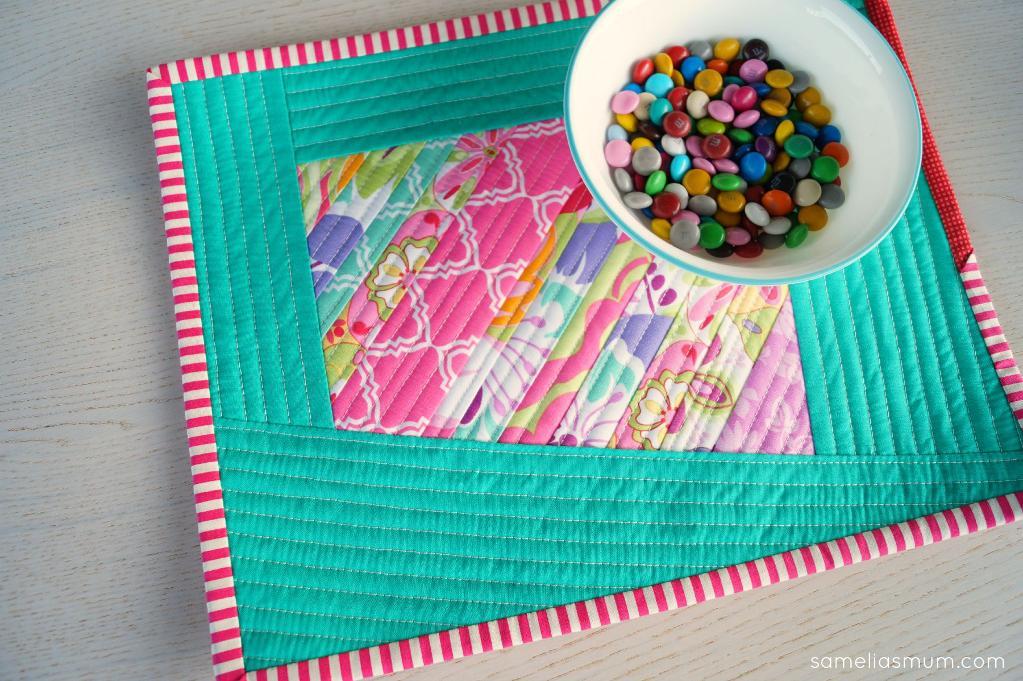 Wonky + Scrappy Quilted Placemat by Bluprint member Samelias Mum
Need to bust your fabric stash? Make Mom happy and use up scraps at the same time with this cute placemat pattern. Measuring 12″ x 15″, it's a generous size for catching errant coffee cake crumbs. Choose bright colors for a fun spring look or use more muted neutrals. For best results, use a walking foot as you take on the straight-line quilting in this project.
Get the FREE Wonky + Scrappy Quilted Placemat pattern.
Mother's Day wall hangings
MOM-ISMs quilt pattern via Bluprint member ratherbee166886
This wall quilt pattern is a terrific way to show off the memories you have with your favorite woman. Have a blast collecting "Mom-ism" quotes from friends and family and piecing them with your favorite photo to create a one of a kind family heirloom.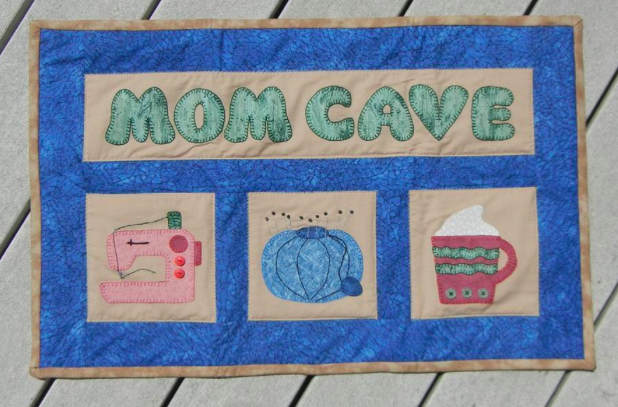 Mom Cave Wall Hanging via Bluprint member SHDesigns
This adorable wall hanging is the perfect touch for your favorite lady's craft room! With finished measurements of 18″ x 28″, this quilt has a rod pocket along the upper edge of the back and is machine quilted. Each appliqué is embellished with embroidery stitches and buttons.
Get the Mom Cave Wall Hanging pattern.
Mother's Day quilted organizers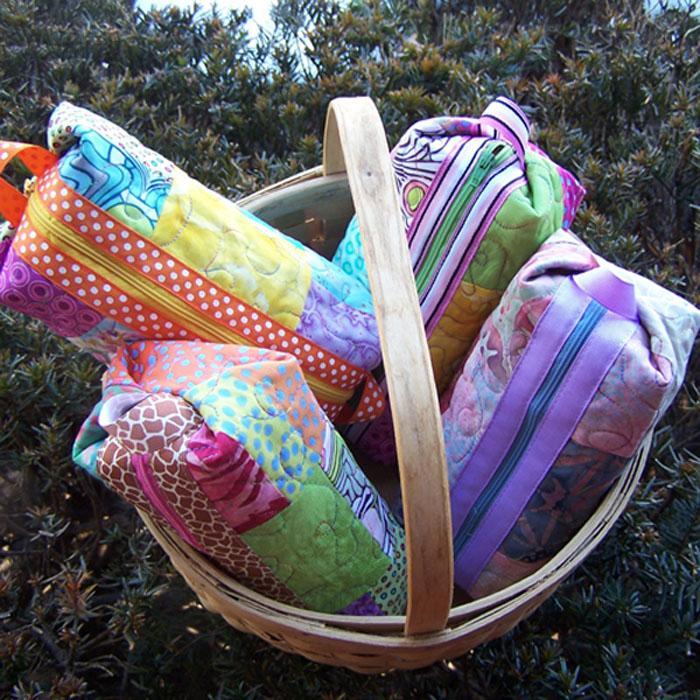 Quilted Cosmetic Case/Ditty Bag Pattern via Bluprint member Sherri Noel
Mom will love this quilted cosmetic case or ditty bag which finishes at 8″ x 3″ x 4″ and is perfect for use as a cosmetic bag, small toiletry case, pencil pouch, sewing kit, baby necessities bag, or even an electronic cord bag. This pattern is designed for a confident beginner and does have a zipper you will need to add.
Get the Quilted Cosmetic Case/Ditty Bag pattern.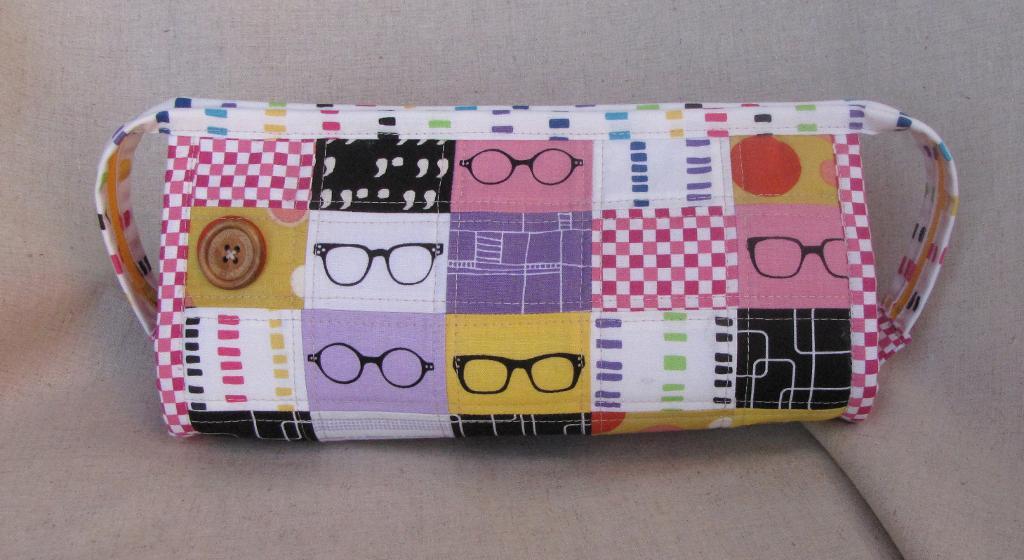 Sew Together Bag via Bluprint member Sew Demented
The Sew Together Bag makes a perfect gift for Mom. This pouch, which finishes at 10″ x 5″ x 5″, features three interior zipper pockets and four other interior pocket sections. It's all held together with a long zipper, which also forms the bag handles. Make this for Mom to store her sewing supplies or cosmetics. The possibilities are endless with this great quilted bag.
Get the Sew Together Bag pattern.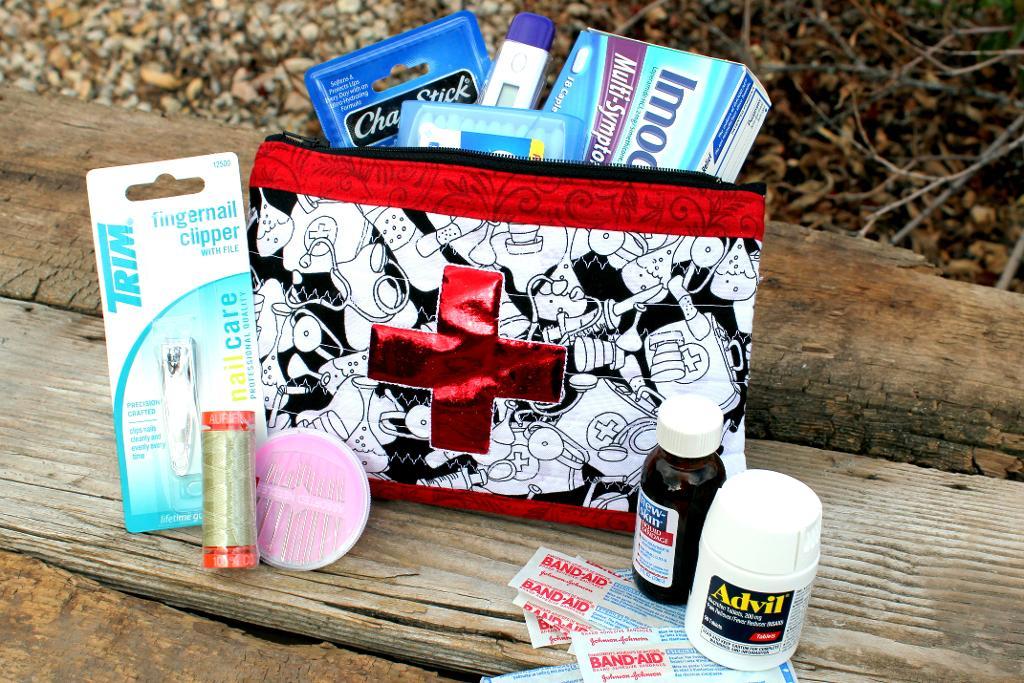 All Zipped Up Little Bag via Bluprint member Just Carol
From boo-boos to belly aches, moms need to be prepared. This first-aid pouch makes "momming" a bit more fun. The 5.5″ x 8.5″ pattern is awesome practice for quilters looking to bone up on bag-making techniques like inserting a zipper and using decorative foil for the red cross. If a first-aid kit isn't your thing, you can always leave off the red plus sign and convert the pattern into a simple clutch instead.
Get the FREE All Zipped Up Little Bag pattern.
Mother's Day quilts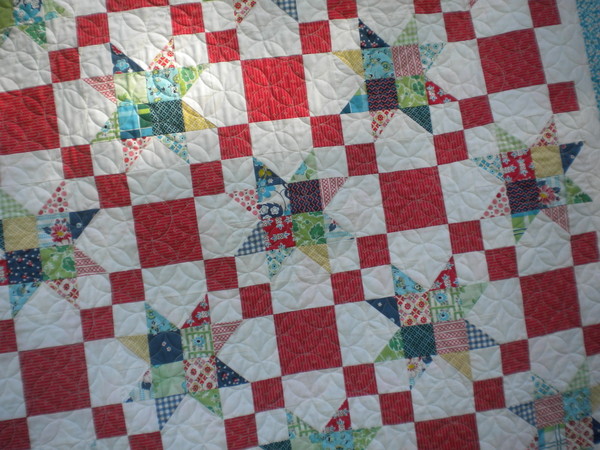 Photo via A Quilting Life
How about a wonderful quilt for Mom for Mother's Day? Finishing at 50″ x 50″ this "Bucket List" scrappy quilt is perfect for a wall hanging or for decorating Mom's kitchen table. Use your scraps for the star blocks, and make the coordinating blocks using Mom's favorite color.
Get the Bucket List Quilt pattern.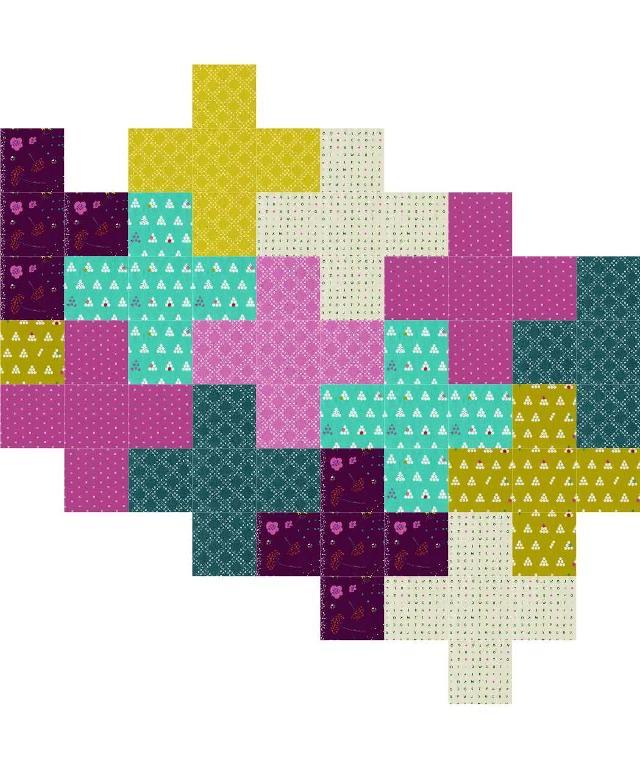 Plus Quilt via Bluprint member Jeli Quilts
A variation on the popular plus quilt, this one uses a diagonal motif. A great project for using up scraps or charm squares, a quilt like this is certain to make you Mom's favorite. Finished quilt measures 40″ x 50″, and the pattern includes fabric requirements and full instructions.
Get the FREE Plus Quilt pattern.
With so many wonderful ideas to choose from, what will you make for your favorite women this year?