The lovable masters of scaring have returned from the original 2001 animated movie Monsters, Inc. in the sequel, Monsters University, which was released on DVD and Blu-Ray on October 29th. Scary monsters are a thing of the past, as these hilarious and charming characters have captured the hearts of kids of all ages. No longer are children afraid of what is hiding under their beds or in their closets, but are contrarily wishing for monsters at their birthdays and celebrations as cakes, cupcakes and more!
You won't believe your EYE when you see this collection of monster-inspired cakes and confections from Monsters, Inc. and Monsters University, sure to make any kid scream!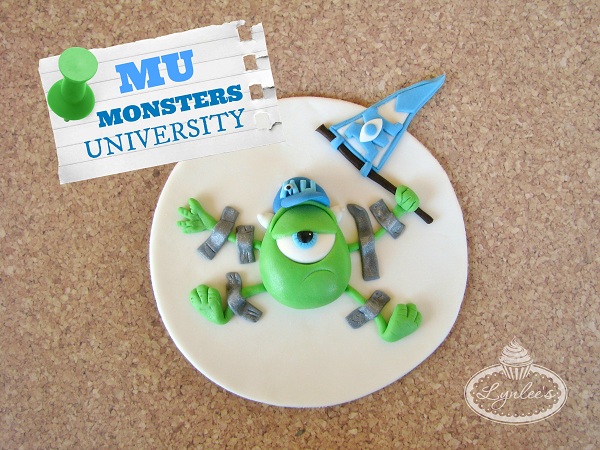 Photo via Lynlee's Petite Cakes
Mike Wazowski fondant cake topper
To celebrate the release of the newest movie in the series, this fondant cake topper was designed to mimic one of the promotional posters. Though not a free-standing figure, the character was modeled by hand and given more dimension with varying heights of fondant. A couple different types of sheen are captured via the use of shortening to make the fondant shiny with a gloss and silver shimmer dust.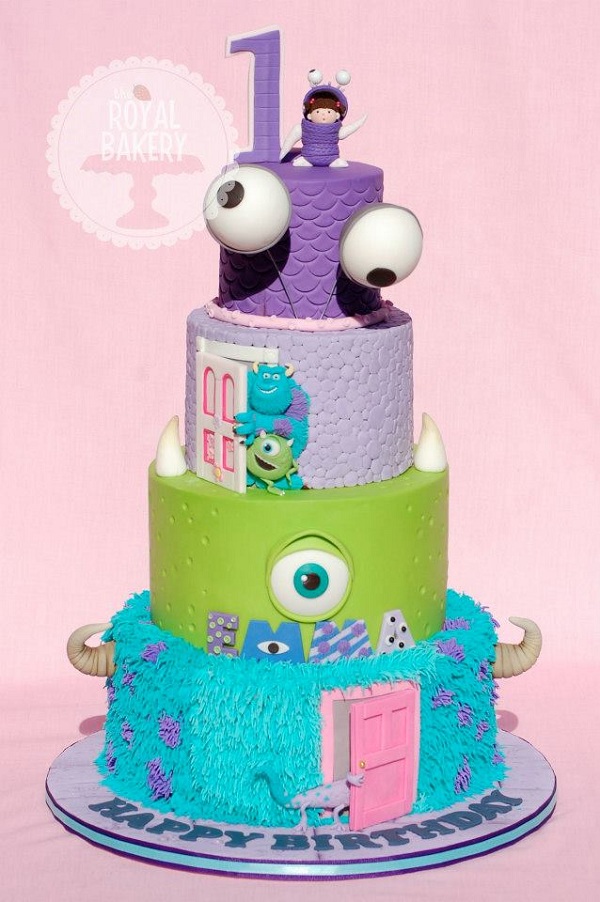 Photo via Royal Bakery
Monsters, Inc. four-tiered cake
Fellow Bluprint blogger, Lesley, of Royal Bakery created this amazingly gorgeous cake based on the original movie, Monsters, Inc. Each tier represents a different character from the film and are differentiated with color, along with a variety of techniques for fur and textures. This is a great way to interpret aspects of a story, the characters and their personalities without being too literal. Personalize the cake to the guest of honor with a fondant number or letter.
Learn how to create a fondant number topper like the one seen here in Lesley's fondant number topper tutorial.
Photo via Hot Mama's Cakes
Monsters cake and cupcakes
Similar to the cake above, this sweet and adorable cake by Hot Mama's Cakes achieves the same effect on a smaller scale. With the contrasting effects of the buttercream icing (smooth vs. fur) and the added horn and eye elements, this is the perfect example of the ability to interpret a theme without the actual figures, as there is no doubt which character each tier represents.
If the guest count is large, instead of making a bigger cake, another option is to accentuate the cake with cupcakes. This provides an opportunity to add to the design, as Hot Mama's Cakes did, including fondant cupcake toppers of the doors from the film.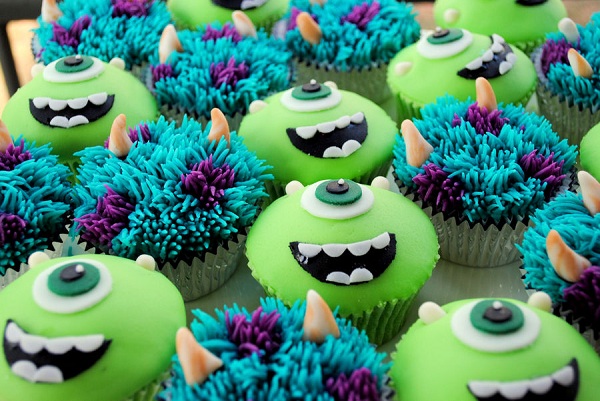 Photo via Amelia's Cake Addiction
Monsters cupcakes
This captivating and colorful assortment of monster cupcakes by Amelia's Cake Addiction provide a similar effect as the two previous cakes, but in individual, handheld portions! Half of the cupcakes are completely wrapped and decorated with fondant to create the character of Mike Wazowski, while the other half is covered with two colors of buttercream icing with the use of decorating tips to represent Mike's counterpart, James P. Sullivan (a.k.a. Sully).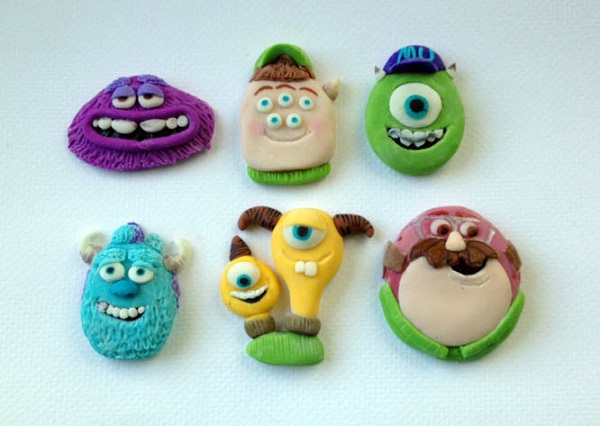 Photo via Cake Freak
Monsters University fondant cupcake toppers
Cake Freak did an marvelous job re-creating various characters from the newest Monsters University film in these incredibly detailed fondant cupcake toppers. Several of the designs were hand-molded with extra dimension and accentuated with fun and lively facial expressions, bringing life to the cast. Achieve different textures with the use of fondant tools and utilize edible markers or pastes to paint additional embellishments or achieve a shading effect.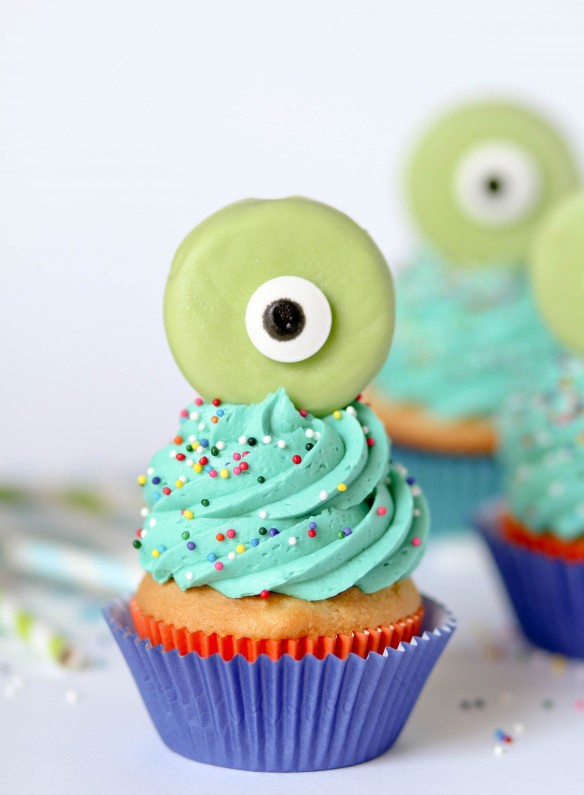 Photo via Confessions of a Cookbook Queen
Simple monster cupcakes
I just love how the simplicity of this monster cupcake by Confessions of a Cookbook Queen can make such a big and beautiful impact! By delicately icing the cupcake and adding some colorful sprinkles, one of the main characters is represented. His counterpart is personified by the delicious chocolate-covered cookie pop topping the cupcake. The addition of the stick on the cookie allows the topper to sit nicely on the icing, preserving its piped shape.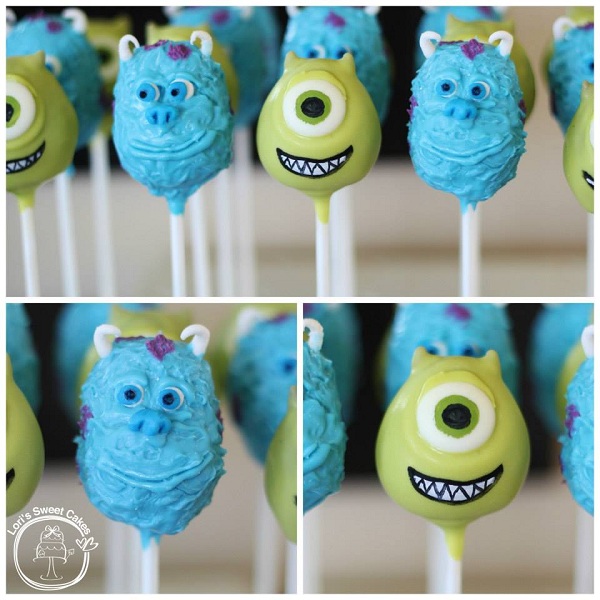 Photo via Lori's Sweet Cakes
Monsters cake pops
Lori's Sweet Cakes did a dazzling job transforming the two main characters of the Monsters series into cake pops! While Mike's character requires the ability to make a smooth cake pop, Sully's fur requires a textured look, achieved by creating grooves and lines while the chocolate candy coating is not yet completely dry. The addition of candy or fondant embellishments adds the facial features, while the final expressions are drawn on to complete the designs.
Want to make your own monster cake pops? Start by leaning the basics in this tutorial on how to make cake pops.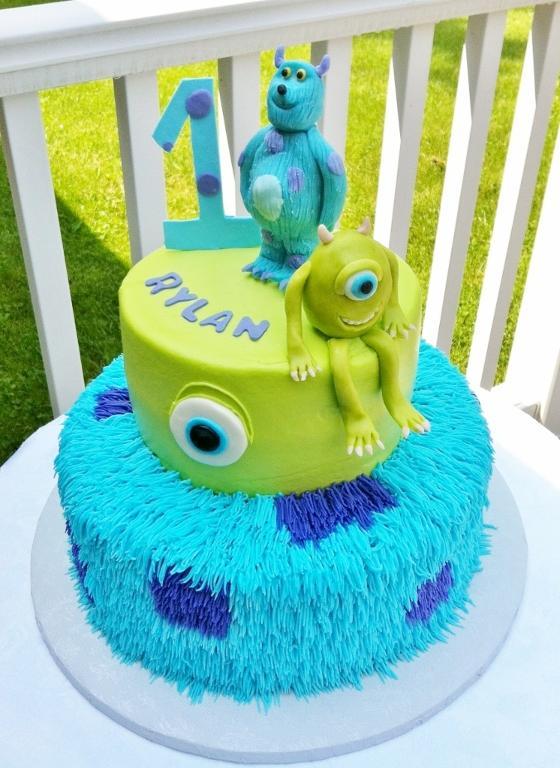 Photo via Bluprint member lisascakes
Modeling chocolate monsters
Bluprint member and cake artist lisascakes created this adorable Monsters-themed cake, but instead of forming the characters out of fondant or gum paste, she used modeling chocolate after taking the course Intro to Modeling Chocolate: Cityscape Cakes with Lauren Kitchens. As lisacakes explains, modeling chocolate can be more forgiving and simpler to smooth out when encountering seams or mistakes.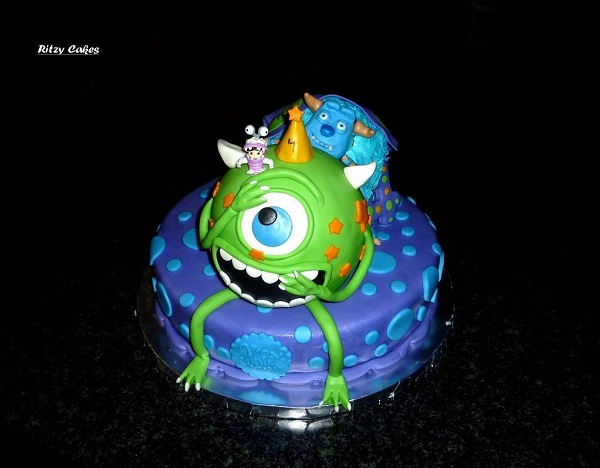 Photo via Bluprint member RitzyCakes
Monster party cake
Bluprint cake artist RitzyCakes put a refreshing and fun spin on this Monsters, Inc. cake, making Mike's character the center of attention in a large, three-dimensional figure, with an extremely entertaining expression on his face, ready to party! Mike is made out of cake and covered in fondant, while his facial features and appendages are created from modeling chocolate. A couple of other characters are also represented on a smaller scale on the cake.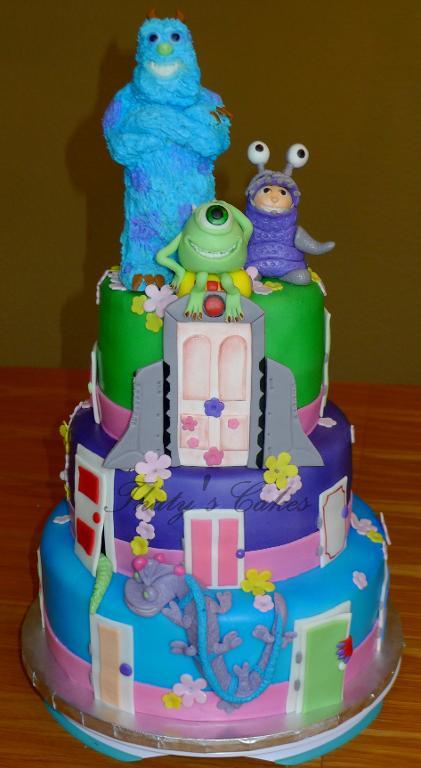 Photo via Bluprint member Thaty
Monsters, Inc. three-tiered cake
With the use of fondant and gum paste, Bluprint member and cake artist Thaty did a fabulous job with this colorful three-tiered Monsters, Inc. cake! The figures of the main characters sit upon the cake, while the remaining tiers are accented by the doors relating to the story. The added details, such as the floral accents and tail sticking out of the door, finish off this cake perfectly!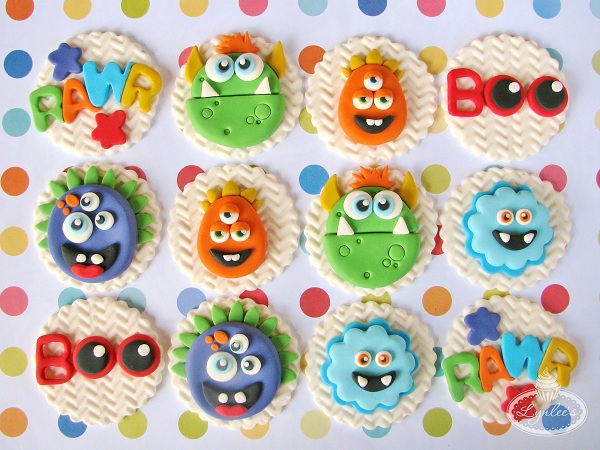 Photo via Lynlee's Petite Cakes
Monster cupcake toppers
The monsters from these animated movies have so bravely paved the way for monsters everywhere to be invited into the homes and celebrations of all kinds! These colorful cupcake toppers were made for I Do Invitations by Michelle's Monster Bash, capturing the adorable designs in fondant form. Because of the abundance of bright and fun colors, the foundation layer of the toppers were grounded with a simple white, but textured with the use of an impression mat.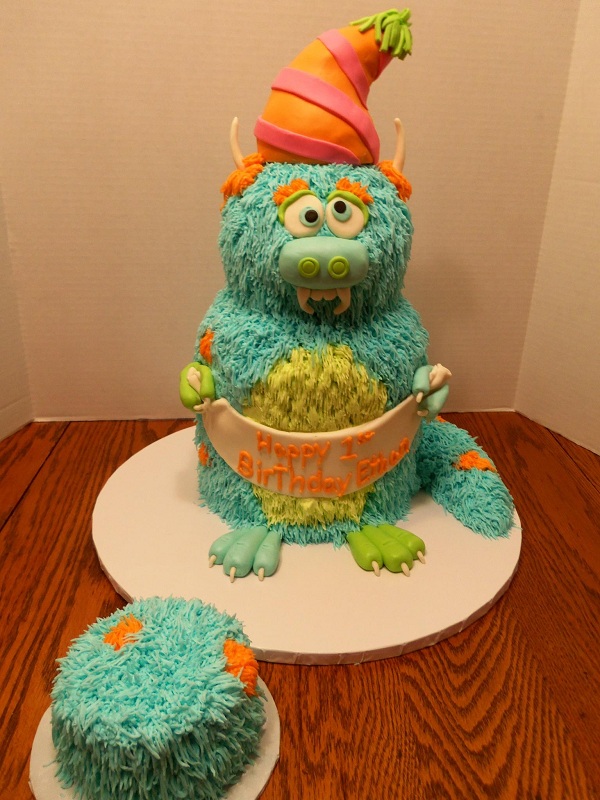 Photo via Bluprint member AliceSin
Nice monster 1st birthday cake
Bluprint member and cake artist AliceSin created this sweet and adorable monster cake for a 1st birthday with a matching smash cake. By stacking two tiers, the monster's body and head was created and covered completely with colored buttercream icing, while the party hat was modeled from rice cereal treats and covered in fondant. The remaining accents were also created from a combination of fondant and gum paste.
Is Despicable Me more your style? Check out our tutorial on how to make fondant Minions. You might also enjoy our monster cupcake tutorial.
What boo-tiful techniques will you scare up to make your own sweet monster creations?